I don't make it to church much anymore. And I guess that's kind of sad. I grew up going every Sunday with my family, attended CCD classes and was confirmed in high school. There were times I dreaded it and times I was excited about it. A lot of it was really interesting, but so much of what I now see as the benefits of religion was lost on me as a youth.
For confirmation we had to research and identify a saint with whom we shared something and whose identity we would assume as our confirmation name. Thinking back, it was a really introspective process, or at least it probably should've been. Anyway, I chose Saint Andrew. On top of Scotland and numerous other people, places and things, Saint Andrew was known as the patron saint of fishing. As a young teenager, I thought this to be a pretty deep pick. Because, more so than when I was sitting next to my brothers and parents in a hard-wooden pew, under ornate stained glass in an old building downtown, I always envisioned weighing good vs. evil and having the best conversations with God while alone on a pier or lakeside fishing under the sky.
A couple years later, when it came time for another, more secular rite of passage, I chose to revisit this theory in my college essay. So, I wrote about fishing. Nobody really knows what exactly it comes down to in terms of whether or not you're admitted to any specific college, but given my current career path, I like to think I wrote a pretty poetic essay and the admissions person at Marist College was wowed enough to grant a solid B- student acceptance.
The rest, as they say, is history.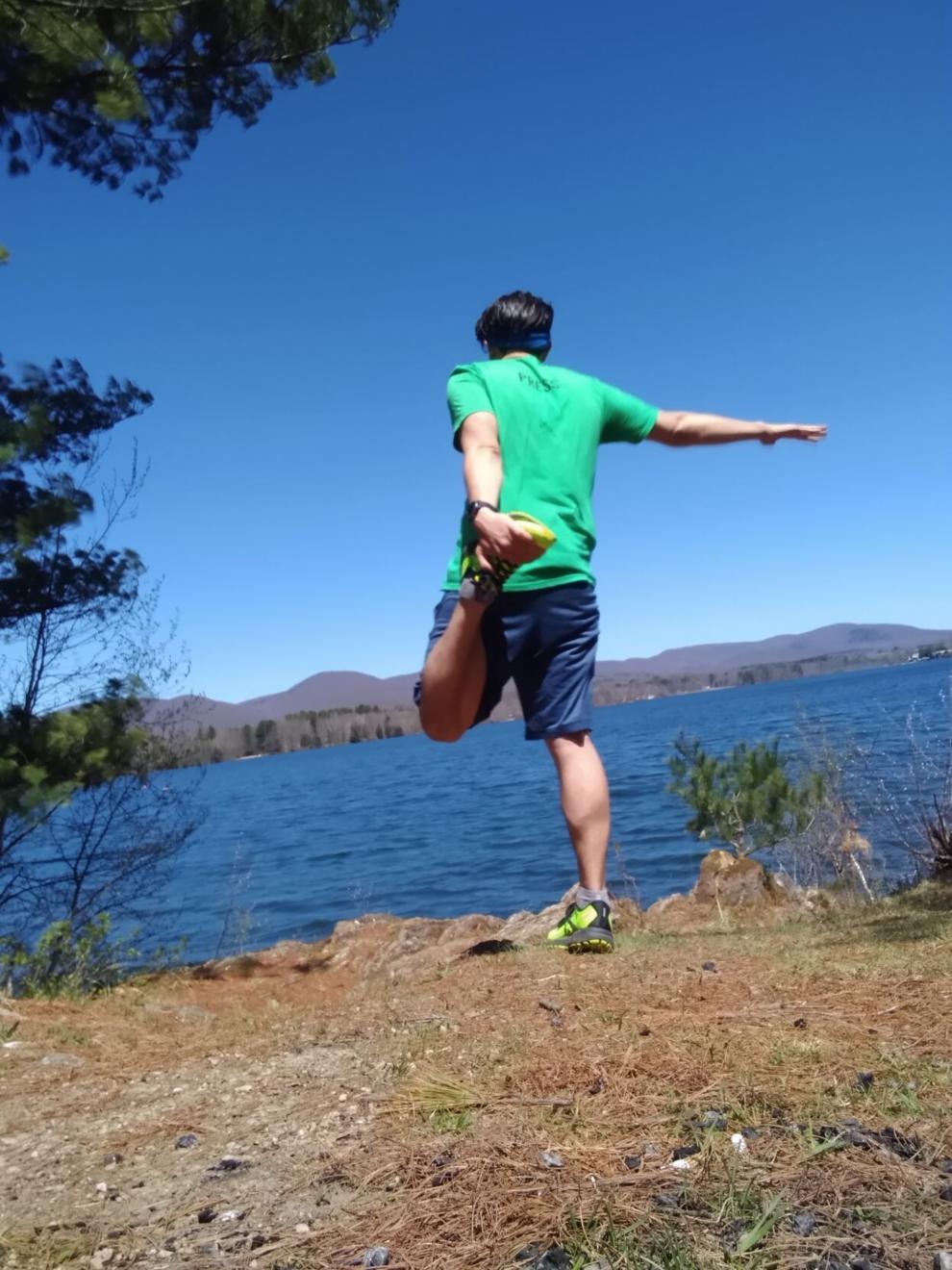 Or, history up until this past Monday morning when I went out jogging with a goal of getting to six miles and wound up legging out an even 10.
Because, here's the kicker that may or may not befuddle 15-year-old Mike Walsh. I don't fish much anymore either. Honestly, I'm not sure I ever really did.
But, at some point during Monday's long run, with less than two weeks till the Steel Rail Half Marathon on May 22, I got inside my head a little bit and gave whatever my current idea of God or the karmic universe is a quick download on how things are going.
It's so hard to disconnect these days, whether you're on the toilet scrolling Instagram reels, punching down pop-up ads on the iPad recipe website making dinner, or responding to work emails way, way after you quote-unquote clocked out.
But, if you opt to spend some miles going commando (without earbuds), it can get a lot easier.
About 2 miles into my long run, the sights and sounds of downtown Pittsfield melted away into my subconscious. A cross-walk button to push here, a smiling mom pushing a stroller by Dottie's there. Mostly, it was sunshine and warmth, rhythmic huffing and puffing, and the rapid footsteps of those cloud-like brand new Brooks Ghost 14s I bought last week at Berkshire Running Center.
I thought about good things — I'm almost finished that book that's been taking forever, and E has his grandparents helping out all week He's going to love that. And I drifted to not-so-good things — I was a jerk to that nerdy kid back in Mrs. Naze's third-grade class, and should I be doing more in reaction to this whole Supreme Court situation?
As I stood stretching at the boat ramp on Lake Onota, 5 miles into the run, I prayed. Or, at least what passes for prayer these days with a lapsed catholic.
I had this great grand aunt Mary, I think I've mentioned her before. She passed late last year and I drove out to Cape Cod by myself on a Tuesday night for her funeral Wednesday. I woke up in a hotel room in Hyannis, threw on a couple layers and jogged until I found the harbor so I could stare at some water and thank Mary for everything she'd done for me and my family. I got lost on the run back to the Marriot and was actually late getting to the church for mass. I like to think she would've found that funny.
I thought about that day in December on Monday while I grabbed my toes and extended my right calf. There's a great deal of comfort in faith and belief of a higher power. There's also comfort in communing with nature when you give your body and mind nothing to focus on but itself.
I didn't have a route mapped out for this long run. I knew I wanted to get to the water — the part of me that wants to claim "Walden" and "Siddhartha" are my favorite books (when it's really Stephen King's "It" or, more currently "The Pout-Pout Fish") is still pretty strong. But from Onota I worked my way back to Lakeway Drive and headed south on Onota Street until I felt like making the turn back toward downtown. I laughed at my old self, thinking I was being profound about the meaning of life as a teenager who hadn't experienced a fraction of life yet.
So here's this, a de facto redux of my college essay and confirmation reasoning, CTRL-F fishing and replace with running.
While covering a track meet on Monday in Great Barrington, I ran into longtime Cookie and Chocolate Bowl race director Gary Miller who joked with me that instead of age range categories for prizes at races, there should be life situation categories. A singles division, a married division, a parent of toddlers division, etc. A brilliantly-humorous idea, I thought.
If only because I'm sure in 10 more years, I may look back on this column and this experience and once again laugh at how immature I am now and how little I've still experienced.
I hope I do. And I hope I'm still able to go out for a long run and let my mind melt away and laugh with whatever deity I'm ascribing to at that point.