It would've been easy to get lost in the logistics.
I set my alarm for 5 a.m. Sunday morning — sacrilege for a sportswriter who was up till 2 a.m. Friday night filing high school football content. I packed, showered, downed a English muffin with Bear Butter, tightened the straps on my paddleboard and made for the beach at Camp Mah-Kee-Nac.
Photos: 2021 Josh Billings
2021 Josh Billings RunAground Triathlon
To purchase photos click here
That was where I had my first real Josh Billings RunAground moment. An Ironman competitor and I were the only ones there approaching 6 a.m., and we stood in silence for a stretch, watching the fog rise with the sun off a calm-as-glass Stockbridge Bowl. It was just a fleeting moment, amidst a day of controlled chaos that didn't end until after Mac Jones and the Patriots had milked out the clock on a win over the Jets and my seven-month-old son and I drove around south Berkshire County collecting equipment in the twilight.
Over the past five Septembers, I've hunted the parking lot for features at the Great Barrington starting line, dodged kayaks and overzealous paddlers while interviewing volunteers at the boat ramp, written the 2019 finish line story with perennial champion Allen Heights Veterinary, earned a Josh mug as a runner for a four-man team and Ironmanned a virtual Billings amidst the COVID-19 pandemic last summer.
This was a new one.
My college buddy Will had gotten into cycling over the past couple years, and the last time I rode a bike was the virtual Josh last year. I kept planning to get one, but life, as it does, intervened. Our athletic teamwork in the past isn't super substantive. There was the bass section during halftime shows in the Marist marching band. A good amount of beer pong victories. Oh, and once during an intramural basketball game, some varsity walk-on wannabe took umbrage with my one-on-one defense and threw the ball at my head. Will, being of the 6-foot-4, club hockey player variety, put him through a wall.
Anywho, Will came out to bike the 27 miles as part of our Tin team, Dad Bod Duo — he's got two kids under three and I've got 'E'. I would paddle and run to finish us out.
From Mah-Kee-Nac, I drove the to boat ramp, where I first realized it might be a struggle in the SUP category. A series of stalls were set up along the fence, each housing a paddleboard. All the other boards there fit neatly between the rails. My 30-inch SIC Sonic was left leaning.
My next stop was Great Barrington to drop off the bike bib and wristband to Will. While waiting for him, I parked my car and took another moment to lay back on the hood and zone out while the cacophony of chatter and bike chains brimmed all around.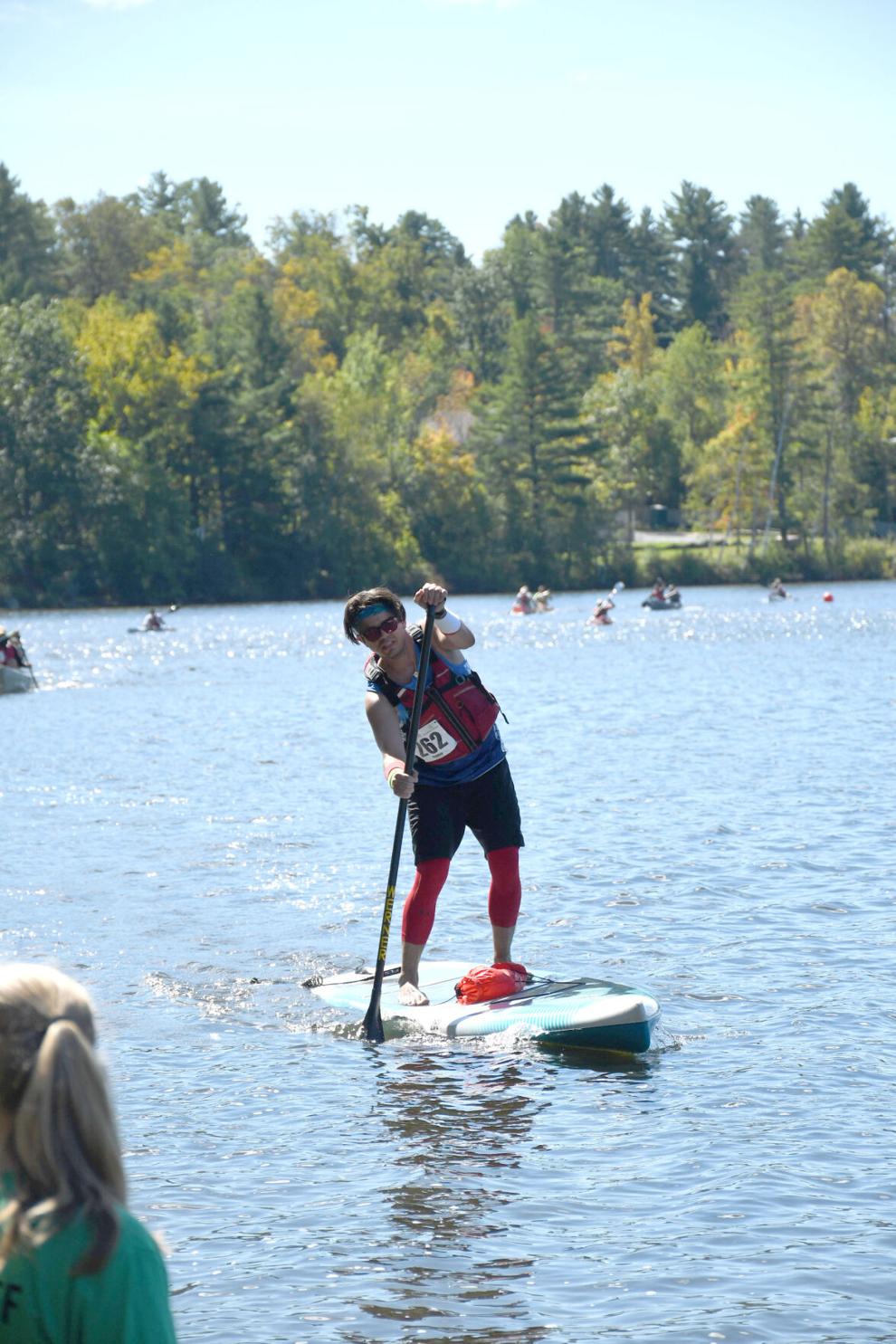 With Will situated and a minor gameplan for the Interlaken transition, it was off to the Lion's Gate where, as fate would have it, I parked next to Tom Keefe's jeep, while the eventual champion team's paddler hydrated and listened to some tunes before walking back to the boat ramp.
Part of what makes The Josh such a wholly unique event is how many different folks from different walks of life you run into during the marathon day. I ran into the Lemmes and others in Great Barrington. My neighbor was at the boat ramp ready to paddle for his team. One of the volunteers shouting numbers, Paul, was actually the guy who first got me out to my first SUP lesson with The Arcadian Shop, not to mention the man with the voice in charge Jeff Minkler, who lent me his racing paddle for the day. In the stall next to me was longtime Chocolate and Cookie Bowl director Gary Miller — whose team of course swiped the third-place mug from Dad Bod Duo in the 41st category.
Out on the water, I saw paddle legend Gloria Wesley and her grandson go roaring by me in her personalized vessel. Midway through my second lap, fellow Tin competitor Joel Pekosz flipped his kayak twice trying to saddle back up — mind you, Joel is so damn fast he still carded the top paddle time of the day in 45:20 and added the No. 13 run to push his JxJ Tin Company team to fourth overall. At the finish line, I caught a glimpse of professional snowboarder Nate Haust — the subject of one of my first Powder Report columns, and a Richmond native who had just completed his first Ironman.
The race itself was just as brutal as I expected. After Will trucked through the bike course in a beastly 1 hour, 27 minutes, 37 seconds, my toddler-induced lack of training kicked in. Any plans I had for a series of sub-12-minute miles on the SUP were blown away by an absolutely gnarly head wind on the back half of the bowl. Miles 2 and 3 clocked in well north of 14 minutes each and I started digging into my running reserves way too early.
On the flip side of that, one of the day's zen moments occurred nearing the finish line of Mah-Kee-Nac, the string of green-shirted volunteers stretched out as a welcoming arm and for a minute I couldn't hear the chop slapping its metronome across my bow. It was a beautiful day and I was on the water.
All my logistical concerns about the transition from barefoot paddling to a six-mile pavement run were entirely unwarranted. With a quick hand from Eagle photographer extraordinaire Gillian Jones, I rinsed and dried my feet, swallowed a power bar, chugged some Nuun and tore up Oak Street's dirt road on my way to Tanglewood.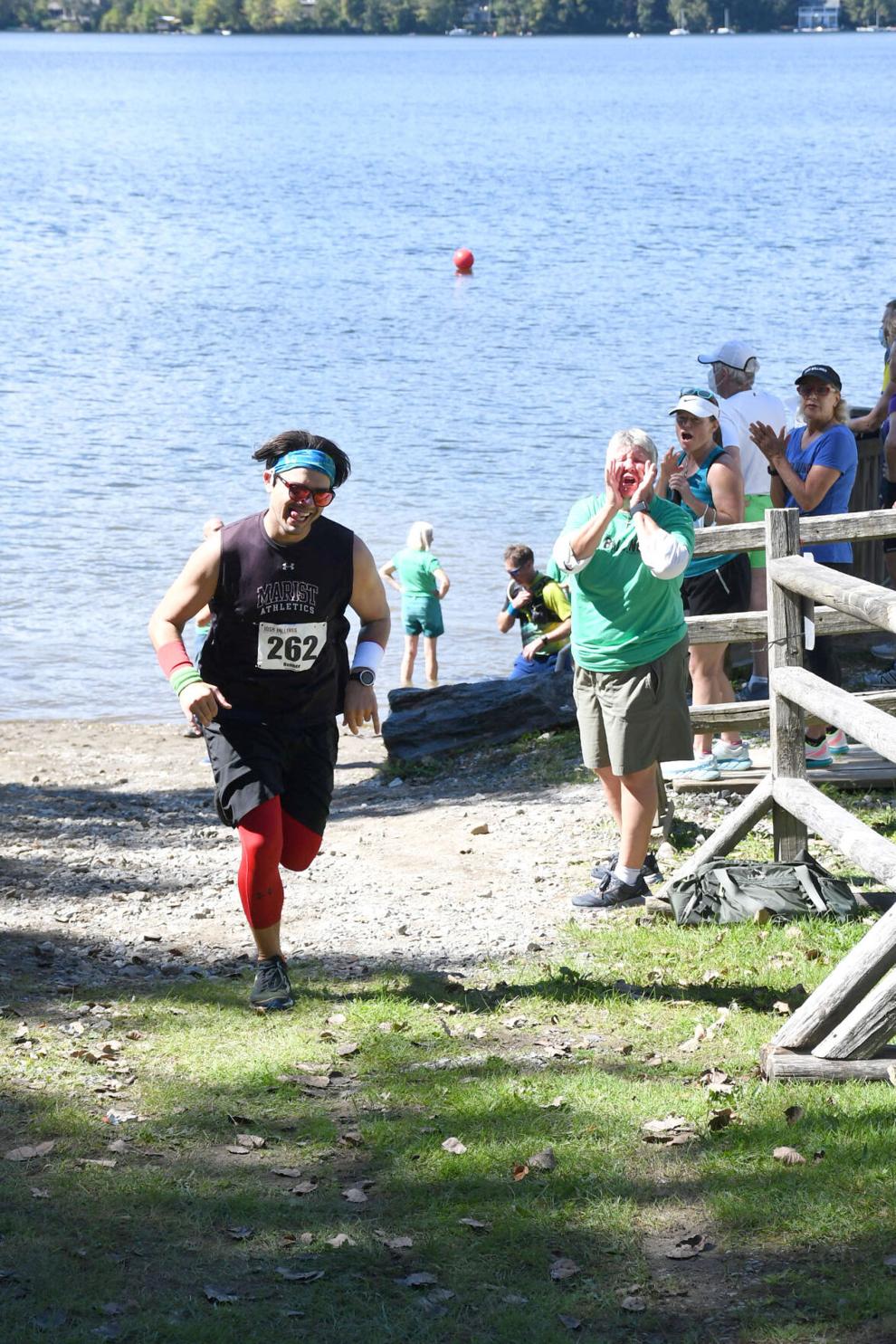 My one time running The Josh was the Year of the Algae, and the route altered from Richmond Pond, so this was my first time on the traditional course. I shook off some quad and collar cramps to break off a pair of eight-minute miles, before the day started wearing on me. That was, of course, when The Josh's hills started appearing and the cement sneakers I felt like I was running in sapped me.
While I agree, those hills are killer, what I wasn't expecting was the finish line. I got myself so concerned with clinging to a pace and working past the woman in front of me, I didn't realize that at the crest of the toughest hill is Tanglewood. All of a sudden, I was kicking through an — albeit smaller than usual — sea of fans. I took the right into the finishing stretch and heard someone yell, "You got one on you."
Whether or not someone was on my heels, I was able to take a five-step detour to the fence to give my oblivious-but-smiling son a high five before finishing under the arch.
The run: 51:25, and Dad Bod Duo completed The 45th Josh Billings RunAground in 3:37.27.
My own Josh Bash was back in Pittsfield, watching the Patriots with my family and gorging on wings from Olde Forge and a Sam Adams. Or maybe it was a couple hours later, when a napping 'E' and I drove back to the beach and the ramp collecting Hydroflasks, lifejackets and the like.
Apparently I was running a little later than most, because my car was the last one on the Lion's Gate lawn and my board was sitting solitary at Mah-Kee-Nac. But, it gave me another little zen moment to relax and reflect.
With respect to Mr. Billings and his famous quote, I thought more of Stephen King's line from The Stand:
"The place where you made your stand never mattered. Only that you were there... and still on your feet."
Congrats to all those who finished and won, and many thanks to the volunteers who got us there.
I'll see you in a few weeks for the Steel Rail!