The Massachusetts Youth Pheasant Hunt Program was developed by MassWildlife to provide an opportunity for Hunter Education graduates aged 12 to 17 to practice firearms safety, develop shooting skills, and participate in a special pheasant hunt under the guidance of an experienced adult hunter.
The program is divided into multiple parts:
Seminar and Range Practice: Participants get hands-on instruction in shotgun shooting fundamentals and firearm safety, learn upland hunting basics, and focus on how to have a safe and fun hunt.
Pheasant Hunt: Participants get to experience a real pheasant hunt under the supervision of an experienced hunter on one of the six Saturdays prior to the regular pheasant season.
Several sporting clubs across the state offer the Youth Pheasant Hunt Program which includes a seminar and a mentored hunt. You do not need to be a member of the club to participate in the seminar or the hunt. All participants must complete the seminar before the day of the hunt.
Registration is now closed for the 2022 youth pheasant program, but you might consider entering your youths into this program next year.
Requirements: Be between the ages of 12 to 17; Have graduated from a Basic Hunter Education course (in any state) before the day of the hunt; Participants 15-to-17 years of age must have a hunting license, a pheasant/quail permit and a Firearms Identification Card (FID). Note: A FID card is only required if using a shotgun.
According to Astrid Huseby, DFW Coordinator of the Youth Pheasant Program, some 60 students were registered for the program from six clubs statewide. The participating club in our area was the Lee Sportsmen's Association which had seven participants. The Cheshire Rod and Gun Club ran its own program and had three youths participating.
According to Karen Kruszyna, Cheshire Rod and Gun Club spokesperson, the three boys who participated there were Wyatt Bellows, Jacob Trudeau and Tim Morgan, Jr. They were treated to a pancake breakfast, safety talk/hunting plan and then out they went hunting.
They had a great time pheasant hunting behind the bird dog Beau, which is owned by Rick Moffett, and as the picture shows they had great success.
Sorry, details of the Lee Sportsmen's Association were not made available in time for this column.
I'll bet that picture congers up wonderful memories to older upland game hunters, for one never forgets the experience of their first pheasant hunt.
Second Bear Hunting Season
The second bear hunting season opens on Monday, Nov. 7 and runs until Nov. 26. The hunting implements that are allowed are rifles, muzzleloaders and archery. No revolvers or shotguns are allowed.
This past September's bear hunting season ended with a harvest of approximately 153 bears. This was substantially more than last year's 112 and is on track for a good year for bear hunters.
New DFW Western District staff member hired
Colby Kellogg-Youndt was recently hired as a Wildlife Technician in the Western District. Colby is originally from upstate New York but is now living in Pittsfield. She is a graduate of St. Lawrence University and brings excellent experience from previous biological technician positions, including her most recent work with shorebirds on Cape Cod. Colby will be stocking fish and pheasants, maintaining Wildlife Management Areas, working check stations, collecting biological data, and providing field support for all MassWildlife programs. "The District is excited to add Colby to our excellent crew," said District Supervisor Andrew Madden.
District Biologists, and particularly District Technicians, provide most of the on-the-ground conservation services that benefit hunters, anglers, and the general public.
Trout Spawning under way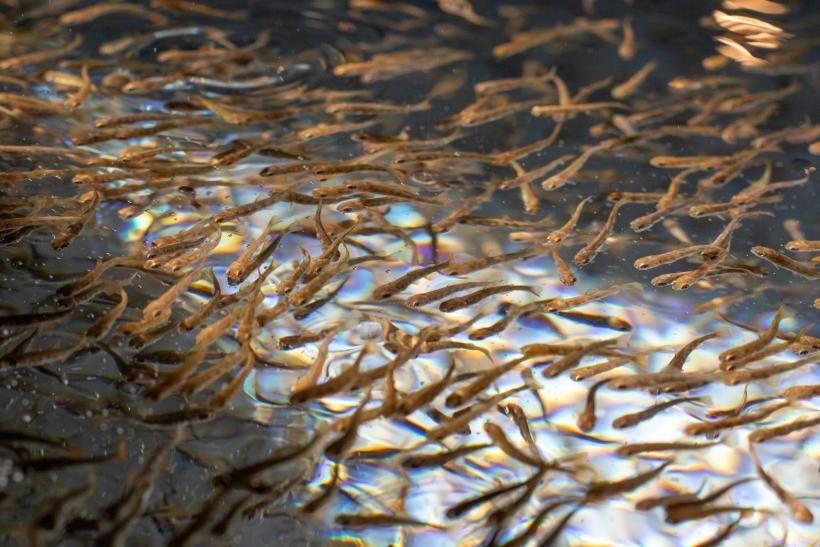 MassWildlife stocked over 63,000 trout into Massachusetts waterbodies this fall. While fall stocking has concluded, hatchery staff are hard at work preparing fish for the year ahead.
Have you ever wondered from where all these trout come from? Well, MassWildlife operates five fish hatcheries in the state, located in Sandwich, Belchertown, Montague, Sunderland and Palmer. Each fall, hatchery staff manually spawn trout at Palmer and Sandwich hatcheries to produce more than 1.5 million fertile brook trout, brown trout, and tiger trout eggs.
Eggs from the female and milt from the male are combined, then water is added to activate the sperm. Spawning happens when hatchery staff carefully mix trout eggs and milt together. The process begins when eggs are gently squeezed from a female and collected in a bowl. Milt from a male is then squeezed into the same bowl and a small amount of water is added to activate the sperm. Male and female fish are quickly returned to the water to minimize stress.
The mixture is gently stirred to encourage fertilization. The eggs are placed in a bath containing a mixture of water and a special buffered iodine-based disinfectant. This process reduces the risk of disease and allows the eggs to absorb water and become fully formed and firm, a process called water hardening. The water-hardened eggs are then counted and placed in incubation troughs where they remain until they hatch. These million and a half eggs, coupled with rainbow trout eggs obtained through a cooperative program with the US Fish and Wildlife Service, will be reared at MassWildlife's five hatcheries.
After incubating for about two months, the eggs hatch into fry. When they are about two inches long, the fry are moved from the indoor "hatch house" to outdoor rearing pools. The fish grow in these pools for 18 to 30 months until they reach stocking size. Depending on the species, trout are stocked when they are between 12-and 14-inches long.
Trout are stocked in hundreds of rivers, streams, lakes and ponds throughout the Commonwealth every spring and fall.
Free Stream Smart Training
The Berkshire Clean, Cold and Connected Partnership is hosting a workshop on how to implement Stream Smart Culvert Replacements to help conservation commissions, nonprofits, highways and towns with navigating culvert replacements to ensure they are fish-friendly and flood resilient.
You are encouraged to join Housatonic Valley Association (HVA) to learn how to design, permit, build and finance culvert replacement projects that address flood resilience and Aquatic Organism Passage (AOP). Presentations will be targeting projects in the Housatonic, Hoosic and Farmington watersheds that are within Berkshire County. Presentations include:
Stream Geomorphology Demo with Billie Li and Alison Dixon from HVA
Field Reconnaissance and Location Prioritization with Erin Rogers from Trout Unlimited
How to Create Stream Smart Crossings with Carrie Banks from Massachusetts Division of Ecological Restoration
Legal Requirements for MassDOT Chapter 85 review and Conservation Commission Notices of Intent with Scott Jackson from University of Massachusetts Department of Environmental Conservation, and Mark Devylder from Mass DOT
Funding Opportunities with Holden Sparacino from Massachusetts Division of Ecological Restoration, and Carrieanne Petrik from Massachusetts Executive Office of Energy and Environmental Affairs
Support for this training is provided by the Massachusetts Natural Resources Damages Fund and the Massachusetts Division of Ecological Restoration.
The free workshop will be held at Berkshire Community College in the Koussevitsky Arts Center on Thursday, Dec. 1, from 7:45 a.m. to 12:15 p.m. Participant space is limited, and pre-registration is necessary. Call 413-298-7024.
Results of Berkshire Beagle Club field trial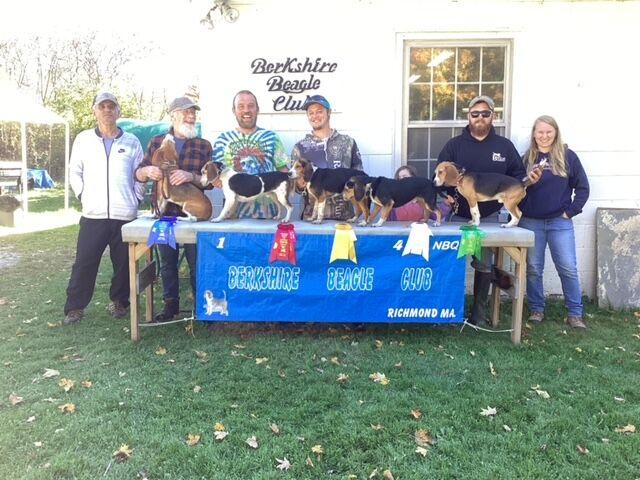 According to club spokesman, Jeff St. John, there were 95 total entries at the Jack Silvernail Memorial Field Trial which was held at the Berkshire Beagle Club last weekend. Some 37 registered on Saturday and 58 on Sunday.
The winners on Saturday were:
13-inch males — Larry Mazza, of Warren, Mass.
15-inch males — Zinny Swanson of Brattleboro, Vt. (who is a club member).
The winners on Sunday were:
13-inch Females — Michael Hebert, Michael Santos of Fairhaven, Mass. and
15-inch Females — Scott John Howard Harrington of Cambridge, N.Y.
Next best qualifier honor went to Bubba Allen of Hadley, N.Y.
Congratulations to all.
Veterans Day
If you know or happen to see any veterans next week, you might want to give them a fist bump to show your appreciation of the sacrifices they made for our country. Let them know that you do not consider them "losers" or "stupid," as a former US President once called them.