After an abbreviated spring season allowed Berkshire County student-athletes their first chance to get on a track in two years, a bunch of the area's top competitors finished up their campaigns at the MIAA sectional and state meets.
With those championship performances came some of the top times and distances of the season. The final Berkshire County Track and Field Honor Roll of the 2021 season featured 18 new or improved first-place marks. Two of those marks belonged to Mount Greylock senior Elizabeth Dupras, who took advantage of her postseason run to further establish herself as the County's top 100 hurdler and long jumper.
Of course, that wasn't all Dupras was this spring for the Mounties. She also clocks in with third-place finishes in the 200 and high jump, and the second spot in the 400 hurdles, only trailing Hoosac Valley's Lilly Boudreau. Boudreau owns three spots, including second to Dupras in long jump.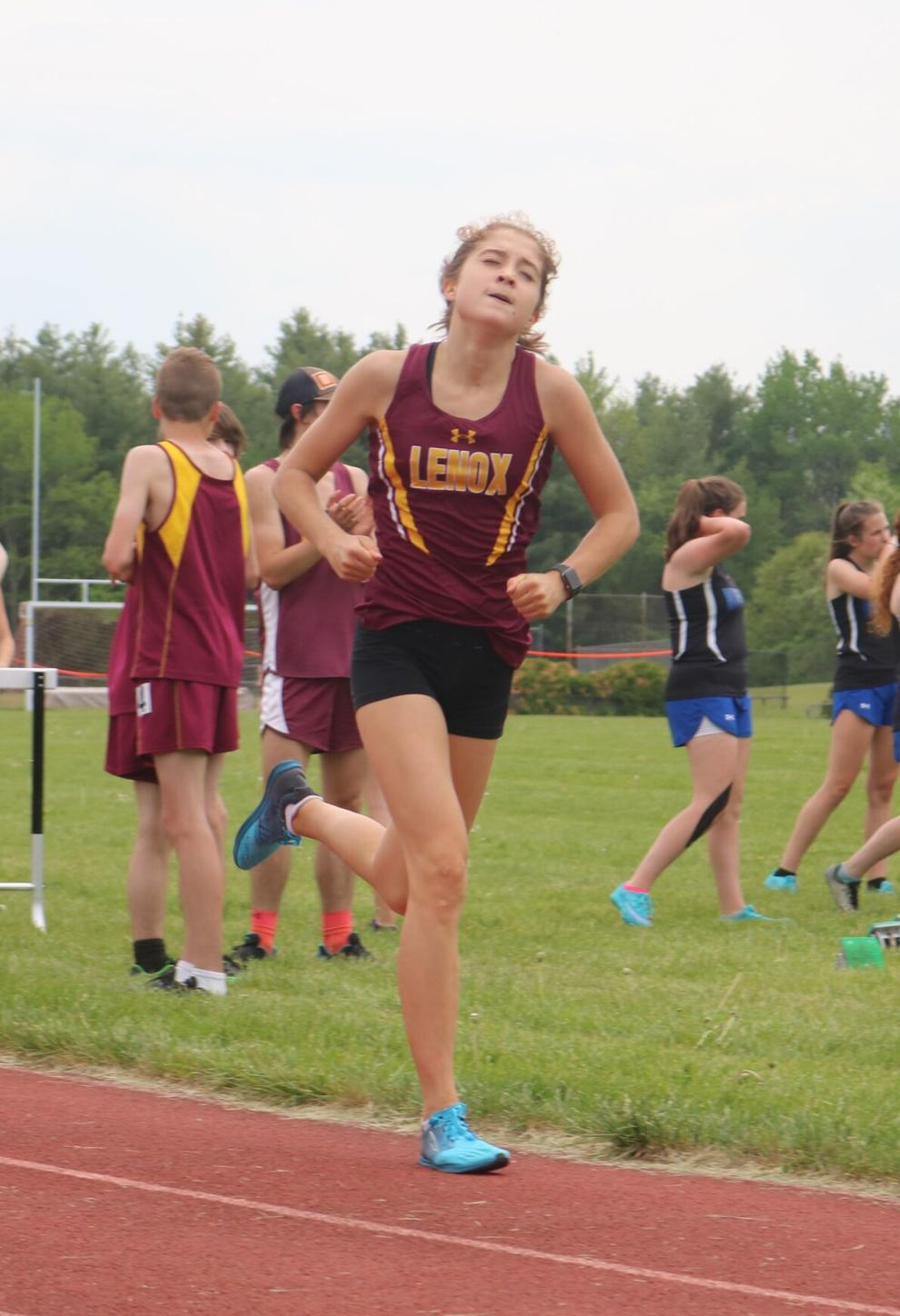 Another Mountie, Jackie Wells, owns three top spots and improved her leading 800 time to a scorching 2 minutes, 19.88 seconds. She is also first in high jump and triple jump, and third in the 400.
Lenox's Mary Elliot strengthened her grip on the 400, and held off Maggie Nichols and Olivia Gamberoni by .01 seconds for the 100 lead. She's second to Gamberoni in the 200. Elliot's 57.97 at sectionals in the 400 broke current Arizona hurdler Shannon Meisberger's school record. She also was a part of the Lenox 4x400 team that improved its County-and section-best time. Meanwhile, Lenox's Grace Elliot cleared almost 20 seconds off her 2-mile time to slide into first place during the postseason, and give herself two wins , as she also held off two teammates to own the mile.
Sectional javelin champion Meredith McCandless of Pittsfield just kept hurling and eventually carded a throw of 110 feet, 5 inches to lead the Berkshires and place at All-States. Wahconah's Adelyn Furlong also improved her shot put lead by six inches.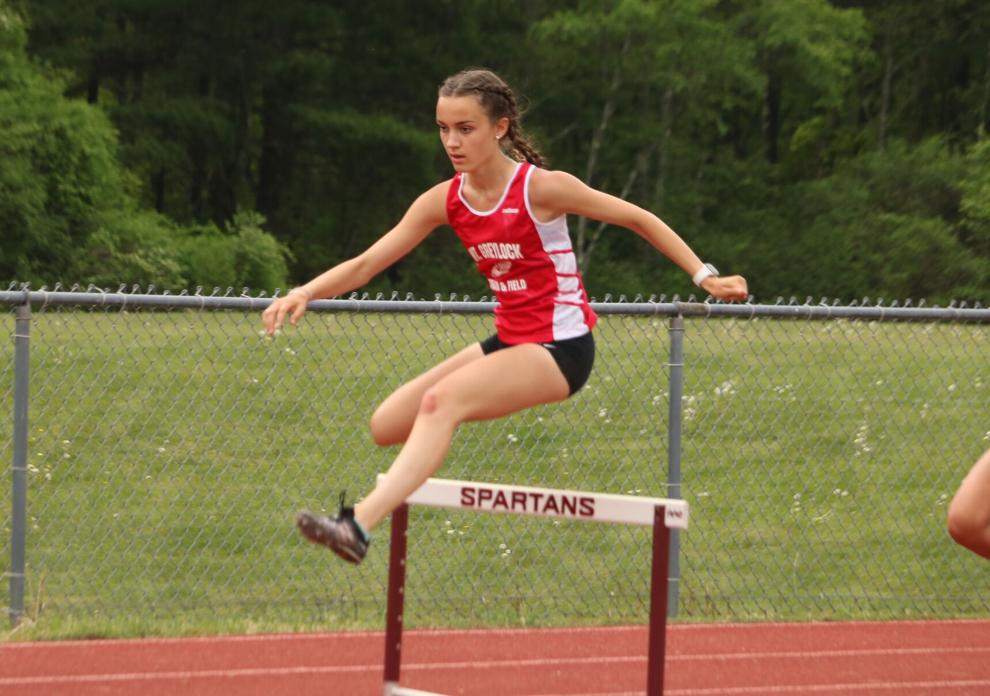 ———
100 — 1. Mary Elliot (LX) 13.12; 2. (tie) Olivia Gamberoni (W), Maggie Nichols (MG) 13.13; 4. Aryianna Garceau (W) 13.39; 5. Randi Duquette (P) 13.44
200 — 1. Olivia Gamberoni (W) 26.80; 2. Mary Elliot (LX) 27.12; 3. Elizabeth Dupras (MG) 27.43; 4. Lilly Boudreau (HV) 27.51; 5. Solia Schmid (LX) 27.84
400 — 1. Mary Elliot (LX) 57.97; 2. Olivia Gamberoni (W) 1:01.65; 3. Jackie Wells (MG) 1:02.17; 4. Savannah Reber (LX) 1:04.60; 5. Sophia Mele (MG) 1:04.73
800 — 1. Jackie Wells (MG) 2:19.88; 2. Haley Crosier (W) 2:30.56; 3. Ellen Huth (LX) 2:33.20; 4. Meredith McCandless (P) 2:33.71; 5. Grace Elliot (LX) 2:35.41
1 Mile — 1. Grace Elliot (LX) 5:37.91; 2. Ellen Huth (LX) 5:38.15; 3. Aidan Burns (LX) 5:42.60; 4. Grace Malone (MG) 5:44.97; 5. Kate Swann (MG) 5:46.37
2 Mile — 1. Grace Elliot (LX) 11:56.68; 2. Grace Malone (MG) 11:58.34; 3. Kate Swann (MG) 12:22.66; 4. Julianne Harwood (LX) 12:55.07; 5. Julia Latura (T) 12:58.81
100 Hurdles — 1. Elizabeth Dupras (MG) 16.24; 2. Solia Schmid (LX) 17.65; 3. Lena Helmke (MM) 18.11; 4. Alyssa Garabedian (HV) 18.39; 5. Katherine Goss (MG) 18.82
400 Hurdles — 1. Lilly Boudreau (HV) 1:07.24; 2. Elizabeth Dupras (MG) 1:09.96; 3. Solia Schmid (LX) 1:10.22; 4. Taibat Ahmed (T) 1:15.06; 5. Tess Tierney (P) 1:15.16
4x100 Relay — 1. Pittsfield 53.31; 2. Monument Mountain 54.54; 3. Wahconah 54.90; 4. Mount Greylock 55.46; 5. Hoosac Valley 55.91
4x400 Relay — 1. Lenox 4:13.17; 2. Mount Greylock 4:17.62; 3. Wahconah 4:27.32; 4. Pittsfield 4:32.08; 5. Monument Mountain 4:37.74
4x800 Relay — 1. Lenox 10:24.50; 2. Mount Greylock 10:56.79; 3. Monument Mountain 11:45.57; 4. Wahconah 11:50.94; 5. Taconic 12:11.14
High Jump — 1. Jackie Wells (MG) 5-00; 2. Randi Duquette (P) 4-11; 3. (tie) Elizabeth Dupras (MG), Abby Dohoney (MM) and Chase Hoey (MG) 4-10
Long Jump — 1. Elizabeth Dupras (MG) 17-03; 2. Lilly Boudreau (HV) 15-09.25; 3. Solia Schmid (LX) 15-05; 4. Anna Marie Romano (MM) 14-10.5; 5. Aryianna Garceau (W) 14-02.25
Triple Jump — 1. Jackie Wells (MG) 33-05.75; 2. Olivia Gamberoni (W) 31-08.5; 3. Quinn Walton (W) 30-11.75; 4. (tie) Alyssa Garabedian (HV), Taibat Ahmed (T) 30-04
Shot Put — 1. Adelyn Furlong (W) 28-06.50; 2. (tie) Sophia Mele (MG), Lily Catelotti (MG) and Emma Gilooly (MG) 27-03; 5. Molly Shippee (W) 25-07
Discus — 1. Lilly Catelotti (MG) 88-05; 2. Hanna Shea (HV) 83-05; 3. Lily Fredsall (MM) 81-02.5; 4. Dakota Grosz (P) 77-06; 5. Talia Kapiloff (MG) 76-09
Javelin — 1. Meredith McCandless (P) 110-05; 2. Lily Fredsall (MM) 100-08; 3. Abby Scialabba (MG) 98-02; 4. Dakota Grosz (P) 94-09; 5. Olivia Ruggiero (MM) 90-08