Ten years ago this week, the Williams College football team beat its archrival Amherst 31-16. It was a good day for the Ephs — for many reasons.
Not only did the Ephs get some revenge for a 2009 loss at Weston Field, but the victory on Pratt Field wrapped up an 8-0 season for Williams. It gave Williams its seventh perfect season and first since the 2006 campaign. Trinity had recorded perfect seasons in 2003, 2005 and 2008, while Amherst had its first NESCAC perfect season in 2009.
It was a changing of the guard in Williamstown. Mike Whalen, who guided the Ephs to an 8-0 record in 2006 and was 38-10 in six seasons after replacing College Football Hall-of-Famer Dick Farley, had left the Purple Valley to take over as head coach at his alma mater, Little Three rival Wesleyan. Whalen is now the athletic director at Wesleyan, while Cardinals head coach Dan DiCenzo played and coached at Williams under Whalen.
"To all of the players I have had the good fortune to work with during my time at Williams, I hope that your experience was as positive as mine," Whalen said in a statement at the time of his departure. "Both Karen and I look forward to staying in touch with all of those who have been a part of our lives for the past 14 years. When coach Farley passed the torch to me, I inherited an outstanding football program. And now six years later I am leaving a program that has tremendous leadership and will contend for a NESCAC Championship next season."
That last statement about contending for a NESCAC championship turned out to be true, but it didn't come without a little bit of angst.
"Obviously, we were a little unsure about what was going to happen right off the bat," said Pat Moffitt, who was entering his third year as a starting quarterback for the Ephs. Moffitt is now the head football coach at St. Andrew's School in Delaware.
"Once they named Coach Kelton the coach and it was kind of clear that Coach [Bill] Barrale was going to be the offensive coordinator and Coach [George] McCormack was still going to be the defensive coordinator, we felt pretty good about it," Moffitt said. "To Coach Kelton's credit, he did a great job of coming in and not trying to change everything up right away. He came in and provided that little bit of energy we needed, but didn't come in and completely change our offensive and defensive systems.
"All of us players, who had been there for a few years, were kind of on the same page with everything."
"Coaches change," said former Eph wide receiver Darren Hartwell, who now writes for NBC Sports Boston. "I still had the same position coach. I had coach [Marshall] Creighton my freshman year and he stayed through all four of my years. From that standpoint, he was who I was working with every day and it was great to have him. That might have been a bigger change for me, personally, than the head coach.
"The head coach sets the tone and everything, but coming in as a freshman, getting a new head coach in my sophomore year and not playing a whole lot my freshman year, you kind of roll with the punches a little bit."
Williams had a five-game winning streak in 2009 that was halted on Weston Field by the then Lord Jeffs. But with four first-team, All-NESCAC performers returning for 2010, things looked pretty promising for another good campaign. It turned out to be much better than that.
When the season was over, Williams finished first in five different NESCAC statistical categories, second in two and third in two others.
Moffitt was the NESCAC player of the year. He, Hartwell, running back Ryan Lupo, wide receiver J.C. Stickney, offensive lineman Kevin Rose, linebacker Dylan Schultz (a Mount Greylock graduate), defensive linemen Dan Canina and Colin Curzi, along with defensive backs Tyler Cole and Dan O'Mara, were all first-team, All-NESCAC picks. Three other Ephs were named to the second team.

Sept. 25 — Williams 33, Bowdoin 15The Ephs opened 2010 with two home games, and ended up with a comfortable victory in the opener.
The Polar Bears fought hard for 30 minutes and trailed just 14-6 at halftime. The visitors from Maine took the third quarter kickoff and marched 58 yards in seven plays for a touchdown when quarterback R.J. Shea hit Paul Hinman for a 23-yard score. The Polar Bears missed another PAT kick and it was 14-12.
Williams turned the ball over on downs, but linebacker Pat Barren picked off a pass by Shea and returned it 53 yards for a touchdown. That put the Ephs up 21-12 and started a 19-3 scoring run as the Ephs won going away.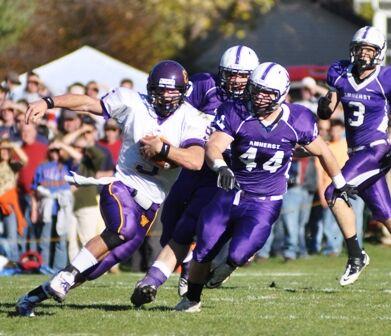 Oct. 2 — Williams 29, Trinity 21The Bantams had only lost once in their last seven games to Williams, including winning on Weston in 2008.
"Every year, it's a big game to [help] decide who's going to win the conference," Moffitt said. "But also, for our senior class, it was the one team that we hadn't beaten in our careers. So it was big for us."
The Ephs took a 15-0 lead into halftime at Weston. Two of those touchdowns came on consecutive drives, and both were long passes from Moffitt to sophomore wide receiver Hartwell. Hartwell caught an 83-yard pass for a TD and then caught an 89 yarder.
It was 29-7 when Moffitt hit Bryce Bennett, a converted quarterback, on a 5-yard TD pass to make it 29-7. Game, set, match? Not quite.
Trinity got a pair of touchdown passes from Craig Drubosky to Chris Hunt, cutting the Williams lead to 29-21. The Ephs could have locked the game up, but a fourth-down pass from Moffitt to Bennett from the Bantam 8-yard line was incomplete.
Trinity marched deep into Williams territory, helped by two penalties. One was a pass interference call that wiped out a game-clinching interception by Tyler Cole. But a first-down pass from Drubosky to Mike Galligan was incomplete as the clock hit 0:00.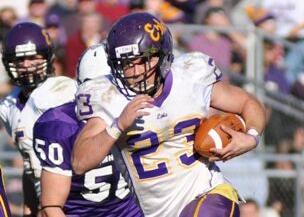 Oct. 9 — Williams 41, Bates 0The next week was Williams' annual four-hour bus ride to Maine. If the Ephs were feeling "hung over" after the previous week's battle, they did not show it.
The Ephs pitched their first shutout since the 2009 opener at home against Colby. Williams held Bates to 82 yards on 53 offensive plays. It was a coming-out-party for Stickney, who caught five passes for 119 yards.
While the Williams defense only gave up 13.4 points per game, this was the Ephs' only shutout of 2010.
Oct. 16 — Williams 41, Middlebury 17
This is the game that always gives sportswriters cramps from writing so much. There were 171 offensive plays and more than 1,000 yards gained by both teams. The year before, Williams and Middlebury combined for 172 offensive plays and 1,184 yards.
Panthers quarterback Donald McKillop, who was 47 of 73 for 462 yards and five interceptions in 2009, was 35 of 74 for 302 yards and one pick in 2010.
In 2009, the Panthers had a pass intercepted with less than 2 minutes to play, to lock up a Williams win at Weston. The Ephs needed none of those heroics in 2010.
Williams scored three touchdowns in the first quarter and never trailed. Hartwell caught a 92-yard TD pass from Moffitt, Tomas Kearney caught one from 20 yards out and Hartwell caught a second TD toss of 31 yards.
"Everything was just kind of working," Hartwell said. "The great thing about that year's team, we could beat you in a lot of different ways. We were pretty balanced all the way through. We had a really solid offense, quality guys there. A great running game and obviously Moffitt and the passing game. We were pretty deep at wide receiver too.
"I think we had a lot of different ways to beat you and in that Middlebury game, it all kind of clicked."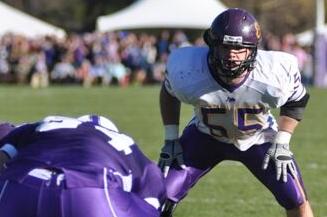 Oct. 23 — Williams 35, Tufts 24
Back on the road for Kelton's Ephs. This time, it's a road trip to Medford and a game against then 1-3 Tufts. It wasn't a trap game, because the Jumbos had beaten Williams 17-7 in Williamstown two years earlier.
The Jumbos did something that no team to date had done, lead Williams at halftime. Quarterback Anthony Fuccilo, now an assistant football coach at Harvard, threw a 22-yard TD pass to Dylan Haas on the last play of the second quarter, giving the Jumbos a 17-14 halftime lead.
"We didn't expect to be in that position at halftime, definitely. We knew Tufts was going to give us everything they had, because they would always play us tough," said Moffitt. "We were a confident group in that we knew halftime came at a great time for us to kind of get off the field and regroup."
Regrouping had to come on the fly because Tufts' Sam Diss recovered an Alex Scyocurka fumble and returned it 39 yards for a touchdown on the first series of the third quarter. It was 24-14 Tufts, and not everybody had gotten back to their seats. Those were, however, the last points the Jumbos scored in the game.
Williams scored the final 21 points in the game, taking the lead for keeps on a six-play, 37-yard drive that started after Curzi recovered a Tufts fumble. Lupo ran the ball on all six plays — a seventh play was a pass that turned into defensive pass interference — and scored on a four-yard run.
It was quite the day for Lupo, who scored four touchdowns, including those last three. He carried the ball 39 times for 180 yards.
"I think Lupo had the best game of his career, and we were able to move the ball," said Moffitt, "and he was able to finish off some drives for us."
Oct. 30 — Williams 38, Hamilton 7
The day before Halloween was all tricks for the host Continentals and all treats for the visitors from Williamstown.
Williams scored the first 38 points of the game, and ran 86 plays for 455 yards, while Hamilton had 47 plays for 138 total yards.
The Continentals had one first down in the first half. They went 3-and-out on each of their first seven possessions. James Stannell ran for 15 yards on Hamilton's final possession for the first down. But on the next play, quarterback Steve Mello was picked off by Andre Lafontant.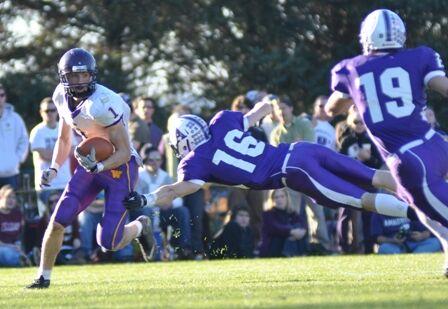 Nov. 6 — Williams 45, Wesleyan 7
It's the second season — The Little Three. Williams has played Wesleyan and Amherst since 1910. Since 1985, the Cardinals had only beaten Williams in 1997 and 1999. That was why Whalen returned to his alma mater. Whalen never lost to Wesleyan in six years at Williams, and his teams won by an average margin of 37.0 points to 12.7 points.
"We wanted to go out there and win, and obviously, doing it against Whalen would be nice," Hartwell said. "At that point, we were two wins away from a perfect season, so we didn't want to get a distraction or bring something else into the equation. I think that was the message in the locker room: Let's do what we've been doing the whole season. Go out there and execute the game plan. Don't worry about the other stuff and get the job done."
The Cardinals gave Williams all it could handle early, and when quarterback Matt Coyne scored on a 11-yard run with 3:03 left in the second quarter, Williams led 14-7, in Williamstown. The year before, Coyne had been Moffitt's backup at Williams.
That was the lone good news for the guys in red and black. The Ephs scored two touchdowns in the final 2:30, one passing and one running.
Wesleyan had a chance if the Cardinals could stop Williams on the opening drive of the third quarter. Six plays, 60 yards later, Jon Carroll caught a 11-yard TD pass, and the rout was on.
Nov. 13 — Williams 31, Amherst 16
Twelve months earlier, Williams had a chance to end Amherst's perfect season. Playing at Weston, a fourth-down pass from Moffitt to Carroll came up just short of the sticks at the Amherst 20-yard line, and the Lord Jeffs had their 26-21 win.
"We still had a bad taste in our mouth that they came in and were able to go 8-0 on our field. I know for me personally, and for a lot of the other guys on the team, that really drove them all that off-season," Moffitt said. "I think if you're ever able to take a positive from a loss, we took all the positives we could from that loss and used it to our advantage. I think we let them escape with the win the year before."
Fast forward and there was Williams, standing on Pratt Field, with a chance to beat their archrivals and go 8-0.
"We all knew what was at stake," Hartwell said. "We've got a chance to do something special here. It's also Amherst. Regardless, if we were both 0-7 going into the game, we'd still want to win and beat Amherst. We didn't need a whole lot more motivation going into that game."
Eric Bunker's one-yard touchdown run with 47 seconds left in the second quarter capped a 17-play, 97-yard drive, to tie the game 10-10 at intermission.
Williams got the third-quarter kickoff and went 82 yards in 11 plays for what proved to be the game-winning touchdown. Twice the Ephs had to convert on third down. One time Stickney caught a 37-yard pass for a first down, then on the Amherst 15, Lupo gained 11 yards on third-and-one. Three plays later, Carroll caught a two-yard pass from Moffitt. Chris Cleary made the PAT kick and it was 17-10.
"It was actually a deeper pass play called" on the Stickney completion, Moffitt said. "I came up to the line of scrimmage and saw J.C. Stickney, he was just left uncovered in the slot. I took the snap, threw it out to him. He made a couple of guys miss and took off down the sideline for a big gain."
Williams ran 80 plays for 504 yards. Lupo carried the ball 33 times for 128 yards, while Moffitt was 24 for 34 for 326 yards, four touchdown passes and two interceptions. Hartwell and Stickney each had more than 100 yards receiving and Stickney had two touchdowns.
"It was special," Hartwell said of the 2010 season. "For me personally, it was my first full season playing. A lot of my teammates and good friends were getting a lot of playing time too, kids in my grade. It was a lot of fun. I remember having fun at practice too. It was a fun team to be around."