CHESHIRE — Pittsfield High School softball coach Jim Clary recognized a new level of ferocity from his players in Monday's extra-inning win over Mount Greylock.
The Generals carried that momentum into Tuesday's game at Hoosac Valley, coming away with a 5-2 win over the Hurricanes.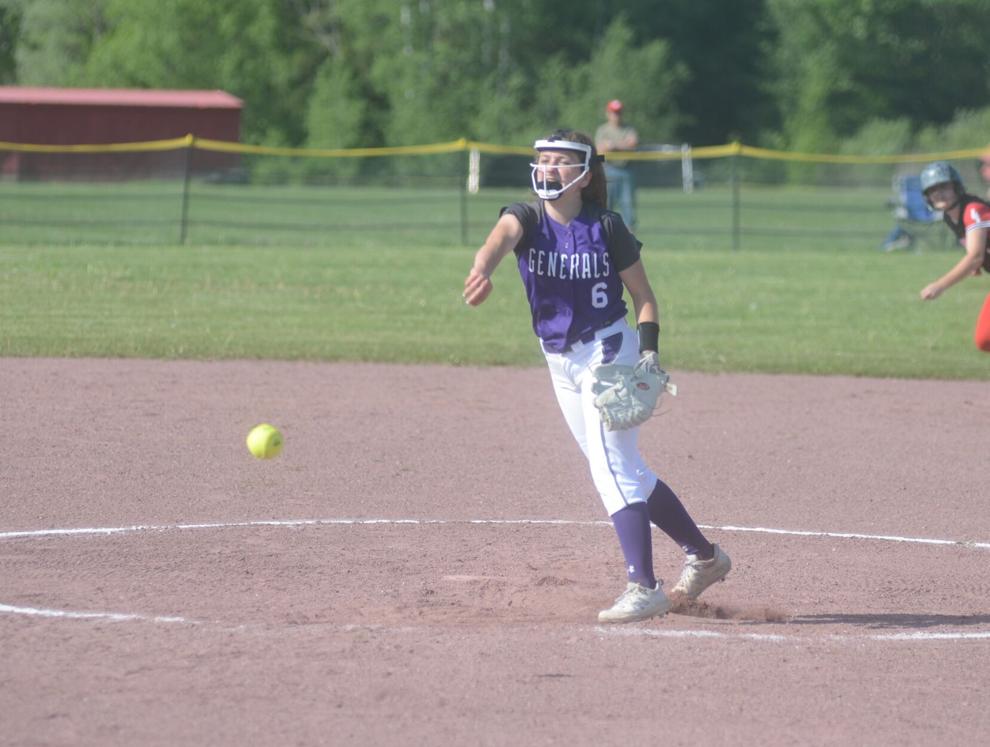 "The intensity started midway through the last game and it didn't stop until the last out of this game," Clary said. "They don't quit. From the first pitch until the last out, nobody quits."
Mia Arpante, who started in the circle, struck out two batters to end the sixth inning as the Generals entered the final stanza with a one-run lead over the Hurricanes.
Pittsfield wasn't planning on playing extra innings on back-to-back nights. With one out, Mia Potash smashed a double that hit the fence in center field and Jordynn Bazinet followed with her second hit of the afternoon, giving the Generals two ducks on the pond with just one out.
The hit parade continued as Abby Lummus and Sophia Santos knocked back-to-back singles, giving Pittsfield a 5-2 advantage as the game advanced to the bottom of the seventh.
Facing the top of Hoosac's lineup with a few extra runs in her back pocket, Arpante was zoned-in, retiring the side in order to lock down Pittsfield's sixth win of the season.
The freshman relinquished just one earned run while striking out seven Hurricanes on the afternoon.
"We have a lot of confidence in her," Clary said. "Mia was mixing up her pitches between the fastball and change-up and it kept them in check. In the field we made a few errors, but never got down."
"She's been working hard and throwing strikes," Pittsfield catcher Mia Alfonso added.
Alfonso, coming off a 5-for-5 performance that included a walk-off hit and home run on Monday, added another big hit to her resume on Tuesday. Stepping to the plate in the top of the fifth, the junior launched a ball over the left-field fence to give Pittsfield a 3-1 lead at the time.
"Just make contact," Alfonso said of her approach at the plate. "[Hoosac pitcher Madi Puppolo] is really fast so you just need to know you can get around one."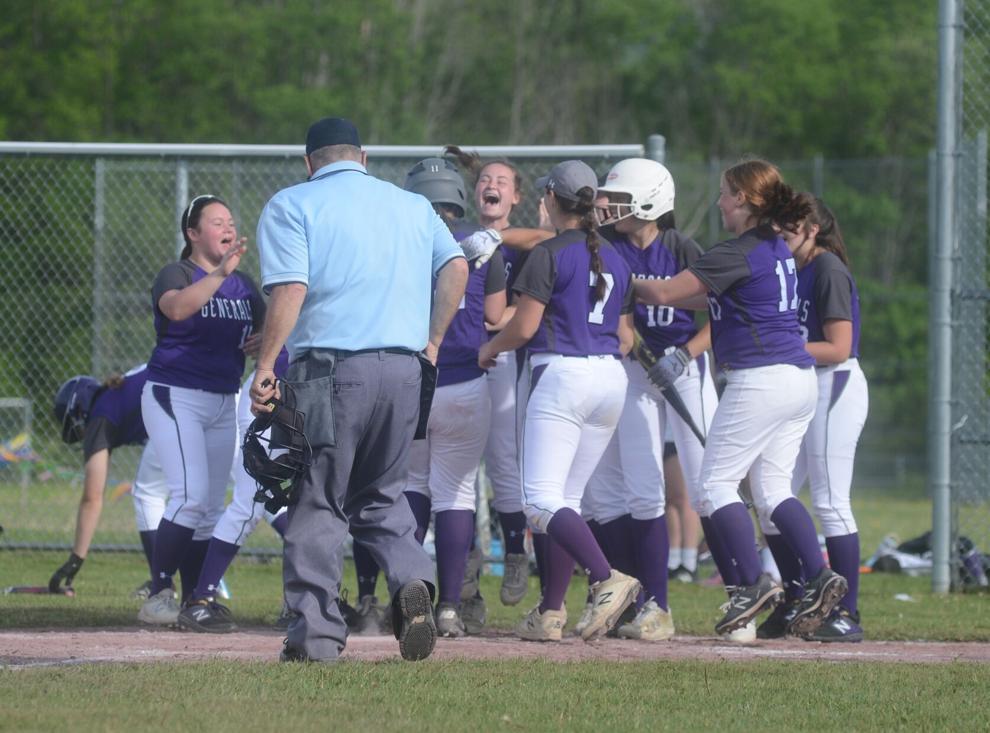 After striking out in her last at-bat, Alfonso couldn't be more relieved to see her team waiting for her as she rounded third and headed towards the plate.
"I just know my teammates are always there," Alfonso said. "They picked me up after striking out and it really helps to know they are there."
While Pittsfield tagged Puppolo for five runs, the scoreboard was a bit deceiving. Hoosac's senior pitcher was locked in, striking out 11 while allowing three earned runs.
Rylynn Witek, another one of Hoosac's senior captains, helped the Hurricanes manufacture two runs out of the leadoff spot. She walked in the top of the first and stole second before later scoring on an error.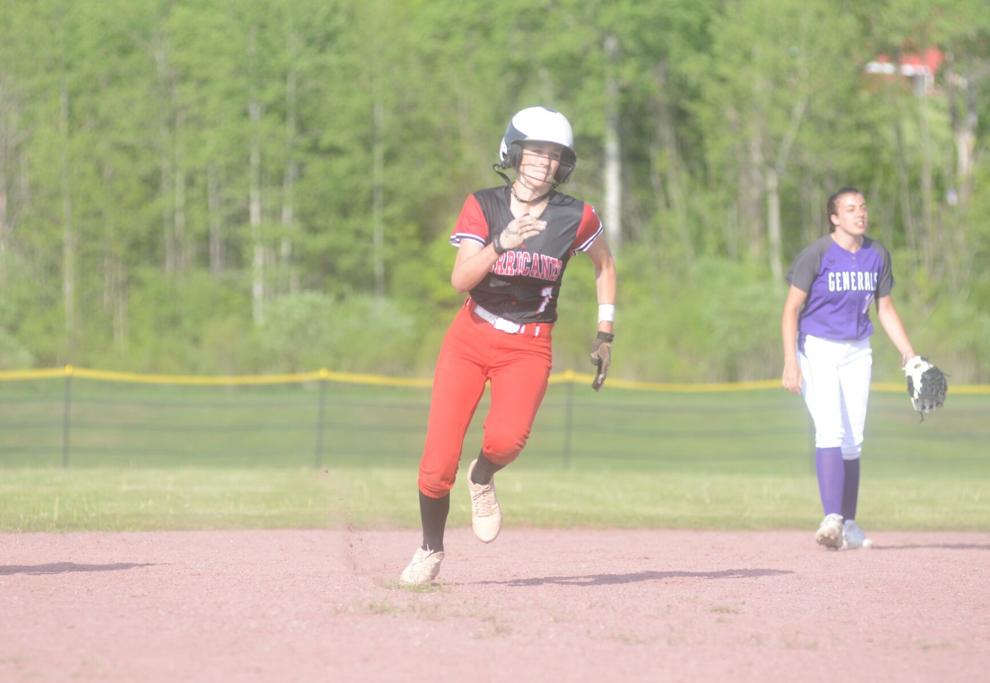 She reached again with one out in the top of the fifth and stole two bases on a single pitch, before Paige Meyette brought her in with a single.
"Those captains lead us and give us a shot in every game," said Mike Ameen, coach of the Hurricanes. "There is a big age difference between the seniors and the seventh and eighth graders we also have out there.
"We noticed it today, they're chatting more and being more of a team, instead of kids on a team. I'm very happy with the progress."
———
Pittsfield 000 210 2 — 5 9 4
Hoosac 100 010 0 — 2 6 3
Arpante and Alfonso. Puppolo and Bishop. W — Arpante. L — Puppolo. 2B — P 4 (Santos, Potash, Sondrini, Bazinet). HR — P 1 (Alfonso).