The 2020 girls basketball season was a welcomed return to the court but left much to be desired in a county that featured so many teams headed in the right direction.
From budding upperclassmen to state championship aspirations, Berkshire County was primed to have it all a season ago.
There is no use in gazing into the rearview mirror for too long, objects aren't getting closer than they may seem. Now that all 11 teams are back on the freeway and digging into the Pioneer Valley Interscholastic Athletic Conference the GPS is set, locked on the state tournament.
Speaking of the PVIAC, Taconic plays in the Valley League and Pittsfield is in the Valley Wheel. Both Wahconah and Hoosac play inside the Suburban Division, while Mount Greylock, Monument Mountain and Drury are in the Central Division. McCann Tech, Lee and Mount Everett are in the Franklin West while Lenox plays in the Franklin North.
Teams will play each team in their division twice during an 18-game season. The PVIAC will host an eight-team Western Massachusetts tournament, which will begin in late February.
Taconic
The Green and Gold were one of three local basketball teams to not complete the 2019-2020 season. Taconic had to settle for the title of co-State champions due to the season being called right before the title game. The 2020 Berkshire County season saw Taconic's big 3 of Ahliya Phillips, Ciany Conyers and Faith Cross combine for roughly 32 points per game as juniors.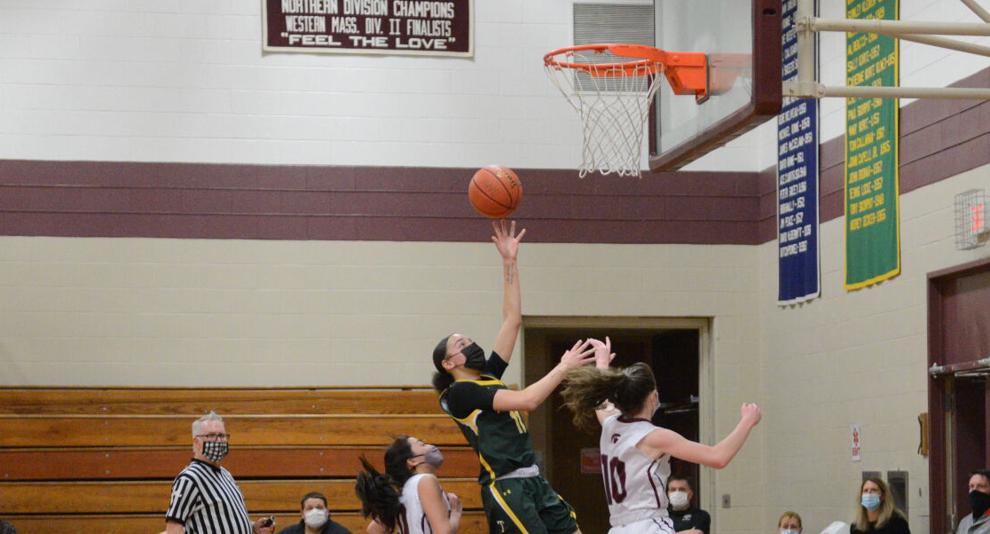 Now, as seniors, Taconic will lean on the duo of Phillips and Cross due to Conyers transferring to Hoosac School, a boarding school located in Hoosick, N.Y.
Phillips has the speed to attack open space throughout the court and is at her best in transition. Additionally, with Taconic spreading the floor, defenses will have to run in circles in order to keep up with Cross, who can dictate a game in the paint if left in a one-on-one matchup.
The team also lost Kendra Buda, who graduated in 2020 and junior Brenna McNeice will step in as a guard who can facilitate on the offensive end. Alex Hudson averaged four points per game last season and can emerge as a sharpshooter in her junior year. She averaged one 3-point field goal per game last season and those opportunities will present themselves much more often as Taconic looks for secondary scorers behind Phillips and Cross.
Amelia Leasure is another junior who fits the bill of a sharpshooter who can help Taconic get out and control the pace of play on the court. Cross and Phillips are the only two seniors on a roster that features eight juniors who are looking to find their role at the varsity level.
Pittsfield
Alyssa Potvin is the only senior for the Generals this season, yet there are some returners that have logged some pretty big minutes over the last two seasons. Jamie Duquette averaged roughly eight points a game as Pittsfield made some noise in the 2019-20 Western Massachusetts Division II tournament. Randi Duquette averaged six points per game as a freshman as both players maintained their pace during the abbreviated winter season.
Now, as juniors, the upperclassmen have taken their lumps and are ready to command a relatively young group of Generals.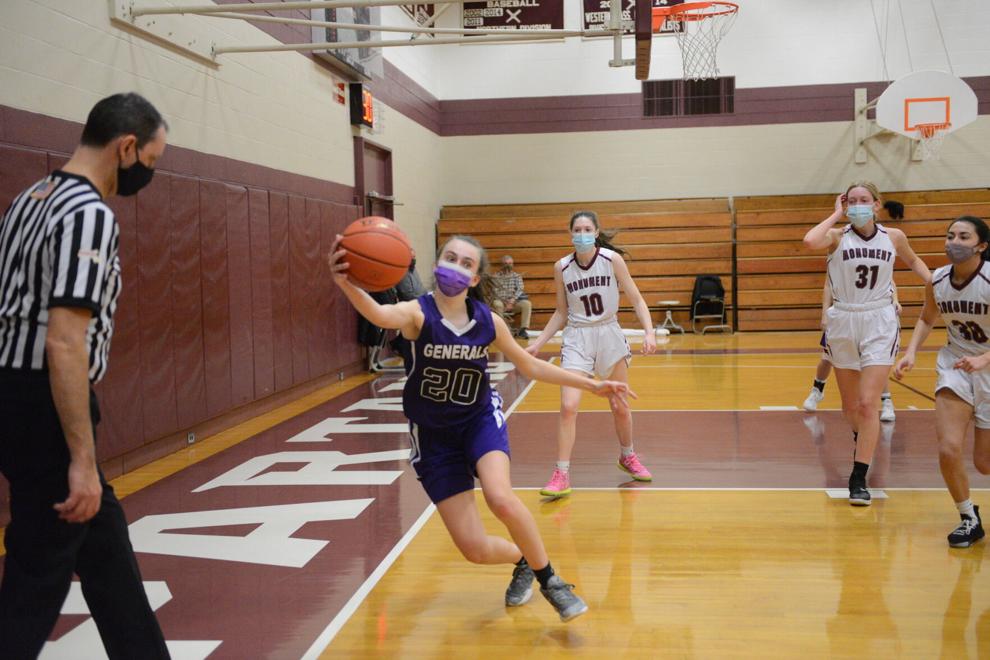 Freshman Dezerea Powell started in the backcourt for Pittsfield early in the season due to her hands and quick-step, pestering opposing guards looking to run the offense. Both Powell and freshman Jasmine Small can help stretch opposing defenses as they continue to develop a 3-point shot as the season progresses.
Additionally, coach Joe Racicot has turned to sophomores Britain Sadowy and Alyssa McNeil for big minutes early in the year.
The Generals will start the season as a scrappy bunch looking to slow games down until chemistry begins to click on the offensive end of the hardwood.
Hoosac Valley
Averie McGrath started scoring on Dec. 10, 2018, and has not stopped scoring since. That 10-point performance over Lenox was just the tip of the iceberg for a two-time state champion who has scored over 500 career points despite being on a pair of title teams loaded with shooters.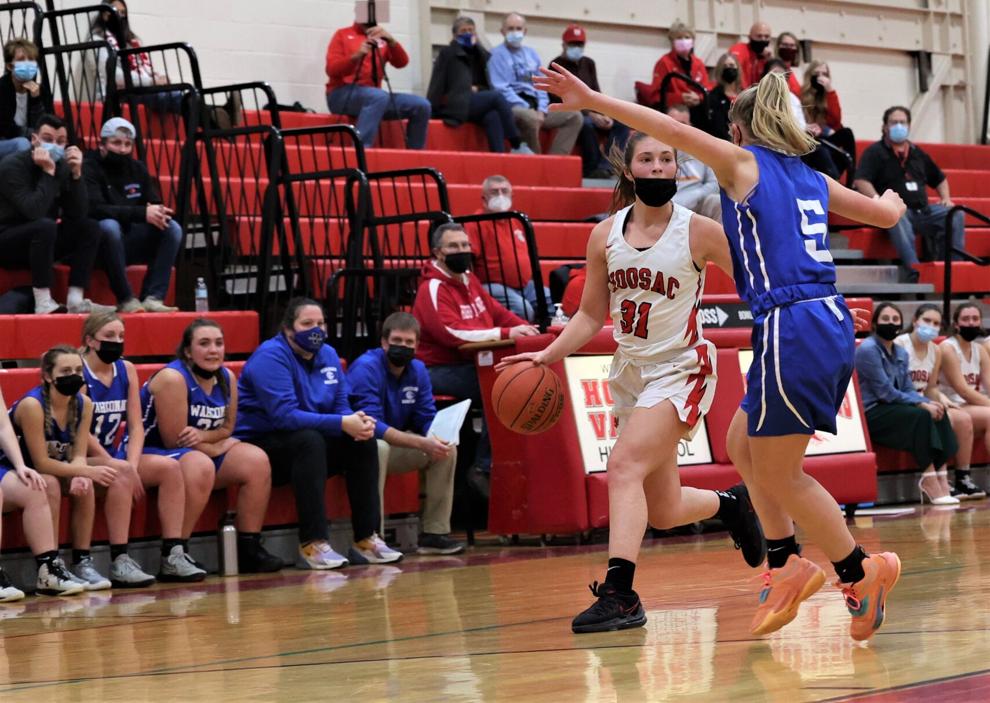 McGrath is one of four seniors on Holly McGovern's roster as Hoosac chases a third-straight state title game.
Fellow senior Rylynn Witek really turned things on last winter by ending the campaign with six-straight games with double-digit points, averaging just under 10 points per game.
Alyssa Garabedian can play off the ball and create her own shot, averaging six points per game last year. Lily Boudreau, the team's final senior, will look to create space on the floor for Gabby Billetz to command the paint.
The junior missed the abbreviated winter campaign but was vital in Hoosac's 2019-20 title run with six points per game while anchoring the defense with her ability to alter shots and capture boards off the glass. Taylor Garabedian, Hanna Shea and Ashlynn Lesure, three other Hurricanes who saw the court last season, could be in line for some open looks as opposing defenses work to slow Hoosac's bunch of lethal scorers.
Wahconah
The Warriors were Berkshire County's perfect team last winter season with a record of 20-0 due to a stifling defense and the firepower of an offense featuring seniors Maria Gamberoni (20 ppg), Noelle Furlong (9 ppg) and Morgan Marauszwski (5 ppg).
Olivia Gamberoni and Grace Wigington are two players looking to fill some of the minutes left to the trio that graduated over the summer.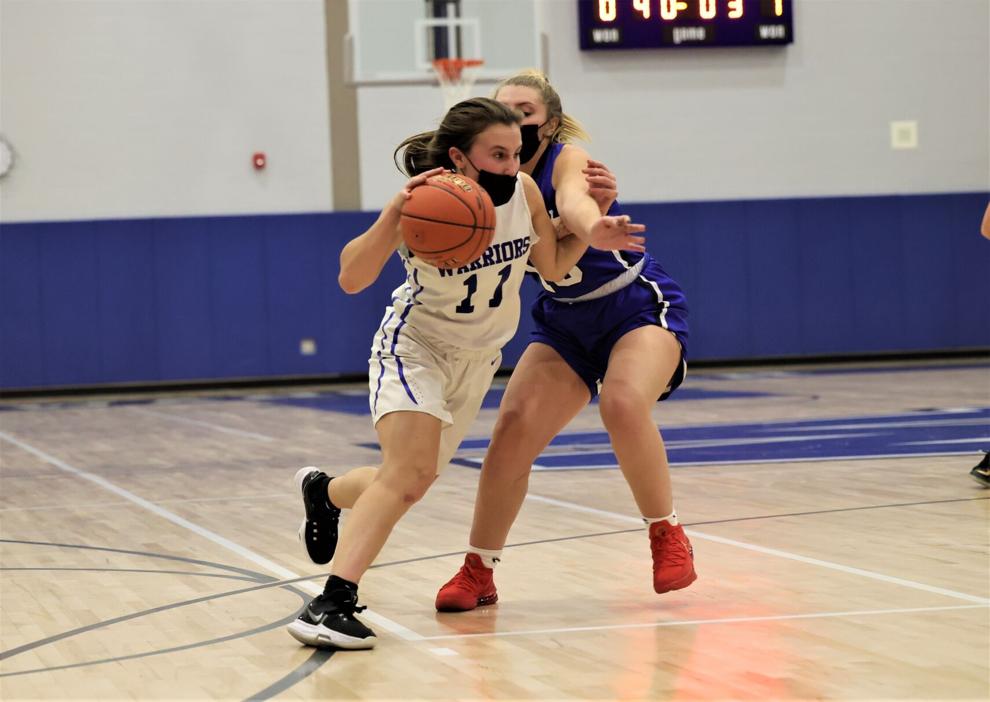 As if the Wahconah defense wasn't tough enough, Olivia Gamberoni will look to be a matchup nightmare with the versatility to guard any position on the floor while keeping opponents to just one shot attempt each time down the court with her ability to capture rebounds.
Gamberoni averaged 6.5 points per game last winter and Wigington (5.6 ppg) can become a volume shooter from beyond the arc. Wahconah featured four players who averaged at least one 3-point shot a game last season and only Emma Belcher remains on the roster.
Belcher has logged minutes since her freshman season and will hound opposing guards for four quarters. Eva Eberwein is another returner with some experience, suiting up for the varsity squad since the tail-half of the 2019-20 season.
The (first) names and faces may look different in Dalton, but this isn't a transition period for coach Liz Kay's squad with the next wave of student-athletes looking to take the next step.
Mount Greylock
Charlotte Coody was thrown into last season as an eighth-grader and responded with six points per game and the foresight to know where the ball is headed after knocking off the rim. Coody served as Greylock's center and was second in scoring behind Delaney Babcock, who graduated. The Mounties are rolling into the year with Tessa Leveque as the team's lone senior. Leveque, along with juniors Emma Newberry, Molly Sullivan and Emma Gilooly, serve as the team's captains.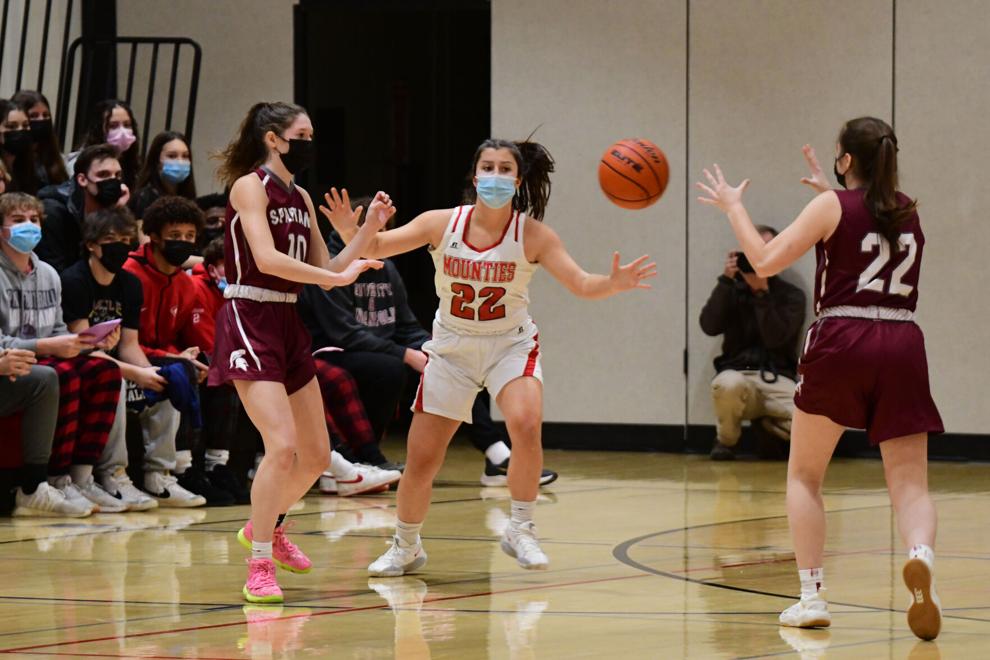 Newberry is Greylock's facilitator at the top of the key, working to get open looks for Gilooly and sophomore Abby Scaliabba, who are lethal beyond the arc. Scialabba drained at least one 3-point shot in every game on average last winter and was third on the team averaging nearly six points per game. Gilooly played in her freshman season, knocking down 29 3-point attempts in the 2019-20 season.
The Mounties are a youthful bunch but scoring won't be a problem in Williamstown and Greylock's success will depend on how quickly the team can gel around Coody on defense after losing Babcock and Emma Stevens, who were defensive anchors in their senior year.
Sullivan and Annie Art are two others primed for a major bump in minutes on a roster that features five upperclassmen and five underclassmen.
Drury
Hoosac Valley isn't the only team with a walking bucket that goes by McGrath. Drury's Kayla McGrath has been scoring since her freshman year, a campaign that featured 148 points and 32 made 3-point attempts. McGrath has remained a primary scorer since then and averaged eight points per game last winter.
Alyssa Russell scored over five points per game during last season and she can make McGrath's life a bit easier with her ability to shoot from beyond the arc, which forces the defense to stretch out to the perimeter.
Someone who can make life easier for both scorers is Lauren Davis, a speedy guard who specializes in piercing opposing defenses before finding the open shooter.
Izzy Moran, Brooke Bishop and Hannah LaCasse will play their first varsity ball outside of the County this season after cracking the rotation a year ago.
Opponents will do what they can to slow McGrath on the offensive end and while that hasn't worked too well in the past, the Blue Devils will benefit from a second and third option solidifying themselves as scoring threats to keep the buckets coming against stout defenses late in the season.
McCann Tech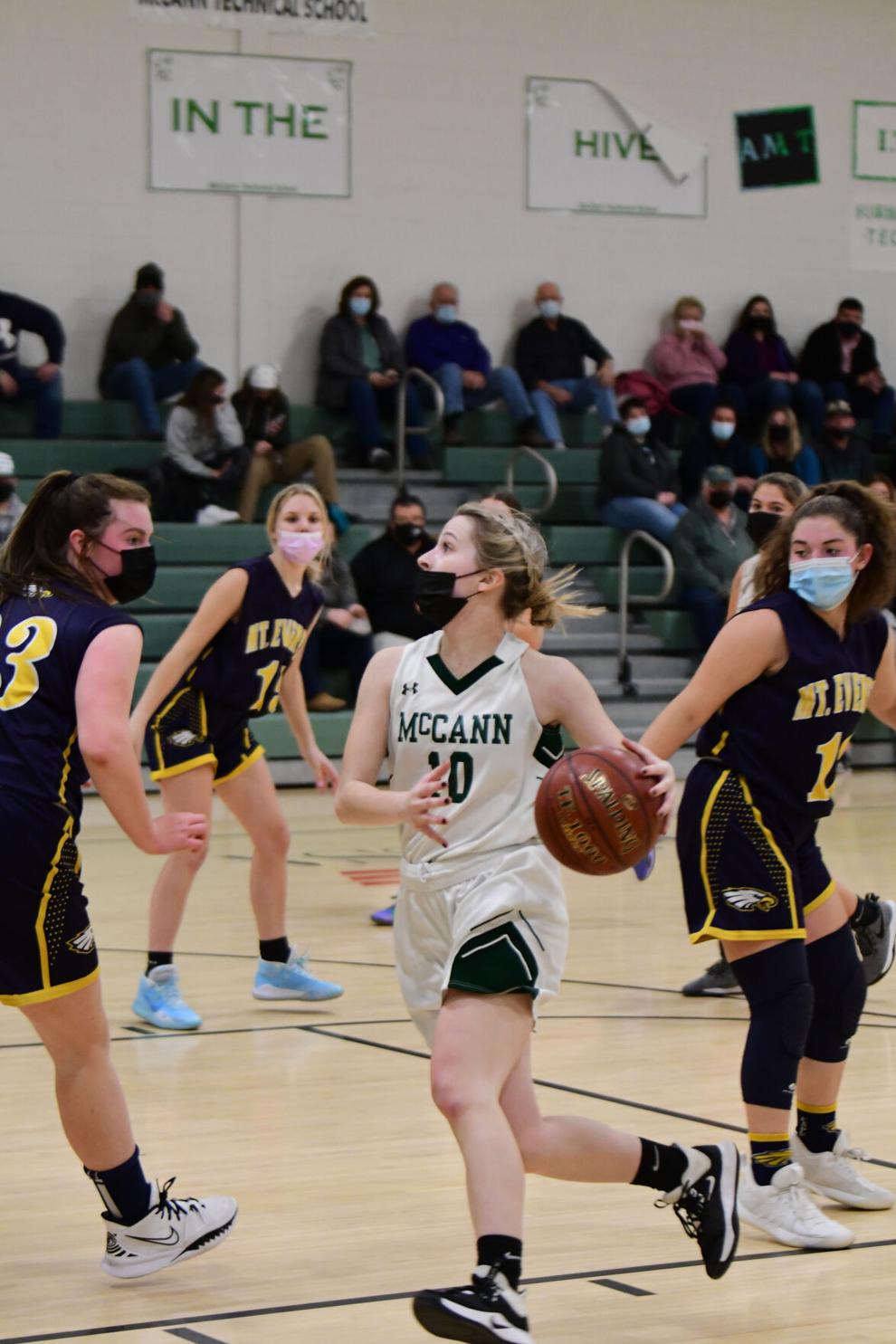 Coach Kathy Budaj will be the first to say that the Hornets look like a team that did not play last season. McCann Tech did not participate in Berkshire County's 2020-21 season but all things considered, there are some things brewing in North Adams. Izzy LaCasse torched opposing defenses with 253 points in her freshman year, finishing second on the team in points per game. Her sophomore season was good for another 349 points and now, as a senior, LaCasse projects to be one of the top scorers in the Franklin West.
LaCasse leads the charge on offense, forcing defenses to shade to her side of the court with her quick first step off the dribble. Her skill set meshes perfectly with the height of Macey Tatro and Hannah Boisvert down low, who may get some pretty good looks under the rim as defenses chase LaCasse around the court.
Court awareness and vision are two of Boisvert's biggest strengths and they will continue to develop as the team continues to smooth out the bumps throughout the year.
Maddison Clark, Addie Hayer and Tatro all played in some capacity back in the 2019-20 season but there is no doubting that 2021 will feature a larger workload.
LaCasse, Boisvert and Tatro are in line to be the focal point of McCann Tech's offense while Camryn Moran and Catryna Marsh look to give the Hornets a boost off the bench.
Lee
The Wildcats have been looking forward to the 2021-22 season for some time. Emma Puleri, Caroline Maloney and Brianna Kelly have all logged varsity minutes since their freshmen year. In fact, Puleri led the Wildcats with 171 total points in the 2018-19 season. Fast forward to the present, the trio are all seniors with hopes of a deep postseason run.
The Wildcats have spent some time together as Ariana Hall, Mia Puleri, Bella Lovato and Carina Brown saw some playing time last winter.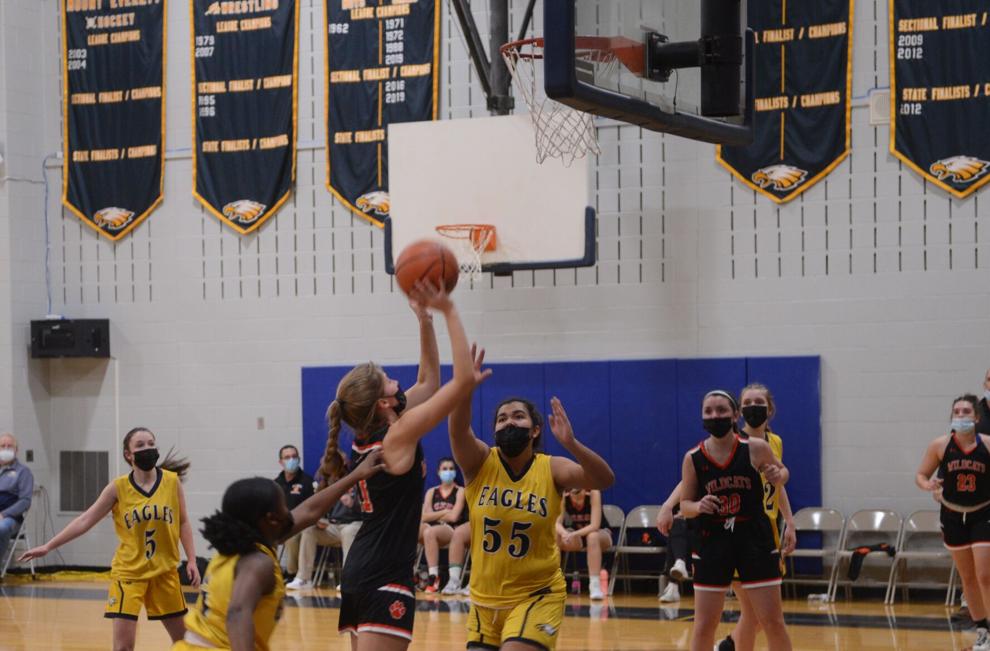 A bit of familiarity can go a long way in an offense that thrives on instinct and pace. Both Puleri and Maloney excel in the open court with the ball in their hands. Maloney is at her best in the paint with a head of steam, while Puleri is more likely to take what a defense is giving her. Even then, each of them can shoot. Puleri knocked down 33 3-pointers as a sophomore and Maloney added 16 more.
Kelly serves as the perfect compliment for the duo in the front court. Kelly can hit the elbow jumper, which opens up space in the paint, but she is about as physical as they come, willing to outwork even the biggest centers and forwards for each and every rebound.
Joining Kelly down low is Mia Puleri, who had a few double-digit scoring nights throughout last season and averaged more than five points per game.
The Wildcats will give opponents little downtime by pushing the pace whenever possible and are a dangerous bunch that can catch fire at any time.
Monument Mountain
The Spartans are another team that didn't necessarily have to walk around with nametags during the preseason. Monument Mountain features six seniors and four juniors ready to make some noise in the Central Division.
Nine of those upperclassmen played together in the abbreviated winter season and Natalie Lewis will again serve as the team's shot-caller at point guard under first-year coach John Perrault.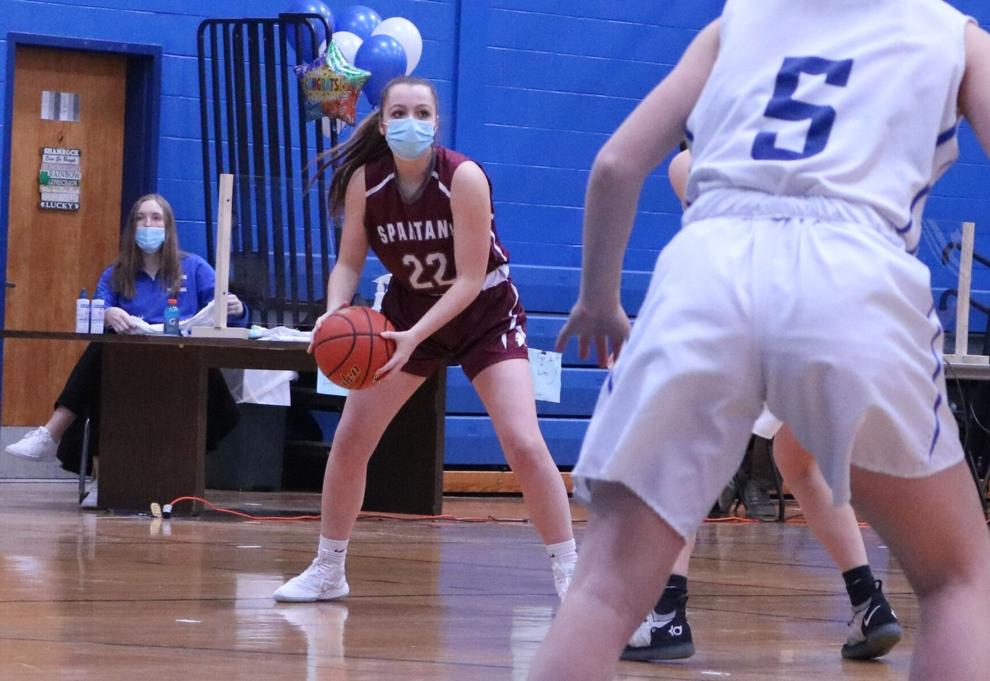 Lewis led the team with 10 points per game last season, while Abby Dohoney joins her in the backcourt. Both guards are capable shooters while Maya Velasco chases opposing guards with her quickness on the defensive end.
The Spartans have no issue slowing the game down with the height and experience of Lenah Helmke, Elee Hull, Mia Wade, Takaiya Brown and Emily Mead down low.
Helmke's strength is her elbow jumper but she has no issue battling in the paint. With Wade, Hall and Mead all capable of working in the paint the Spartans shouldn't have to worry about tired legs on the court.
Sophomore Evi Higgins is a wildcard for Monument Mountain. The team's lone underclassman may serve as a 3-point specialist to help the Spartans stretch the floor with Lewis and Dohoney. In return, Monument's bigs won't have to worry about opponents strictly packing the paint.
Mount Everett
Emma Goewey finished her freshman season with five games of at least 10 points and that number jumped to seven games during the Berkshire County season last spring.
Goewey will be at the center of everything the Eagles want to accomplish as a size mismatch down low and the speed needed to work around some of the bigger defenders at the varsity level.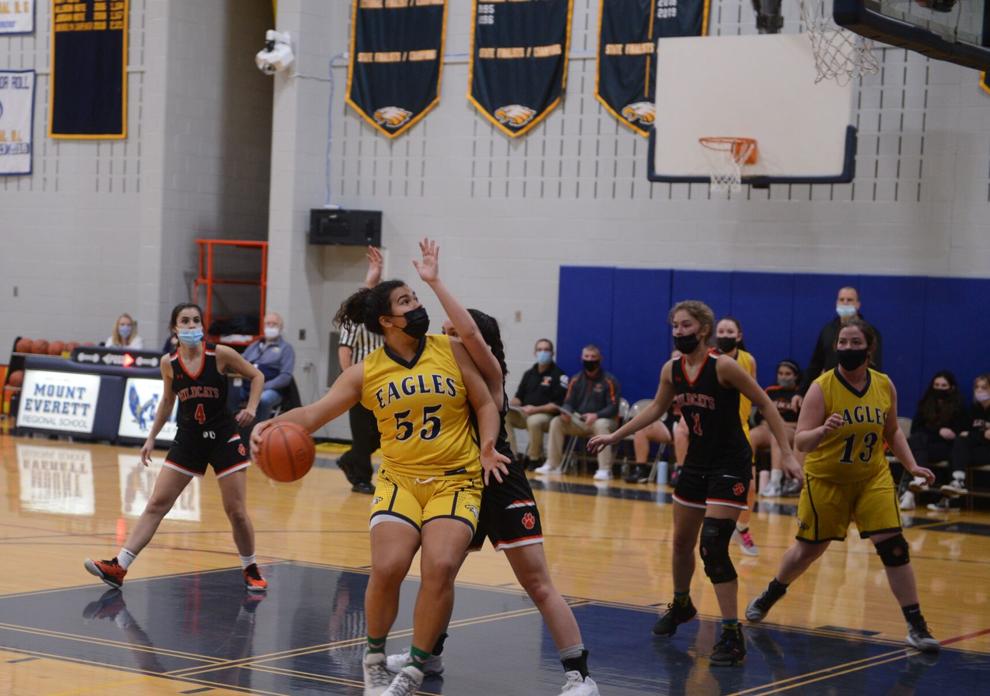 Maggy Sarnacki, Emma Stewart, Julia Devoti and Hudah Ngoy Nkulu are all third-year varsity players for the Eagles.
Devoti runs the point and is fearless when it comes to attacking open spaces in the defense. Ngoy Nkulu is another slashing guard who works best in the paint. Meanwhile, Sarnacki and Stewart may help the team overcome the loss of more than two made 3-point shots a game by Mackenzie Ullrich, who graduated after last season.
Makayla Carpenter and Ella Gennari received their first taste of varsity action last season and join Aliyah Creamer and Mercedes Kosik as players looking to chisel out roles in coach Josh King's rotation.
Lenox
The Millionaires played only four games last season but if we take the Wayback Machine to the previous season, Lenox was competing for the 2020 Western Mass. D-IV title.
Hailey Ano, Mia Giardina, Tabor Paul and Alexandra Lipton all played for the Millionaires and are ready to make another run in their senior campaign. Additionally, Chloe Doyle and Mia Pignatelli round out the team's group of five seniors.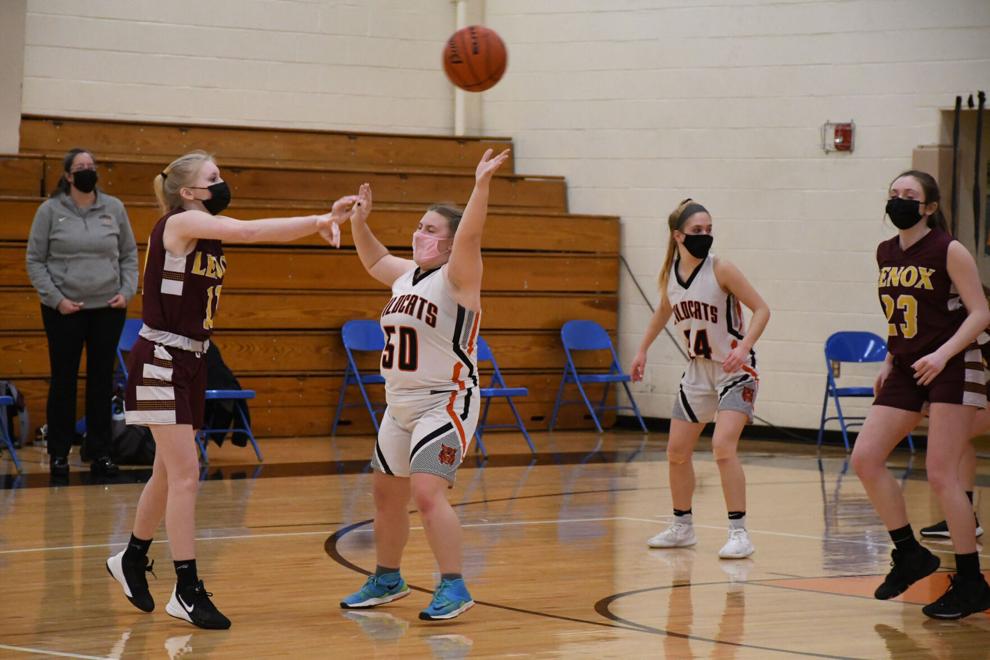 Ano and Paul will work in Lenox's backcourt. Paul knocked down 31 3-point attempts in her sophomore year and is the perfect runningmate for Giardina, a versatile forward who can do a lot with a little space.
The team will also have to figure out how to replace the production of Sophie Patella, who cracked double digits 10 times in her sophomore year. The hard-nosed forward now plays at The Winchendon School, which is roughly two hours away from Berkshire County. Patella was third in scoring behind Giardina (8.3 ppg) and Paul (8 ppg) against last year's Berkshire County field.
Lipton averaged three points per game in the spring and joins Aida Nichols, Kelly Nicotra, Rihana Patel and Hailey Tobler as juniors looking to establish themselves at the varsity level.