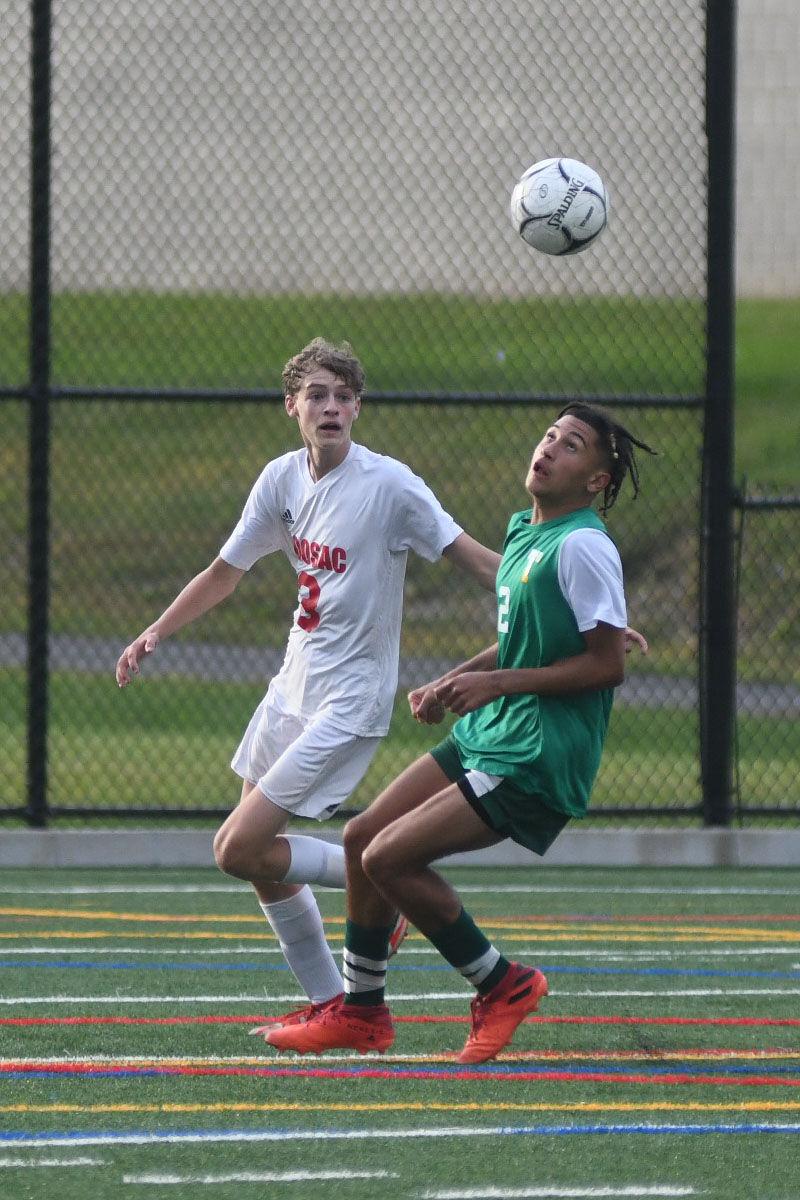 When Danny Kankam scored a goal in the second half enabling Pittsfield to earn a 3-3 draw with Monument Mountain in a boys soccer match on Monday, the matchup and the result was not surprising. After all, Pittsfield and Monument have been rivals in the Berkshire County Northern Division for decades.
The Spartans and Generals are still rivals on the pitch — but it's not the same.
Pittsfield and Monument, along with Mount Greylock, will continue to battle each other home and away, but just not in the Berkshire North anymore. They are now a member of the Churchill Division of the Pioneer Valley Interscholastic Athletic Conference.
When the Massachusetts Interscholastic Athletic Association went to nine districts, Berkshire County (old District 1) and the Pioneer Valley were merged into one district. This fall is the first time a Berkshire County sport, other than football, has been merged into a PVIAC schedule.
"Personally, I love it," Monument Mountain boys coach Matt Naventi said. "I like the fact that we have more games on our schedule right now, so we don't have to struggle to get some non-conference games. I think that's a huge advantage of playing in a six-team conference. We've been playing against Pioneer Valley teams, for a while, some of the tougher ones. I'm okay with that."
Naventi and the Spartans are in a newly-configured Churchill, along with rivals Greylock and PHS. The other three teams in the Churchill are Agawam, Pope Francis and Westfield.
This is also the first year of the five-division, 32-team statewide tournament. The Spartans and Pope Francis are the only Division IV teams in Churchill. Agawam and Westfield are Division II, Pittsfield is Division III, while Mount Greylock is a Division V school.
"It's interesting. We had already been playing a tough independent schedule. I feel like we were able to challenge our team, playing these difficult games," Mount Greylock coach Blair Dils said. "The fact that its now, top-to-bottom in our league — we're playing all these really challenging schools, I think it's a good thing.
"I just want what's best for the development of our players, that they play the toughest competition that they can play."
Dils' Mounties will play home-and-home with everyone in the Churchill, and their non-conference schedule includes contests against Frontier, Chicopee, Ludlow and Berkshire County's Lenox. Compare that with the 2019 season, where Greylock played non-league games against Longmeadow, Easthampton, Ludlow, Amherst, Frontier and Minnechaug.
Berkshire County football teams began playing in the PVIAC back in 2016, with local clubs scattered between the Suburban North, Suburban South, Intercounty South and Tri-County.
In soccer, the 10 boys schools that play are divided between the Churchill, Moriarty and Bi-County divisions. Lenox, Mount Everett and Wahconah play in the Moriarty along with Easthampton, Frontier, Mahar and South Hadley. McCann Tech, Hoosac Valley, Drury and Taconic are in the Bi-County, along with Westfield Tech, Pioneer Valley Christian, Commerce and Gateway.
In girls soccer, 11 teams have been placed into five leagues. Pittsfield and Wahconah are in the Kurty-Fielding with Agawam, Hampshire, Chicopee Comp, Longmeadow and South Hadley. Drury, Taconic, Lee and Mount Everett are in the Pioneer South with Gateway, Pioneer Valley, Hampden Charter and Hopkins Academy. Mount Greylock and Hoosac Valley are in the Grieve Division with Palmer, Springfield Central, Mahar and Ware. The Central Division has Lenox and Monument playing with Chicopee, Southwick, Granby, Northampton and Monson.
McCann Tech is, as it has been for years, a member of the Tri-County League.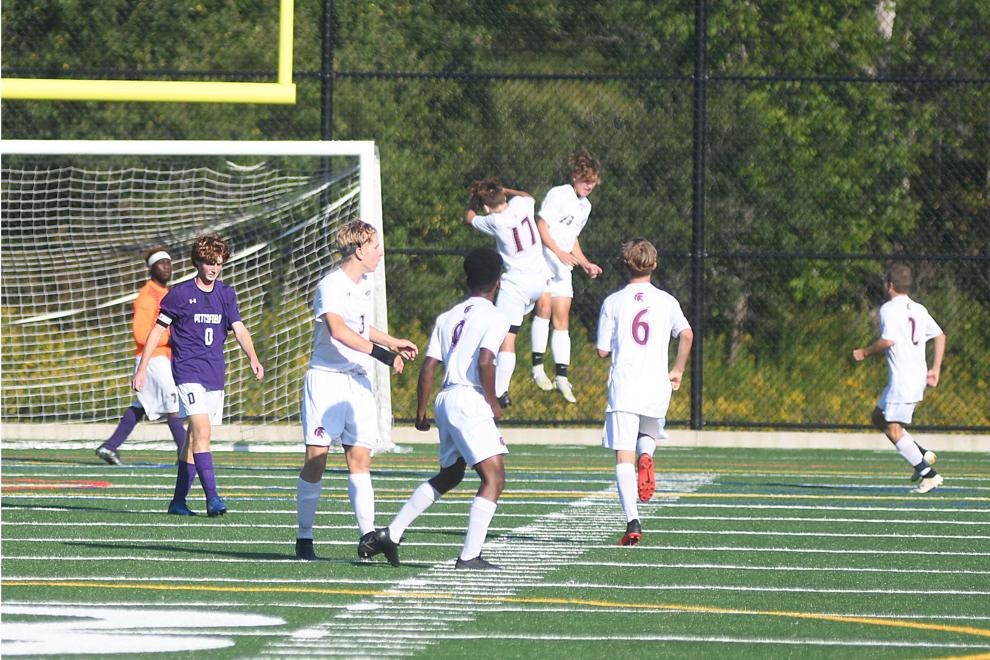 While the Berkshire County boys teams are pretty evenly divided up between three different leagues, it was done with some thought of rivalries.
Take the Churchill, where Pittsfield, Monument and Greylock are together. Over the past several years, those three schools have been among the better boys soccer programs in Berkshire County, and their home-and-home matches have been must-see TV.
"That's good, that'll be familiar and still allow us to get the adrenaline flowing when we play those guys," Dils said. "We don't have any history with the other schools, so we're just feeing each other out. The question will be if we lock into these leagues for several years, then we can develop some rivalries. Right now, everything is so new, including the players on my team. It's such a cliché, but we really are just trying to take each opponent one at a time. The second time around will be fun, because we'll have a little knowledge on them. We'll have some film and can make some adjustments."
There is also a new playoff system.
No longer is there an MIAA Western Massachusetts tournament title to play for. There is going to be a sectional event at the end of the regular season, but the winners will not get to play for a state title.
Instead, 32 teams in each of five divisions will compete for a state championship. There could be more than 32, depending on team results. By the end of November, the MIAA will hand out two trophies, both to teams that play in the state championship games.
"And I think the way the new tournament alignment is organized, it's only to our advantage because most of the games in our conference, we're playing up. We're playing against a lot of Division II and III teams, and we're at IV," Naventi said. "Ultimately it's going to be good for us."
Brian Seminara is in his first fall as the girls soccer coach at Lenox High School. The Millionaires are in the Central Division with Monument Mountain, Chicopee, Southwick, Granby, Northampton and Monson.
"I think there are pluses and minuses to it," Seminara said. "From a perspective of talent and skill and getting to play other teams, other than in the county, I enjoy it. From a logistical standpoint of all the bus travel, and some of the nuts and bolts of how they split up the teams, I'm not a big fan at all."
Like Naventi, Seminara said that this new structure could help his Millionaires as they prepare for playing in the 32-team tournament.
"I would definitely say it gets us a little closer to being prepared for a state tournament," Seminara said. "Back in the day, we used to play 16 games against Berkshire County schools and we tried to get two or three against Pioneer Valley teams to get that experience, because the refs are different, the style of play is different. I think it does get us closer in that perspective."