DALTON — The Berkshire Force offense came alive in a 10-0 win over ACS Swat on Sunday in the championship of the Dalton CRA Tournament's 14U Division.
Berkshire Force beats ACS SWAT 9-0
Berkshire Force beats Adams Cheshire Savoy SWAT 9-0 in five innings in the Dalton CRA softball championship.
To purchase photos click here
Berkshire Force got off to a strong start in the first inning as they used an aggressive approach on the basepaths to get runners in scoring position. Audrina Maloney started the scoring for the Force with a triple that plated Mia Arpante. After Nevaeh Lopez and Kamryn Renata walked, Amanda Pou hit a single to bring both of them in. Paxton Ebling capped off an eight-run inning with a single that plated Ava Rachiele and Arpante.
Pou was the starter for Berkshire Force and she pitched an excellent game. Pou threw five innings with no earned runs, no hits and 7 strikeouts. She was in command throughout the game as she only walked two batters.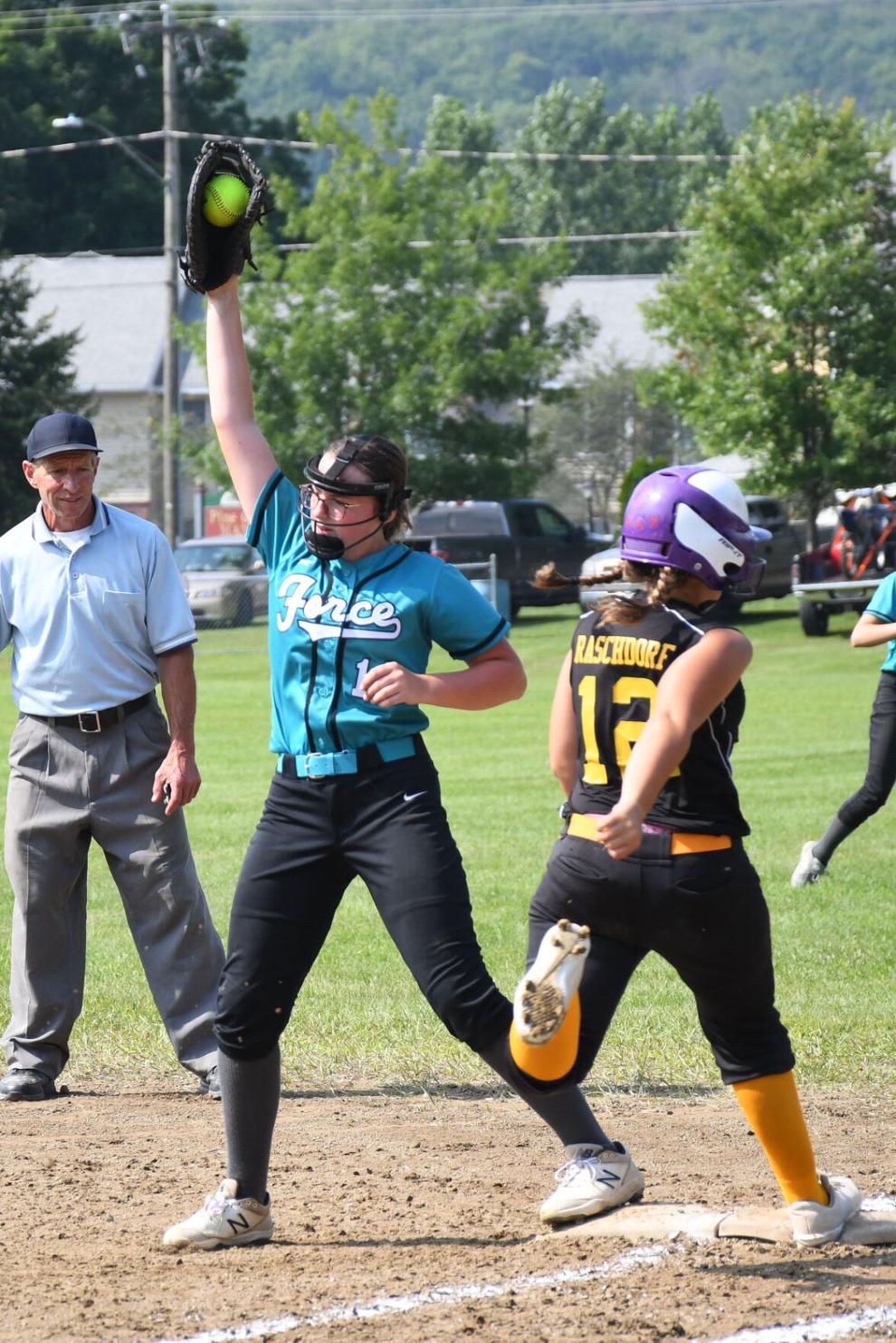 "I wasn't really that nervous because I know I have a team that I can trust and that will help me throughout the game," The Force ace said.
The Force added two runs in the second inning on a Renata single that scored Lopez and a sacrifice fly from Pou that plated Renata. Pou finished with two hits and three runs batted in. Natalie Arnhold, Rachiele, and Arpante added hits for the Force.
Nora Moser started for ACS Swat and pitched four innings. Moser finished with 10 earned runs, eight hits, and one strikeout.
Pou completed her no-hitter in the fifth with a strikeout to end the game via the 10-run rule.
"It felt really good because I really love my team, this team has been the best," Pou said when asked about winning the championship.
———
Swat 000 00 — 0 0 0
Force 820 0x — 10 8 0
Amanda Pou (5). Nora Moser (4). W — Pou. L —Moser.