NORTH ADAMS — It's always a game Gwendolyn Carpenter has circled on her calendar.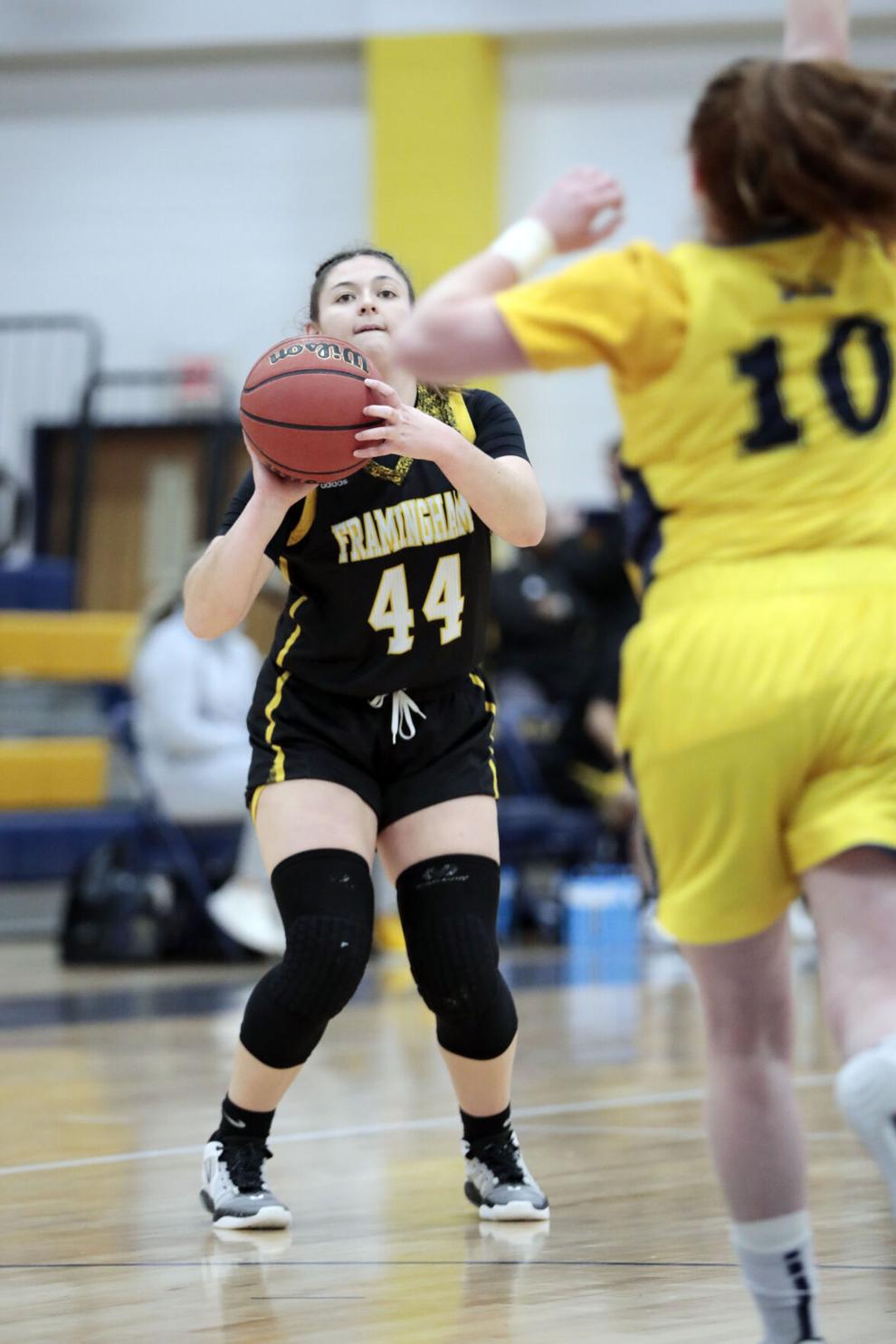 "It's always nice to be back in The Berkshires," said the junior guard from Framingham State. And especially after her team picked up its 11th win.
Carpenter did not score, but pulled down five rebounds and dished four assists in only 19 minutes, as the visiting Rams beat MCLA 69-43 in the second game of a MASCAC doubleheader Saturday afternoon.
The junior biology major got to play in front of her parents, Jesse and Amy Carpenter of Ashley Falls. And coming back to play MCLA always elicits comments from her teammates.
"It's fun to be back, and it's funny that when we're driving through, all my teammates are like 'Oh my god, we're in the middle of nowhere,'" Carpenter said after the game. "I'm like, no, it's The Berkshires. It's beautiful."
Haselton 10 to lead Framingham. Hailey Peabody 8 for MCLA. Carpenter 11 minutes, 0 points, 4 rebounds 1 assist. Typical Carp kind of game.

— Howard Herman (@howardherman) January 14, 2023
It was a game where no Framingham starter played more than 25 minutes. In fact, only the Rams' Abigail Martin got to the 25-minute mark on the scoresheet.
That gave the Rams their third win in as many games, and their second comfortable victory in a row. Framingham had come to North Adams off an 85-32 win over Fitchburg.
With the win, Framingham is now 11-3 and 3-1 in conference play. MCLA falls to 0-3 in MASCAC and 3-12 overall.
Framingham had been the preseason favorite in the MASCAC coaches' poll, garnering six first-place votes, but finishing only five points ahead of Bridgewater State. The tightness of that poll was demonstrated because on Jan. 4, Bridgewater handed Framingham its only loss, a 75-58 decision.
"We definitely have made some progress," Carpenter said. "We have a lot of work to do defensively, but we're getting there. We still have a ways to go."
For the season, Carpenter is averaging 7.3 points, 5.5 rebounds and 5.9 assists per game. She leads MASCAC in assists and is third in assist-to-turnover ratio at 1.6.
"We've had a good start to the year," she said. "We had a little hiccup in the beginning, but we're getting back on track."
Walter Paschal is in his 10th year at Framingham, and recruited Carpenter to the Middlesex County school, where she also plays softball.
Carpenter was a freshman in the 2019-20 season and averaged just 16.5 minutes per game and did not start. After the COVID year, she started in 26 games, averaged 11 points and helped the Rams win their second straight MASCAC regular-season and tournament championship.
"It started last year," Paschal said in response to a question about Carpenter's growth on the court. "She's a point guard. She's a leader. She makes big buckets for us and directs traffic. That's always going to get more and more important as it gets later in the season. Playing two sports, softball and basketball, she gets beat up a little more than most kids."
It was a wire-to-wire win for the Rams on Saturday afternoon. The visitors knocked MCLA for a quick loop, jumping out to a 9-3 lead.
It started when Flannery O'Connor was fouled by Hailey Peabody and made a pair of foul shots with 9:34 left in the first quarter.
Neither team scored for the next minute-and-a-half, before Carpenter threaded the needle with a pass to O'Connor for a layup, making it 4-0.
MCLA kept it close early and when Kristie Zator, who scored 12 for the Trailblazers, drained a 3-pointer, the lead was cut to 13-10. Katherine Haselton missed on Framingham's next trip and, after Zator rebounded the miss, MCLA coach David Bostick called time.
Unfortunately for the Trailblazers, Zaylee Ramos turned the ball over out of the timeout. Katty Haidul made the steal and took it to the hoop for two. Then Haselton drove through traffic to score the final two points of the quarter, giving Framingham a 17-10 lead.
The Rams opened the second quarter on a 13-2 run that included a pair of 3-point hoops by Jenna Tavanese. That made it 30-12, and the rest was academic.
"We've been struggling, kind of, playing our brand of basketball," the Framingham coach said. "Today we did. We were unselfish, passed the ball, played good defense. You really need to push the ball to be good."
Haidul had a game-high 18 points for Framingham, while Peabody led MCLA with 14.
Carpenter went from averaging 16 minutes as a freshman to 35 last year and 34 this year.
"It is weird to be the old one," said Carpenter, one of five juniors on a team without a senior. "Honestly, it gives us a chance to show the young kids what our culture and what our expectations are. I think we've done a pretty good job so far."
Oh, and if Bostick and the Trailblazers were hoping not to see Carpenter next year, she said she's taking advantage of the extra season the NCAA offered student-athletes, to wrap up her hoop career.
"It is crazy. I do feel like an old lady, but I'm thankful to still be doing it and happy to be here. I'm lucky enough to be able to come back next year," she said. "Yes, I will be here."
Photos: MCLA plays Framingham State in women's basketball
The MCLA women's basketball team faces off against Framingham State on Saturday at the Amsler Campus Center in North Adams.
To purchase these photos, click here.
———
FRAMINGHAM STATE (11-3, 3-1)
Haselton 6-12 1-1 14, O'Connor 3-7 3-6 9, Fernandez 0-2 2-4 2, Haidul 9-11 0-0 18, Carpenter 0-2 0-0 0, Tavanese 3-8 0-0 9, McAuliffe 0-0 0-0 0, Redford 2-5 0-0 5, Fein 1-4 0-0 2, Yelle 4-9 0-0 8, Martin 1-8 0-2 2. Totals 29-68 6-13 69.
MCLA (3-12 0-3)
Teta 3-10 0-0 7, Ramos 3-14 0-0 6, Pressley 0-2 0-0 0, Zator 4-10 0-0 10, Peabody 7-10 0-0 0, Lucas-Mederios 0-1 0-0 0, McGee 0-3 0-0 0, Khoury 0-0 0-0 0, Bill 2-4 0-0 4. Totals 19-54 0-0 43.
Framingham 17 17 18 17 — 69
MCLA 10 6 14 13 — 43
3-point baskets — Framingham 5-12 (Haselton 1-2, Tasvanese 3-5, Redford 1-3). MCLA 5-18 (Zator 4-10, Teta 1-4). Rebounds — Framinghan 44 (Haselton 6, Yelle 6, Martin 6). MCLA 32 (Peabody 10, Teta 7). Assists — Framingham 21 (Hasleton 5, Carpenter 4). MCLA 10 (Teta 5, Ramos 2). Steals — Framingham 13 (Martin 4). MCLA 6 (Peabody 3). Turnovers — Framingham 15 (Tavanese 3, Martin 3). MCLA 24 (Teta 5, Ramos 5, Peabody 5).