Peyton Steinman's college basketball career might have ended prematurely, but the honors continue to come in.
Steinman, whose Saint Anselm squad lost to Le Moyne in the quarterfinal round of the Northeast-10 Conference Tournament, was named an Honorable Mention Division II All-American by the Women's Basketball Coaches Association.
"We congratulate remaining members of the 2022 WBCA NCAA Division II Coaches' All-America team as well," said WBCA executive director Danielle Donehew. "These young women have worked to elevate their teams and themselves to an elite level of competition. Through their exceptional talents on the basketball court, they have also lifted the women's game."
While Steinman and her Saint Anselm teammates were hoping to have been in Birmingham, Ala., for the Division II Elite Eight, battling for an NCAA title, the All-America honor is a consolation prize.
Steinman is the ninth Saint Anselm player to be named an All-American, and joins former teammate Shannon Ryan on that list.
The Pittsfield High School graduate, who was the Northeast-10 player of the year and a Division 2 Conference Coaches Association All-Region first teamer, ends her career at the New Hampshire college as the all-time leading scorer. Steinman finished with 1,781 points, marking the second consecutive season that a Saint Anselm's player had become the school's scoring leader. Ryan had scored 1,769 points to become the scoring leader in 2020.
Steinman was named the Northeast-10 player of the year, and was only the third Saint Anselm player to receive the honor. She joins Ryan and Rachel Jackson (1985) on that short list.
The former PHS standout led the Northeast-10 with a 20.6 point-per-game scoring average. She missed just 20 of 175 free-throw attempts this year.
The Hawks were 15-13 this season. In Steinman's four seasons, Saint Anselm went 75-42.
Steinman was one of four Northeast-10 players to be named Honorable Mention All-Americans. She is part of a list that includes Meg Knollmeyer of Southern New Hampshire, Kayla Raymond of Stonehill and Lauren Schetter of Pace.
———
Ellie Field of Adams wrapped up her college swimming career by earning Honorable Mention All-America honors at the NCAA Division III swimming and diving championships in Indianapolis.
Field, who swims for Roger Williams University, earned her All-America honor by finishing 12th in the 100-meter freestyle. Her time was 50.95 seconds, which is also a school record.
She did not earn All-America status in her other two events, the 50 and 200 freestyle, but she did set program records in both events. She was 20th in the 200 freestyle in 1:51.62, and was 26th in the 50 freestyle in 23.34.
Field and Roger Williams' Riley Williams were on the Honorable Mention All-America list. Williams earned his in the 400 individual medley.
———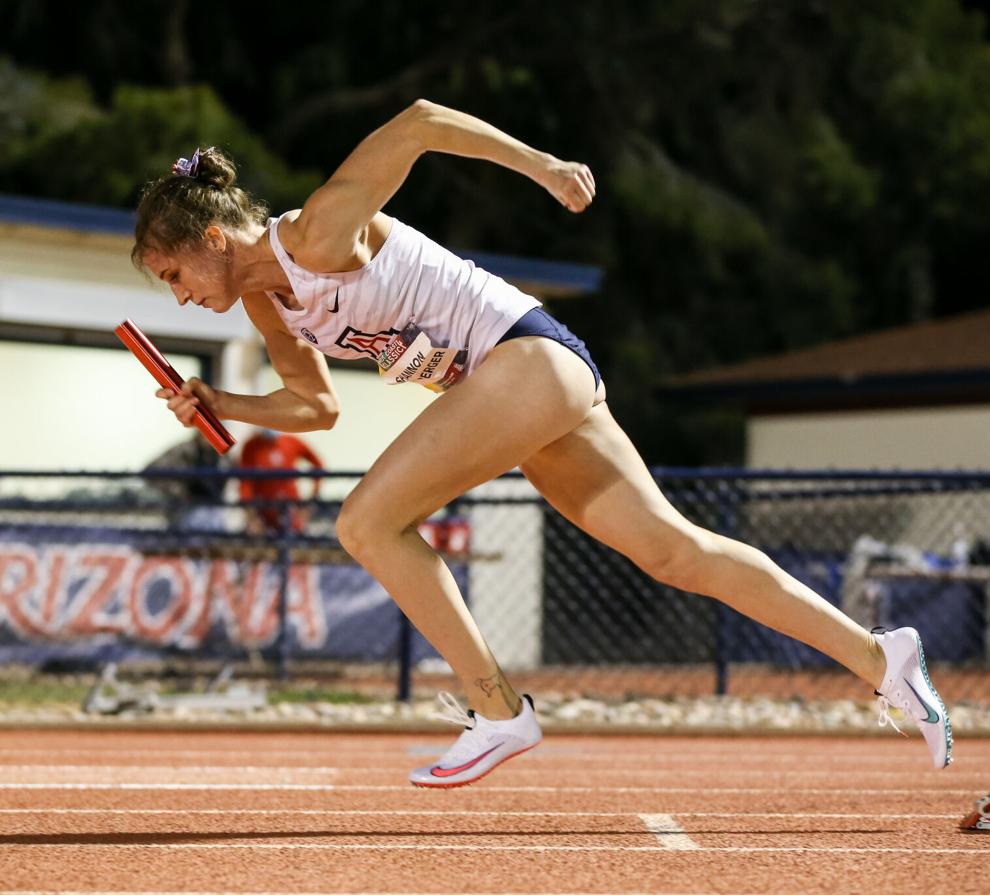 Former Lenox High School standout Shannon Meisberger has begun the outdoor track season at the University of Arizona in fine fashion.
Meisberger was a member of the 4-by-400 meter relay team that finished first in the UA Willie Williams Classic.
She also set a personal-best time in the 400 at the Pac-12 Invitational indoor meet at the University of Washington in Seattle. Meisberger's 53.13 time was good for third overall. Jan'Taijah Ford of USC won the meet in 52.41.
Meisberger was a First Team All-American in the 400 hurdles with a PR time of 55.70 at the NCAA Championships. Meisberger also qualified for the U.S. Olympic Trials in the event, advancing to the semifinals where she finished in the top 10 with a time of 57.22.