NORTH ADAMS — It had been roughly a year since the hoopers at Drury High School worked on the court.
While the Blue Devils had only a week to prep for the delayed 2021 season, it was enough to begin the season with a 70-51 win over Mount Greylock.
"After almost a year off, we're starting to feel a little bit of a groove," Guillotte said after scoring a career-high 23 points.
While 16 minutes may not seem like a long time, the Blue Devils (1-0) were a completely different team before and after intermission. That included Guillotte, who poured in 15 of his total after the break.
"We turned the ball over more than we did all of last year [in the first half]," Drury coach Jack Racette said. "You have to get possessions and you have to get shots."
Racette's formula to success was the catalyst to Mount Greylock's success on the first half. The Mounties were aggressive on the boards as Seamus Barnes and Chase Doyle combined for 10 rebounds in the first half, most of which came on the offensive end. With more opportunities, Doyle, along with Pablo Santos and Max McAlister combined for 21 points in the first 16 minutes. Rebounds and turnovers had the Mounties in the driver's seat with a 26-24 lead at the break.
"We talk about it all the time," Racette said. "We don't play against [other teams], we play against ourselves. When we don't turn the ball over, and we rebound, we can compete with anybody."
A rusty first half was quickly in the rearview mirror. Drury outscored Mount Greylock 46-25 in the second half.
Guillotte was taking advantage of everything he could inside the paint and Ben Moulton scored 12 of his 15 points in the second half, including three made shots from deep in the fourth quarter. Drury's ball movement was crisp and the 3-point shooting was infectious. Nick Sacco and Jeff Adams also hit shots from beyond the arc in the half.
"We weren't on our top game, but got on the rebounds," Guillotte said. "We played better as a team in the second half."
The 19-point swing was due to hot shooting, but any coach will tell you that offense starts on the defensive end, which was exactly how the Blue Devils gained momentum and took control of the game.
Drury trailed by one with less than three minutes remaining in the third quarter and the Mounties had the ball — until Anthony Pettengill took a charge, giving possession to the Blue Devils.
On the other end, it was Pettengill again, finding Adams open beyond the arc and he nailed the triple, giving Drury it's first lead since halfway through the first quarter. While it was still a two-point game, Guillotte drove to the hoop, converting an and-one attempt just before the end of the frame, pushing Drury's lead to 39-34 with three quarters in the books.
With momentum in favor of the home team, the Blue Devils took control with the 31-point burst in the fourth quarter. Guillotte had seven rebounds to go with his 23 points. Pettengill had four points, five rebounds and five assists off the bench. Moulton had four rebounds and four assists to pair with his 15 points. Big man Tim Brazeau had eight points and seven rebounds, five of which came in the first half.
"I thought we responded well and made some adjustments," Racette said. "One of the biggest things as a coach is making those adjustments throughout the year: Who is going to be the point guard and who do you go to down the stretch?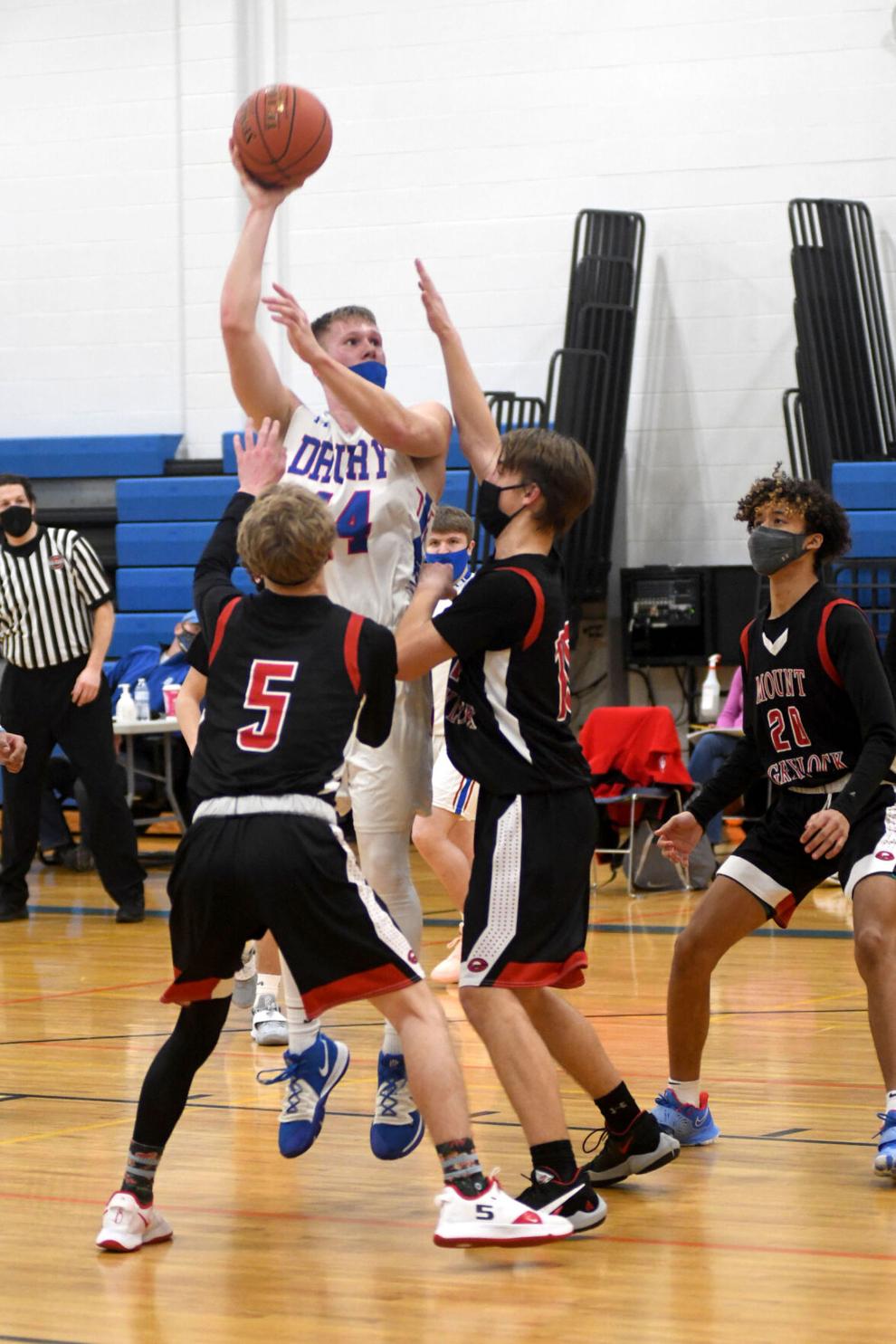 "Everyone thinks they can be that guy right now and that is our job, figuring out where we can get our guys the ball."
Five different Mounties tripled in the fourth quarter, but the offense couldn't discover its rhythm and string together a run. McAlister had a team-high 13 points and Santos had 10 points to go with four assists and three rebounds. Doyle added another nine points, along with eight boards and two assists.
Mount Greylock will travel to Mount Everett to play the Eagles on Wednesday. Meanwhile, games will be coming quick for Drury with two more contests slated this week and five next week. Next up is a road game at Wahconah on Wednesday.
"I didn't get to see my kids until last week," Racette said of the two-time defending Western Massachusetts Division IV champions. "No banquets and celebrations last year, and we had a lot to celebrate.
"Hopefully we can get some enjoyment out of this [season] and this is exactly what we need, getting the kids in the gym and playing games."
———
Greylock 11 15 8 17 — 51
Drury 10 14 15 31 — 70
Mount Greylock (51)
Santos 4-0-10, McAlister 4-3-13, Doyle 3-1-9, Shelsy 0-0-0, Barnes 2-1-5, Powell 1-1-4. Art 1-0-3, Markovic 0-0-0, Martin 3-0-7. Totals 18-6-51.
Drury (70)
Pettengill 2-0-4, Dewey 1-0-3, Adams 2-0-6, Guillotte 8-7-23, Moulton 4-4-15, Davignon 2-1-5, Morman 0-0-0, Sacco 2-0-6, Brazeau 4-0-8. Totals 25-12-70.
3-point field goals — MG 9 (McAlister 2, Santos, 2, Doyle 2, Martin, Powell, Art); Drury 8 (Moulton 3, Adams 2, Sacco 2, Dewey).