NORTH ADAMS — Drury coach Maria Bartini just wanted her girls to believe. In her, in the system and most importantly, in themselves.
That was what she began preaching three seasons ago when she took over a program that was reeling off of a two-win year.
"The goal-differential I think the season before was negative-80," said Bartini, after her 2020-21 girls team finished off Hoosac Valley 3-1 to claim the Berkshire South Division championship. "The girls, it was a lot of just telling them to have some belief in themselves. Try to give them as much positive reinforcement and encouragement as possible."
Drury - Hoosac Valley Gallery
It certainly also helped that along with Bartini's taking the reins, two freshmen came along that same year and immediately started putting Western Massachusetts defenses on notice. Elli Miles and Kayla McGrath, who scored a combined 30 goals their debut season, are now juniors with the Blue Devils, and accounted for all three markers Drury hung on Hoosac Friday night.
McGrath opened the scoring by pocketing a free kick from 35 yards out just five minutes into the contest. Next, it was Miles' turn, tracking down a through ball all alone behind the Hurricanes defense. With 14:09 left in the first half, she beat Hoosac goalie Emma Meczywor one-on-one for the 2-0 lead.
"They're a dynamic duo. They really are. It's crazy how they can move up and down the field," said senior goalie Mackenzie Dobbert. "They both have amazing foot skills, they don't get phased under pressure. They just get the job done."
Hoosac tried to work through speedy senior Sydni Jamros up top, but Dobbert and her defense were up to the task. That back line included, for stretches, Drury's two other seniors Caroline Cellana and Kayla Therrien.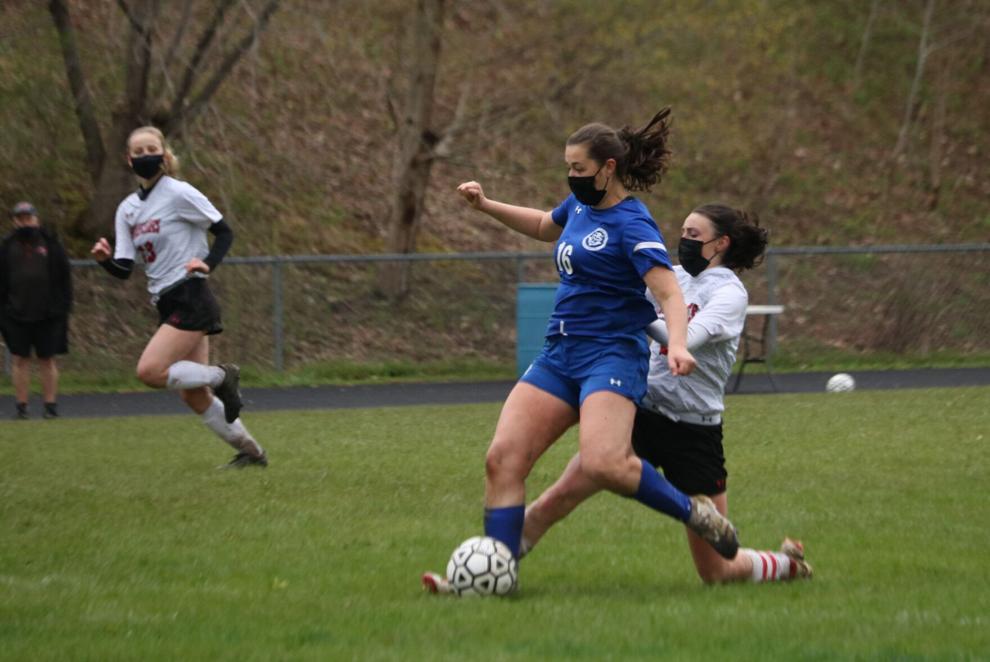 Jamros and Dobbert met at the 12-minute mark of the first half, but the Drury goalie gobbled up the lead ball. With five minutes to go, Jamros took a pass from Talia Rehill and booted a point-blank shot right into Dobbert's chest.
"Our defense is really solid. We have fast people, people who can really stop the ball," said Dobbert. "Playing Hoosac, we know they have that really fast girl, 12, she's great. We had to lock down on her to prevent her from scoring. That was the idea."
Meczywor opened the second half standing on her head a bit, turning away a pair of corner kicks and stopping a Hannah Lacasse try in the box. Samantha Loholdt then intercepted a Dobbert punt and got the ball up to Jamros, who sent her shot just wide of the net with 19 minutes left.
Drury's second insurance tally came with 15:39 on the clock when McGrath strode up the field in a dead-heat footrace with Lilly Boudreau. The Hoosac junior went to the muddy turf trying to slide tackle poke the ball free, but McGrath kept her footing and fired off a quick shot by an oncoming Meczywor.
The Hurricanes got on the board with 9:43 left off a Tia Kareh corner kick. Senior Sharaya Keele got inside the box and beat Dobbert to the near post to draw the visitors within 3-1.
Hoosac threatened to make things very interesting once more in the 73rd minute when Loholdt plunged deep into the Drury zone. Samantha Kogut was there defensively for Drury and canceled out the play.
Drury opened its season with three shutout losses in close proximity, leading Bartini to change up the game plan and get back to some things that worked the year before. The results spoke for themselves.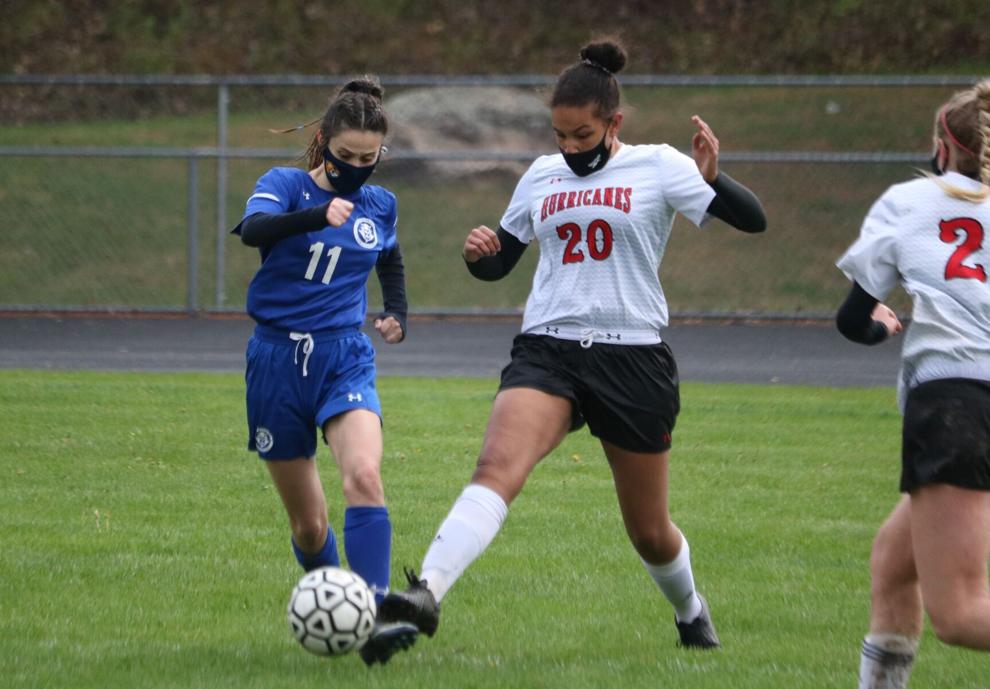 "It's been trying to build that culture of support and positivity so they all work together," said Bartini. "We want them to realize that every girl on the team is important and valuable, no matter her minutes or role or if she's an eighth grader or 12th grader. This weird season really allowed us to solidify that culture. It was a really fun season."
With the final horn, Cellana was first back to Dobbert, and leapt into her keeper's arms. It had been a long journey to the top, and she wanted to be carried for just a little while.
"I think we've come so far. [Coach] really teaches us specific things to work on and we apply it to the games. We're always improving, it's crazy over the years," said Dobbert. "It's so amazing. We haven't beaten Hoosac in I don't know how many years. To end our senior year on that is great."