WILLIAMSTOWN — Jonah Bayliss said it was "incredible."
Bayliss was referring to seeing his picture and some memorabilia included in the "Sliding Baseball Across Williamstown" exhibit, which opened Saturday inside the Williamstown Historical Museum on Route 7. But Bayliss could have been discussing being part of Williamstown's baseball history.
"To think that you came from such a small, quaint little place that has such a deep, rich history in the sport. I'm speechless, as you can tell," Bayliss said. "As I mentioned, I feel most fortunate to have been on the younger side of a wave of players that came through that all went on to do good things. I just got to sit back and observe, at a very impressionable age."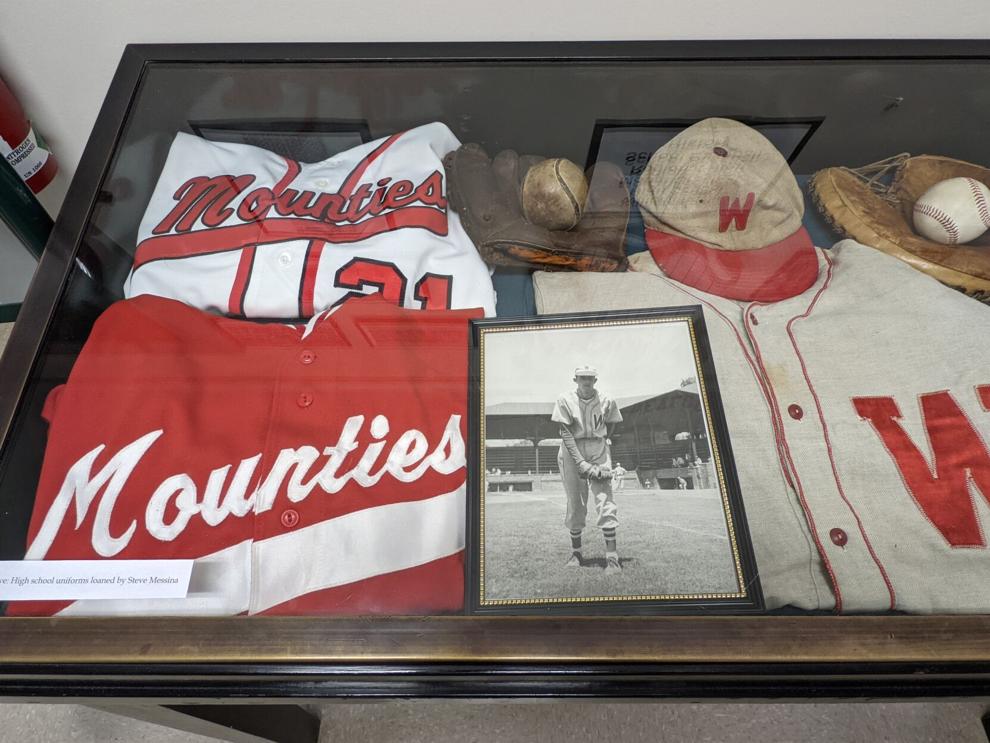 Bayliss, who played three seasons in the Major Leagues, and former Red Sox Triple A pitcher Ryan Cameron were featured guests at the exhibit's opening ceremonies on Saturday. The exhibit will be in Williamstown for the next couple of weeks.
"I was blown away by the number of people who have ties to the area," Bayliss said in addressing the gathering inside the Museum's main room.
Bayliss was a seventh-round pick of the Kansas City Royals after playing collegiately for Division III Trinity. He had three Major League seasons, one with Kansas City and two with Pittsburgh. He also spent time playing for the Saitama Seibu Lions of Nippon Professional Baseball's Pacific League in Japan.
Cameron was drafted by the Colorado Rockies in the 11th round of the 1998 draft. He spent 10 seasons in the minors, making it to Class AAA with the Rockies, the Red Sox and the Philadelphia Phillies.
"It's surreal to see your picture up there with some of these folks," Cameron said, glancing up at a photo of himself on the same wall as Williamstown's Frank Grant, an African-American baseball player of the late 1800s, who was inducted into the National Baseball Hall of Fame in Cooperstown, N.Y., in 2006.
"Billy Hart, Frank Grant, it's hard to put into words what it means to be in the same room or discussion with these guys," Cameron said. "Second, just how cool it is what Larry Moore and his team have done to really make me aware of the rich history of baseball in this area.
"I grew up here, played here, but I had no idea."
Moore, who has been the driving force behind Baseball in the Berkshires, helped curate the exhibit in Williamstown.
There is a video from WGBY-TV in Springfield discussing the anniversary of the first-ever college baseball game. It was played between Williams and Amherst at Wahconah Park in Pittsfield back in 2009. The first game, played in 1859, was played on a field at the corner of North Street and Maplewood Ave., because the two rivals wanted to play at a neutral site.
Baseball connections between Williamstown and Williams College were noted as well. Tony Plansky, who coached track at Williams from 1936-78, is part of the display. Plansky played in the Cape Cod League, the New York-Penn League and the old Central League. He also played in the National Football League, two years with the New York Giants and one year with the Boston Braves in the late 1920s and 1932. He also coached the late George Steinbrenner when Steinbrenner ran track at Williams.
Former Williams baseball coach Bobby Coombs is also included. Coombs played for the Philadelphia Athletics and New York Giants. He coached baseball at Williams from 1946-73.
"You pinch yourself sometimes," said Cameron, when asked what it's like to be a part of the exhibition. "Honestly, at this point I'm 44 years old and it feels like baseball was 100 years ago for me. When these things come up, it kind of brings me back to that previous life, if you will. If you look around this room, I came in today and there's a picture of [Major League umpire] Chris Conroy, who was just umpiring in the Division Series at the Major League level, and Jonah, who played in the big leagues.
"It's just surreal."
Bayliss had a similar feeling about being there and being part of the exhibition.
"The game of baseball," he said, "allowed me to literally travel the world. It all started here in this tiny little town of 6,000, and brought me around the world."