STOCKBRIDGE — Chris Shields was about as happy as a guy can be without being 100-percent satisfied.
Shields and playing partner Randy Driscoll reached the Championship Division final match during Sunday's Stockbridge Invitational golf tournament, and forced an extra hole in match play after evening up with Brian Foley and Todd Ezold through 18 holes.
Foley and Ezold won the playoff hole — played back on the first green — to take home hardware and top honors.
Photos: Stockbridge Invitational Championship final match
The Stockbridge Golf Club held its Stockbridge Invitational on Sunday.
To purchase photos from this gallery, click here.
Rewind for a minute, though. Shields, the lone Stockbridge Golf Club member of the championship foursome, was simply happy to be playing tournament golf on his home course.
Torrential rains during the early parts of the summer had pushed the Stockbridge Invitational from its usual slot at the start of August, until late September. The men's club championship that typically runs Labor Day Weekend, will now be competed the weekend of Oct. 9. Stockbridge's head professional Steve Mazzariello said he thought the club's last actual tournament was a women's scramble in June.
"I've been a member all my life, and this is the most rain we've ever seen throughout an entire summer. I think we had almost 20 inches in July," said Shields. "It's completely unheard of.
"I've got to credit [course superintendent] Bruce Packard and his staff to make this golf course as playable as it was this weekend. Even Friday morning it was looking pretty grim. It's a testament to the perseverance of our staff. "
Shields, who was coming off a win in the Allied Championship in August, also credited the players in the tournament for treating the course respectfully. He noted that it wasn't super noticeable that carts had been out on the grass for three whole days.
Two of those players were Ezold and Foley, a Pioneer Valley duo who teamed up together at Stockbridge for the first time this weekend. They won their opener over Salvadore and Benson, before taking down Sullivan and Boraski. In the semifinals, Foley and Ezold bested Foley and Kavanaugh to set up the title bout.
Shields and Driscoll — a Berkshire Hills Country Club member who used to play out of Stockbridge — came from atop the bracket, eliminating LeBourdias and Polidoro, Stopera and Adams, and Sullivan and Bond to reach the final match.
The two pairings were evenly matched, and played mostly halves throughout the first stretch of holes on Sunday afternoon.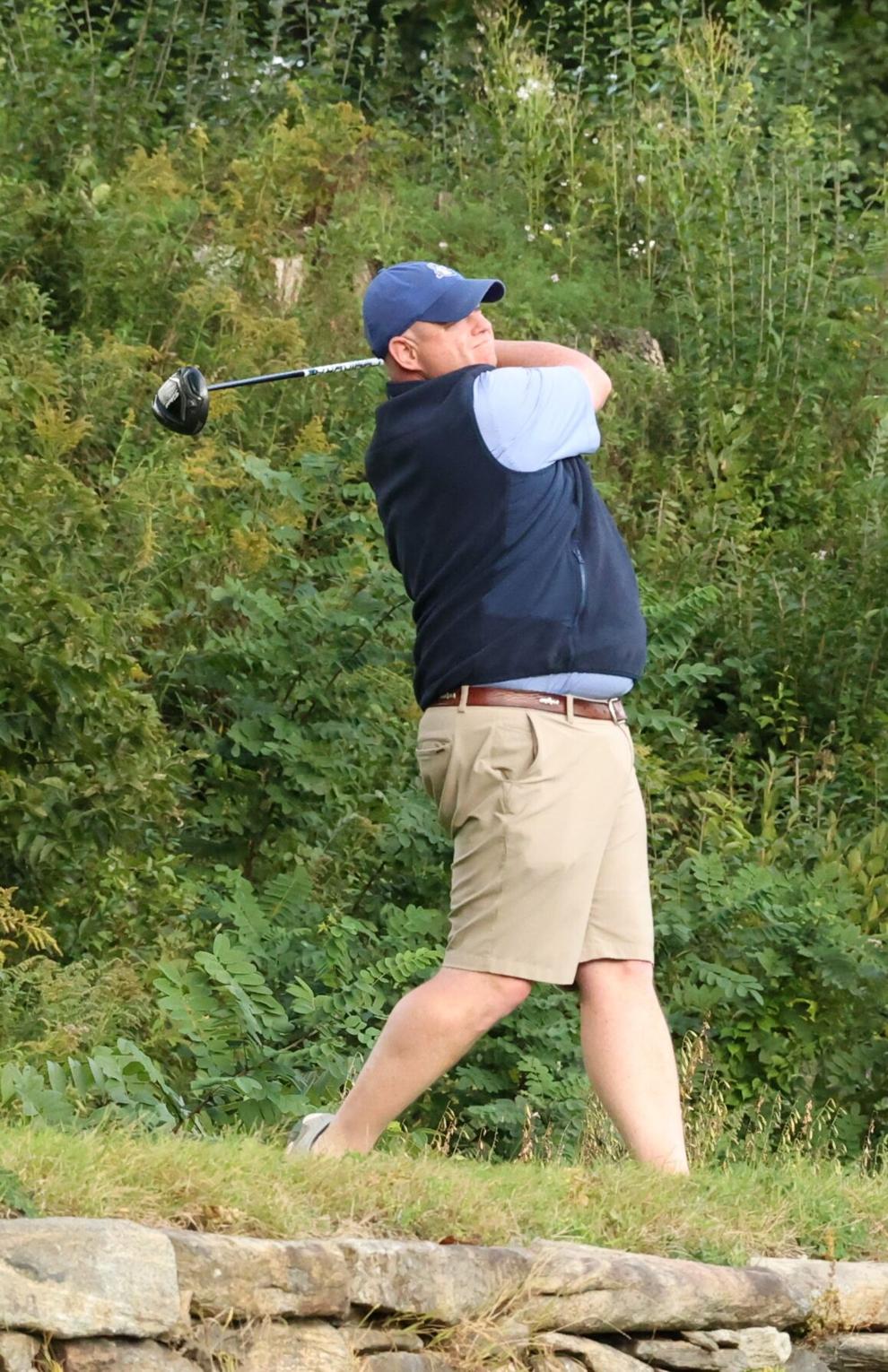 On 17, Ezold hit a beauty of an iron onto the green and then waited until the other three had their chances and missed birdie putts. The veteran of multiple Stockbridge tournaments, who was third in this event in 2020 when it was held as a singles competition, sank his birdie putt to put his team one-up with one to play.
"On 18, I mean we were hitting it into the wind all day. So you've got river right and the safe play is left. I caught a flier and then hit the 6-iron from 195 and it just jumped, landed me behind the green," said Shields of his 18th hole, on which the team settled for par. "Randy hit a good putt for birdie, it just didn't get up the hill."
But, when Foley missed his par putt on the 18th green, the match was knotted back up and the group made their way back to first tee box for overtime.
Foley's putter dropped behind his head in disappointment on 18, but he regrouped in a hurry. While his drive on the extra hole didn't travel the farthest, it was the only one of the four to land in the fairway. That set Foley up well to get up and down and secure his team the title.
"I was in a good spot on one. Made a good chip and was able to knock in a three-footer there," said Foley. "It was great match. Everybody played great. We didn't have a bogey until that one on 18. That's a tough hole.
"It was the type of match that deserved to go an extra hole. Randy and Chris played well, it was really fun playing with those guys, they're great players."
In the championship consolation bracket it was Kinna and Lis against Sullvan and Boraski.
Ortega and Keenan won the First Division over Gilbert and Comi.
In the Second Division, Hersch and Belter took down Cunningham and Cunningham.
The Third Division was won by Vechiarelli and Dagnoli over Richardson and Murdock.
Collins and Kiliyanski were pitted against Rodrigues and Leary in the Fourth Division.
Palivoda and Bassett raised the trophy in the Fifth Division, knocking off Davidson and Considine.