Forty-eight minutes will make or break a trip to Gillette Stadium and a shot at a state title for two Berkshire County high school football teams.
The inaugural state tournament feels a bit different as Hoosac Valley's 20-13 win over Narragansett and Wahconah's 48-14 over Clinton would've been for a Western Massachusetts trophy in years past.
However, that doesn't change much in the quest for a state championship and the semifinals are set for this weekend. With 10 weeks in the rearview mirror, both the Warriors and Hurricanes have lived up to the expectations of No. 1 seeds.
Hoosac Valley will play Hull at Shepherd Hill High School at 6:30 p.m. tonight. The Warriors play Northbridge at Holyoke High School at 1 p.m. on Saturday.
Dalton's brick wall, also known as Wahconah's offensive line, has kept Jonah Smith clean in the backfield as the senior has run wild for the better part of three months. Rushing performances of 204, 245 and even 263 were made possible to the ideal mixture of Smith's burst and vision out of the backfield and a stout front that has clearly been inspired by watching the old Wahconah Regional High School get leveled by bulldozers.
Those performances, however, are nothing compared to what the Warriors accomplished in the D-VII quarterfinals against Clinton. Smith ran for 328 yards on just 14 carries — an average of 23 yards every time quarterback Ryan Scott put the ball in his gut.
Additionally, Smith reached a new season-high with 4 touchdowns. He scored 3 touchdowns on four different occasions and now has 23 rushing touchdowns on the season.
Our pal Howard Herman shared some previews matchups between No. 4 North Bridge and No. 1 Wahconah on Wednesday and now let's look at what Saturday's game at Holyoke High School has in store.
Northbridge (9-1) is entering action with a regular-season record of 7-1 before beating No. 13 Greenfield 41-7 and No. 5 West Boylston 42-13. The Rams were strong on the ground against West Boylston as senior Collin Falcone ran for 166 yards on 11 carries. The Warriors (10-0) have been just as impressive with a 38-0 win over No. 16 Lunenburg and last week's blowout of Clinton.
The Rams found themselves in a handful of tight games throughout the season's front nine as two games were settled by four points or less. The one loss came in an overtime defeat to Grafton, which entered the D-IV tournament with an 8-0 record. Additionally, Northbridge had not hit 40 points since the state tournament began, averaging 25 points per game in the regular season.
Wahconah made back-to-back trips to the state semifinals in 2017 and 2018 and will take the field at 1 p.m. on Saturday with a chance to return to the state final for the first time since 2016.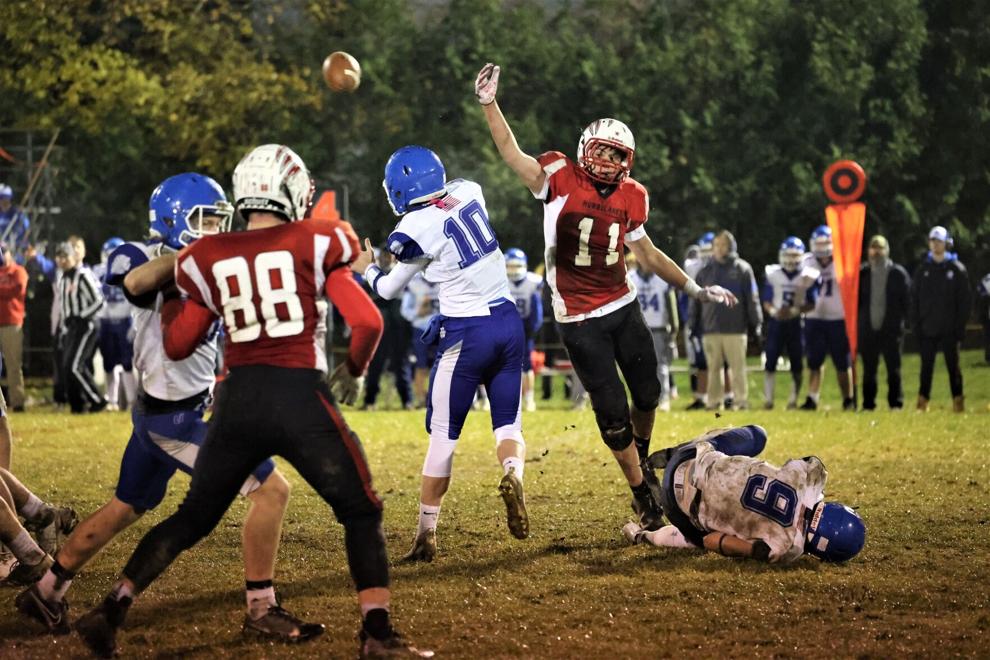 Hoosac is back in the state semifinals for the first time since playing St. Bernard's in 2018. The Hurricanes last played in a state title game in 2017 and No. 4 Hull is standing in front of another shot at a championship.
Scoring was at a premium in Hoosac's 20-13 win over No. 9 Narragansett but the Hurricanes found enough change in the sofa cushions to get Bush two touchdowns and another one for Caleb Harrington.
Quarterback Carson Meczywor connected with Harrington for the fifth time in four weeks to get the Hurricanes out front of Narragansett. Bush worked the ground game, and the clock, with 120 yards on 26 carries. The senior tailback gave Hoosac some breathing room with a 20-yard touchdown run early in the fourth quarter.
The story of the quarterfinals was the Hurricanes holding the Warriors to 4-plus yards per carry on 37 attempts. Those numbers may seem a bit deceiving as 72 of Narragansett's 171 rushing yards came one play.While big plays are the difference in defensive-minded rock fights, the Hurricanes were one play from allowing less than 3 yards per carry.
Harrington caught an interception and the defense shined as Narragansett didn't reach the end zone in the fourth quarter.
The Pirates will storm Shepherd Hill High School on Friday night with a record of 8-2 and on the heels of a tight 27-20 win over No. 12 KIPP Academy. Hull topped No. 13 Millis 28-7 in the first round and is on a five-game winning streak. It entered the playoffs scoring at least 35 points in two-straight games.
The Hurricanes haven't lost since early September and are riding high on a nine-game winning streak. It was Bush and Shaun Kastner Jr. running wild early in the season as Hoosac scored at least 30 points for three-straight weeks. They had another strong scoring streak to end the year, at least 34 points in three-straight games.
Offense is what catches the eye, but defense is what makes you stick around. Hoosac Valley has not allowed more than two touchdowns in nine-straight games. The Hurricanes are allowing less than 10 points per game on the season.