PALMER — The lead changed six times at St. Joseph's Park on Friday night and when the final buzzer rang, the Blue Devils were undefeated no more.
Drury established a 12-play drive as the final minutes ticked down, but Pathfinder made the stop it needed to take a 34-30 win.
"We had a shot at the end and just missed," Drury coach Al Marceau said. "[Following the game] we just told them to keep the heads up."
Giovanni Perniciaro punched it in with just under 4 minutes left in action to give the Pioneers the advantage for good.
Drury was on life support after a block in the back negated a 40-yard return from freshman Jackson Powell. The Blue Devils, though, never said die — especially with the night's biggest playmaker in their corner.
The legend of Louis Guilotte's 2021 campaign grew a bit larger as the junior registered his third game with over 250 yards on the ground this season. Drury started its final drive on the 20-yard line and the first five plays went to Guilotte, which turned into 43 yards.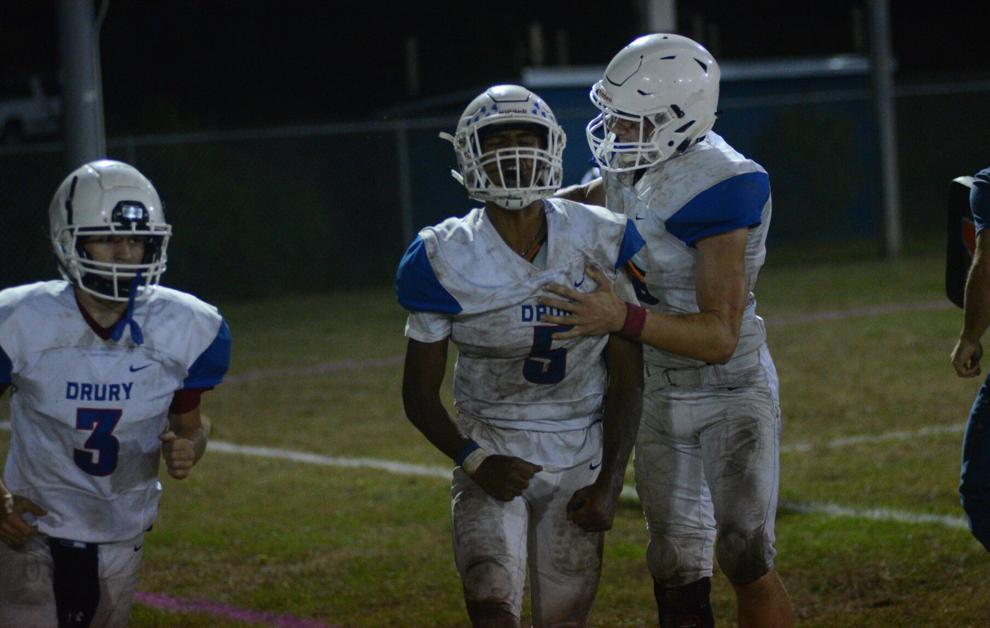 An incomplete pass was followed by 13 more yards from Guilotte, before quarterback Anthony Pettengill connected with Tim Brazeau for 27 yards. Brazeau scored on a 19-yard touchdown reception to give Drury a 22-16 lead early in the third quarter.
"We did some good things offensively but we still have some things we have to clean up," Marceau said. "We had people running open, people break out and if we throw a block it is 59 yards instead of 17 yards — the little things."
Jayshawn Moore got Drury inside the 20 with a 5-yard carry with 22 seconds left on the clock and no timeouts. Moore set the tone early on, blocking a field goal on Pathfinder's opening possession that was returned 80 yards by sophomore Dominic Carnevale.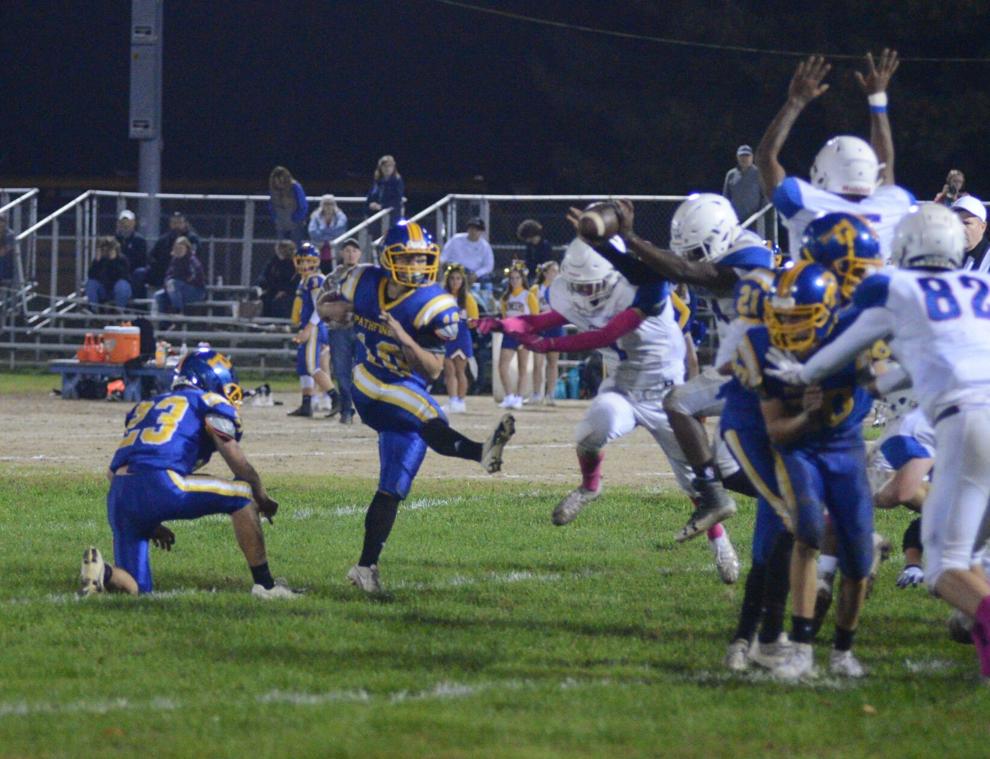 The block set the table for Guilotte's first touchdown, which came from 5-yards out. The junior finished with three touchdowns, including a 47-yard scamper where he actually ran roughly 70 yards. Despite traffic in every lane, he shuffled through the Pathfinder secondary and flipped the field on its head in order to find the end zone.
Back to the fourth quarter, Drury had its shot late. Two incomplete passes, though, forced a turnover on downs and the Pioneers finished the game in victory formation.
Aside from the missed opportunity, defensive struggles plagued the Blue Devils for most of the night. Pathfinder, following Moore's block on the opening drive, scored on each and every offensive possession.
"On offense, we're run-heavy but we keep moving down the field and we don't stop," Pioneer senior captain Cody Ferus said, "we stuck together through everything."
Ferus and Kyle Agustynowicz may play in the trenches, but the Pioneers had no issues running the offense through their physical guys up front. Quarterback Hunter Griswold threw the ball just once, compared to 43 attempts on the ground.
(tncms-inline)1449157231170174980[0](/tncms-inline)
'It's basically shoulder-to-shoulder on the offensive line with a dive and a push," Marceau said. "They had backs coming up and pushing from behind. They were strong in there and kept their feet going.
"We did too much of trying to be powerful without keeping our feet moving and that is a recipe for disaster — you have to get low and keep the feet chugging."
Austin Lagimoniere, Coby Hill and Perniciaro each carried the rock at least 10 times for Pathfinder, which is now on a two-game winning streak following a 34-6 win over McCann Tech a week ago.
"I'm just happy to be picking up wins in my senior year," Ferus said. "This performance will help us keep winning."
Drury started the season with three wins and is traveling to Smith Vocational next week before ending the regular season on Oct. 30 at home against Monument Mountain.
"They have to keep their heads up," Marceau said of his student-athletes, "We'll be back at practice Monday and we'll get back to work."
———
Drury 6 8 8 8 — 30
Pathfinder 0 16 6 12 — 34
First Quarter — D: Guilotte 5 (run failed), 1:05.
Second Quarter —P: Hill 2 run (Perniciaro run), 7:04; D: Guilotte 5 (Guilotte run), 4:43; P: Perniciaro 4 run (Perniciaro run), 27.5.
Third Quarter — D: Brazeau 19 pass from Pettengill (Guilotte run), 8:44; P: Hill 3 run (run failed).
Fourth Quarter — P: Lagimoniere 6 run (run failed), 9:06; D: Guilotte 47 run (Brazeau from Pettengill), 7:13; P: Perniciaro 1 run (pass failed), 3:50.
———
INDIVIDUAL STATISTICS
RUSHING — D: Guilotte 23-254, Moore 4-24, Pettengill 2-7, Powell 1-4; P: Lagimoniere 11-106, Hill 16-62, Perniciaro 14-83, Charron 2-11.
PASSING — D: Pettengill 4-9-2 68 yards; P: Griswold 0-1-0 0 yards.
RECEIVING — D: Brazeau 3-56, Powell 1-12.