NORTH ADAMS — The Blue Devils are officially kings of the North.
Drury, in its first home game of the season, improved to 3-0 with an 18-6 win over McCann Tech.
Photos: Drury vs. McCann Tech Football
Drury plays McCann Tech in the football team's first home game of the season at the high school in North Adams. Saturday, October 2, 2021.
To purchase these photos and more, click here.
Junior tailback Louis Guilotte finished with a team-high 68 yards on 15 carries. While he didn't find the end zone on offense, he broke a 70-yard punt return touchdown with five minutes remaining in the first half.
Hard work is what he credited as the catalyst to the season's hot start. "We had a co-op before, but it is different this year," Guilotte said. "We're closer and all working together."
Jackson Powell, one of those Mount Greylock student-athletes, made Drury feel like home on Saturday with touchdown receptions of 23 and 14 yards.
"I love the group of guys we have," Drury quarterback Anthony Pettengill said. "We're not always focused on just one guy in the rotation, everyone is included and it is a great aspect of this team."
Drury junior running back Jayshawn Moore finished with 6 carries for 50 yards. While the Blue Devils picked up the win, coach Al Marceau was the first to say it was a tale of two halves on Saturday.
"We're 3-0, but we did a lot of things out there we're not coached to do and that is what frustrates me," he said. "I thought we did an excellent job getting to the ball in the first half. [They were] a little tired in the second half and some guys are banged up.
"We have a couple of weeks to iron out some things and we have young kids playing well, but you see the inexperience."
The Hornets received the opening kickoff and went 26 yards on eight plays before a false start derailed the drive on Drury's 29-yard line.
McCann Tech quarterback Seth Farnsworth found David Delisle on a screen pass and gained 17 yards on fourth down. The Hornets, however, needed 19 yards and the Blue Devils did just enough to halt Delisle and force the turnover on downs.
Moore ripped off a 23-yard run and Guilotte rushed the ball five times for 36 yards before Pettengill rolled to his left and found Powell for the game's first touchdown.
The Blue Devils quickly identified Delisle as public enemy No. 1. If the near conversion on fourth-and-19 wasn't enough, the junior broke an 80-yard touchdown run on McCann's second play of the possession following Powell's first touchdown.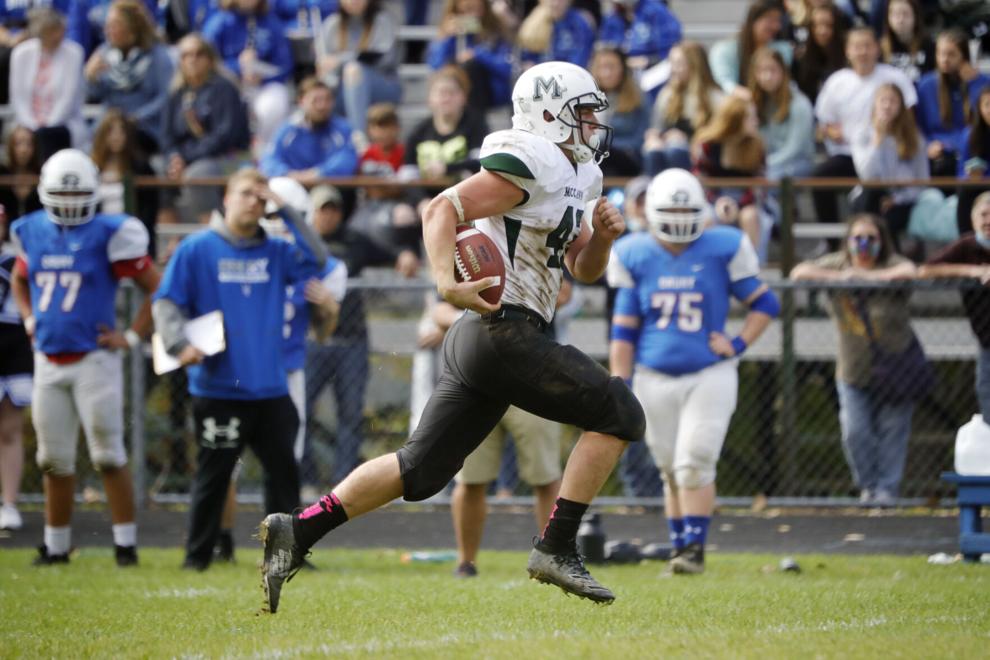 "A lot of people forget that we had David his eighth-grade year and we knew exactly what he is," Marceau said. "He's a man who runs hard and is strong. He's got all the traits you want in your tailback. Our big emphasis was getting all 11 hats to the ball because he just breaks a lot of tackles."
Delisle was McCann's energizer bunny. Not only did he carry the rock 15 times in each half, but he also finished with 238 rushing yards — highlighted by the 80-yard touchdown scamper.
The Hornets formulated drives of nine plays, 10 plays, 18 plays and seven plays. The yardage indicated that the Blue Devils struggled to slow Delisle, but the scoreboard shows that they did just enough to prevent any other game-altering plays.
Powell captured the kickoff following McCann's touchdown drive and a big return had the Blue Devils setting up shop at McCann's 35-yard line.
"He's been a key for our team where we can use him," Guilotte said of the Mount Greylock freshman.
Drury parlayed Powell's return and four carries from Guilotte into Pettengill's second touchdown pass to Powell, this time from 14 yards out.
(tncms-inline)1444353057119145993[0](/tncms-inline)
The Hornets started the following drive on their own 9 and Moore blew up a third-and-2 try by Delisle, forcing a McCann punt. Guilotte snatched the punt at Drury's 30 and took it to the house, pushing the lead to 18-6 with five minutes left in the half.
That would do it for scoring as a second-half slugfest ensued. McCann Tech recovered a fumble on the first drive out of intermission, but the Hornets were stopped on Drury's 12. Both teams wanted to run the ball in the second half, which resulted in a field position battle before Moore ended the game with an interception on Drury's 36-yard line.
"They're a good, young football team," Marceau said for McCann. "That is a tough team and I feel sorry for whoever has to play them the rest of the way."
Aiden Macpherson added 37 yards on nine carries and Seneca Bolte ran for another 28 yards on six carries as part of McCann Tech's ground attack.
While there wasn't a single clean jersey following the game and the hits could be heard echoing throughout North Adams, there was admiration on both sides following the bout.
"We've all known each other since the youth leagues," Guilotte said. "We aren't friends on the field, but at the end of the day you still have to show some love."
Half of the regular season is in the books and both McCann Tech and Drury have played just one home game. The Hornets return home (even though they technically never left) next Saturday to play Pathfinder. Meanwhile, the undefeated Blue Devils have a week to rest up before playing Pathfinder on Oct. 15.
"Because we're so young there is no ego," Marceau said. "We're just going to play and get better and listen one step at a time."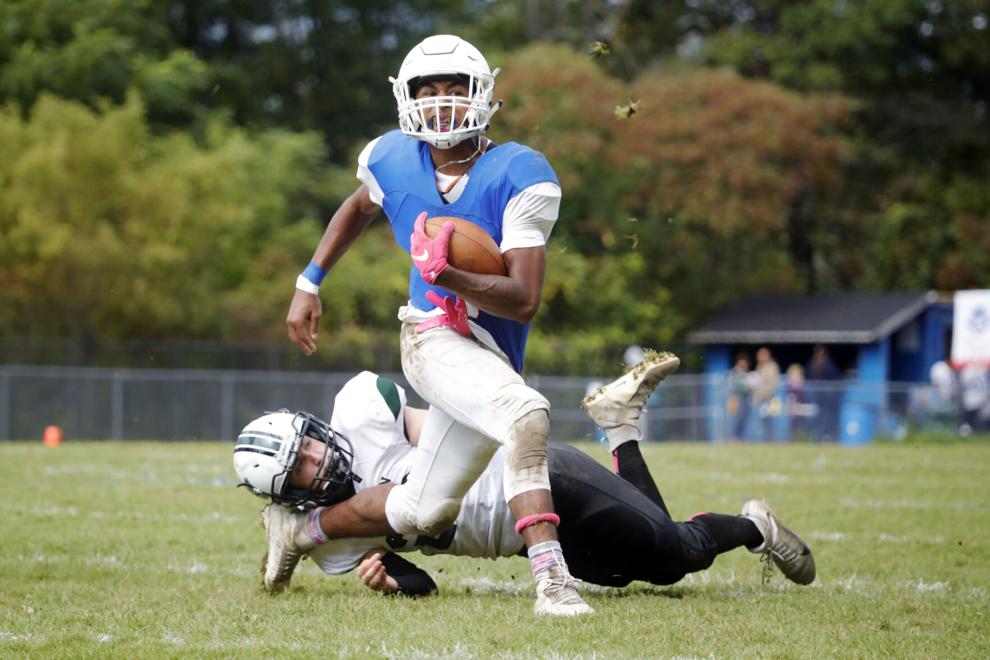 ———
McCann Tech 6 0 0 0 — 6
Drury 6 12 0 0 — 18
First Quarter
D — Powell 23 pass from Pettengill (run failed), 2:40.
MT — Delisle 80 run (run failed), 1:30.
Second Quarter
D — Powell 14 pass from Pettengill (run failed), 9:41.
D —Guilotte 70 punt return (run failed), 5:17.
———
INDIVIDUAL STATISTICS
Rushing — MT: Delisle 30-238; Macpherson 9-37; Bolte 6-28. D: Guilotte 15-68, Moore 6-50, Pettengill 1-5, Powell 1- (-4).
Passing — MT: Farnsworth 2-6-0 19 yards, Delisle 0-1. D: Pettengill 2-3-2 37 yards.
Receiving — MT: Delisle 1-17, Knapp 1-2. D: Powell 2-37.
TEAM STATISTICS
Rushing — MT: 45-303 (6.7 yards per carry). D: 23-119 (5.2 yards per carry).
Time of possession — MT: 34:37; D: 13:23.
Flags — MT: 5. D: 3.