HOLYOKE — The Warriors brought the Noyes to the MIAA Division VII state semifinals and left with tickets to Gillette Stadium.
Ben Noyes had two interceptions and caught a 67-yard touchdown pass, and Brad Noyes snagged the game-sealing interception and recovered a fumble as Wahconah football remained unbeaten this fall with a 22-7 win over No. 4 Northbridge on Saturday.
11-0 pic.twitter.com/zBOzVDyHtb

— Jake Mendel (@JMendel94) November 20, 2021
"It feels amazing," Wahconah quarterback Ryan Scott said. "We've been working all year for this and it is coming true — we're going to Gillette."
The Warriors (11-0) went into the halftime break on a neutral field at Holyoke High School with an 8-7 advantage but the offense picked things up to begin the second half. Jonah Smith carried the ball five times as Wahconah moved on the ground and worked into the red zone. After turning to Smith for 21 yards, the Rams were tracking the No. 10 jersey wherever it went.
The visitors fell right into Scott's trap, as he pumped it to Smith on a swing route. Owen Salvatore jumped on his horse and broke down the sideline on a wheel route. The defender took one step at Smith and that was all Scott needed to loft the ball over his head and into Salvatore's hands for six points.
Northbridge kept things close in the first half by commanding the trenches with strength and length. Wahconah found the cracks in the wall and exploited them in the second half.
"I think our kids played hard and they have to play with great technique since they're not the biggest people in the world," Wahconah coach Gary Campbell Jr. said. "When they do that we come out on the better end."
Photos: Wahconah football downs Northbridge in MIAA D-VII state semifinal
On Saturday at Holyoke High, the Wahconah football team defeated Northbridge 22-7 in an MIAA Division VII state semifinal. The Warriors advance to the D-VII Super Bowl at Gillette Stadium.
To view a full gallery or purchase photos from this game, click here.
Northbridge began the following drive with runs of 15 and 11 yards, and it seemed that defense may take the backseat in the second half. However, Brad Noyes had other plans with a fumble recovery on the drive's third play. Brady Farley also recovered a fumble on the game's opening drive and the Warriors forced three fumbles in total.
"We saw on film that they run with the ball out[side of their body] so we made it a key this week and it paid off," Ben Noyes said.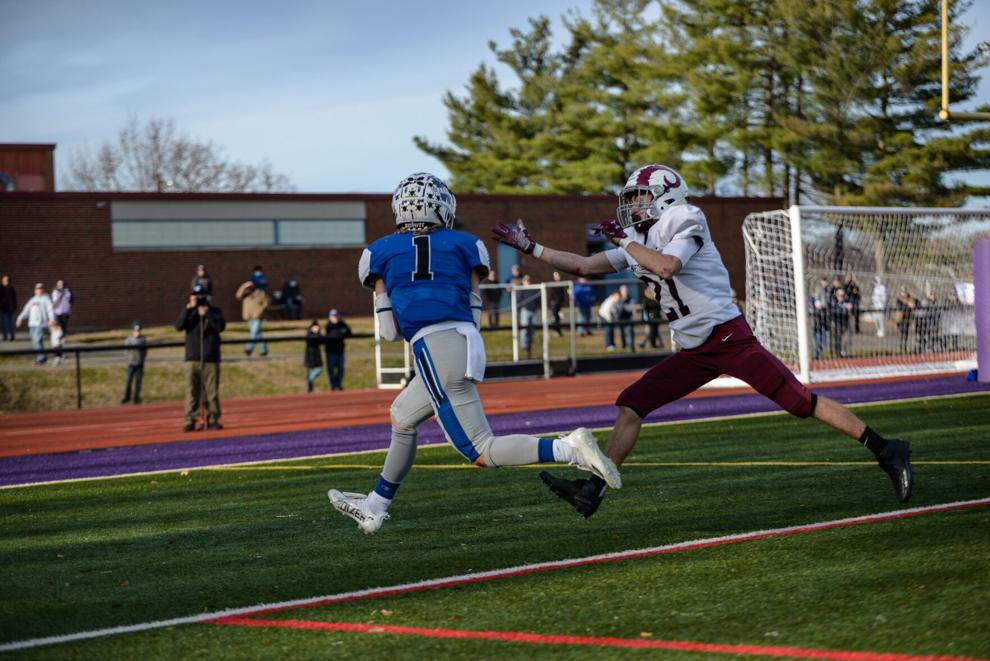 Wahconah could feel the momentum swinging and Ben Noyes emphasized it after the turnover. The tight end captured a pass on third-and-6 and had enough to move the sticks closer to midfield. That reception quickly turned in to a 67-yard touchdown, the longest play of the day for the Warriors.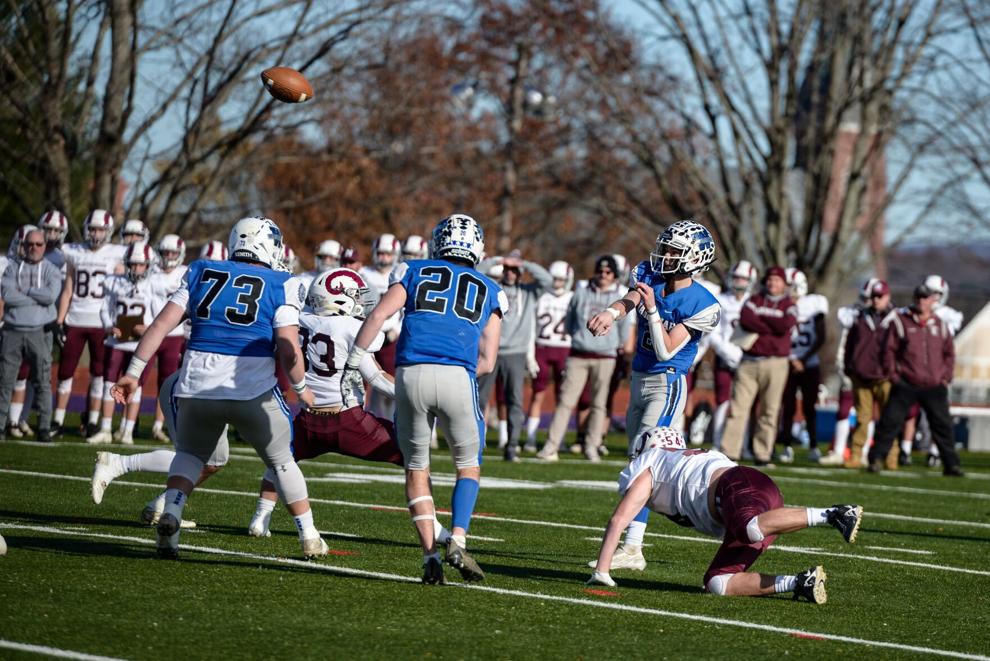 "I saw [Ben get open] and threw it," said Scott, who tossed the ball at an unusual angle to get past a defender. "I thought he would get tackled as someone jumped on his back ... he just started running down the sideline and I started going crazy running down the field."
"I made myself open, put my head down and just ran," Ben Noyes said of breaking tackles and traveling 67 yards on the touchdown reception.
Ben Noyes finished with 87 yards on three receptions. Brad Noyes caught two passes for 18 yards, including an 11-yard, one-handed grab on third-and-11 in the first half. Smith finished with a game-high 115 rushing yards on 26 attempts.
Scott added another 29 yards on the ground, scoring on a 1-yard run after Ben Noyes gave the offense the ball at Northbridge's 5-yard line late in the first half with his first interception.
Started with an interception by Ben Noyes, ended with a Ryan Scott touchdown run. Scott pops out of the pile for two points. Wahconah up 8-7 with 39 seconds in the halfWahconah will get the ball after the half pic.twitter.com/Sy2SaUlTIV

— Jake Mendel (@JMendel94) November 20, 2021
The touchdown reception by Noyes made the score a two-possession game at 22-7. With 15 minutes left in the game, Wahconah showcased a defense that has not given up more than 20 points since the season's fourth game.
"Turnovers played a big part in our victory, I think that comes with being aggressive," Campbell said.
The Warriors forced a turnover on downs on the following possession as the secondary put the clamps on anything the Rams wanted to do through the air. Not only did Northbridge complete just two passes for 18 yards in the second half, but it also came with four incompletions as Scott Duma and Zander Walton flashed top-notch ball skills, swatting away anything that came close to a receiver.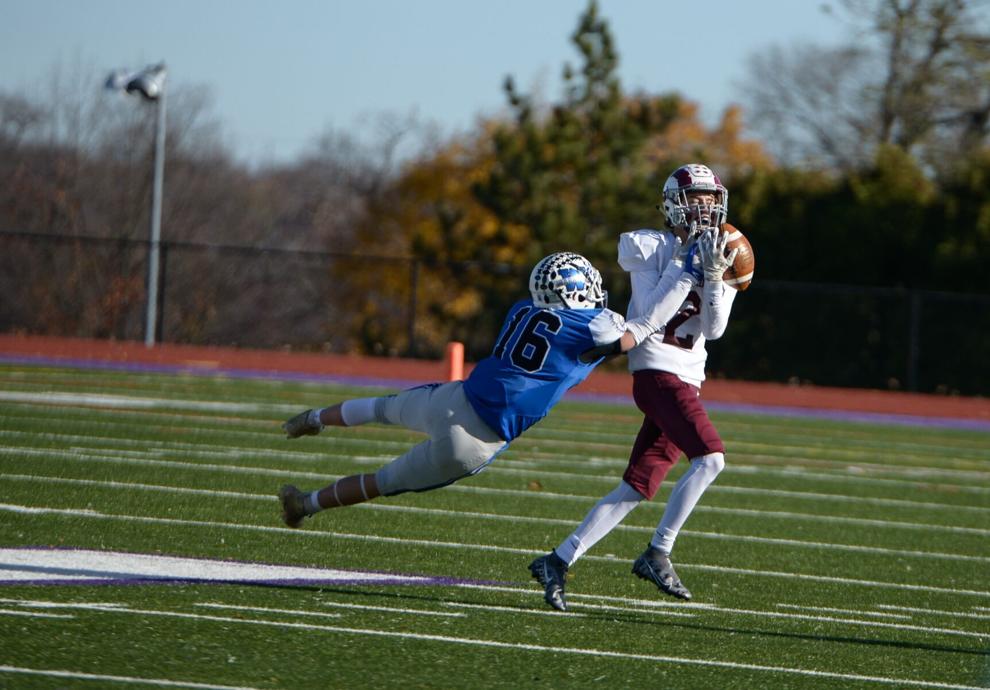 "They didn't leave anyone open and did their job," Ben Noyes said of the secondary. "The defensive line added pressure and they made it hard on the quarterback."
Ben and Brad each intercepted passes in the fourth quarter as the Warriors were getting to quarterback Ryan Boyce, who worked from a clean pocket for much of the first half.
"Our conditioning during the week is wicked hard, we just kept pounding it until they couldn't take it anymore," Scott said. "Offensive line, defensive line, I am so proud of all these guys."
Ashley Chaffee sniffed out a screen pass as Northbridge started their penultimate drive of the game with seven minutes left and a 15-point hole. That drive ended with four-straight incomplete passes. Later, Doug Collins got to Boyce and forced an incompletion, before Brad Noyes' interception sealed the game.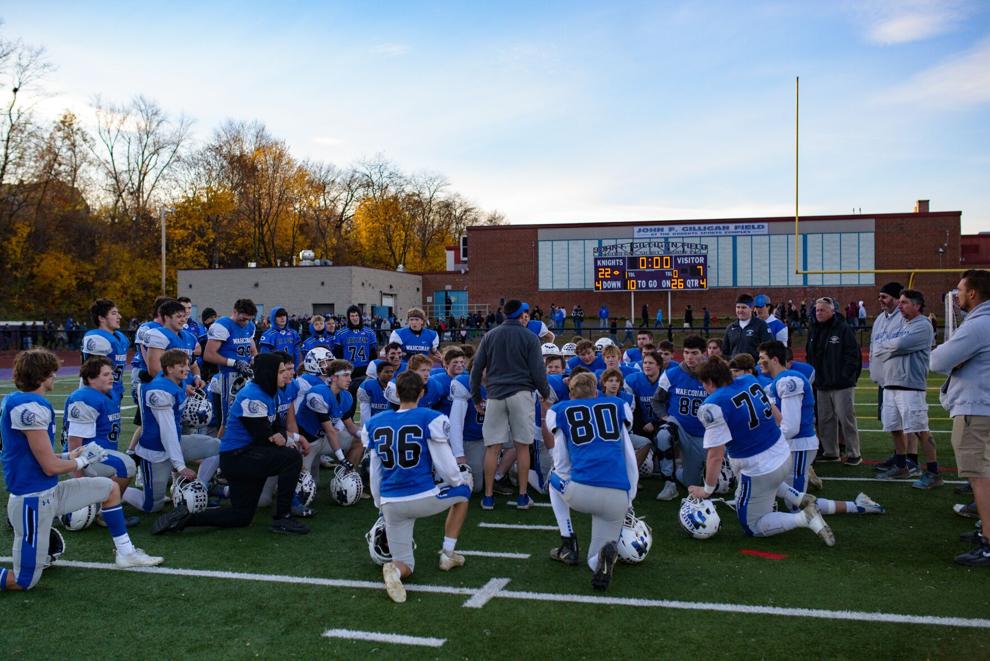 Wyatt George got to the quarterback for a 2-yard loss in the closing minute of the first half. Salvatore and Owen Alfonso met at the quarterback, forcing an incompletion to end the second quarter.
The Warriors began working toward a state title in August and are now 48 minutes from the promised land.
"It's every team's goal at the beginning of the year," Campbell said of getting to Gillette. "We feel very lucky to get there and I'm so happy and proud of these boys and their hard work."
The Warriors will play No. 6 Cohasset for a state title. With a time and date yet to be determined, Wahconah will have some time to embrace the 11-0 lifestyle.
"We just beat one of the best programs in the state — and beat them pretty well," Ben Noyes said.
———
Northbridge 7 0 0 0 — 7
Wahconah 0 8 16 0 — 22
First Quarter
N — Boyce 1 run (Maxim kick), 3:11.
Second Quarter
W — Scott 1 run (Scott run), 0:39.
Third Quarter
W — Salvatore 19 pass from Scott (Smith run), 6:22.
W — Noyes 67 pass from Scott (run failed), 3:17.
INDIVIDUAL STATISTICS
RUSHING — N: Boyce 12-56, Falconer 7-43. W: Smith 26-115, Salvatore 5-18, Scott 11-29.
PASSING — N: Boyce 9-25-0 90 yards. W: Scott 9-18-2- 141 yards.
RECEIVING — N: Schofer 3-28, Visbeek 3-30, Lachapelle 2-33, Falconer 1-(-1). W: Be. Noyes 3-87, Br. Noyes 2-18, Duma 1-4, Salvatore 2-28, Smith 1-4.