PALMER — Neutralizing Pathfinder's rushing attack is like taking a fish out of the water and Monument Mountain's defense was suffocating the Pioneers on Friday night.
The Spartans held Pathfinder to less than 4-yards per carry and the visitors are officially riding a three-game winning streak following the 32-14 victory.
"It was absolutely a team effort," Monument coach Daren Carlson said. "This is what you need against Pathfinder, that offense is tough and you really want to get them out of that wedge."
The Pioneers like to get rolling downhill behind their big offensive line, but the Spartans were up to the challenge. Additionally, Monument had an extra week to prepare after the team's Week 6 matchup was canceled.
"We've gotten to see them play a few times because of our bye weeks," Carlson said. "We were watching film and they're pushing players all the way down the field.
"I have to give credit to defensive coordinator Chris Tucci and assistant coach Chris D'Aniello, those guys really had our defense ready to go."
With the defense holding Pathfinder to an average of six plays per drive, Nick Henderson and the offense took advantage of each and every opportunity.
The junior tailback finished with 181 yards and 4 touchdowns on 13 carries. Three of his four touchdowns went for 25 yards or more on stretch plays to the right side.
"The blocking was great all day and we were really prepared," Henderson said. "I have to thank my teammates, they were great all day."
Monument entered action with 28 points on the year and more than doubled that total on Friday. While Henderson's numbers jump off the page, he certainly wasn't working alone.
Ashton Aloisi and Jay Howard, lined up at receiver, dominated with downfield blocking from start to finish.
"If we sealed the blocks on the outside, we could get there," quarterback Reece Mullen said. "We could then punch it inside when we had to and they weren't expecting it."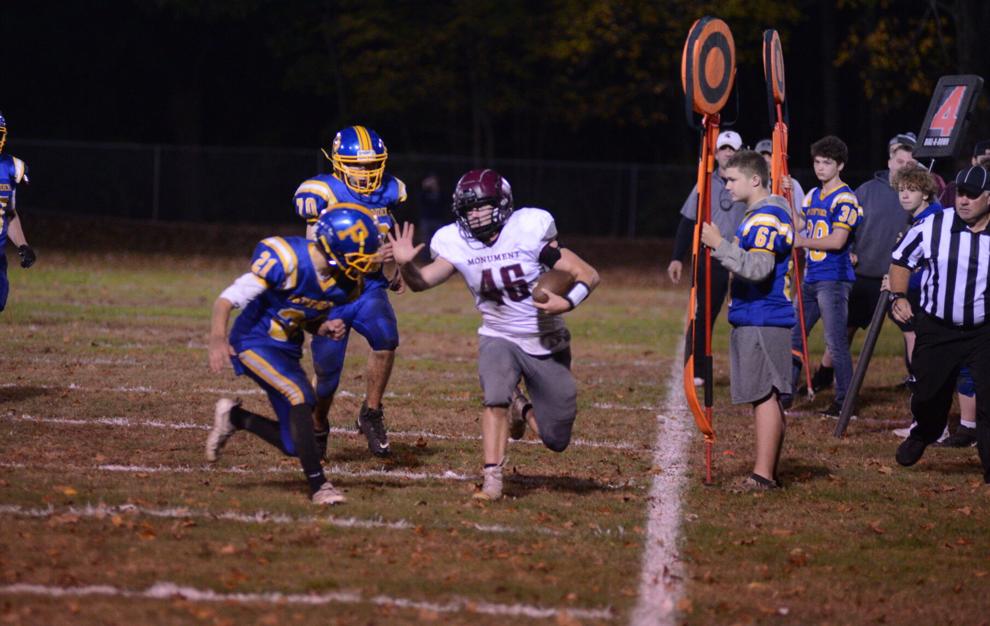 Speaking of punches, if Monument Mountain is a boxer and Henderson's big runs are right-handed haymakers, Shaun Frank was the pesky left-handed jab.
The freshman took advantage of the left side of the line with runs of 18, 6 and 4, before Henderson punched the ball in from 30-yards out on the opening drive. Frank finished with 76 yards on 16 carries.
Henderson's second touchdown came with roughly 2 minutes left in the first quarter. After Henderson terrorized the Pioneers for 12 minutes, it was Mullen's turn to get into the action.
Friday marked the first game of the season in which Mullen started under center for the Spartans after starting quarterback and fellow senior captain Hunter DeGrenier suffered an injury against Smith Vocational.
"It's been tough, but in the end you see it on the field," Mullen said. "We've put in a lot of work since we've had to rearrange some things. It's been tough, but we're getting pretty good at it."
Mullen had been the team's multi-year starting running back and showcased his wheels on his first carry of the game, a fourth-and-9 situation from Pathfinder's 29-yard line.
Back at St. Joe's Field for the second-straight week. Looks like senior day for the Pioneers. Kickoff between Monument Mountain and Pathfinder is slated for 7 p.m. pic.twitter.com/GN5pf8Rwqp

— Jake Mendel (@JMendel94) October 22, 2021
The senior had plenty of open field on a bootleg, picking up 14 yards on the play. Two plays later, he followed an 8-yard run with a 9-yard run for 6 points, giving the Spartans a 20-0 lead late in the first half.
"Our quarterback went down and the bye week was good because we needed two weeks to get things down," Carlson said. "Reece has played quarterback before, he knows the plays and did a great job managing the game tonight."
Big plays weren't hard to come by for Monument's defense. Henderson recognized a pass to Austin Lagimoniere behind scrimmage and shouted it out.
Senior captain Arthur Labrie responded by blowing up the play for a 5-yard loss. Junior Owen Wade finished with a sack and blocked punt, and defensive tackle Wes VanSant caused turmoil in Pathfinder's backfield from the opening whistle.
Howard recovered a fumble, the game's only turnover, on the kickoff to begin the second half.
"I love all these guys, they're my brothers," Mullen said of the playmakers around him.
Three in a row usually means tic-tac-toe, but in Great Barrington it translates to a turnaround after the Spartans began the year 0-2.
"It was a great game and we stayed focused at practice all week — no way we were going to lose," Henderson said.
The Spartans entered the weekend ranked 21st in Division VI and will look to keep climbing the ladder with a showdown against the Blue Devils in North Adams next Saturday.
———
Monument Mountain 14 6 12 0 — 32
Pathfinder 0 6 0 8 — 14
First Quarter
MM: Henderson 30 run (Mullen pass to Aloisi off a Labrie deflection), 7:23
MM: Henderson 46 run (run failed), 0:00.
Second Quarter
MM: Mullen 9 run (pass failed), 1:03
P: Lagimoniere 6 pass from Griswold (pass failed), 0:08.
Third Quarter
MM: Henderson 26 run (blocked extra point), 8:37
MM: Henderson 2 run (run failed), 1:48.
Fourth Quarter
Lagimoniere 48 pass from Griswold (Hill run), 37.4.
———
INDIVIDUAL STATISTICS
Rushing — MM: Mullen 5-35, Aloisi 1-0, Howard 2-32, Frank 16-76, Henderson 13-181, Mcleod 3-1. P: Hill 6-24, Lagimoniere 6-37, Perniciaro 7-8, Griswold 3- (-1).
Passing — MM: Mullen 0-1-0; P: Griswold 7-12-2 116 yards.
Receiving — P: Lagimoniere 7-116.