CHESHIRE — Securing the throne starts with taking a shot at the crown and that is exactly what the Wildcats did on Saturday.
Hoosac Valley, which sits atop the MIAA Division VIII Power Rankings, absorbed the early punch and countered with 36 unanswered points in a 42-15 win over Lee.
Carson Meczywor ran for three touchdowns and added one more through the air. As a team, Hoosac rushed for 277 yards on the afternoon.
"[Lee] has stopped us a lot in the past and this was a game we wanted to win," senior lineman Jake Mucci said. "This was probably the most important game of the regular season."
Photos: Hoosac Valley vs. Lee Football
Hoosac Valley plays Lee in football at Hoosac Valley Regional High School in Cheshire. Saturday, October 23, 2021.
To purchase these photos and more, click here.
The Wildcats entered action ranked No. 7 in D-VIII and showcased why on the game's opening drive with 59 yards on five plays, highlighted by a 39-yard run from Elliot Winston on the first play from scrimmage.
Cam Freeman punched it in from 7 yards out and Lee was up 7-0 just 2 minutes into the ballgame.
Lee vs. Hoosac Valley on the docket. Major D-VIII implications in today's game. Kickoff is scheduled for 1:30 pic.twitter.com/R0OZUarSVK

— Jake Mendel (@JMendel94) October 23, 2021
"It was very upsetting," Mucci said of the opening drive. "We didn't want that to keep happening so we handed it right back and just kept pushing."
Lee entered action knowing that a hefty pile of points was needed to keep up with a Hoosac squad averaging 30 points a game. With that in mind, the visitors attempted an onside kick, but a horde of Wildcats barreling toward the ball wasn't enough to force the Hurricanes into a mistake.
"We took a shot to get the ball right back, but instead gave them good field position," Lee coach Keith Thomson said. "We knew they are a good team and very well-coached up front.
"We had to get into a scoring match with them, we were unable to do that and were stuck playing catchup for most of the game."
Hoosac's second play from scrimmage went to Shaun Kastner Jr., a 50-yard run that brought the ball 6 yards from the goal line. Kastner was unstoppable on the day with 153 yards on 15 carries. The touchdown, though, went to Meczywor on a 2-yard run. The quarterback added the 2-point conversion and the Hurricanes captured the lead at 8-7.
"I think the team overall did well in all facets of the game, but it was really the running game that got us going," Hoosac Valley coach Mike Bostwick said. "The O-line up front and then the backs were running hard and it was a simple game plan."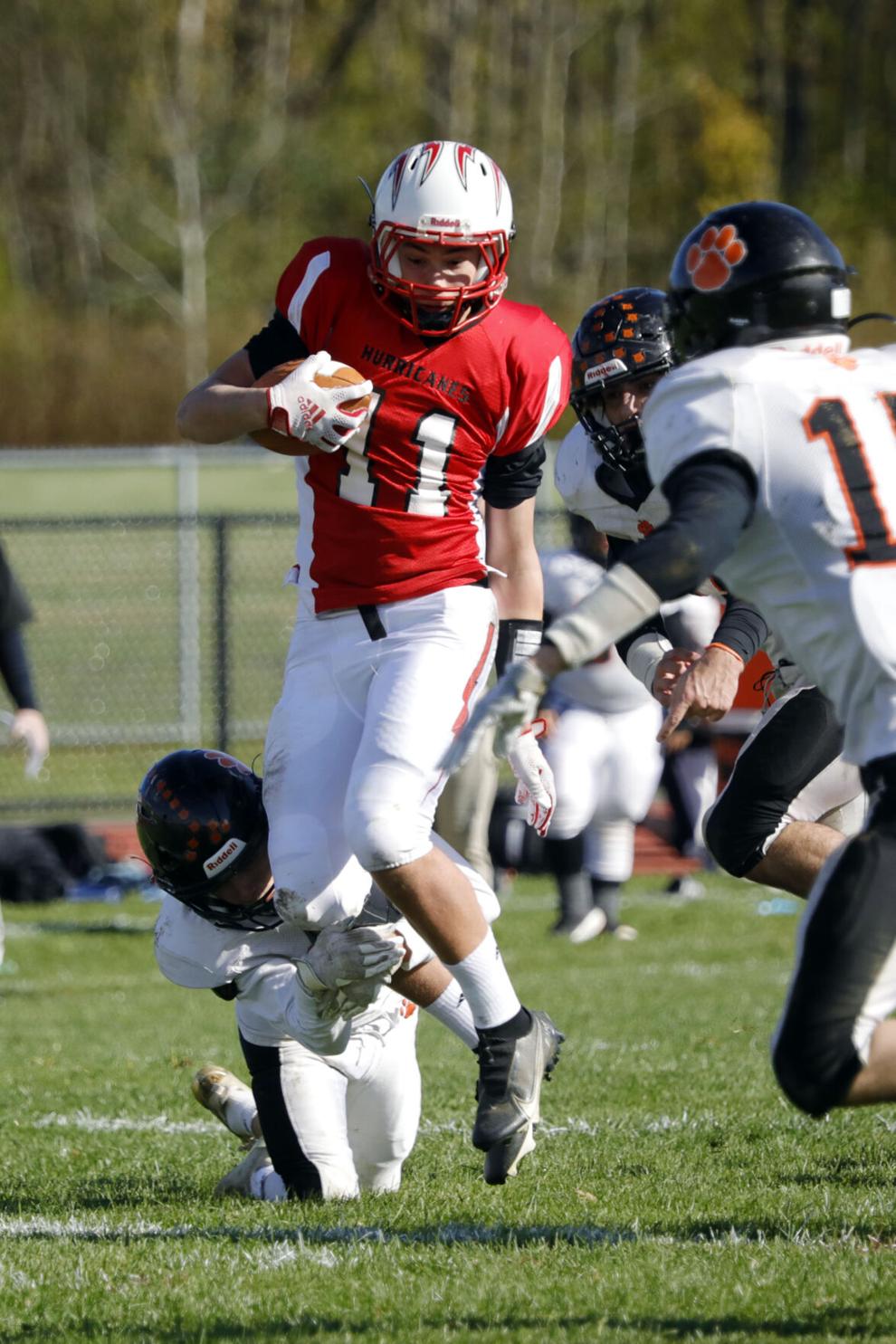 Bostwick added that the team's complementary football began with running the rock, which was proven on the next Lee position.
The Hurricanes ran around the field like they were running away from defenders. Kobe Valois blew up a run for a 1-yard loss on first-and-10. The Wildcats were then pushed back due to a false start, and Mitchell Malloy defused a Freeman run at the line of scrimmage.
On third-and-15, Kastner shed a tackle to blow up a screen 2 yards behind the line of scrimmage.
The Hurricanes got the ball back and Aaron Bush got involved with two carries for 9 yards. The senior tailback closed with 71 yards on 18 carries. While Bostwick did say Hoosac keeps things simple on the offensive end, that doesn't necessarily mean there won't be some ripples in the team's devastating attack.
Frank Field entered the day with just one rushing attempt on the year, but carried the ball five times for 22 yards, giving the Wildcats another threat to counter.
Field ran the ball 15 yards on two plays, bringing it down to Lee's 6-yard line. Kastner did the rest, punching it in for a touchdown — and 2-point try — for a 16-7 advantage.
Mucci, Valois, Malloy John Liebenow, Dominick Green and Blake Trumble caused havoc up front and held Lee scoreless for the rest of the first half. Meczywor's second touchdown of the day, this one from one-yard out, gave Hoosac a 22-7 lead with 2:30 left in the first half.
Needing points, Lee took to the air on second-and-9. Malloy got into the backfield and forced an incomplete pass. On the following play, Valois broke into the backfield and forced another quick pass. However, this one was intercepted by Fields.
Hoosac's drive started with a 46-yard run from Kastner, using Mucci's blocking as a shield and clearing a lane down the sideline. Kastner got the call again and brought the ball down to the one. On second-and-1, Meczywor fumbled the snap, but gathered and brought it in for another touchdown. Suddenly, the lead was 28-7.
Lee took to the air with 30 seconds left, but a Trumble interception ended the first half. Caleb Harrington added another interception in the fourth quarter. Mucci, however, had an opportunity that linemen can only dream of with 8 minutes left in the game.
"They had missed a handoff and the ball was just sitting on the ground," the senior said. "My first instinct was just dive on it, but I thought to myself: why not?"
Mucci returned the fumble 25 yards for a touchdown.
"I was super excited for him when I saw him pick it up and I saw his Fred Flintstone legs running down the field," Bostwick joked. "I thought that was the greatest thing, but I think he can be a little faster down the road so we'll put some work in on some of his sprints and prowler pushes."
Hayden Siok and the Wildcat offense got going in the second half as Dylan Ely scored on a 31-yard reception early in the fourth quarter. Ely caught three balls for 34 yards and Tyler Bartini added another three receptions for 25 yards.
"With Hayden coming in for his first year and a lot of moving parts, we've been able to find a few different things that work for us," Thomson said. "One of the bright spots is that we had good pass protection in the second half and Hayden was able to throw from a clean pick and deliver some good throws."
Despite the forced turnovers and just 15 points allowed, Bostwick believes his team is still breaking through the glass ceiling.
"I think that chemistry is still developing and I think that is a good thing with where we are at," Bostwick said. "Defensively, we were out of position multiple times, stuff we will look closer at and correct.
"I was pleased and it is a good win, but it is also good to make a lot of mistakes and have that room for improvement."
The Wildcats are slated to hit the road for a game against Belchertown on Friday night. Meanwhile, the Hurricanes play on Thursday this week with a trip to Commerce on the agenda.
"We keep it simple," Bostwick said. "Kept it simple against Lee and we'll do our best to keep it simple against Commerce, another team with big guys and a lot of athletes."
"We just have to work together," Mucci said. "If we continue to do the right thing on every play we can stop anyone on any play."
———
Lee 7 0 0 8 — 15
Hoosac Valley 8 20 8 6 — 42
First Quarter
L — Freeman 7 run (Kick good), 9:32.
HV — Meczywor 3 run (Meczywor run), 6:00.
Second Quarter
HV — Kastner 6 run (Kastner run), 10:00.
HV — Meczywor 1 run (run failed), 2:30.
HV — Meczywor 1 run (run failed), 0:33.
Third Quarter
HV — Valois 2 from Meczywor (Kastner pass from Meczywor), 7:23.
Fourth Quarter
L — Ely 31 from Siok (Bartini pass from Siok), 11:50
HV — J. Mucci 25 fumble recovery (kick blocked), 8:07.
INDIVIDUAL STATISTICS
RUSHING — L: Winston 11-84; Freeman 3-15; Bartini 4-7; Siok 1-7; HV: Field 5-22; Kastner 15-153; Meczywor 8-22; Bush 16-71; Harrington 2-9.
PASSING — L: Siok 11-18-1 89 yards; HV: Meczywor 2-3-1 8 yards.
RECEIVING — L: Freeman 3-25, Ely 3-34, Bartini 2-6, Kinney 1-8, Mihlek 2-16; HV: Kastner 1-6, Valois 1-2.