DUDLEY — After months of smothering opponents, the top-seeded Hurricanes met their match at Shepherd Hill High School.
Photos: Hoosac Valley football plays Hull in MIAA D-VIII state semifinals
On Friday night in Dudley, the Hoosac Valley football team was defeated 39-22 by Hull in the MIAA Division VIII state semifinals.
To view a full gallery or purchase photos from the game, click here.
No. 4 Hull was the first team to score more than 24 points against Hoosac Valley this season, and is advancing to the Massachusetts Division VIII state championship with a 39-22 win in the semifinals on Friday.
"It was a gutsy, gutsy effort, our guys were banged up," Hoosac Valley coach Mike Bostwick said. "Credit to Hull, they're fast and physical.
"I'm glad [our guys] finished it the right way, didn't put their heads down and kept fighting right to the end."
The two sides exchanged fumbles to start the contest as the Pirates fumbled away the opening kickoff. Hoosac ran two plays before giving the ball right back, setting up a 9-yard touchdown run by Teddy Bellew.
The two sides then exchanged punts before the Hurricanes started moving on the ground with running back Aaron Bush. The senior brought the ball 27 yards on three carries to get near midfield.
The Hurricanes were right on the fringe of the red zone before the ball popped out of a pile and Hull's John Gianibas went 70 yards on a scoop-and-score.
"Our guys know when you get to this point there is less room for error, the speed of everything is a wee bit quicker and the physicality is just a little more," Bostwick said. "You always wonder how you match up against that. Those guys attacked the ball.
"We didn't do anything fancy, we went at them and they came at us and were the better team."
Despite the 13-0 deficit at the end of 12 minutes, Hoosac looked to Bush for answers, running the ball 20 times for 82 yards in the first half. He closed out his high school career with 160 rushing yards and three touchdowns on Friday night.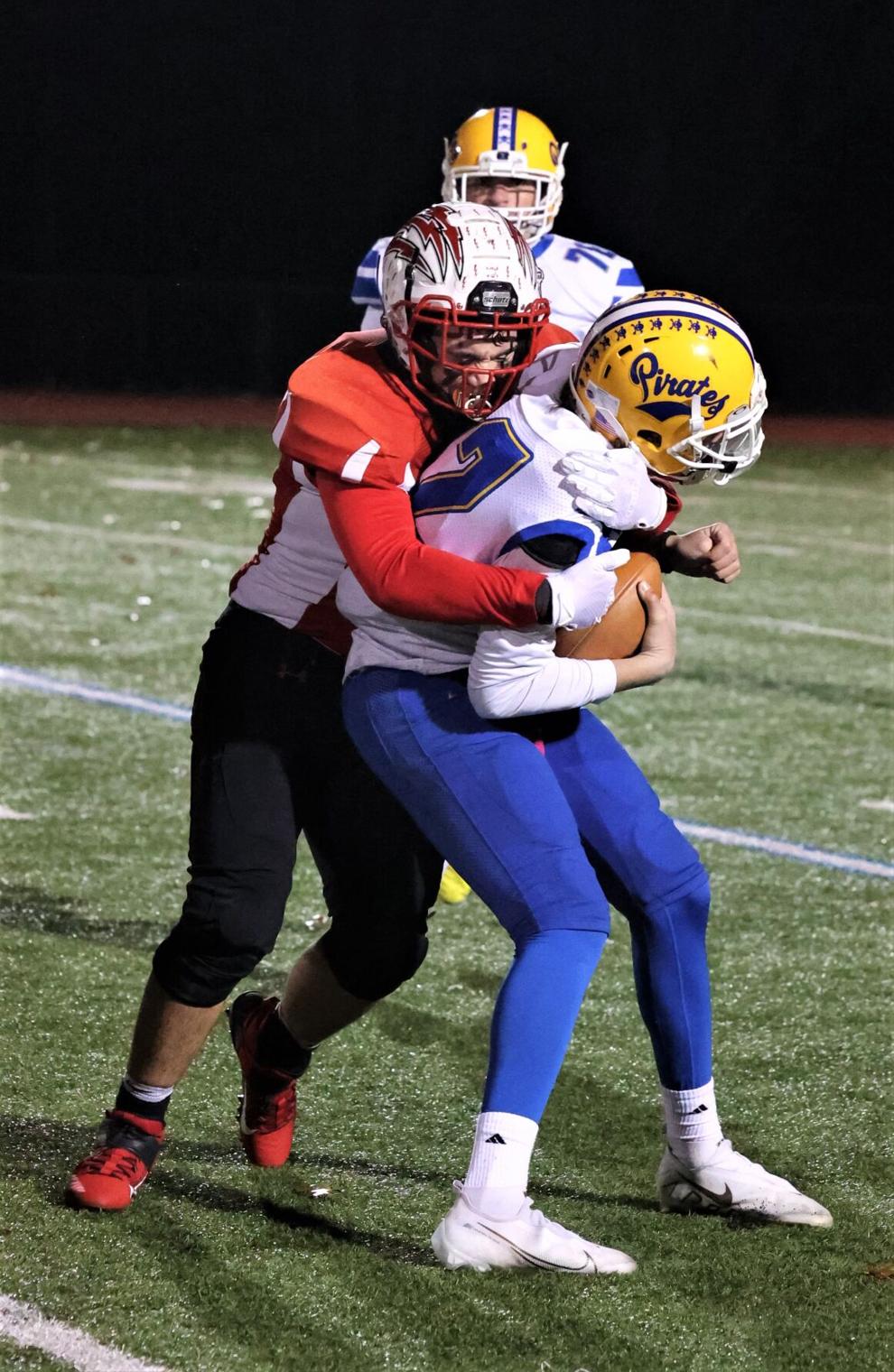 Bush ran the rock on five-straight plays before punching it in on fourth-and-goal from the 1. His 2-point conversion made the score 13-8.
Hull got the ball back with less than two minutes remaining in the first half. A sack by Kobe Valois pushed the Pirates into their own territory, but quarterback Luke Richardson found Gianibas for a 28-yard reception down to Hoosac's 38-yard line.
The Pirates recaptured the game's momentum with a hook-and-lateral trick play. Nick Tiani caught a 10-yard hook to the outside and tossed the ball back to senior captain Ben Olivieri, who was trailing on the ladder route and went the remaining 28 yards untouched for a touchdown.
"Even pre-snap we were in poor position," Bostwick said. "We were out-leveraged on that, I could've called a timeout, but was praying our corners would stay out. They came in just a little bit, opening up that play."
Bush had a 9-yard touchdown run in the third quarter to cut into Hull's lead at 27-16 with 14 minutes left in the game. The Pirates, however, maintained a double-digit lead for most of the back nine.
Bush broke free on a 40-yard touchdown run with nine minutes left in the game, Hoosac's final points of a Final Four season. The Hurricanes went on a seven-game winning streak in order to claim the top spot in the tournament, and then won two one-score games to advance in the D-VIII bracket.
"We've been together for such a long time," senior Jake Mucci said of when he felt the team was destined for a playoff run. "We always look forward to the season, when we start playing it all just kind of works out usually and we just have fun playing together."
Bostwick brought the senior-heavy Hurricanes in for one final huddle following the game.
"[I told them] I was proud of their effort," Bostwick said. "We had 16 kids that could step onto the field today, what these guys have accomplished is pretty impressive."
Struggling with depth, Bush absorbed 30 carries, Shaun Kastner Jr. ran the ball for 64 yards on 16 carries. Quarterback Carson Meczywor had nine attempts for 30 yards. Both Meczywor and Bush forced — and recovered — fumbles in the semifinal bout.
Hoosac Valley vs Hull for a shot in the state championship, kickoff should be coming up shortly pic.twitter.com/sPZoiuOLS4

— Jake Mendel (@JMendel94) November 19, 2021
The Hurricanes ended the season the same way they ended every win — with the team's celebratory jingle.
"The bond they share, these guys are tight with a heavy senior class," Bostwick said. "Those guys have the composure to have that one last little hoorah."
"It was a good way to end it," Mucci said, "[this team], they're my best friends."
———
Hull 13 8 6 12 — 39
Hoosac Valley 0 8 8 6 — 22
First Quarter
H — Bellew 9 run (McDonough kick), 9:11.
H — Gianibas 70 fumble recovery (kick blocked), 0:06.
Second Quarter
HV — Bush 1 run (Bush run), 4:37.
H — Olivieri 28 run on Tiani lateral (Gianibas run), 0:42.
Third Quarter
H — Tiani 25 run (kick failed), 7:16.
HV — Bush 9 run (Bush run), 2:11.
Fourth Quarter
H — Tiani 21 run (run failed), 11:11.
HV — Bush 40 run (run failed), 9:26.
H — Tiani 52 pass from Richardson (kick failed), 6:10.
INDIVIDUAL STATISTICS
RUSHING — H: Olivieri 1-2; Bellew 8-21; Gianibas 12-74; Richardson 1-5; Tiani 6-65. HV: Bush 30-160; Kastner 16-64, Meczywor 9-30.
PASSING — H: Richardson 6-8 137 yards. HV: Meczywor 0-6.
RECEIVING — H: Gianibas 2-57; Olivieri 2-18; Tiani 2-62.