Hoosac Valley, Monument Mountain and McCann Tech each entered the weekend with out-of-county games already in the rearview mirror. With that in mind, Week 4 felt like the first time that most local teams traveled beyond county walls and began league play inside the Pioneer Valley Athletic Conference.
Wahconah, Taconic, Hoosac Valley, Lee and Pittsfield — five of the county's eight teams — finished 4-1 on the road this weekend and outscored opponents 171-86.
Additionally, Wahconah (44-28 over Longmeadow) and Hoosac Valley (30-0 over Easthampton) put the Suburban South and Intercounty South on notice with impressive wins over previously undefeated teams.
With four weeks left in the season, the Warriors (4-0) are one of three teams with a 1-0 record in the Suburban South. Wahconah and Agawam, however, are the only two teams with perfect records so far in 2021.
They say to never look too far ahead in sports so we're not going to do that... but Wahconah is traveling to Agawam this weekend.
If you look up "log jam" in the dictionary you'll likely see the Intercounty South standings. Lee (3-1), Hoosac Valley (3-1) and Belchertown (2-2) all earned wins this weekend. Easthampton is in the mix at 3-1 despite the league loss to Hoosac Valley.
"We got through our independent games 2-1 and now it's a whole different ballgame," Wildcats coach Keith Thomson said.
Pittsfield joins Ludlow and South Hadley with a 1-0 record in the Suburban North. Looking a little deeper, coach Brian Jezewski's squad is the only group with a winning record in the league.
For the first taste of out-of-county action in nearly two years, Berkshire County teams have had little issue getting comfortable with the uncomfortable.
"It means a lot to be honest," Lee's Elliot Winston said of the win on Friday. "We were pretty nervous, we've either shut out teams or have been shut out ourselves, so it was weird coming into a game we knew would be tough.
"We played together all night and had each other's backs and that got us through it."
Drury and Mount Greylock — the perfect match?
The 2021 season marks the second time that Mount Greylock and Drury joined forces. The co-op started 5-1 in 2019 and 2021 is following the same course — despite short notice of a reunion.
The co-op pulled off a hard-fought 18-6 win over McCann Tech this weekend and when we take a step back, it's hard not to be impressed with what Drury has cooking. The youthful Blue Devils stand out with a perfect 3-0 record in which they're outscoring opponents 74-12.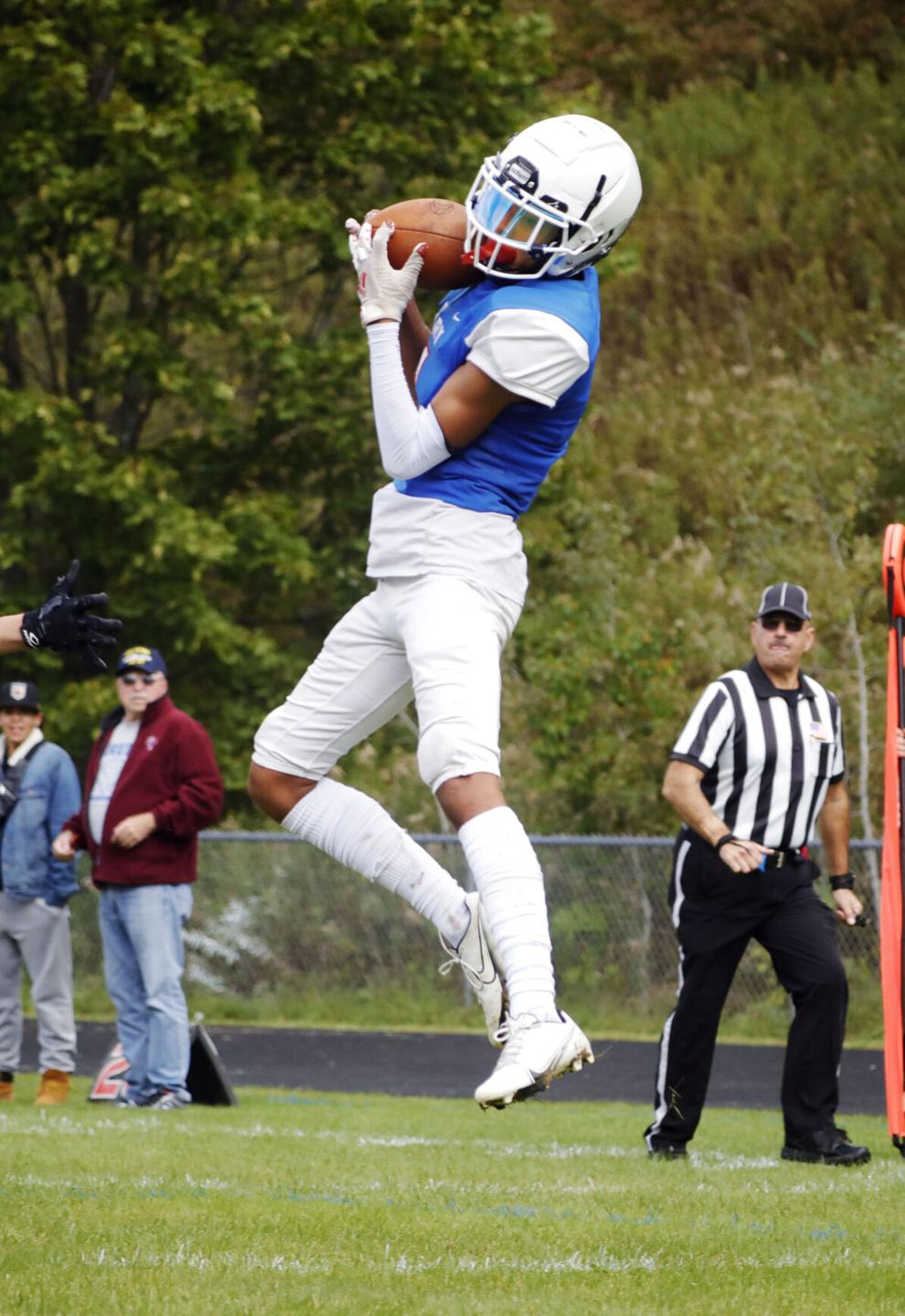 Drury starting quarterback Anthony Pettengill credited communication to why these schools work well together.
"We played together in 2019 and we do have some new faces this year, but we just know how to talk to each other everyday at practice," he said after tossing two touchdown passes to Mount Greylock's Jackson Powell against the Hornets. "We have a great bond and that is one of the biggest keys to playing football and winning games."
Offensively, junior Louis Guilotte already as 577 yards and is averaging 10 yards per carry. He leads the team with three total touchdowns (two rushing and a punt return against McCann) with Jayshawn Moore penciled in as the No. 2 back in North Adams with 115 yards and 2 touchdowns on 19 carries. Trey Lepecier is another target on the outside. Of course, none of this would be possible without the big guys up front.
Defensively, Drury kept a loaded box against McCann. Tim Brazeau and Dominic Carnevale have contained the edges while Bryce Blair, Chase Copeland, Judge Martin and Batista Bartlett make things messy in the trenches. Opponents have yet to score over six points in a game against the Blue Devils.
Al Marceau, coach of the Blue Devils, acknowledged the time and effort needed for the co-op to succeed.
"If you're willing to catch a van every day to come over and play for another school — you're a football player and that is why it's seamless," he said. "They just want to have a successful season. There is no ego."
"We had a co-op before, but it is different this year," Drury running back Louis Guilotte said. "We're closer and all working together.
"I know my guys got me."