DALTON — Wahconah reached the MIAA semifinals as they thumped Clinton 48-14 Friday night in the Warrior's final home appearance, running their season record to 10-0.
Jonah Smith torched the Galloping Gaels for 328 yards on 14 carries and finished up with four touchdowns on the evening leading to the lopsided victory.
Photos: Wahconah football defeats Clinton in MIAA D-VII state quarterfinals
On Friday night in Dalton, Wahconah football rolled through Clinton 48-14 in the MIAA Division VII state quarterfinals.
To view a full gallery or purchase photos from this game, click here.
The Warriors offensive line dominated throughout, opening holes for Smith and his breakaway speed.
"They were really blocking great," Smith said after he finally got a bit of a breather in the fourth quarter with the game's outcome a foregone conclusion. "I didn't have to do too much on some of those runs. The holes were there and [I ran through] them. It was amazing."
"Jonah, once he breaks he can go," coach Gary Campbell said. "Our offensive line was really doing well."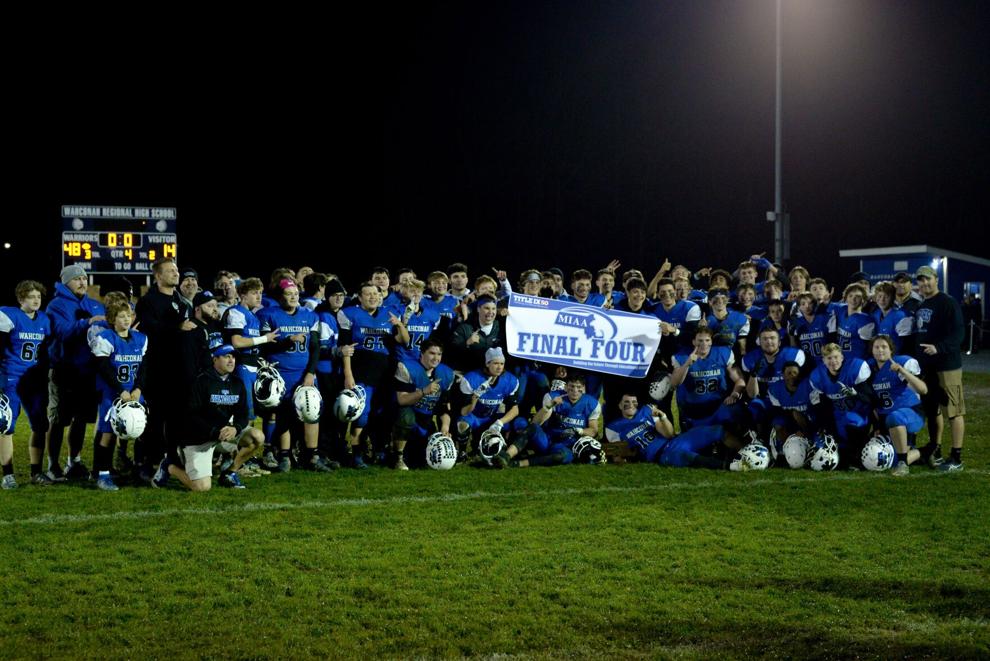 On a pair of long runs, Smith was virtually untouched while on yet another he broke two sure tackles in the Clinton secondary before he was off to the races again.
The team's excellence, in Smith's mind, is what is most amazing of all to him.
"I'm so excited," he said. "This team is so close; and it's an amazing feeling to be here."
Here, is now the state semifinals, which will take place this coming weekend on a neutral field. The top-seeded Warriors are set to face No. 4 Northbridge on a time and date to-be-determined. Northbridge, a familiar postseason foe of Wahconah, beat West Boylston 42-13 in the quarterfinals.
Senior Quarterback Ryan Scott got the Wahconah offensive rolling in the first quarter as the Warriors went to the ground on five of its first six plays. Scott started the surge with a 5-yard keeper, and bookended the drive with a burst of speed up the middle through the defense posting a 39-yard touchdown run. Smith added the two-point conversion on the ground.
The Warriors stopped Clinton's potent running attack on the ensuing possession, as they did most of the night, with big senior lineman David Striebel posting a pair of solo tackles.
A fumble by Smith led to a drive by the Gaels which stalled at the Warriors 41, as Ben Noyes, Brad Noyes and Owen Alfonso each made tackles leading to a punt to end the first quarter.
Clinton stood up Smith and Scott on back-to-back runs before Smith found a holeand dashed 63 yards for a 14-0 lead at the 9-minute, 57-second mark.
The Gaels opened the next drive with great field position at their own 45 when perhaps the biggest game-breaking moment occurred. A 38-yard pass from quarterback Matt Phillips to wideout Abdiel Zapata went for 38 yards. The next play, a short run, was snuffed out, causing a fumble which was smothered by the Warriors' Brady Farley.
The Warriors could not get it going this time as Scott was sacked to end the short drive at midfield where Clinton took over. But again, the Gaels were unable to establish the run and fell victim to penalties and found themselves in a fourth-and-25 with 3 minutes left in the half. After a long pass was broken up by safety Owen Salvatore, Wahconah took over at its own 35. Scott found tight end Ben Noyes for a 15-yard hookup. After a 5-yard false start penalty, the Warriors again went to the ground with Smith's most electrifying score, breaking tackles in the secondary en route to a 20-0 advantage.
Clinton, though, showed signs of life breaking out with a 50-yard run by junior Cole Nelson. After a short gain on the ground by Nelson, Phillips splashed into the end zone on a 3-yard quarterback keeper with 54 seconds to go. A terrific catch by senior tailback Josh Seidl on an over-the-shoulder grab cut the lead to 20-8. Wahconah turned a short kick into good field position and took a shot at a deep ball intercepted by Clinton's Axel Ramos to end the half.
With the half ending harmlessly, Wahconah started the third quarter with a quick score. On the second play from scrimmage, Smith broke free for a 64-yard sprint to pay dirt free of any contact once through the line. Scott added the 2-point conversion on the ground to extend the lead to 28-8.
Clinton started at it own 31 and sustained a 12-play drive picking up short chunks of yardage, before until ultimately running out of steam with an illegal substitution penalty and a last gasp failed fourth-down conversion after turning to its backup quarterback, senior Robert Feliz. With the turnover on downs, the Warriors went to the air as Scott hit Ben Noyes for a 58-yard score and a 34-8 lead. The floodgates had opened as on its first play, from its own 48, Clinton fell victim to Brad Noyes' forced fumble, recovered by junior Doug Collins (8 tackles on the evening). Enter Smith, who with one touch covered 79 yards for another touchdown and a 40-8 bulge.
Clinton went quietly in its first possession of the fourth quarter, besides an 18-yard scamper by junior tailback Alex Chouinard. When Wahconah took over it went to the bench as Collins (three rushes, 25 yards) and junior quarterback Lucas Pickard (four rushes, 38 yards) went to work on the ground until Pickard found Zander Walton for a 4-yard touchdown strike. Sophomore Noah Poirer salted the 2-point conversion on a run.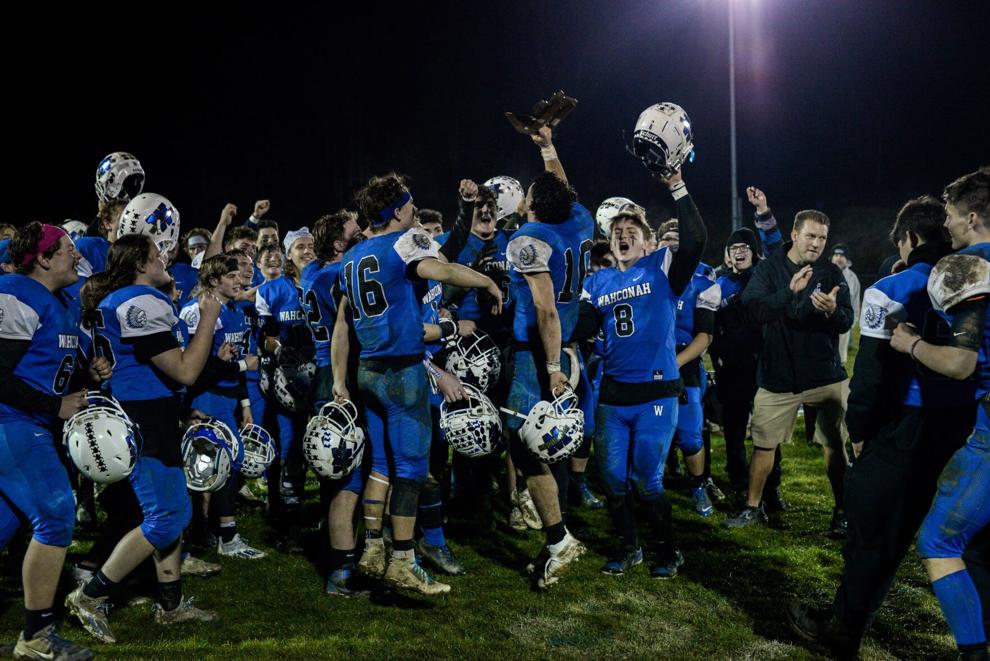 Clinton senior Nolan Weinacht returned a kickoff 70 yards for a touchdown in the waning moments of the game, providing the final 48-14 margin.