When the members of the Wahconah football team step onto the turf at Gillette Stadium in Foxborough this evening, they will do something no other Western Massachusetts high school has accomplished.
The Warriors will be the first Western Mass. team to play in three state football championship games. Top-seeded Wahconah will play sixth-seeded Cohasset in the MIAA Division VII state championship game. Kickoff at Gillette is scheduled for 5:30 p.m.
That honor will be short-lived because 24 hours after Wahconah and Cohasset kick off on Wednesday, Springfield Central will play in its third state championship game, when the Golden Eagles play Central Catholic. It is the Golden Eagles' third trip to Foxborough as well.
Wahconah's success at Gillette has been different than Springfield Central's. The Golden Eagles have two state championship trophies, won back-to-back in 2018 and 2019.
Wahconah has been to two state championship games, in 2014 and 2016. In 2014, the Warriors lost to Holliston 43-0. Two years later, Wahconah got back and gave Mashpee all it could handle before dropping a 34-17 decision. So, when the Warriors and the Skippers tee it up, it'll be for Wahconah's first state football championship.
It will not, however, be the first time Wahconah has won a football game on the turf where Tom Brady used to play. Wahconah beat South Hadley 24-21 in a Western Massachusetts Super Bowl game nine years ago.
Here is a look back at all three trips to The Big Razor in Foxborough.
Wahconah 24, South Hadley 21Earlier in the 21st Century, some of the regional Super Bowl games started to be contested at Gillette Stadium. When the calendar turned to 2010, Western and Central Mass. teams got to share in the bounty. That's why Wahconah and South Hadley were playing in Foxborough on Dec. 1, 2012.
The Warriors and Tigers made the long drive to Gillette to determine supremacy in Western Mass. Division II football. It was a game for the ages.
There were three, count 'em, three touchdowns scored in the final 4 minutes, 45 seconds of the first half. That became critically important, because neither team made it into the end zone in the second half.
South Hadley's Bryan Shippee scored on a 6-yard run with 1:19 remaining, giving the Tigers the lead.
Wahconah came right back down the field, with a 41-yard pass play from quarterback Lane Grogan to tight end Jordan Fiske the big play. Fiske, who had run a seam route, was tackled just shy of the end zone with one second left. The Warriors got one more play, and Ethan Wells pounded the ball into the end zone as time expired. Wells had a big day for Wahconah with 87 yards rushing on 21 carries.
"We haven't really blown out anybody," Wahconah coach Gary Campbell Jr. said after the game. "But we've been pretty methodical and have done our thing. Maybe tonight that just helped us keep our composure."
The Warriors had 20 sophomores on that team, and they came back the next year and won another Western Mass. title. It was the first year of the new statewide championship playoffs. Wahconah opened Division IV play with a 24-20 win over South Hadley and claimed the title with a 20-0 win over Agawam. But Wahconah lost to Doherty High School of Worcester 22-16 in the state semifinals.
Wahconah's run, however, was not over.
Holliston 43, Wahconah 0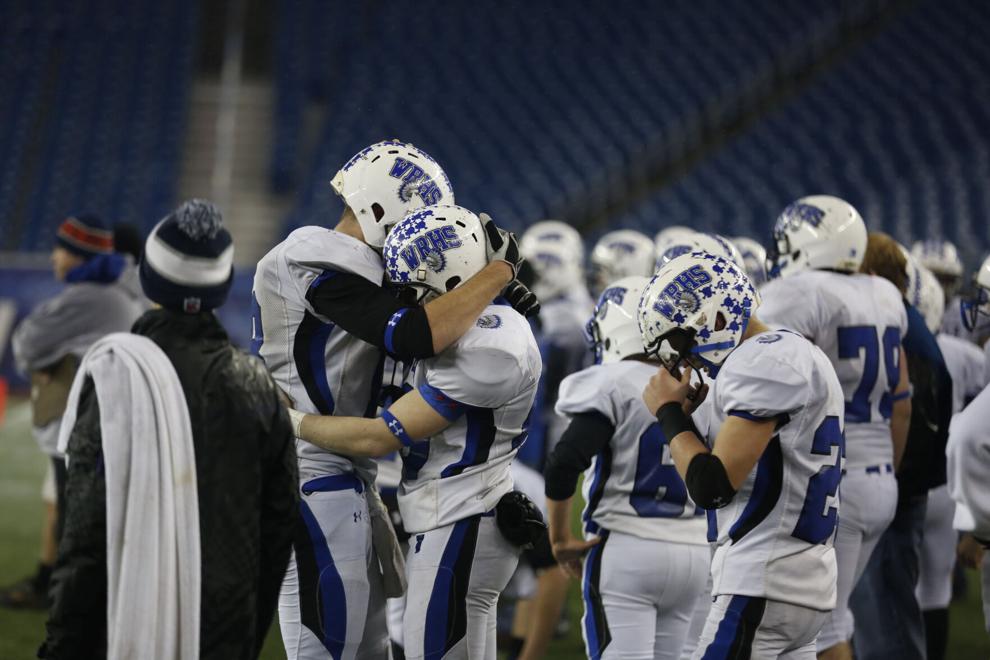 In 2014, Wahconah made it three Western Mass. championships in three years, beating Chicopee Comp 48-19 and Agawam 32-14, to claim the D-IV championship. Wahconah then beat Shepherd Hill 36-20 to reach the state championship game, where Holliston was waiting.
That turned out to be a good thing and a not-so-good thing.
While it is always exciting to get to Gillette, it is not exciting to get blown out. That's exactly what happened to the Warriors.
Holliston running back Zach Elkinson ran for 212 yards on only nine carries and scored five touchdowns in the 43-0 win. Elkinson outgained Wahconah, as the Warriors managed only 85 yards rushing. Elkinson scored on runs of 49, 61, 21, 50 and 30 yards.
"Plain and simple, they kicked our butt physically," Campbell said at the time. "I don't think [Elkinson] was touched through the line. He went through the line and then his speed brought it all the way to the house."
Holliston turned to Elkinson because quarterback Nick Athy, who had been nursing a high ankle sprain, re-injured the ankle and could not finish the game.
Mashpee 34, Wahconah 13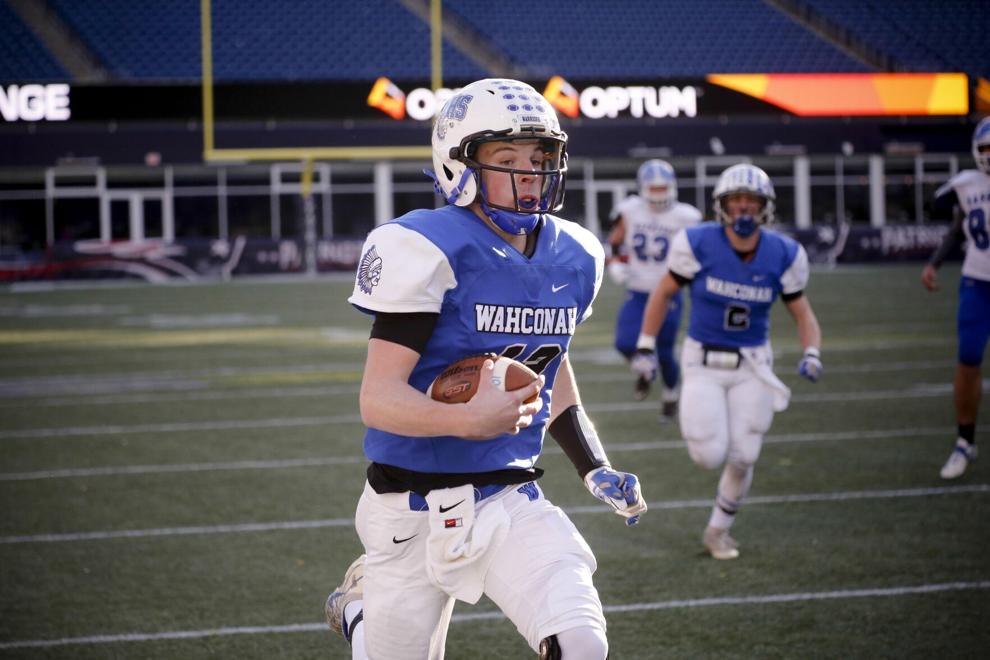 Wahconah had reached Route 1 by beating Frontier 54-8 and Palmer 20-14 in the Western Mass. Division IV tournament, and then knocking off West Boylston 16-8 in the state semifinal round.
The game, much like the first time Wahconah had made it to Gillette, had a back-and-forth quality to it.
Warriors quarterback Will Genaway scored on a 47-yard run with 5:33 left in the second quarter. Patrick Butler's PAT kick made it 7-6.
Mashpee's Devaun Ford, who ended up running the ball 17 times for 120 yards, helped his team's cause by catching a 7-yard touchdown pass from quarterback Nick Carpenter, to give the Falcons a 12-7 halftime lead.
Wahconah got the lead back on Genaway's second rushing touchdown of he game, a 9-yard run with 6:53 left in the third quarter. That made it 13-12, Wahconah.
Back on the see-saw, Carpenter scored on a one-yard run with 23 seconds left in the third quarter, and ran the ball in on the two-point conversion. Mashpee took a 20-13 lead, and never gave it up. The Falcons scored two fourth-quarter touchdowns.
Genaway was 8 for 27 for 165 yards. The Wahconah ground game managed only 88 yards on 25 carries.
"We couldn't run the ball. Credit to Mashpee. Mashpee was stuffing the middle," Campbell said. "Playing from behind, as far as tactics, we just had to air it out no matter what. [Being] behind is just a mentality."