NORTH ADAMS — It's been nearly two years since the McCann Tech football team has taken the field for a regular season game.
While some schools scrambled to participate in the Fall II season, that wasn't the case for the Hornets. For Tony Skiffington, who is entering his fourth year coaching at McCann Tech, teaching is the foundation of the 2021 season.
"We have 32 kids on the team and 22 of them are freshmen and sophomores," Skiffington said before practice on Thursday. "The sophomores never had a high school season so day-to-day improvement is what we're really focused on right now."
Tape was placed across each helmet in the first week of practice as the coaching staff, and the players became acquainted with one another. Some players who may not have needed the tape, though, are Jason Knapp, Austin Richardson and Seneca Bolte — the team's three senior captains.
"They've done a great job leading because they've been here since the beginning," Skiffington said. "They're passing their experience on and are positive kids to begin with. That attitude relayed to the kids creates a great atmosphere where kids want to be here and learn."
Knapp, who has started since his freshman year, will play corner and split out wide offensively. Meanwhile, Richardson started inside the trenches as a guard and defensive lineman as a sophomore. Bolte, like Knapp, has played since he was a freshman and will take snaps at tailback and defensive end.
In terms of quarterback, McCann Tech has two players taking snaps at practice. Andrey Mendel and Seth Farnsworth, both seniors, are vying for the starting job. Featuring a ground-and-pound offense that can hit from any direction, skill position guys like Knapp and Bolte may quickly become the quarterback's best friends.
Skiffington began coaching in 1989 and after a year away, he couldn't be happier to be surrounded by a swarm of Hornets.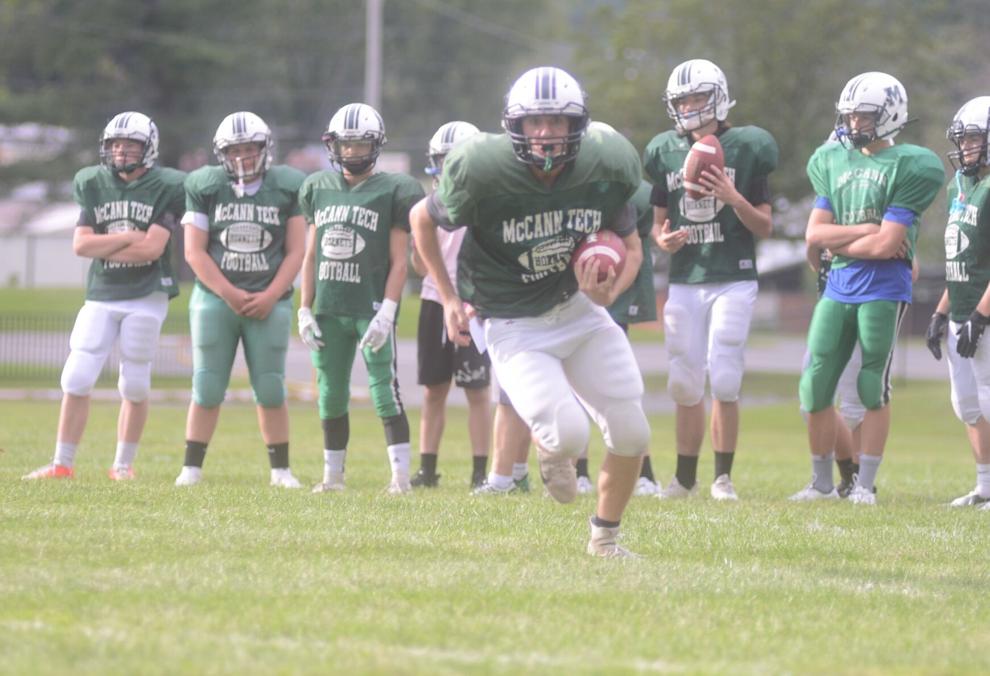 "It's been great," he said. "I [coach] because of the camaraderie with the kids, other staff and even other teams. Just seeing these kids out here every day — you don't do it for the money.
"The reward is watching these kids grow and better themselves and I am not talking about on the field — just as people."
The Hornets start the season on Sept. 11 at home vs. Franklin Tech. 2021 isn't the greatest opportunity for McCann Tech to build up the frequent-flyer miles with just one game outside the county — Sept. 17 at Mahar, which is in the town of Orange.
Weeks 3 and 4 feature Berkshire County foes as the Hornets will play at Lee and at Drury. The regular season will end on Oct. 30 vs. Smith Vocational.
"Every day, we're focused on just getting better than yesterday," Skiffington said.