GREAT BARRINGTON — Shaun Frank is going to fit in just fine.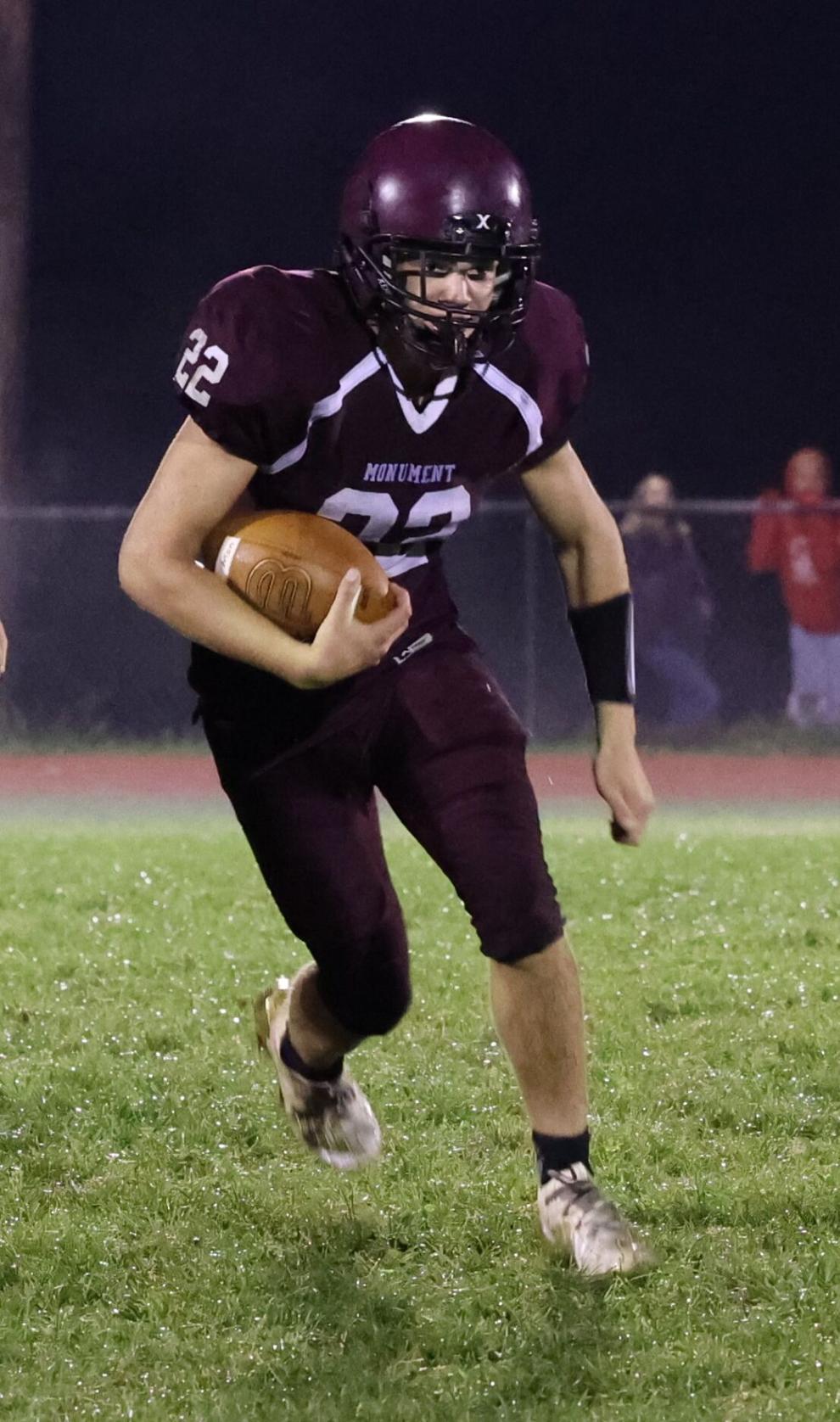 Monument Mountain's freshman running back carried the ball 29 times for 177 yards on Friday, as the Spartans earned their first win of the season, 14-0 over Athol.
"Shaun is a huge, huge piece. He's young and he's got a lot of heart and a lot of stamina. He gives Reece [Mullen] some rest. He's a huge piece and he runs hard," said senior quarterback Hunter DeGrenier, emphasizing that last word.
Monument (1-2) implemented a new offensive scheme after coming up empty in a pair of shutout losses to start its fall. The Spartans are now looking to hit holes and hit them with authority behind the starting offensive line of Andrew Albert, Owen Wade, Blake Cella, Cole Bisallion and Nate Smith. The hosts rushed 53 times for 322 yards as a team on Friday, with Mullen and Frank splitting carries until the fourth quarter when coach Daren Carlson leaned heavily on the freshman.
At that point, Mullen had already carried for 72 yards on 14 carries, including the game's two most important plays. After 10 quarters without tasting the end zone, Mullen liked the flavor so much he double-dipped scoring runs of 1 and 7 yards in the third to account for all the points Monument needed to take care of Athol.
It was a foreboding start to Friday night's road trip for the visiting Bears.
Starting quarterback Caleb Cox threw an off-balance incompletion on the team's first offensive play, then ran for two yards in a pile and could not get up off the field.
Cox was carried to the sideline, did not return, and the Bears offense never recovered.
"It was a tough way to start a football game," said Athol coach Bill LaRose. "We're a different team with Caleb in the lineup than we are with him out of it, and it showed."
With the senior signal caller unable to go, freshman backup Aiden Melanson was pressed into service. After a delay of game, senior running back Dilan Fountain rushed for nine yards to set up a fourth-and-4 punt.
Fountain's run wound up the Bears' biggest play of the night. Athol was held without a first down and mustered just 40 yards of total offense in the game.
Yet still, the contest was scoreless at halftime and the visitors were never fully out of it. Monument held possession for 18 minutes, 35 seconds of the first half, but went turnover on downs, punt, fumble, downs on its four drives.
"It's been a long wait, but we've been there. We've been in the red zone so many times," said Carlson, whose team was flagged nine times for 70 yards. "We just made mistakes. They killed us, but I think they got that out of their system this game. We felt good [at halftime]. We felt like we were being pretty physical with them and we could wear them down in the second half."
Photos: Monument Mountain vs. Athol Football
On Friday night, Monument Mountain football defeated Athol 14-0.
To purchase photos from this gallery, click here.
Tackling Mullen, Frank and DeGrenier play after play certainly took its toll on the Bears, who fumbled away possession on the first play of the second half. That trio carried the ball six times on a short field for 35 yards, ending with Mullen fighting onto pay dirt from a yard out. It was Monument's first score since the Fall II season in the spring, and Mullen's first since fall of 2019.
"It feels so good," said DeGrenier, who took three of his seven carries for double-digit yards. "We've all been working so hard, and we know what it feels like to not score and not win. Other people watch and don't know how that feels, so every week we've been putting in hard work and none of us have given up."
The 6-0 lead was still in plenty of danger when Monument fumbled possession back to Athol on the Spartans' own 34-yard line with 5 minutes, 33 seconds to play in the third quarter. But as they did all night, Monument's defenders stayed in tune and walled up before the Bears could move more than a few yards. Monument forced multiple fumbles and recovered two, with Conor McLoud grabbing one and Andrew Albert hauling in the other.
Athol turned it back over on downs at the Monument 30, and the Spartans got the big play they needed to break the game open a bit. DeGrenier looked left off the snap and fired a screen pass to Nick Henderson. Henderson found space and tip-toed along the left sideline before bolting for a 55-yard pickup to the Athol 15.
From there, Mullen and Frank lugged the ball inside the 10, and Mullen ran off-tackle right for the 7-yard touchdown. DeGrenier rewarded Henderson's leg work with a 2-point conversion pass and it was a two-score game with less than two minutes left in the third.
Nick Henderson does the legwork on a 55yd screen pass, but it leads to Mullen's second TD of the quarter.MM 14-0. pic.twitter.com/oR8C8VhKbk

— Mike Walsh (@WalshWrites89) September 25, 2021
Monument didn't score again, but did sustain two lengthy drives taking up 10:11 of the fourth quarter. The hosts picked up four of their 17 first downs, and that kept the ball out of Athol's hands and exhausted the clock until DeGrenier could kneel it out in victory formation for the first time this season.
"We kind of put in a whole new play scheme this week to get more powerful. They came out and executed it," said Carlson. "We've got two weeks with the bye, and I think we can get a whole lot better. The kids are excited.
"I've never seen fans this loud, or still here late after a game. The student section has been really great and that propels us."
Monument is off this coming week and then heads out to Smith Vocational on Friday, Oct. 8.
———
Athol 0 0 0 0 — 0
Monument 0 0 14 0 — 14
Third Quarter
MM — Mullen 1 run (run failed), 8:24.
MM — Mullen 7 run (Nick Henderson pass from Hunter DeGrenier), 1:52.
———
INDIVIDUAL STATISTICS
Rushing — A: Fountain 7-8, Brennan 3-13, Cox 1-2, Lefsyk 1-0; MM: Frank 29-177, Mullen 14-72, DeGrenier 7-56, McLoud 2-16, Henderson 1-1.
Passing — A: Cox 0-1-0 00, Melanson 4-6-0 17; MM: DeGrenier 2-6-0 68.
Receiving — A: Castillo 1-8, Fountain 1-3, Brennan 1-3, York 1-3; MM: Henderson 1-55, Howard 1-13.