PITTSFIELD — Watching Pittsfield High football on tape and preparing for the high-scoring offense is one thing.
Photos: Pittsfield vs. Taconic Football
On Friday night at Berkshire Community College, Pittsfield High defeated Taconic 50-14.
To view a full gallery or purchase photos, click here.
Getting on the field and in the trenches with the Generals' offensive and defensive lines is something else entirely.
In a city rivalry bout at Berkshire Community College Friday night, Pittsfield defeated Taconic 50-14.
Taconic won the coin flip and elected to receive the opening kickoff at Gene Dellea Field. Coach Jermaine Sistrunk's team hugged an short kick near midfield and moved to the PHS 15 on seven plays, but nearly seven minutes had gone by, and Pittsfield's size was weighing on his young and short-handed offensive unit.
"We were executing some new plays we put in. Got in the red zone and we just kind of stalled," said Sistrunk. "Our line got overwhelmed. Ultimately, we couldn't move."
An offsides penalty set up first-and-15, and Taconic rushed three times for minus-3 yards. A fourth-and-18 Matt McIntosh pass for the end zone was a jump ball for receiver Sean Harrigan and defensive back Louis Rhodes, and Rhodes was able to punch it out of bounds.
"We knew that they've got some really athletic individuals, and that was how they were going to hurt us," said Pittsfield senior lineman Kieran Coscia. "We focused on staying home all week. We knew they might break a big play, and if they did we had to keep level heads. That was the focus, just play smart and stay level-headed."
The next time McIntosh's offense had a chance, they were staring at a 14-0 hole.
That gap was not dissimilar to the ones Pittsfield quarterback Patrick Rindfuss was sailing through for much of the night. PHS ran five plays — all Rindfuss keepers — and the senior moved the ball on the ground from the Generals' 22 to the opposite end zone. Included in the march was a 51-yard sprint.
HALF: Pittsfield 26, Taconic 0.A sampling of some of the holes Pat Rindfuss has seen tonight. Rough math: He's run for 243 yards on 17 carries. pic.twitter.com/zL19GOY4Zf

— Mike Walsh (@WalshWrites89) October 22, 2021
"He's been consistent all season. Pat drives the ship, and he does an amazing job putting us in the right position, in the right situations," said Pittsfield coach Brian Jezewski. "The guys trust him, and he trusts his guys up front."
In all, Rindfuss carried 22 times for 296 yards and four touchdowns. He also completed 5 of 7 passes for 43 yards and another score. He was intercepted once by Harrigan at the end of the first half, his lone blemish of the night.
"I can't say enough about the performance our offensive line had, and I thought our defense played great. Couple broken plays which made us nervous all week," said Jezewski. "When you've got the guys who care and the guys who put the work in in the offseason, these things kind of take care of themselves."
As they did on the opening kickoff, and every ensuring kickoff until the contest was out of reach, Pittsfield had junior Jimmy DiFilippo attempt an onside kick after Rindfuss' first score. This time, it paid off, as Gavin Gaulden-Wheeler and Davon Solomon emerged from the pile with possession.
"We have full confidence in the defense. We're going to onside kick, and we're going to do it and do it. If you get one or two a game, odds are in your favor you're going to win the game," said Jezewski. "I think we got one tonight, and we have total faith in the coaching staff to get the job done with these guys defensively. Whether it's 50 yards or 100 yards, our guys are going to do what they've got to do."
Rindfuss stepped into the secondary on the first play, breaking a couple tackles on his way to a 43-yard carry. Dez Merced chased him down at the 5-yard line to save a touchdown, for one play at least. Rindfuss went in easily on first-and-goal, tacked on the 2-point conversion and it was 14-0.
Taconic was stuck in mud on its ensuing three-and-out, with Dazyear Moore carrying three times for four yards. Harrigan punted away to start the second quarter as the designated home team went to the sideline to regroup.
Taconic looked like it figured some things out for a stretch. Moore and Wesley Ahoussi managed to take Rindfuss down at the line of scrimmage twice, but the finishing blow wasn't there. On fourth-and-9 from midfield, Rindfuss connected with fellow senior Louis Rhodes for 17 yards through the air. Then, on third-and-6 from the Taconic 37, Rindfuss once again galloped through a gaping hole, turned on the jets and didn't slow until he hit pay dirt for a third time.
"To be honest, that's how it's been all year. I think we have the best line in Western Mass. They work hard in practice and obviously it helps having a kid like [Coscia]," said Rindfuss. "They blow linebackers up, they blow D tackles back, and it makes my job really easy. I just run hard and try to get first downs."
Taconic found some traction on its ensuing drive, getting a 16-yard pass to Harrigan and a 9-yard carry by Moore. But, every play was hurried by constant pressure from the likes of Bashee Canada, Edgar Vergara, Collin Wellman and Coscia.
Some Harrigan wildcat and McIntosh to Merced for 26yd into red zone and Taconic has something cooking on opening drive pic.twitter.com/LzEJ6T44SL

— Mike Walsh (@WalshWrites89) October 22, 2021
"We knew they'd be targeting [Harrigan] a lot with streaks. They weren't going to run the ball, because our D-line is too big and powerful," said DiFilippo, who captains the defense from linebacker. "I'm calling the plays, calling what they're doing, but they're doing what they're doing.
"We were physical. We were powerful. We outplayed them, first whistle to the last. You can tell by the scoreboard."
Harrigan and Merced, Taconic's two senior burners on the outside, were a major part of Jezewski's game plan.
"We knew they were going to throw it deep. Sean Harrigan is an amazing athlete, Dez I've known since he was little," said Jezewski. "We knew we'd have to weather that storm, the wind, all the elements. We put a lot of time in the weight room, we work really, really hard for situations like this. We rely on our fundamentals, we rely on the offensive line, and we rely on Patrick to make the right decision. That showed again tonight."
Taconic turned it over on downs at the PHS 34, with 4:36 left in the half. After a couple negative plays, Rindfuss went back to work. On third-and-12 it was an 11-yard pickup, and on fourth-and-1, a 20-yard dagger to the Taconic 36. He hit Solomon streaking across the middle, and the senior receiver carried it to the goal line. A holding penalty later, Solomon was rewarded with a 5-yard touchdown catch with 1:11 left, putting the Generals up 26-0.
That's where the score sat at halftime. It ballooned to 34-0 when Rindfuss scored a fourth time to start the third quarter.
TOUCHDOWN PITTSFIELDMestre takes this one off the left edge and follows Kieran Coscia in for 6. 50-8 PHS, 8:55 Q4. pic.twitter.com/RAopbLO2vT

— Mike Walsh (@WalshWrites89) October 23, 2021
"Coming in, I thought we had a good week of practice. A lot of energy, obviously this game is a big deal. A lot of energy coming in here. I was excited tonight," said Sistrunk. "Wish the score was a little better, but we learned a lot. We are young, we're dinged up down to 18 or 19 guys. The score doesn't dictate how hard some of those freshmen and sophomores are working. We've got a good group of kids getting better as we go. The score isn't going to deflate these guys coming back. It's just going to make them hungrier for summer."
Taconic got on the board on its first possession of the second half. McIntosh completed four passes, three going to Harrigan, who danced his way forward for 32 yards to set up a short touchdown run for Moore. Taconic continued to attack through the air to try and catch up, but Toby Gaulden-Wheeler and then Rhodes came up with second-half interceptions. Harrigan did grab a 14-yard TD on the last play of the night.
Following the first Green and Gold score, Pittsfield had an answer ready. Rhodes took a pitch 29 yards down the left sideline for a score, and did the 2-pointer himself. After Gaulden-Wheeler's pick, Pittsfield mixed it up with Jonathan Mestre, Damario Powell and Rhodes running behind that same line. From 6-yards out, Coscia pulled out to the left edge and cleared a path to the end zone for Mestre with 8:55 left in the game.
"I want to do damage on whatever the play is, but yeah it's fun pulling around. I made the move from tackle to guard this year, and our offense has been a lot of fun," said Coscia. "The coaches are great. We know where our strengths are. Coach J, the assistants, I think we have the best coaching staff in Western Mass. They do a great job using us."
It all seems to be coming together for Pittsfield, which is now 5-1 and will wrap the regular season at Ludlow next Friday. In the most recent MIAA release of state tournament power rankings, the Generals were sixth in Division V. Taconic was 16th in D-VIII.
"Make no mistake about it," Jezewski finished. "Pittsfield High is a legitimate football team, and we're not going anywhere."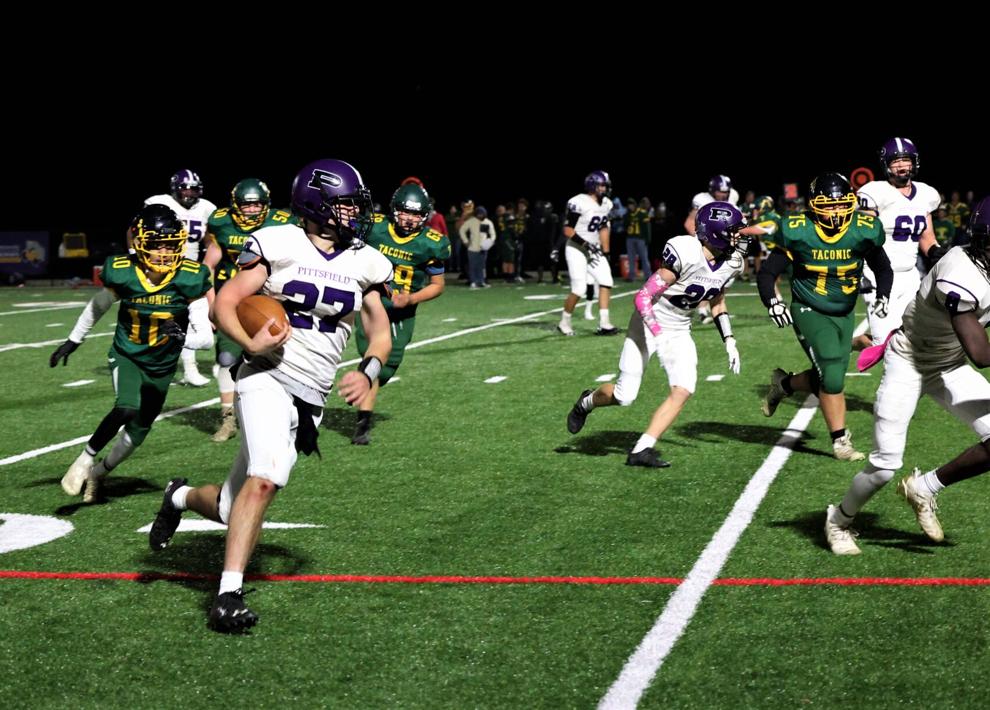 ———
Pittsfield 14 12 16 8 — 50
Taconic 0 0 8 6 — 14
First Quarter
P — Patrick Rindfuss 4 run (run stopped), 2:40.
P — Rindfuss 5 run (Rindfuss run), 2:11.
Second Quarter
P — Rindfuss 37 run (pass incomplete), 6:45.
P — Davon Solomon 5 pass from Rindfuss (pass incomplete), 1:11.
Third Quarter
P — Rindfuss 5 run (Louis Rhodes run), 9:46.
T — Dazyear Moore 2 run (Dez Merced pass from Matt McIntosh), 5:11.
P — Rhodes 29 run (Rhodes run), 3:14.
Fourth Quarter
P — Jonathan Mestre 6 run (Damario Powell run), 8:55.
T — Sean Harrigan 14 pass from McIntosh (not contested), 0:00.
INDIVIDUAL STATISTICS
RUSHING — P: Patrick Rindfuss 22-296, Louis Rhodes 5-47, Jonathan Mestre 4-29, Damario Powell 3-13; T: Dazyear Moore 11-25, Sean Harrigan 4-57, Matt McIntosh 2-11, Dez Merced 1-(-2).
PASSING — P: Rindfuss 5-7-1 43; T: McIntosh 7-18-1 92, Harrigan 0-1, Merced 0-1.
RECEIVING —P: Davon Solomon 3-19, Rhodes 2-24; T: Harrigan 5-62, Merced 2-30.