DALTON — It was cold, and it was an opponent from across the state.
So, it was good to be at home, where the Wahconah Warriors trounced the Lunenburg Blue Knights 38-0 Friday night in the MIAA Division VII state playoffs.
Warriors coach Gary Campbell said his team was focused and ready to play from the get-go in front of its fans. Wahconah neutralized the Knights' rushing attack and steamrolled its opponent with a punishing running game of its own.
"We used film study and forced them to throw the ball," Campbell said. "We studied to pick up their tendencies. It's cold, and we got a good home field advantage.
Photos: Wahconah football defeats Lunenburg 38-0 in MIAA state tournament
On Friday night in Dalton, the top-seeded Wahconah football team dispatched No. 16 Lunenburg 38-0 from the MIAA Division VII state tournament.
To view a complete gallery or purchase photos from this game, click here.
Top-seeded Wahconah hitched a large work load on senior running back Jonah Smith to lead the rushing attack, while quarterback Ryan Scott and company augmented the ground game keeping Lunenburg honest.
Wahconah stopped Lunenburg's opening drive, taking over at midfield where Scott completed a short pass to wideout Luke DiCicco. The Warriors then went to the ground with a run off-tackle by Owen Salvatore and a draw play to Smith. Facing fourth-and-3, Scott dropped back and hit Owen Alfonso over the middle. Alfonso did the rest with a burst of speed to the end zone, and a 6-0 lead with 8 minutes, 25 seconds left in the first quarter. The two-point conversion was no-good.
Lunenburg staged a short drive helped out by a pass interference call, only to be stalled at the Warriors 35 when the hosts stuffed a fourth-down run.
Smith took over from there accounting for runs of 5 and 8 yards, and a short gain to midfield after an incomplete pass. Smith's burst through the defensive line left him a lane and he showed breakaway speed on the way to a 50-yard touchdown run to spring Wahconah to a 12-0 advantage.
Lunenburg started with good field position at its own 35 and was briefly held back on a stick by defensive end Doug Collins for no gain on first down and a fine play by junior Brady Farley to lead the defensive attack. The Knights, though, struck for a 65-yard pass play down the left sideline to the Warriors 5. It was here, early in the second quarter, where the Wahconah made a statement on defense, stuffing the Lunenburg attack, stopping a run for no gain and forcing an errant throw thwarting a try at the end zone (broken up by Scott Duma) forcing another fourth down. Lunenburg again failed on a quick throw which fell harmlessly incomplete.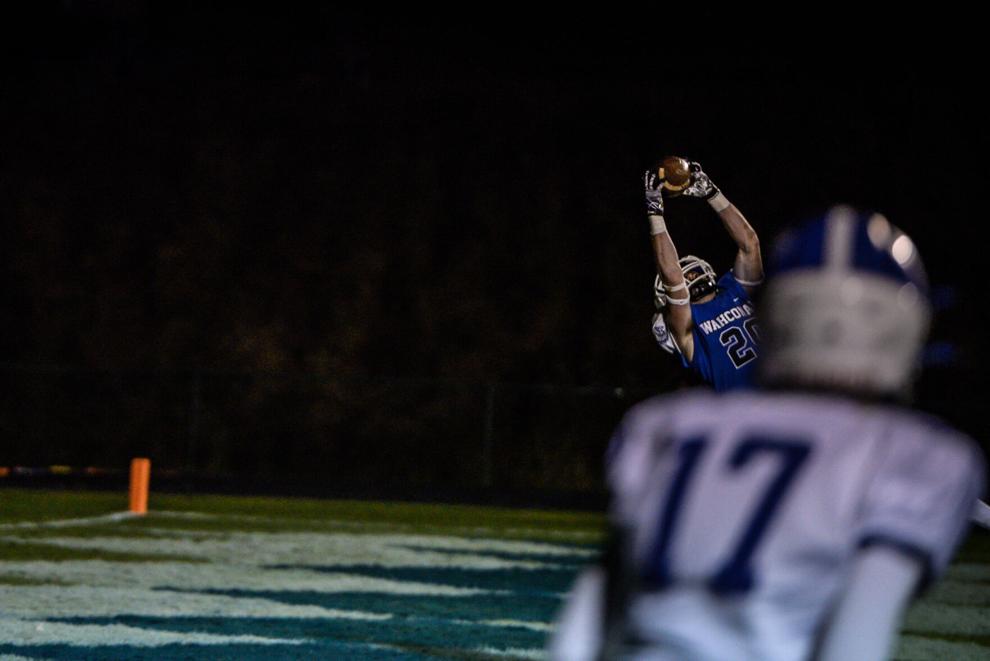 The Warriors escaped danger being pinned in their own end as Scott was sacked at his own 1-yard line. They used a crucial 7-yard scamper by Smith for breathing room. The team's exchanged short, ineffective drives before the Warriors drove for 77 yards and a commanding 18-0 lead. Runs of 8 and 10 yards sandwiched a 9-yard strike to Alfonso from Scott, before Smith dashed for a 37-yard catch-and-run to the 17. The drive culminated in a 10-yard touchdown pass from Scott to Ben Noyes.
After another short drive by Lunenburg, the Warriors rode Smith for a 30-yard rush and then a 20-yard touchdown run with an extra 2 on a conversion catch by Noyes to go up 26-0.
Early in the second half, Smith and Salvatore shared time running the ball, highlighted by another breakout by Smith for 19 yards to the Knights 35.
Senior receiver Drew Wendling pulled in an 8-yard catch as well before Scott hit tight end Ben Noyes for a 9-yard touchdown.
A fumble recovery by Ben West (five tackles) on the ensuing Lunenburg drive set the stage for the Wahconah's final scoring march.
Ben Noyes and Salvatore crippled Lunenburg's attack with a pair of excellent tackles before West came up with a loose ball on the 50. The Warriors punched in the exclamation point score following a 5-yard run by Salvatore, and a pair of catches by tight end Noyes, (a 26-yard gain setting up an 18-yard scoring grab).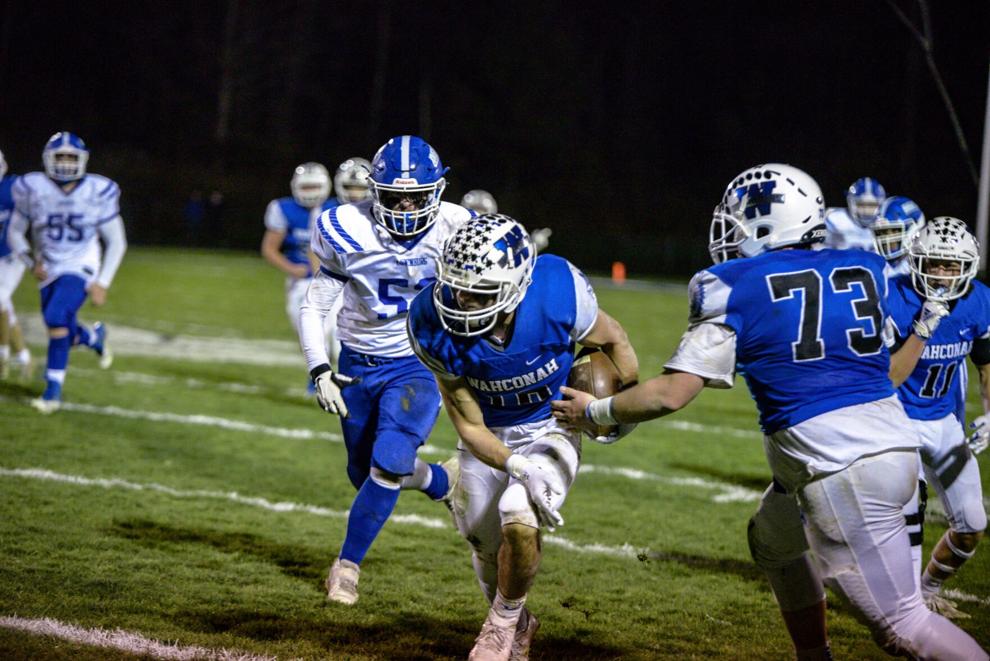 "Ryan has a live arm and he throws bullets, darts," Campbell said of the senior signal caller.
Campbell lauded the efforts of Smith, noting he was approaching 1,500 yards for the season.
Lunenburg's last good chance to score was thwarted as Salvatore intercepted a pass in the end zone before the end of the third quarter. He returned the interception 34 yards setting up the Warriors to cruise for the next 12 minutes.
Smith rushed 14 times for 127 yards on the night.
Sophomore Braedyn Melle completed a 20-yard pass to Junior Jesse Chapman on the final drive.
Wahconah moves on to the quarterfinal round of the Division VII bracket, and will host No. 8 Clinton at 6 p.m. on Friday night in Dalton.