PITTSFIELD — Wahconah quarterback Ryan Scott admitted that the Warriors needed to iron some things out on the offensive side of the ball. On Friday, though, the unit was Santana featuring Rob Thomas — Smooth.
Scott ran for a touchdown and tossed two more as undefeated Wahconah trampled Taconic 41-14 at Berkshire Community College on Friday night.
"We started slow on offense in the first two games," said the senior signal-caller. "We came out tonight and threw the first punch."
The Warriors forced a punt on Taconic's opening drive. Jonah Smith carried the ball four times on the next possession for 14 yards, closing the drive with a one-yard touchdown run to give Wahconah the lead.
Smith was the night's leading rusher with 108 yards and two touchdowns on 11 attempts. Scott added 25 yards on the ground, including a stretch-play down the left sideline for an 18-yard touchdown that pushed the Warriors lead to 12-0.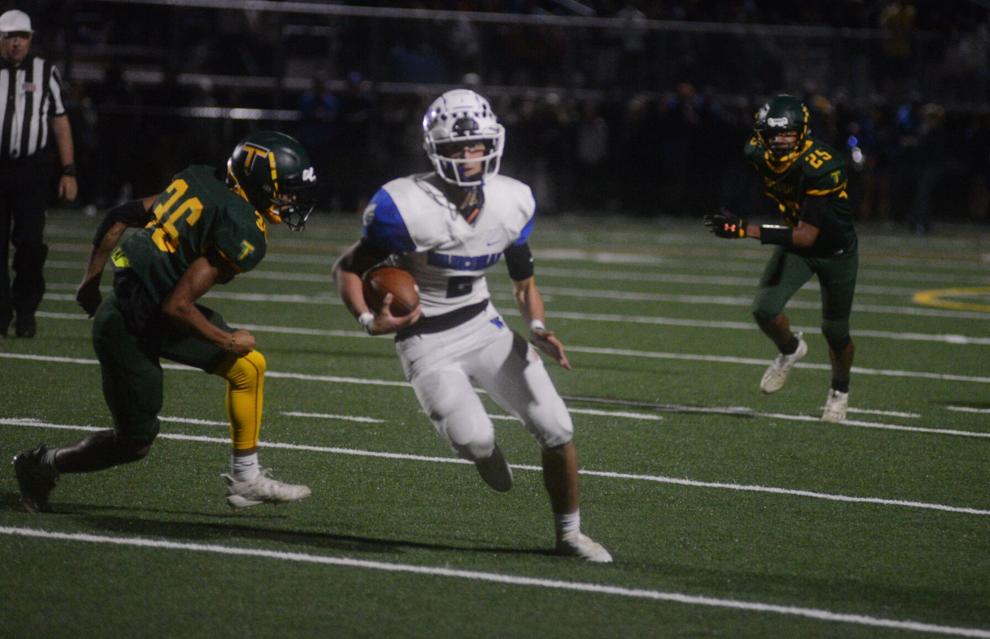 "I'm very comfortable," Scott said of operating the offense with its variety of playmakers. In fact, he had four different receivers involved in the first half.
Owen Salvatore had 41 yards on three receptions and Owen Alfonso, two receptions for 24 yards, caught a touchdown pass with seven minutes remaining in the first half, making the score 34-0 at the time.
Ben Noyes caught a 2-yard touchdown pass, and Scott Duma's extra point made the score 27-0 early in the second quarter. Wahconah turned on the afterburners at the end of the first quarter as Smith ripped the ball away from a Taconic receiver for an interception.
(tncms-inline)1441552093727371266[0](/tncms-inline)
"Their running game wasn't doing well, but there were some targets in the passing game," Smith said. "We knew the passes were coming and we needed to capitalize on it."
Smith was rewarded for his turnover with three straight runs, the third going for a 4-yard touchdown. The game quickly snowballed as Taconic fumbled on the following kickoff and Wahconah recovered. The turnover led to a five-play drive that ended with the pitch-and-catch from Scott to Noyes.
Taconic (0-3) put a dent in the scoreboard with less than two minutes to go in the half, as quarterback Matt McIntosh rolled to his left for a two-yard score. The drive was set up by a 43-yard completion from McIntosh to senior Sean Harrigan, who did his best impersonation of Randy Moss, "Mossing" the defender on the play.
Dez Merced scooped a fumble and scored a 35-yard touchdown late in the second half for Taconic's second score. McIntosh found Harrigan for a successful two-point try, which featured another strong grab over the defender.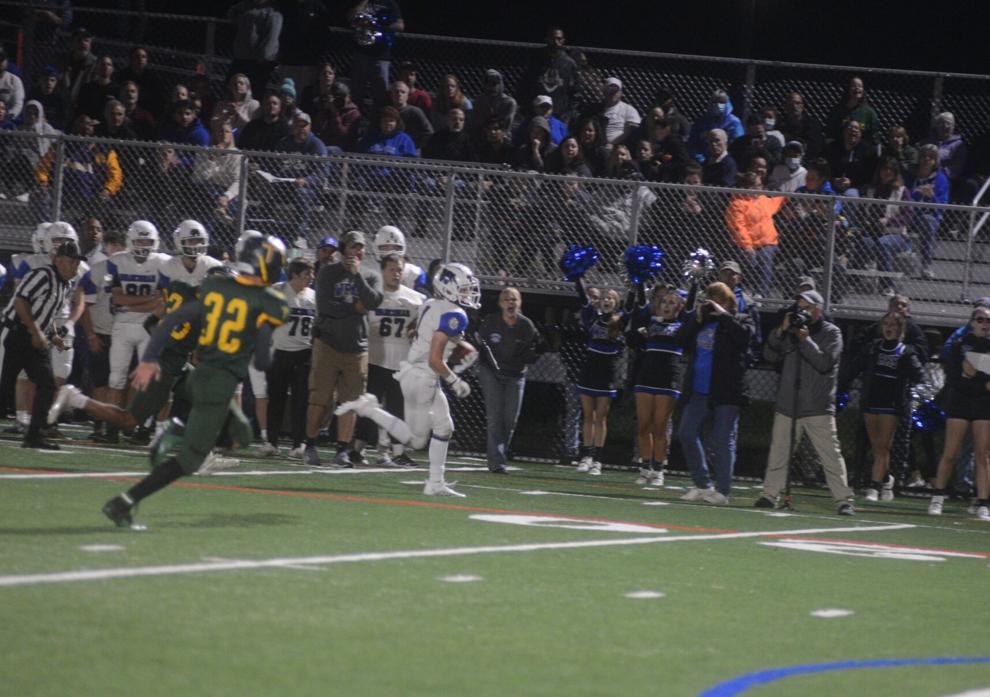 Leading 41-6 at the half, Wahconah turned to sophomore Noah Poirer as the team looked to burn some clock.
"He is a good running back for us," said Gary Campbell Jr., coach of the Warriors. "We wanted to run the clock so we decided to give him the rock a lot.
Poirer carried the ball 13 times for 82 yards as Wahconah melted the clock away with just two possessions in the second half.
The win at BCC is the third-straight for the Warriors to begin the year. Additionally, Friday's win meant Wahconah defeated each Berkshire County team on its schedule. The Warriors topped Pittsfield 36-26 in Week 1 and shut out Lee 34-0 just a week ago.
"Being 3-0 is great and after the first game we said we had a big chip on our shoulder for our Berkshire County games," Smith said.
While Wahconah is building momentum, Campbell believes the team hasn't skimmed its ceiling just yet.
"I think we're getting better and better, no doubt about that," Campbell said. "I still think we have another gear or two to go, I really do."
Despite the success, the Warriors echoed the mindset of their coach.
"Never be satisfied," Scott said. We have two hard games coming up and we have to keep wanting more."
Wahconah's last five games all come against Suburban South rivals. The stretch begins with East Longmeadow (2-1) and Agawam (2-0) on the road. Taconic will travel to Ludlow next Friday, Oct. 1, before hosting Putnam the following week.
"We're a really close team," Smith said of the Warriors. "We're at 3-0 and we don't want to lose."
———
Wahconah 20 21 0 0 — 41
Taconic 0 6 0 8 — 14
First Quarter
W — Smith 1 run (pass failed), 6:54.
W — Scott 18 run (pass failed), 3:59.
W — Smith 4 run (Salvatore run), 26.9.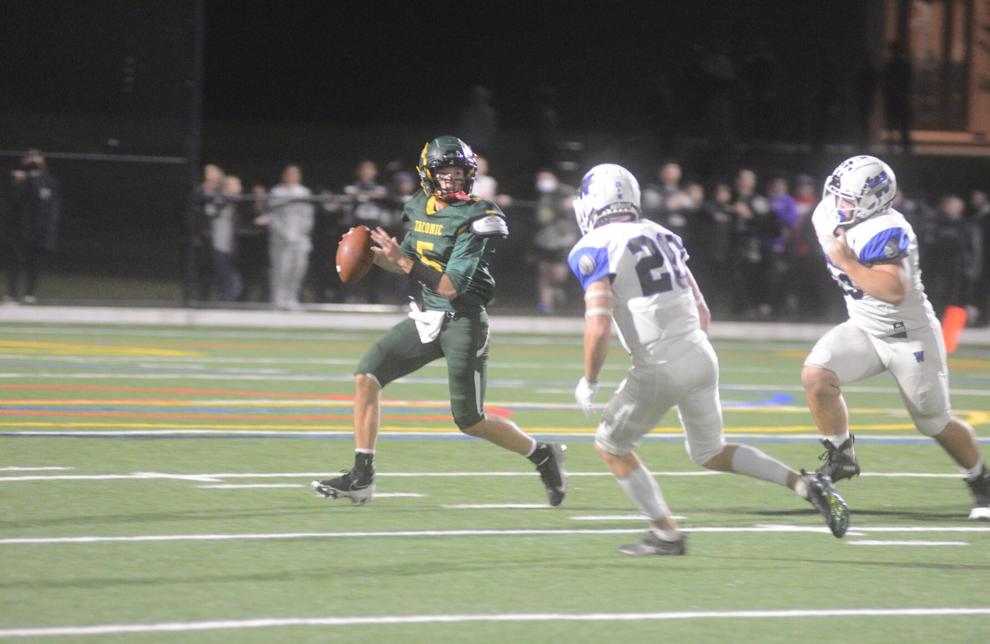 Second Quarter
W — Noyes 2 pass from Scott (Duma kick), 10:36.
W — Alfonso 4 pass from Scott (pass failed), 6:37.
W — Salvatore 5 run (Scott run), 3:29.
T — McIntosh 2 run (pass failed), 1:58.
Fourth Quarter
T — Merced 35 fumble recover (Harrigan pass from Scott), 6:37.
———
INDIVIDUAL STATISTICS
Rushing — W: Smith 11-108; Scott 4-25; Poirer 13-82; Pickard 5-11; Duma 1-18; Salvatore 1-5; Melle 2-8. T: McIntosh 3-6; Moore 5-(-4); Merced 1-47; Stein 1-0.
Passing — W: Scott 7-10-2 98 yards; Pickard 1-3-0 4 yards. T: McIntosh 4-16-0 71 yards.
Receiving — W: Salvatore 3-41; Duma 1-27; Alfonso 2-28; Noyes 1-2; Walton 1-4. T: Santos 2-15; Harrigan 2-56.
TEAM STATISTICS
Rushing — W: 37-257 (6.94 yards per carry); T: 10-49 (4.9 yards per carry).
Time of possession — W: 32:03; Tac 15:57.
Flags — W: 3 T: 3.