AGAWAM — For two straight weeks, Wahconah has traveled to Hampden County in the Pioneer Valley to face unbeaten football teams in front of packed houses in hostile territory. And for two straight weeks, the Warriors have sent those hometown fans home unhappy.
Photos: Wahconah at Agawam football
Wahconah football beat Agawam 43-7 on the road Friday night.
To view or purchase photos from this gallery, click here.
This time around, the stands emptied well before the final horn.
Wahconah scored 22 points in the second quarter and frustrated a high-powered Agawam offense all night long in a 43-7 dismantling of the previously-undefeated Brownies.
"It's amazing. Everybody is against you, and you've really got to stick together as a team," said senior Jonah Smith. "Everybody knows they have to do their job. Nobody is going to be cheering for you, your back is against the wall and you have come out and throw the first punch and that's what we did today."
Agawam entered its home contest feeling pretty good after posting scoring totals of 36, 38, 42 and 41 points during a 4-0 start to the year. The Brownies defense had allowed an average of 6.75 points per game.
Smith tripled that mark himself before halftime.
Before the Warriors star running back could start burning out the Agawam scoreboard lights, it was the Wahconah defense that set a tone.
Agawam won the coin toss and opted to receive, putting the ball in the hands of seniors Griffen Levesque and Jermaine Norfleet. Wahconah, though, came prepared. Norfleet took three handoffs a total of minus-1 yard, with linebacker Ben West meeting him twice in the backfield, and the Brownies were forced to punt.
That was the theme of the day, as Agawam ran 15 running plays that were stopped for 1 or fewer yards. Norfleet's first five carries went for a grand total of one yard. He finished with 17 carries for 91 yards, 32 of which came on one touchdown run with Wahconah up by 30. Up until he broke two big gains on the final drive of the game, Levesque was stopped up for six net yards on nine attempts.
"After that first drive, I really felt like this was our game. Nobody can run on us," said West. "Our run defense is really up there.
"The D-Line and the outside backers did really well tonight, they earned a lot tonight taking on blocks. They were a huge part of the beast of the defense."
Wahconah coach Gary Campbell Jr. said the team had identified some things in the film room and set about containing Levesque on the edges.
"It was really personnel. We really thought the world of 78, [lineman Jack Litz] he's a heck of a player," said Campbell. "We thought the world of how the tailback ran, and then the quarterback was the key.
"Their explosive plays were the quarterback. Norfleet runs hard and he got the carries, but all of a sudden you see 30, 40 yards is from the quarterback."
He said Wahconah wanted to avoid the big plays and make the Brownies go long fields. In fact, Agawam's lone score came off short field after a fourth-down drop gave the hosts possession on the Wahconah 32-yard line. Agawam's average starting position on the field for its other eight possessions was the northbound 21.
Pair of Ryan Scott passes to set up the end-of-half TD.Screen to Jonah Smith. pic.twitter.com/2f2WAaThzr

— Mike Walsh (@WalshWrites89) October 9, 2021
Offensively, Smith didn't touch the ball in the fourth quarter and still finished with 204 yards on 18 carries. He scored on touchdown runs on 72, 48 and 8 yards, a couple of which involved some very fancy footwork once he got to the second level of Agawam's defense. Before he showcased those ballroom moves, though, Smith was constantly granted the opportunity to get a head of steam as Wahconah's offensive line demolished the Agawam front with regularity.
"They're the only reason I'm doing good. I'd put them against any line in the state," said Smith, who also totaled over 200 yards last week at East Longmeadow. "They just blocked it well, one of those plays where our line had to be better than theirs and they did. I'm proud of them for it."
In illustration of Smith's sentiment, he got banged up after five consecutive carries in the third quarter, and had to come off the field after moving the ball to the Agawam 12. Doug Collins came on in relief and immediately followed a lineman into the end zone for a touchdown and the 36-7 lead.
"I like the fact that they communicate really well, and they understand their role within the system," Campbell said of the team's blockers. "It's a true unit. It's a cliché in football, but the offensive line has to gel. Our offensive line gels and they also know they have a horse behind them."
Smith took a running handoff from quarterback Ryan Scott through a collapsed line and danced through two tacklers before bolting 72 yards for the game's first points on Wahconah's second possession. After the defense bottled up Norfleet and company once again, Owen Salvatore had a big punt return to set up a five-play scoring drive that bled into the second quarter and was capped by Smith hustling in from 8 yards out.
TOUCHDOWN WAHCONAHWarriors fake sweep, and Smith takes it 8yd up middle for TD.16-0 Wahconah, 11:14 Q2. pic.twitter.com/IyYoOVuMVU

— Mike Walsh (@WalshWrites89) October 8, 2021
Wyatt George got into the backfield and forced a loss during what became a three-and-out by Agawam. Then on third-and-15 from midfield, Smith once again was granted access to the second level of Agawam's D and cracked off a 48-yard touchdown run for the 22-0 lead.
Defensively, Agawam couldn't key in on Smith, because the Warriors' balanced attack had play-action cooking like clockwork. Scott, the senior QB, completed 9 of 15 passes for 128 yards to five different receivers, and two more had 2-point conversion catches. Brad Noyes caught four balls for 53 yards, and Scott dialed up touchdown passes to Owen Salvatore and Drew Wendling. Two deep ball drops in the open field likely would've meant another pair of scores as well.
"To be balanced is huge. If we can continue to be balanced: run and throw effectively, run inside, run outside, throw deep, get a couple short ones, we've got to continue that," said Campbell.
Wahconah got the ball back with less than a minute on the second-quarter clock, and Scott went to the air. Smith took a screen pass 12 yards, then Scott hit Brad Noyes in stride up the seam for another 22 to the Agawam 28-yard line. Scott spiked the ball with 8 seconds left. After a long huddle, Scott rolled right and Salvatore slipped behind the secondary to the back right corner of the end zone. Scott chucked a lollipop that landed right in Salvatore's lap as the Brownies DBs converged.
TOUCHDOWN WAHCONAHAt halftime buzzer Ryan Scott puts this one into Owen Salvatore's basket in back corner of end zone from 28yds out.30-0 Warriors, halftime. pic.twitter.com/JueZRBPjm3

— Mike Walsh (@WalshWrites89) October 9, 2021
It was 30-0 at halftime and Wahconah was on its way to a 5-0 start.
"We knew this was a good team, and they are a good team," said Campbell, "but, the fact of the matter is, we felt like we were coming down on a mission."
That mission continues next Friday when the Warriors travel for a third straight road game at Amherst.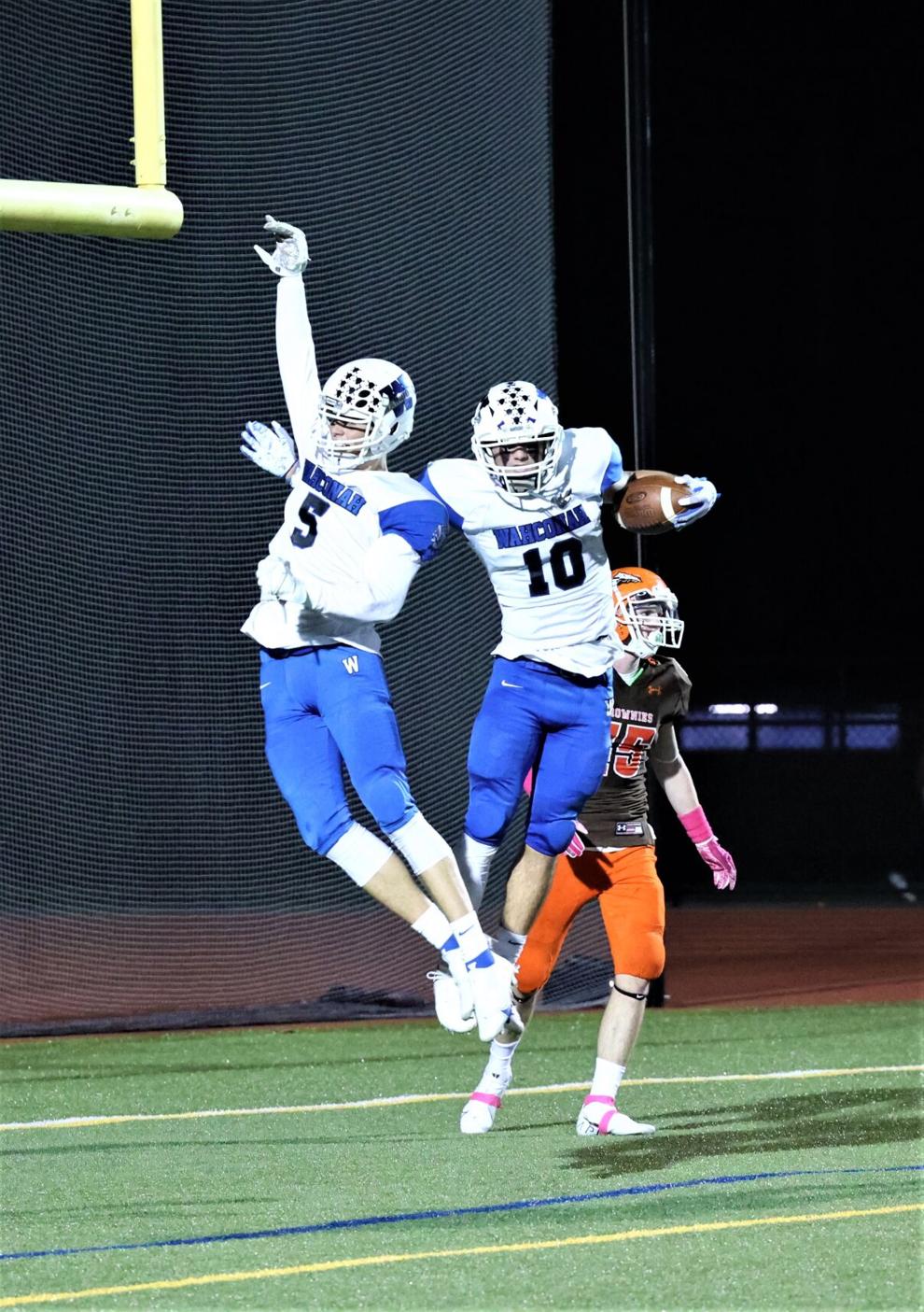 For full coverage of Berkshire County high school football in your inbox each Sunday, subscribe to The Huddle newsletter at BerkshireEagle.com/newsletter.
———
Wahconah 8 22 6 7 — 43
Agawam 0 0 7 0 — 7
First Quarter
W — Jonah Smith 72 run (Luke DiCicco pass from Ryan Scott), 3:25.
Second Quarter
W — Smith 8 run (Owen Alfonso pass from Scott), 11:14.
W — Smith 48 run (pass incomplete), 8:30.
W — Owen Salvatore 28 pass from Scott (Smith run), 0:00.
Third Quarter
A — Jermaine Norfleet (Matthew Cleavall kick), 8:21.
W — Doug Collins 12 run (incomplete pass), 5:25.
Fourth Quarter
W — Drew Wendling 5 pass from Scott (Scott Duma kick), 5:15.
———
INDIVIDUAL STATISTICS
RUSHING — W: Jonah Smith 18-204, Doug Collins 6-26, Ryan Scott 5-17, Scott Duma 2-3; A: Jermaine Norfleet 17-91, Griffen Levesque 11-48, Matthew Cleavall 2-7, Jovaun Smith 1-(-1).
PASSING — W: Scott 9-15-2 128; A: G. Levesque 3-11-0 45.
RECEIVING — W: Brad Noyes 4-53, Ben Noyes 1-19, Drew Wendling 2-16, Owen Salvatore 1-28, Smith 1-10; A: Smith 1-21, Chis Stellato 1-15, Aiden Levesque 1-9.