LEE — It was a long day that turned into a long night at Lee High School. But when all was said and done, it was a good day and a good night.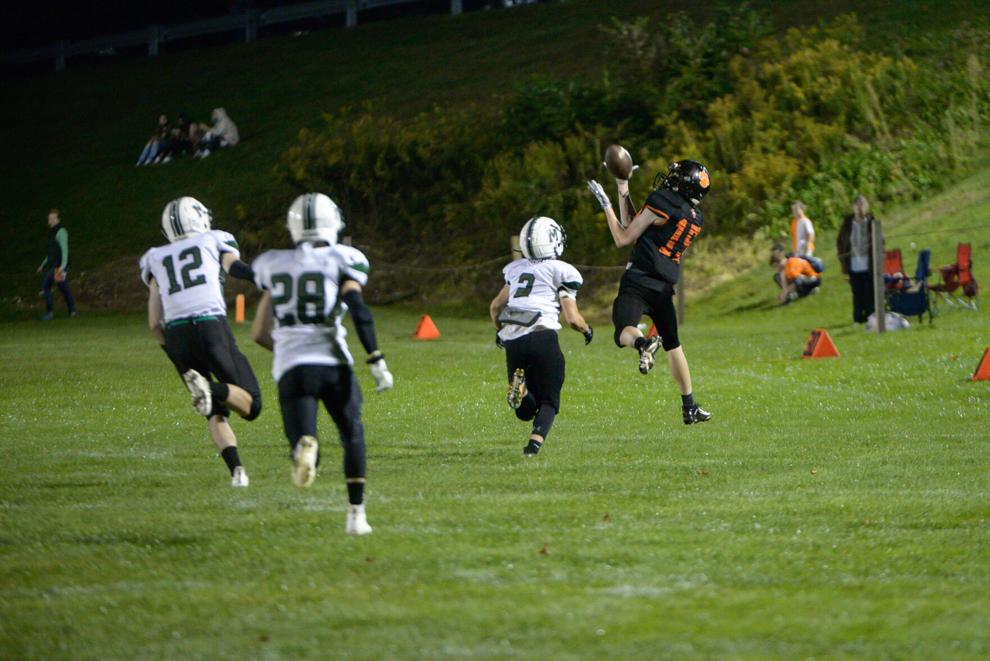 Overnight rains nearly made John J. Consolati Field unplayable. Then, shortly before kickoff the lights at the field went out. It took an hour to get them back on. Once they were on, the Wildcats did the rest, beating visiting McCann Tech 27-0 in a non-league game Friday night
"It was an emotional roller coaster," Lee quarterback Hayden Siok said. "It was mentally trying on our team. There was a lot of back and forth whether we were even going to play. Earlier in the day, we didn't know if we were going to play because so much of the field was underwater.
"There was a lot of back and forth, but in the end, I was really proud of my boys, my team. They came together and we were able to put our heads on straight and get a win out of it."
The Wildcats ran fewer plays then the Hornets did, 44 to 39. Lee did double the Hornets' total offensive yardage 345 to 169.
The fact, however, that the game actually got played on the date it was supposed to brought a smile to Lee coach Keith Thomson's face.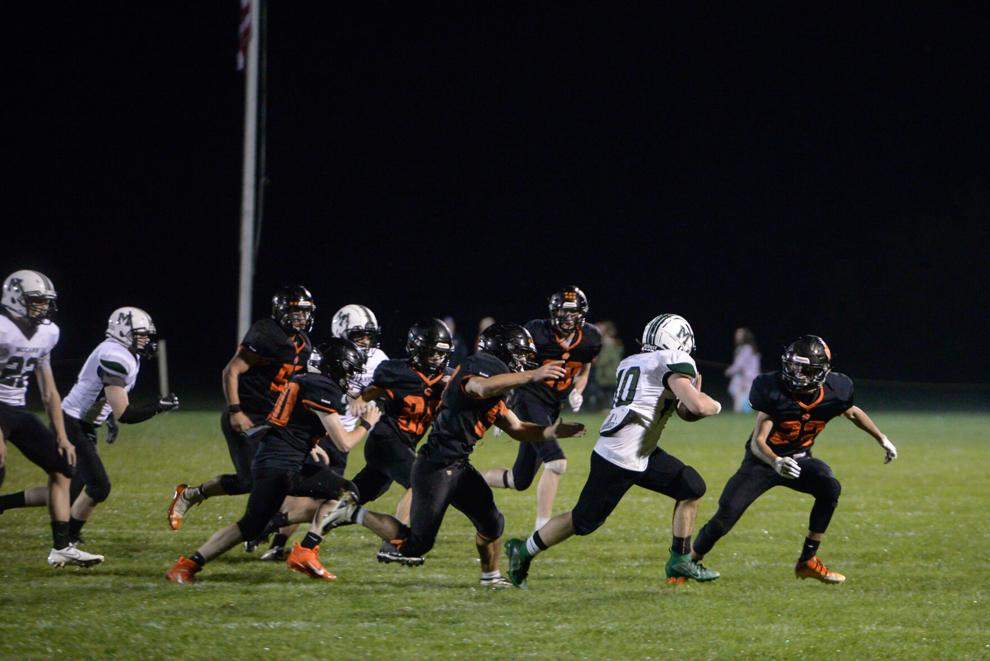 "We had a pond on our field today. Hats off to our maintenance crew. They worked their [butts] off all day with sump pumps and everything to get the standing water off the field over in that corner," said Thomson, referring to the far right corner of the end zone on the Wildcat side of the field. "That was my stresser all day long. I finally convinced the admin that we were good to go and got that squared away, and then the lights happened."
On the field, the Wildcats (2-1) scored on their first possession, taking the opening kickoff and then marching 65 yards on nine plays before Siok found Cam Freeman for a 10-yard catch-and-run for the touchdown. The missed point-after pass made the score 6-0.
Both teams traded punts and the Hornets (0-2) took over on the Lee 34. On third-and-11, McCann running back David Delisle took the handoff from Seth Farnsworth and carried several Lee defenders with him for a 15-yard gain and a first down.
It was Delisle's first game in uniform for coach Tony Skiffington's Hornets, and it ended up being a "Who was that guy?" night. Delisle finished up the game with 21 carries for 118 yards.
"I told you he was a beast," Skiffington said. "He's going to wreck our league."
"Oh boy, he ran hard," Thomson said. "We didn't see him in film."
(tncms-inline)1441561458731593728[0](/tncms-inline)
But it was three carries where Delisle didn't gain any yardage that gave the Wildcats the momentum they needed.
A short punt and return set the Hornets up on the Lee 34-yard line. Delisle got a first down with a third-down run of 15 yards. Then an 11-yard burst for another first down put the Hornets on the Wildcat 4.
Delisle twice ran for no gain. Aiden Macpherson got a yard on third down, but Lee's Alex DelVecchio stood Delisle up at the line for no gain, and the Wildcats got the ball.
Eleven plays later, Siok found Shaun Kinney for a five-yard touchdown pass to cap off a 97-yard drive. The key play of the drive was a 42-yard pass play from Siok to Dylan Ely, who beat McCann cornerback Jason Knapp down the left sideline. It was the only third-down conversion of the drive.
"It did a bunch for the offense, honestly," said Siok, referring to the red zone stand by the Lee defense. "It allowed us to pick up, take off and start punching up on the scoreboard. It hyped our team up. It brought us together, really."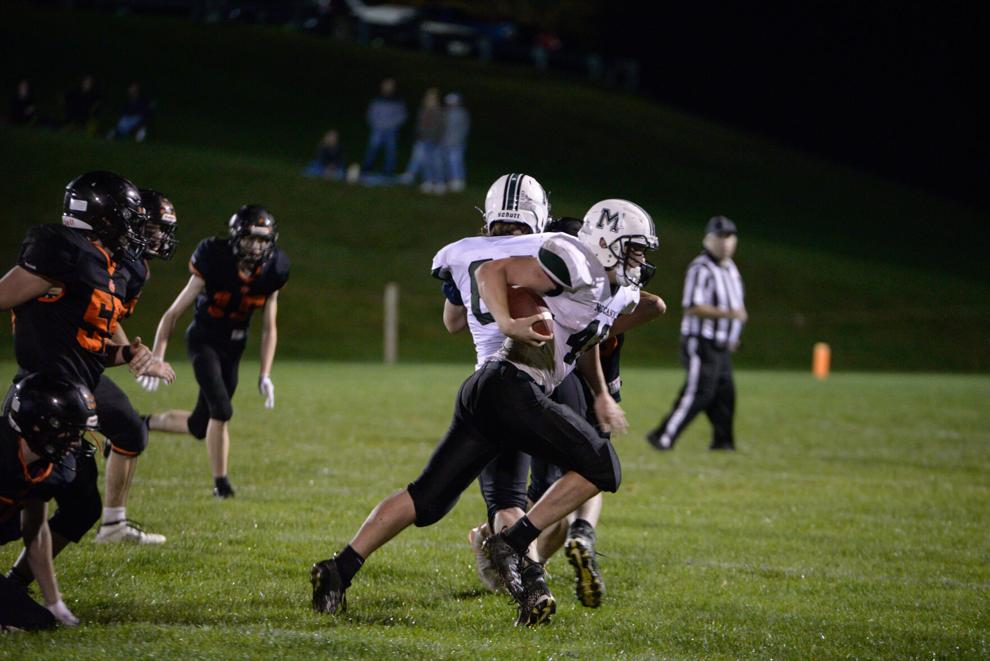 "The guys bent a little bit on that drive but they didn't break," Thomson said. "They kept them out and I think that gave us a lot of momentum and we were able to turn around and put a big drive together for 97 yards and punch one in. Give a lot of credit to the offensive line there."
Siok had a stellar night for the Wildcats. The senior quarterback was 11 of 14 passing for 151 yards and a pair of touchdowns. He also scored on a one-yard run.
"Hayden Siok did a phenomenal job," the Lee coach said. "He threw the ball really well tonight. He's continued to progress for us as a senior stepping in at quarterback. He seems to get better every week."
The 93-yard drive, including Mason Mihlek's point-after kick, put Lee up 13-0, which was the halftime score.
A McCann mistake on the third quarter kickoff led to a Lee touchdown. Mihlek kicked a bouncer that hit a McCann player and the Wildcats recovered. Five plays later, Cam Freeman's 15-yard run and the PAT put the Wildcats up 20-0.
(tncms-inline)1441571793605644288[1](/tncms-inline)
The final seven points came when the Wildcats recovered a bad punt snap on the McCann 1-yard line. Siok scored on the first play.
As the players walked off the field after the game, both coaches said they feel pretty good about where they are as they begin league play. The Hornets will play at Drury in their Tri-County opener.
"We have a tough one next week at Drury. They have some athletes up there," Skiffington said. "It's a rivalry game for us. These kids all know each other. Then we go into Pathfinder and Monument and Smith Voc. All teams we've played and beaten in the past."
The Wildcats begin their Intercounty South campaign at Frontier on Friday before returning home to play Commerce the next week.
"Our running backs ran real well tonight," said Thomson. "Hayden threw the ball. If we can be that versatile and have balance on offense, I think we'll be tough to beat."
———
McCann 0 0 0 0 — 0
Lee 6 7 14 0 — 27
First Quarter
L — Cam Freeman 10 pass from Hayden Siok (Pass failed), 7:07.
Second Quarter
L — Shaun Kinney 5 pass from Siok (Mason Mihlek kick), 2:59.
Third Quarter
L — Freeman 15 run (Mihlek kick), 10:55.
L — Siok 1 run (Mihlek kick), 1:37.
———
TEAM STATISTICS
McC Lee
First Downs 11 14
Rushes-Yards 39-138 25-194
Passing yards 31 151
Comp-Att-Int 2-5-0 11-14-1
Punts-Avg. 1-37.0 1-35.0
Penalties-Yards 1-10 2-20
Fumbles-Lost 2-1 1-1
———
INDIVIDUAL LEADERS
RUSHING — McC: David Delisle 21-118, Seneca Bolte 2-1, Alden Macpherson 7-26, Seth Farnsworth 3-(minus-19), Parker Hart 5-11, Brandon Demers 1-1. Lee: Cam Freeman 8-52, Tyler Bartini 10-93, Hayden Siok 3-(minus-6), Cam Tyer 4-55.
PASSING — McC: Farnsworth 1-3-0 10, Delisle 1-2-0 21. Lee: Siok 11-14-1 151.
RECEIVING — McC: Jason Knapp 1-21, Delisle 1-10. Lee: Shaun Kinney 3-33, Bartini 2-18, Freeman 3-34, Dylan Ely 1-42, Mason Mihlek 1-14, Jack Clarke 1-10.