One game.
It's the only thing separating four Berkshire County high school and 40 high school basketball teams from playing for an MIAA state championship.
The Taconic and Wahconah boys, along with the Hoosac Valley and Taconic girls will get to play at least one more game together, as they will join the other teams in battling to appear in this weekend's state championship series at the Tsongas Center in Lowell.
The road to Lowell will start this week in Dalton, as a Final Four doubleheader will be played in the new gym at Wahconah Regional High School.
The top-seeded Taconic boys will host Paulo Friere Social Justice Charter School of Chicopee in the 5:15 p.m. opening game. The nightcap features an all-Berkshire matchup between traditional rivals Hoosac Valley and Taconic.
The scene shifts to Central Massachusetts on Wednesday, as Wahconah will take on Randolph in a semifinal game at 5 p.m. It is also the first game of a doubleheader, with Boston College High School and Springfield Central playing in the 7:15 nightcap.
Tickets for the Final Four games can be purchased online at gofan.co. From there, type in the name of the school and it will direct fans to purchase tickets.
Tickets are $10 for adults and $5 for students and senior citizens. They are good for both games.
When it gets to the state finals, there will be two games on Friday night, and four games on Saturday and four more on Sunday.
Tonight
No. 1 Taconic vs. No. 4 Paulo Friere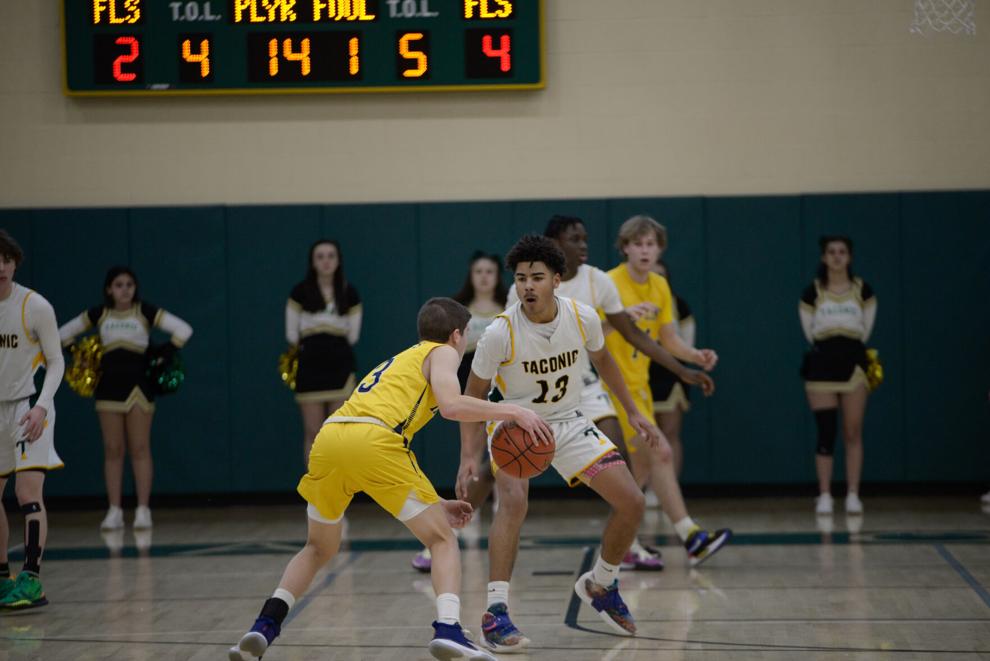 Three of the four top seeds in the Division V boys field advanced to the semifinals. Top-seeded Taconic will play No. 4 Paulo Friere. On the other side of the bracket, second-seeded Baystate Academy of Springfield got to the Final Four, but will play No. 6 Maynard, a 72-60 winner over No. 3 Drury on Sunday afternoon.
As a school, Paulo Friere has only existed since 2013, and is making it second appearance in an MIAA boys basketball tournament. Back in 2019, the Panthers were seeded fifth in the Western Massachusetts Division IV tournament, and lost in the quarterfinals to Monson.
This year, Paulo Friere won the PVIAC's Western Mass. Class C championship, beating Drury. In the state tournament the Panthers have dispatched No. 36 seed Innovation Academy of Tyngsborough, No. 13 Westport and 12th-seeded Hull.
In the 85-63 win over Hull, the Panthers made 14, 3-point shots. Bryan Jimenez had 25 points and made five treys in the game. D.J. Daniels, who had 19 points, hit on four from outside the arc.
The newly minted Taconic Thunder will be challenged defensively to stop Paulo Friere's long-range arsenal. But if there is a team that can do that it is the artists formerly known as the Green and Gold. Taconic has won eight straight — including a Western Mass. Class B title — and nine of its last 10 games. In those 10 games, the Thunder have only given up more than 60 points twice.
Coach Bill Heaphy's squad has multiple offensive weapons. The Thunder also can "D" up with anyone. It starts with perimeter defenders like seniors Sean Harrigan and Sam Sherman, both top-level athletes. It's hard to get inside because of the length of center Maimoudou Bamba, who can defend the rim like no other in Berkshire County.
On the other side of the bracket, it's No. 2 Baystate Academy against sixth-seeded Maynard. That game is Wednesday at 7:15 p.m., at Worcester North High School.
No. 1 Hoosac Valley vs. No. 5 Taconic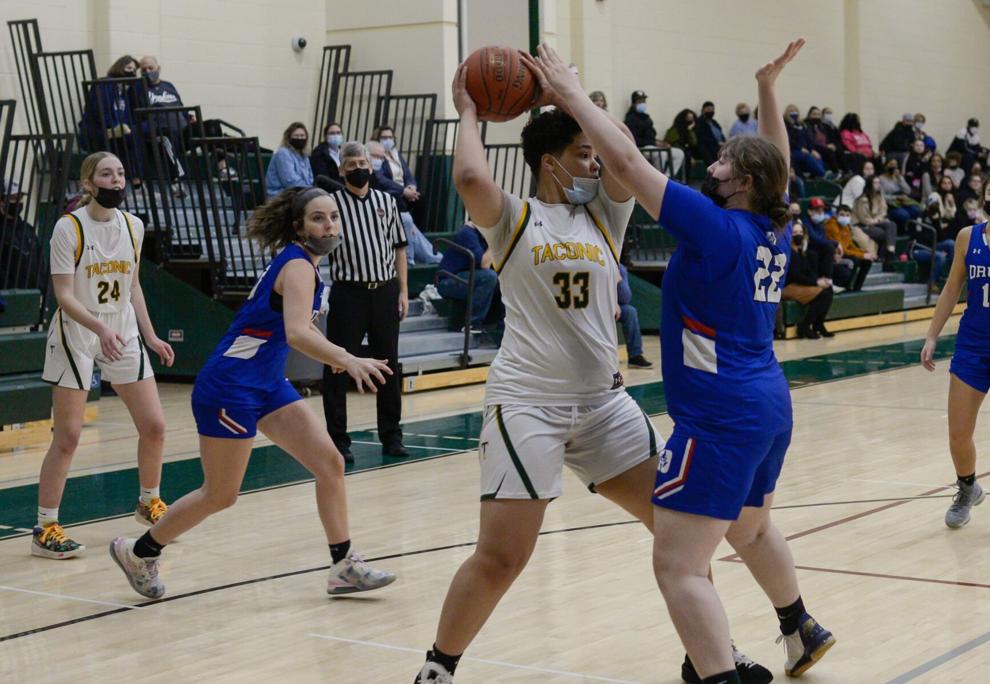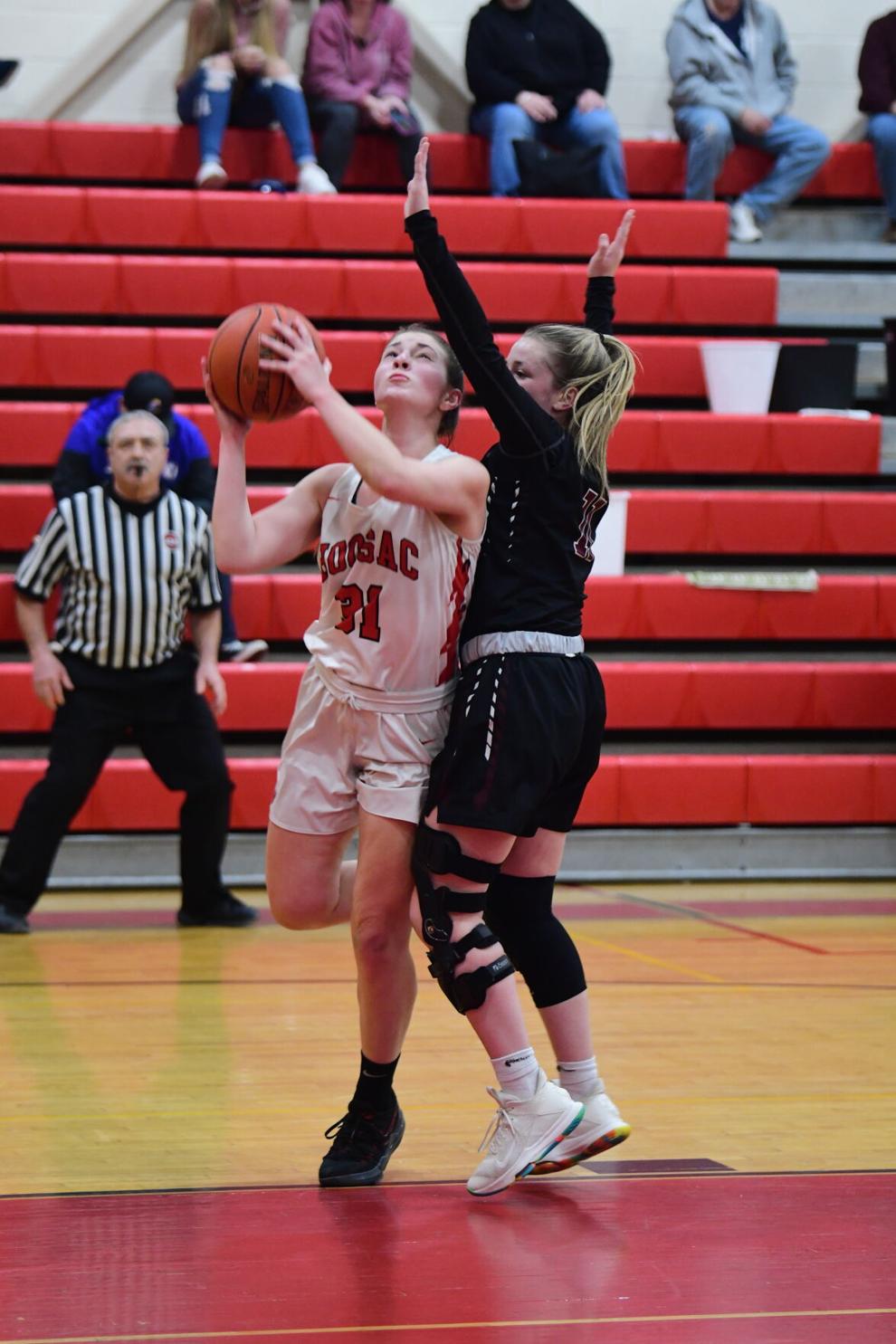 Call this the Jim Cantore, Weather Channel Classic because it will be a clash of weather systems. Thunder, meet Hurricane.
These teams met in a pre-New Year's matchup in Cheshire, with the Hurricanes getting the best of Taconic 38-33. In that game, Hoosac's Averie McGrath had 16 points and Gabby Billetz had eight. Taconic was led by Ahliya Phillips' eight points, while Brenna McNeice and Faith Cross had seven points each.
Since dropping a 64-56 game at Pittsfield back on Jan. 26, coach Holly McGovern's Hurricanes have won 11 of 12 — including a PVIAC Western Mass. Class D title, and have given up fewer than 60 points in each of those 11 wins. In six of those wins, Hoosac has given up fewer than 40 points, so it is obvious that the Hurricanes are hanging their hats on defense in the postseason.
Matt Mickle's Thunder are playing some pretty stout defense as well. Taconic won the Western Mass. Class C title and reached the Final Four by winning six straight games. The most points Taconic has given up in that time was 43 against Springfield International Charter School — also in the Final Four — in the Western Mass. final.
The Hurricanes reached this point in the season having beaten No. 32 Mount Everett, No. 17 Georgetown and No. 8 Carver. Taconic downed 28th-seeded St. John Paul II, No. 12 Palmer and then went on the road to beat fourth-seeded Millis 47-39.
It will also be a battle of two 1,000-point scorers. Phillips and McGrath both hit the milestone recently. McGrath is scoring at a 23-point per game clip in the MIAA tournament, while Phillips is averaging 16.7 over the three games.
Wednesday
No. 1 Randolph vs. No. 4 Wahconah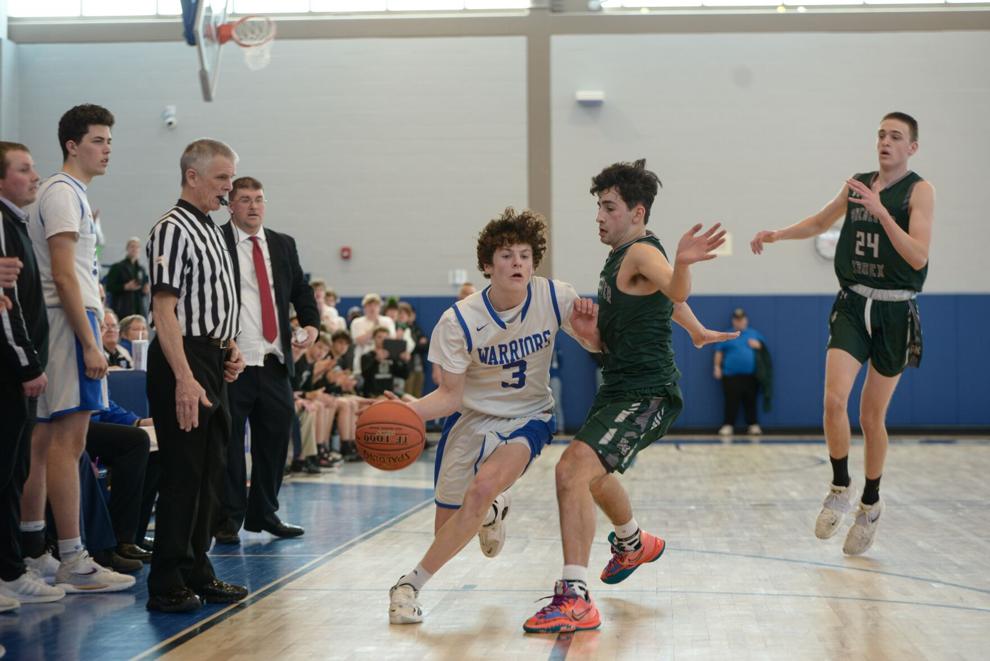 The Randolph Blue Devils are a top-seed for the second time in three seasons. They were the No. 1 seed back in the 2019 Division II South Tournament, but lost to Whitman-Hanson in the quarterfinal round. If the Blue Devils can get by Wahconah, it would mark their first state final trip in the last decade. The closest Randolph got was in 2016, when it upset top-seed Bishop Feehan but lost to Whitman-Hanson in the Southern Mass. title game.
Kalon Jenkins has been building a program since then. That building is paying off with a top seed and a 22-game winning streak.
"They're aggressive," Amesbury coach Tom Comeau told The Daily News in Newburyport, after the Blue Devils beat his team 59-36 in the Round of 16. "They're long and they're fast, and they full-court press you the entire game. They work hard on defense and they try to turn you over."
In Friday's 61-46 win over No. 9 Wareham, Randolph used a 16-2 run to take a 24-7 lead, and was not seriously threatened the rest of the way. Wareham committed eight turnovers in the first quarter.
Marquis White, who had 16 points for Randolph, had nine of those points in that 16-2 run. Stevens Joacine had 18 points in the win over Wareham and Lenny Tangishaka added 12. They, along with Dylan Swinton will provide Randolph with multiple offensive options.
It seems like Randolph will be the third team that is long and quick and can shoot it from outside that Wahconah will face in as many games.
The Warriors did beat West Bridgewater and Manchester-Essex in the Round of 16 and the Elite Eight, with each team being longer than Wahconah and providing the Warrior defense the challenge of stopping 3-point shooters.
Wahconah has been led in the MIAA tournament by the three-headed scoring monster of Brody Calvert, Jesse Chapman and Patrick McLaughlin. Calvert, who has scored more than 20 points in five straight games, has averaged 23.3 points in the tournament. Chapman is averaging 19.3 points per game and McLaughlin, whose hoop in the final 1:10 helped beat Manchester-Essex, is averaging 16.3 points per game.