WORCESTER — What started in the heat of late August in Williamstown, came to an end three months later on a cold November night in Worcester.
But, if you ask seniors Lainey Gill and Emma Gray, they kind of knew what they were getting themselves into at the start of volleyball season.
"It was a hard-fought season, a tiring season and a really long season, and I'm just so incredibly proud of how the girls pushed through to the end," said Gill, Mount Greylock's libero. "They kept on showing up, working hard and playing hard. I am proud of how we continued to be together, even though it was a super long time."
The Mounties played Saturday night in the fall season finale, an MIAA State Championship match, battling No. 1 Frontier for the Division V title at Worcester State University.
"Our team really bonded, and it was just a really close team," added Gray. "Everything we did together was fun, win or lose."
Ultimately, Greylock did lose, for just the fourth time this fall and the first time since mid-October. The Mounties were beaten by the Redhawks in three sets, 25-13, 25-22, 25-19. It was Frontier's 11th state title and coach Sean MacDonald's team finished 25-1. The Redhawks were Greylock's kryptonite, also beating them 3-0 back on Oct. 17.
But, for the Mounties (20-4) there were more smiles than tears in the aftermath. Greylock got to be together as long as they possibly could, the final game of the season on the biggest stage available.
"From the get-go we were a close team, whole bunch of really supportive and hard-working girls," said Gill. "We all know we have each others' backs. That's the No. 1 reason we made it so far. There's a lot of trust on the team. From the beginning we knew it was going to be a pretty awesome season."
The Mounties' season included an unbeaten run through the Southern Division and a win over Tuners Falls in the PVIAC Western Massachusetts Class D Championship, the program's first ever Western Mass. title. Then came the No. 3 seeding in the D-V bracket, two more postseason sweeps and a high-drama five-set win over Millis to close out their home gym in the Elite Eight. It was Greylock's second straight trip to the Final Four, but this time the Mounties managed to take out No. 2 Hopedale in the semifinals last Tuesday night in West Springfield to set the final battle with Frontier's juggernaut.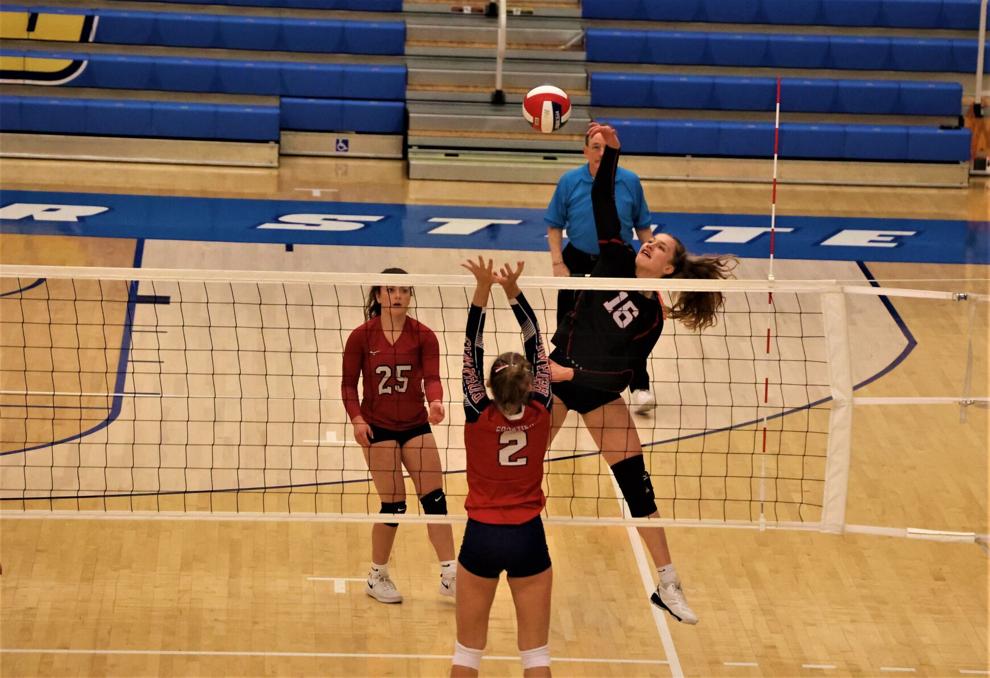 "Just putting it in context," said Greylock coach Greg Geyer. "This is my fifth year. The year of the pandemic, that Fall II season, we won our league, but struggled in the playoffs. Last year, we made the Western Mass. championship, struggle there, then grew from that immediately and made it to the state's Final Four. This year, grew from that and won the Western Mass. championship, and made it to the state final for the first time."
"I'm incredibly proud of this team."
On the floor at Worcester State, something wasn't right from the get-go. A series of errors and an uncharacteristic disconnect between setter Charlotte Coody and No. 1 option Celina Savage on the left edge led the Redhawks to a runaway first set.
Frontier led 6-1 and 16-3 at a pair of timeout stoppages by Geyer. A kill by Talia Kapiloff stopped the bleeding, but only briefly as 18-4 was the last largest deficit. Kapiloff dropped in a pair of aces to rev up the Mountie faithful, but Greylock had to turn its attention to the second set in a 1-0 hole.
(tncms-inline)1594105185961377792[0](/tncms-inline)
"We basically started out a set down before we started playing them," Geyer said. "We played two strong sets, had a chance in both of them. Both teams made more unforced errors than normal. It's the atmosphere of this place, and now we've got that experience too."
MacDonald recognized the setting as well.
"When you've been through the championships, Western Mass. and states, and it's just hard to play like yourself in that game. I don't feel like we had our cleanest game. It's a hard thing," said the longtime Frontier coach. "I really like their team. Celina is just a force at the net, and they've still got some time coming back. I'm thinking it probably isn't the last Frontier-Greylock matchup that anyone is going to see."
If that is to be the case, more like the second set would be a treat. There were 13 ties, ranging from 1-1 on a combo-block by Savage and Jackie Brannan, and 19-19 in the midst of four straight service errors going back and forth. A Greylock service error gave Frontier possession and the 20-19 lead, and Olivia Machon finally took advantage and landed an ace. Later, an ace by Samantha Baker made it 24-21, and the Mounties couldn't stave off the two-set deficit.
While Greylock was in the set throughout, Frontier just never let its grasp slip enough for the Mounties to create some separation. Greylock led 9-8 on two straight from a Coody/Brannan block and Kapiloff ace. The Mounties also led 11-10 and 17-16, but a service error was followed by a Caroline Dean kill and Frontier had the lead back and wouldn't let go. Savage had four kills in the set, but the Frontier defense was always ready. Trailing 14-13, Coody set the junior standout up three consecutive volleys and each time the Redhawks had a dig until eventually the point went their way.
(tncms-inline)1594109954751107072[1](/tncms-inline)
"Both teams made a lot of errors. lot of service errors on both sides. Thought we picked up their soft tips pretty good. Had a good idea that those might be coming, so we practiced that for a couple days," said MacDonald. "Then we actually did our best to simulate with some of our players — we don't have a 6-foot-2 Celina simulator — but we kind of simulated what they do with their serve-receive, so we had an idea of where we could serve and where we could hit at."
The Mounties had arrived, though, and Greylock jetted out to a 7-4 lead in the third set. Savage landed a couple early kills, before Coody followed with one of her own and then set up Kapiloff in the middle for another. A Savage ace forced MacDonald to call timeout to settle things, but Greylock went ahead 9-5 when Kylie Sweren set up Coody for a kill.
"I would love to battle these guys toe-to-toe, both playing well, you didn't know who was going to score the point," said Geyer. "Would love to have some of those back, and be able to keep going with them, but this is how it is."
Frontier stayed the course, and Sydney Scanlon set up Eve Dougan for a senior-to-senior kill that brought possession back to the Redhawks. Another senior, Jillian Apanell took service and landed a pair of aces to tie the set at 9-9 and force a Greylock timeout. Apanell served seven-straight of an 8-0 run to go in front 13-9.
Greylock was chasing points the rest of the way. Coody and Savage dialed up a couple more blasts, but the Mounties could only get within two the rest of the way.
(tncms-inline)1594117035419897861[2](/tncms-inline)
Frontier's newest championship came a year after a different Western Mass. team stole their crown in the finals. Then, in the 2022 Final Four, Frontier got back at Paulo Freire with a five-set win. The Final Four being 3/4 Western Mass. excited MacDonald.
"It's a good thing. It means volleyball is growing and it's getting better. One of Paulo's problems was they were beating people 25-3, and now they come against a team that can serve and dig and hit at you. I think we all make each other better," he said. "That's why Greg said he wanted to play us. He wanted to see, if this is the standard — and I'm putting words in his mouth — but if this is the standard, we got to find out what it is and what we have to do to look like that, what do we have to do to beat that."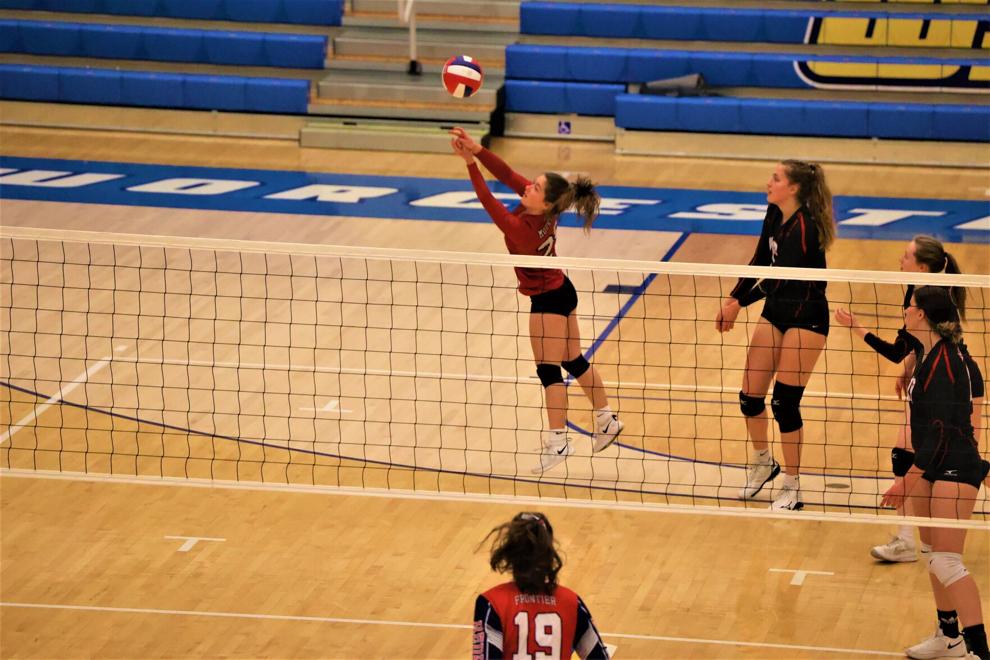 And as both coaches noted, this isn't the last D-V will hear from Greylock.
"It is a young team, with two seniors. There's a lot of good that happened," said Geyer. "Those two, I want to thank them both for their leadership this year. Without that, we wouldn't even be here."
The departing Gray thinks Greylock has staying power too.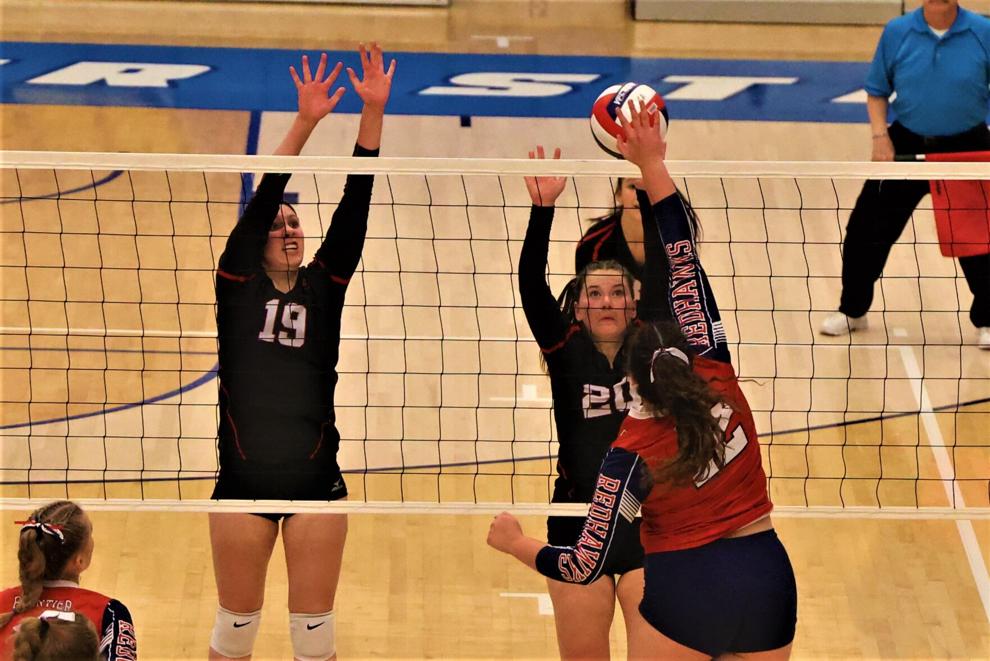 "Our team is really close, so I think we're leaving it in good hands," she said. "The juniors are great. Everything will be just fine. They're strong leaders, strong players. I know they'll do great next season. "
And as for Gill, she guaranteed she'll be the loudest one in the stands next postseason.