CHESHIRE — After a long holiday layoff, the Hoosac Valley Hurricanes weren't fully sure what to expect when they took the floor at home Monday night to take on Easthampton.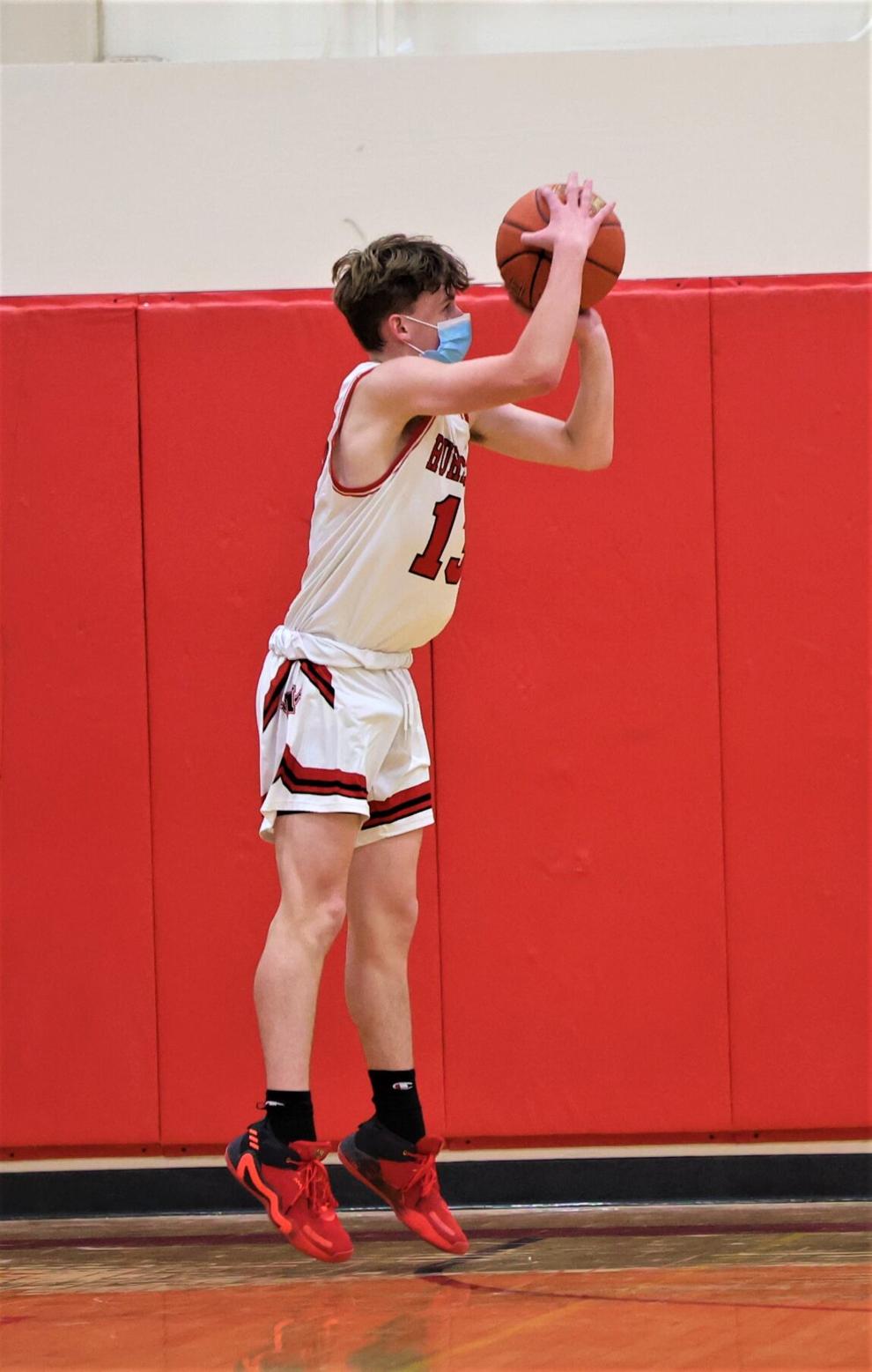 A 30-point first quarter probably wasn't in the cards, but Hoosac was halfway to 100 by halftime. The problem at that point was, Easthampton didn't board its bus after 16 minutes.
The Hurricanes made it look easy for two quarters, but wound up having to fight tooth and nail to close out the Eagles 73-62. The Hurricanes were playing for the first time since Dec. 22, and improved to 4-1 with the win and moved to 2-1 in Bi-County East play.
A lead that hit 30 at one point got carved up by self-inflicted wounds and the sure hands of Easthampton's Mateo Navarro (game-high 33 points) around the rim.
The Eagles' Angel Moody hit a 3-point heave at the halftime buzzer to make it 50-24, and from that basket through Carter Daughdrill's trey with 4:58 to play in the fourth quarter, Easthampton out-scored Hoosac 34-14. A timeout was called with the score suddenly 64-58.
"I'm not too happy. I'm never happy, though," said Hoosac coach Bill Robinson.
Asked if he saw the evaporation coming, Robinson continued, "No, we were up 30, just fell apart. They made a small adjustment attacking the guy on the ball and we got passive on offense and defensively, we just don't play defense. That led to some easy baskets. You don't box out, you don't play as a team... When we play as a team, we can be good. But we too quickly shift into individual basketball."
The Hurricanes were going to have to claw to the finish line, and senior guard Carson Meczywor brought out the talons. Meczywor had 17 points at halftime, but those appeared to come easy. After a scoreless third, the veteran guard scored five in the fourth, all from the foul line and all in the final 2:32 of the game. On two separate 1-and-1 trips, Meczywor sank the front end, and he put down a pair with 74 seconds remaining and his team leading 68-61. He finished 8 of 11 from the line.
"I think it was just us. We didn't come out strong in the second half and let them back in it," said Meczywor. "It started defensively, we stopped defending as a team."
That defense did return just in the nick of time.
For all of Easthampton's second-half scoring, Daughdrill's 3-ball was the team's final field goal of the night. The defense that held Easthampton to nine first-quarter points reappeared and forced turnovers in crunch time that gave the Hurricanes enough breathing room to close out the win.
Frank Field had 22 points to match Meczywor, and he provided the immediate answer to that frightening 3-pointer with a bucket in the paint at the other end to make it 66-58. He scored Hoosac's first five points of the fourth.
"We were able to run on them in the beginning, hit our shots and get a lead, in the first half at least. We just let up, which we can't do," said Field. "We just slowed down. No excuse for it."
(tncms-inline)1478165209873371136[0](/tncms-inline)
Hoosac also got 10 points and a pair of 3-pointers each from Caleb Harrington and Joey McGovern.
Harrington and Navarro traded 3-pointers in the early goings to tie the game a 5-5. Then Meczywor drained trey of his own from way behind the arc, stole a pass in the backcourt and scored in transition through contact for a three-point play to make it 11-5. The Hurricanes were off to the races. Meczywor and McGovern hit back-to-back triples later and it was 21-7. The lead was 30-9 after eight minutes of action.
McGovern scored on back-to-back possessions from midrange early in the third quarter, pushing the lead to its highest point at 58-28. But then, some soft passes were picked off by the Eagles and turned into points quickly at the other end. Navarro scored seven unanswered to start an 18-3 run that ended the frame.
(tncms-inline)1478167811834843136[1](/tncms-inline)
"We're not a very good team right now. We're trying to find ourselves after a week off with no basketball," said Robinson. "I thought we'd be rusty, but it was totally the opposite. We were hitting 3s from Easthampton, not good shots, but they hit them, so you shake your head. Maybe we took our foot off the gas pedal tonight, I'll take the blame for that.
"Maybe we all learned a lesson tonight."
——— EASTHAMPTON (62) Daughdrill 2-3-9, Hanati 4-0-9, Bacis 0-1-1, Navarro 15-1-33, Vailancourt 3-1-7, Rapoza 0-0-0, Hebert 0-0-0, Moody 1-0-3. Totals 25-6-62. HOOSAC VALLEY (73) Kastner 0-3-3, White 0-0-0, Meczywor 6-8-22, McGovern 4-0-10, Harrington 4-0-10, Szabo 2-0-4, Field 9-4-22, Trumble 1-0-2. Totals 26-15-73. Easthampton 9 15 22 16 — 62 Hoosac Valley 30 20 11 12 — 73 3-pointers — E 6 (Navarro 2, Daughdrill 2, Hanati, Moody); HV 6 (Meczywor 2, McGovern 2, Harrington 2).