NORTH ADAMS — It's been a pretty good school year to be a male athlete at Hoosac Valley. The boys lacrosse team is hoping to bring the calendar down in the right way, but the players and coaches say there is still work to do.
"Obviously, we can always get better throughout the season," Carson Meczywor said, after the Hurricanes improved upon their unbeaten start with a 14-0 win over McCann Tech Friday afternoon.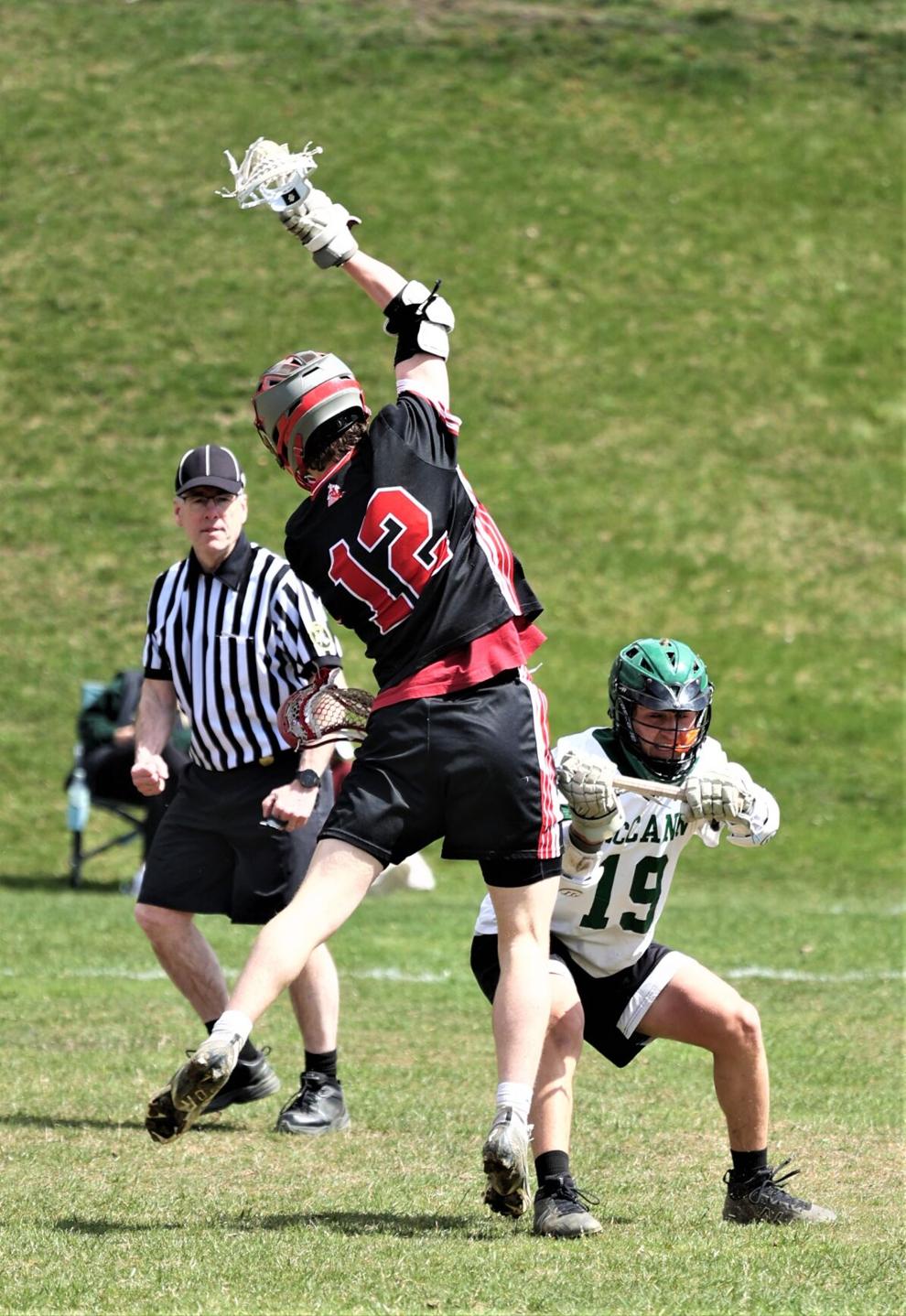 The Hoosac football team made it to the MIAA state Division VIII semifinals and the boys basketball team got to the Division V Sweet 16. The boys lacrosse team (5-0) is looking to get back to the tournament. The Hurricanes made it to the Central/West Division III semifinals in 2018.
"I think right now, we're right in the middle," said Meczywor, when asked if his team is where it needs to be five games in or is ahead of schedule. "I think we can improve a lot more. There are a lot of things we can work on, but, as a whole and as a team, we've done really well."
That might be an understatement when describing an undefeated team that has scored in double figures each time out and has given up only five goals in those first five games. The most goals the Hurricanes have given up was three, in an 18-3 win over Pittsfield.
"I think we're on track. We're not as good as we will be right now," Hoosac coach Jacob Anderson-Hall said. "We have a lot of things to work out and it's at every single position.
"We're getting better every single day."
One might be hard pressed to convince the Hornets that Hoosac has "a lot of things to work out."
The Hurricanes struck midway through the first quarter on an unassisted goal by Meczywor, the first of three straight and five in the game for the Hoosac senior.
The first goal came with 7 minutes, 11 seconds left in the first quarter. He made it 2-0 exactly 58 seconds later, converting a pass from Cam Taylor right in front of McCann goalie Rylie Fortini and scored his third of the quarter with 5:37 left.
Goals by Lucas Waterman and Kobe Valois closed out the first quarter, and the Hurricanes held a 5-0 lead.
It was a lead that proved to be too far for the Hornets, who are now 2-3, to come back from.
Marshall Maxwell, like Anderson-Hall, a first-year head coach, said the Hornets could not get much of anything going. He said that Hoosac was dominant on faceoffs and with ground balls. Meczywor had eight ground balls, Zach Lillie had five and Blake Trumble had four.
Photos: Hoosac Valley battles McCann Tech in boys lacrosse
On Friday afternoon in North Adams, the Hurricanes beat the Hornets 14-0.
To view a full gallery or purchase photos from this game, click here.
"That hasn't really been a problem for us until the last two games. The last two games we really struggled with the ground balls," said Maxwell. "The faceoff really hurt us today. Possession is everything in this game. They maintained possession of the game. They won almost every faceoff and the 50-50 contested ground balls, they came up with about 80 percent of them. When we had the ball, we didn't maintain possession and didn't put quality shots on net. That's what happens."
McCann's Nick Abuisi had the game's only shot on goal for the Hornets, coming in the second quarter.
Hoosac's Waterman also recorded a hat trick, wrapping it up with a pair of goals in the third quarter.
The Hurricanes will be off until April 28, when they play Lenox at Berkshire Community College. McCann is back at it Saturday, when the Hornets head to Granby.
———
Hoosac Valley 5 3 2 4 — 14
McCann Tech 0 0 0 0 — 0
Goals — HV: Carson Meczywor 5, Lucas Waterman 3, Kobe Valois 2, Aaron Bush 2, Zach Lillie 2.
Assists — HV: Cam Taylor 2, Meczywor 2, Valois 2, Lillie 2, Bush 2, Waterman 1.
Saves — HV: Matt Tassone 1, Will Broadwell 0. MT: Rylie Fortini 8.