ADAMS — The Hoosac Valley Hurricanes edged the McCann Tech Hornets 3-2 under the lights Thursday at Renfrew Field behind a solid defense and goals by senior Tyler Norcross, junior Ian Godfrey and senior Francesco Zanolo.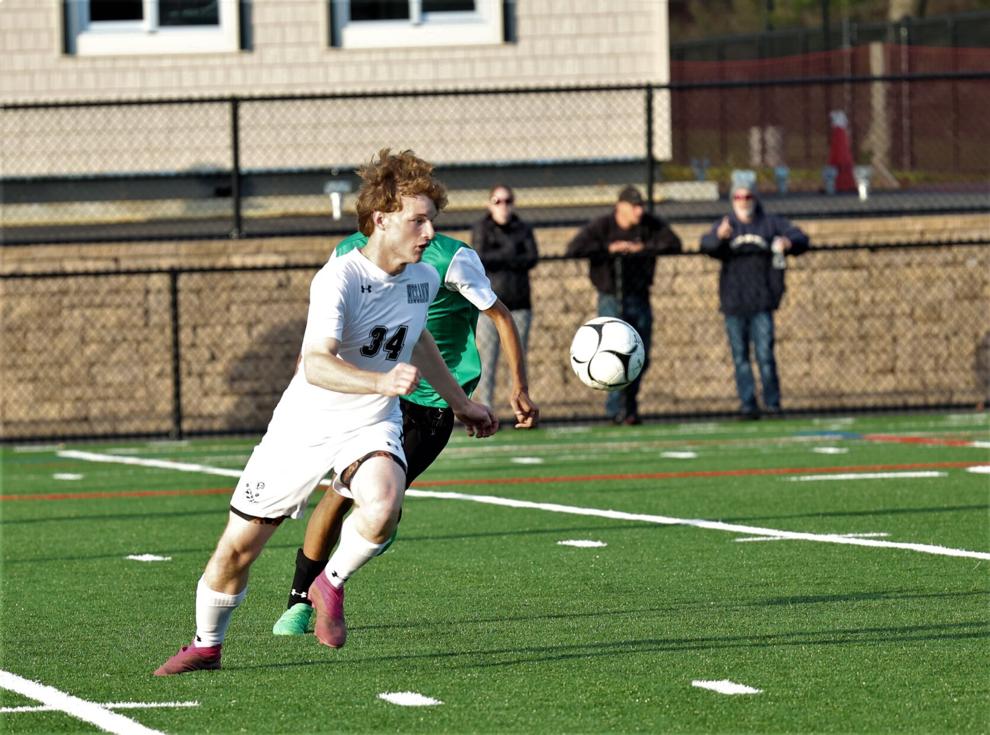 Hoosac outshot McCann 15-8, even though the Hornets sustained strong play in the attacking zone. The Hurricanes defense was led by senior Nick Walsh and sophomore David Scholz with solid midfield play from Norcross. Goalie Lucas Waterman garnered the victory with a handful of key saves (7 overall) to solidify the Hurricanes in their own end.
Jack Cooper scored and Ivan Liang added his team-high 20th goal for McCann, which fell to 8-4-4 to finish the regular season. The Hurricanes finished up their campaign at 11-3-3 with the win. Both teams are headed for the postseason.
Hoosac took the lead as Norcross scored at the 29-minute, 14-second mark of the first half, unassisted on a corner kick. The score remained 1-0 through the end of the first half. Godfrey struck deep in the Hornets zone on a feed from senior midfielder Isaac Herrmann at 25:52 of the second stanza. McCann rallied on chances created by a bullet by Liang, saved by Waterman, and a deflection in front created by Carter Foucher's blast inside the 18.
McCann broke through when Liang knocked in a rebound in the goal mouth at the 8-minute mark. After more pressure from McCann, the Hurricanes turned the tide on the Hornets. Matt Tassone's pooch pass over the defense landed nicely on the foot of Zanolo who added the third Hoosac goal at 5:00.
Moments later, McCann answered as Cooper fired in a helper from sophomore Richard Mazzeo. Hornets keeper Mike Harris made a stellar save in the closing minutes, one of his 12 saves on the night to keep the game within reach although time ran out on McCann.
"I have nothing to criticize, it was a [heck] of a game," Hornets coach Steve McAllister said, despite the final score. "It was a good effort, our guys kept fighting."
He noted the final goal was simply a great effort by Hoosac and "there wasn't much we could do there. There was a lot of energy."
McAllister also lauded the play of freshman defender Mike Barnes who stood out filling in for his short-handed defense.
"We moved an extra player up and we seemed to have a lot of energy," McAllister said as he tweaked his formation during the game's flow. "It was a lot of fun; I was really on my toes."
Hoosacs's Waterman praised his opponent's effort and was thrilled by the fan support as both sides boasted a large crowd.
"That was the most packed I've seen," Waterman said as he tended to a minor ankle injury he suffered in the second half. "[McCann], they're great players; there was a lot of adrenaline out there."
Hurricanes coach Patrick Mahoney relishes rivalry contests, he said.
"There was a great atmosphere, so much energy," he said as his team prepares for the postseason (rankings should be established this Saturday for Western Mass. tournament play).
"It's awesome, we love playing McCann. There's an additional level of desire. This was a great tune-up for the Western Mass. tournament."