The Hoosac Valley football team is looking forward to a promising future in the state tournament, but took some time before Saturday's win over Lee to honor some of the coaching legends in the Adams-Cheshire area.
The Hurricanes welcomed coaches Joe Doyle, Jim Fassell and Joe Alcaro.
"Honestly, I get a little emotional talking about those guys, because they set the bar," Hoosac Valley football coach Mike Bostwick said. "These were all older guys even when we were coming through the system. We respected them. Our parents respected them. They told us how to act, how to behave.
"All the coaches on the sideline are Hoosac alum, that ceremony meant something to everyone on our staff and we just wanted to honor those guys — I have the utmost respect for all of them."
Coach Doyle began his career as a starter in college for the UMass Minutemen. His 1964 team played in the Tangerine Bowl, the first bowl game in program history.
After college, he voyaged to the Berkshires and established the Hoosac Valley football program. The Hurricanes won their first Super Bowl in 1979 with Doyle leading the charge.
He stepped down in 1982 and began coaching at Williams College. Doyle was elected to the Massachusetts Football Hall of Fame in 1995.
Both Fassell and Alcaro were pulled to the Berkshires by Doyle. Fassell was enlisted in the Army in 1968 and just after leaving Korea to be stationed at Fort Devens, just outside of Boston, Doyle asked him to come out west.
Doyle and Fassell both played football at UMass and Jim had family from the area. He officially made the move to Adams to help build Adams High Football in 1968. Fassell closed with 107 wins and had three tips on Saturday to what gave the Hurricanes a winning edge.
Know your opponent: Scouting opponents gives insight into what they do before they even knew they were going to do it.
Use a common language: The coaching staff had the same background and football culture from UMass. As a result, the coaches spoke the same language and were united in their approach to the game.
Use of motivational chants: To get the team to play together, get excited and enjoy playing together, having fun as a team.
Alcaro became a Hurricane in 1970 under Doyle and was an assistant on three straight teams to reach the Super Bowl from 1979-1981. He was the team's head coach from 1982 until 2004 with over 170 wins, 10 Class A Championships, five Berkshire County titles and three Western Mass. D-II state championships under his belt. He coached his son Joey on the team that won the Super Bowl over Ware in 1989. The 1992 edition of the Hurricanes went 11-0 and gave up just 19 points that year.
Alcaro was inducted into the Massachusetts Football Coaches Hall of Fame in 2004 and became a member of the Western Mass. Chapter of the National Football Foundation.
A career over 30 years in the making
Hoosac Valley High School had its fall pep rally on Thursday and the Hurricanes chose the opportunity to honor longtime EMT Fred Balawender, who was been part of the school's athletic program for over 30 years.
"We have a group of student-athletes that get together and work on projects," Hoosac senior Carson Meczywor said. "We thought that one thing we needed to do was honor Fred for everything he has done for us.
"It is helpful to have someone like him at our games and he is there even if our games are two hours away, always good to have that familiar face you know on the sideline making sure you're OK."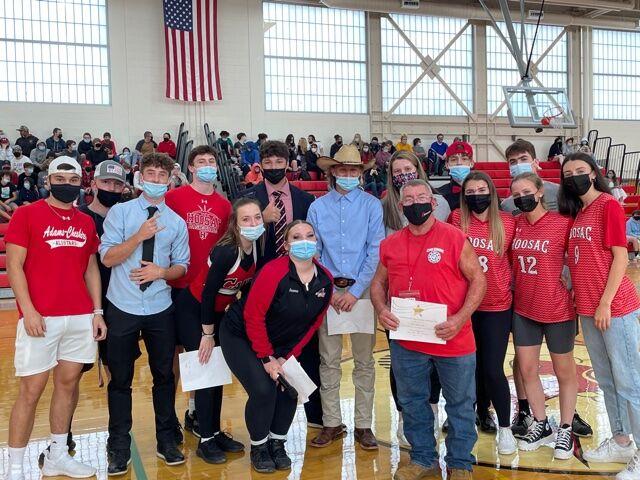 Isaac Herrmann, a senior on the soccer team, had a hand in writing a speech for Balawender and presenting him with a certificate.
"He has been here for everything — he helped me with my eye the other week," Herrmann said. "We wanted to give him recognition for sticking with us."
"He is a family friend and a Cheshire boy through-and-through," coach Bostwick added. "We love Fred, he is always a guy you can work with.
"I'm glad he is part of what we do and he's the guy I request at every game."
For football and country
Prior to Friday night's city rivalry game between Pittsfield and Taconic, a special ceremony was held to honor a pair of alumni who have served in the United States Armed Forces.
In cooperation with the Monday Morning Quarterback Club of Pittsfield, the community came together to recognize both Sergeant Glenn Allison and veteran Peter Ochs.
Allison, a member of the Pittsfield High Class of 1997, was killed in action as a member of the US Army serving in Iraq in 2003. He is the only Pittsfield resident to have been killed in the conflict.
The ceremony and game served as a fundraiser for Allison's candidacy for the MMQB Club's Hall of Fame, which in turn gives college scholarships to local athletes.
Allison's daughter, Kaleigh Hayes — who works locally at the Boys and Girls Club of the Berkshires, performed the opening coin toss before the game, following a speech by Pittsfield Mayor Linda Tyer. Tyer decreed Oct. 22 as Sergeant Glenn Allison Day in Pittsfield.
Ochs, who was present for the ceremony, is a retired US Army veteran and served as a football referee in the Berkshires for 43 years.