DALTON — The game started slowly, both teams searched for weak spots on defense and traded possessions. Trey Turlick scored the first goal of the game, giving Chicopee Comp a 1-0 lead with 8:37 on the first-period clock.
On defense, the Colts stayed strong as another six minutes would go by before Wahconah answered, when Rylan Padelford found Devin Lampron, who put the first of his team-leading nine goals, into the back of the net.
From there, Wahconah rattled off a 6-0 run to end the first period up 7-1. Billy O'Neill scored three of the six to get a hat trick in the first quarter alone. Caden Padelford assisted two of O'Neill's goals while O'Neill returned the favor with an assist for Caden later in the first.
Caden wasn't done scoring either, 22 seconds into the second period, he earned his second score of the game. Just seconds after that, Devin Lagerwall found Lampron for a score, giving Lampron a hat trick and Wahconah a 9-1 lead. Next, Caden found himself with the ball and fired a shot from downtown to give the Warriors a 10-1 lead, becoming the third Wahconah player with a hat trick.
Dylan Seymour scored from way out as Chicopee finally broke their scoring drought. But despite the Colts scoring two goals in quick succession, Wahconah would not allow them back into the game.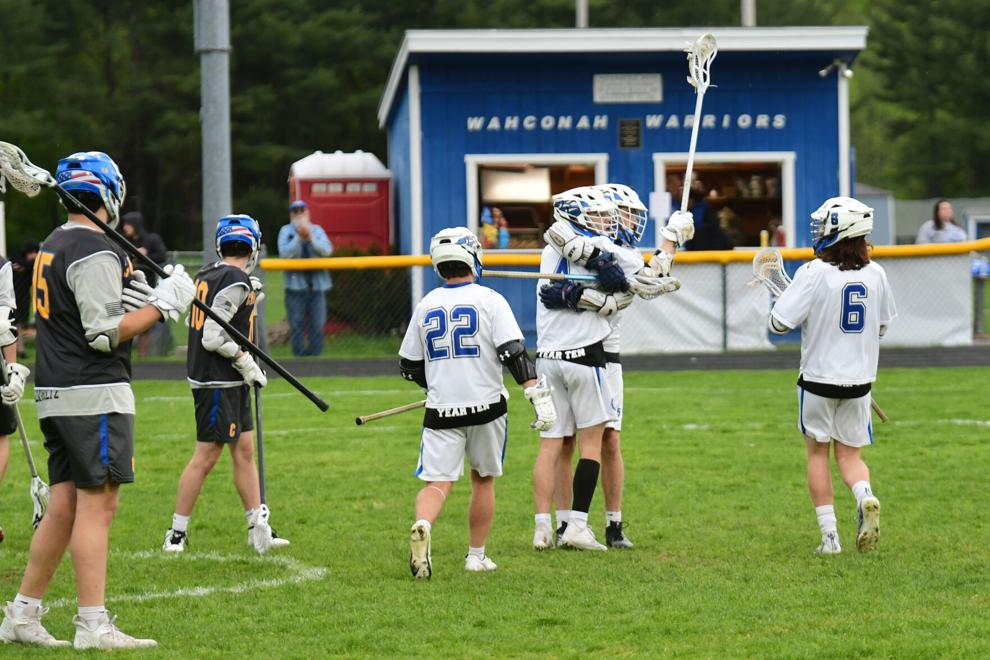 Rylan Padelford did it himself to get by the goalie and make it an 11-3 game while Caden and O'Neill connected once more to make it 12-3. With less than 50 seconds on the clock, Wahconah scored four goals to give themselves a 16-3 lead and give the second half a running clock.
In the second half, Caden scored two goals to finish with four. Lampron scored another five goals to finish with nine on the evening, his second-most in a game ever.
"I scored 10 against Westside earlier this season," said Lampron. "Having some fun, playing some lacrosse, lotta people here, what more could you ask for?"
Despite the large lead, Wahconah played its starters until there were under three minutes left in the game. With Longmeadow, the No. 4 team in the state per MaxPreps, coming to visit on Monday, the extra playing time will surely help Wahconah be as prepared as possible for the game.
"It's that, it's also the state point system," explained Wahconah head coach Joe O'Neill. "I have to beat opponents by a minimum of 10 in order to keep my ranking."
Between Wahconah's plethora of options on offense and a defense that was suffocating for most of the game, that rank should be safe. Still, O'Neill isn't going to get complacent, nor will he let his team rest on its laurels.
"At points, we found our discipline, as we get in playoffs and things like that, that's something we're going to have to rely on, on the offensive side of the ball," said O'Neill. "Defense, overall, did a great job… Noah Poirier had a great day on the face-off, can't score goals if you don't have the ball… The score isn't necessarily indicative of it, but that's a very good Chicopee Comp team with some very good players on it."