SPRINGFIELD — Drury arrived at American International College and proved to the Bulldogs that its bite was just as vicious.
The seventh-seeded Blue Devils led 49-48 with less than 10 seconds left when Springfield International Charter School's Alicia Mitchell missed a shot at the rim.
"The fact we got a stop against their best player shows that they wanted it, they deserved it...," Drury coach Ian Downey said. "It just so happened it bounced in [the other] direction and they hit a shot."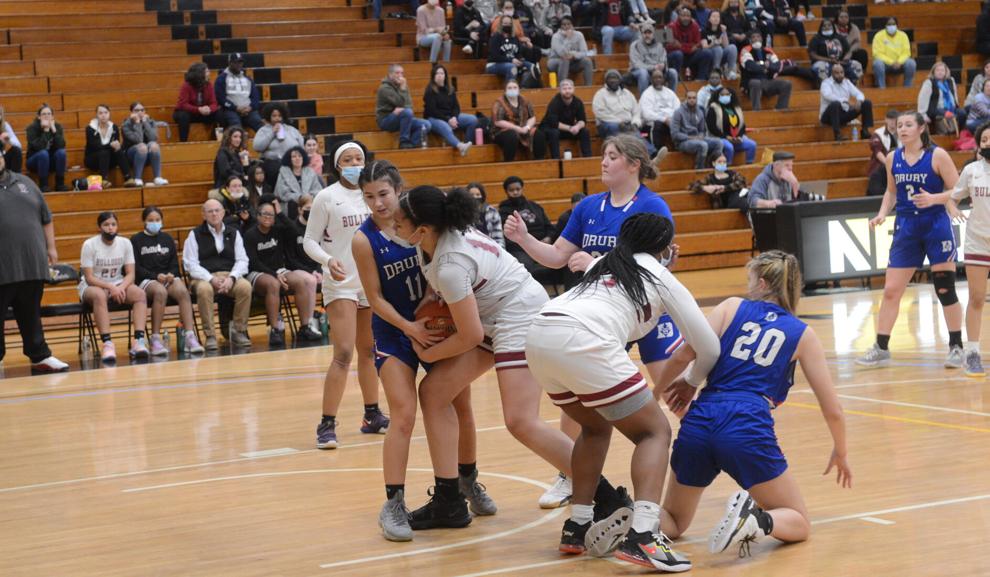 Bodies flew to the ground as SICS's Alexa Davis found the ball in her breadbasket under the rim and urgently returned it, giving the second-seeded Bulldogs a 50-49 win in the MIAA Division V State Tournament Elite Eight.
Davis ended what was a 15-round match between these two teams. The score was tied at 15 after the first, 26 at halftime and 44 with less than three minutes left.
"I kept seeing girls step up," Downey said. "You typically expect certain players to step up, Kayla [McGrath] is usually going to get hers but Alyssa [Russell] stepped up with some big 3's, Morgan Sarkis hit a big 3, Brooke [Bishop] and Ellie [Harnick] were getting rebounds — in games like this you need players to step up and that was what my girls did today."
McGrath was off to the races early and had little issue passing go and collecting her profit, scoring 12 of her 15 points in the first quarter. Downey was forced to call a timeout early after Mitchell, who scored a game-high 20 points, lifted the Bulldogs to a quick 8-3 lead.
McGrath erased it with five-straight points, tying the game with a coast-to-coast flight. Drury trailed 15-12 in the closing seconds of the first quarter when Russell stole the ball and banked in a buzzer-beater well behind the 3-point line.
Russell really got comfortable in the second quarter, scoring eight of her team-high 19 points with a pair of long balls.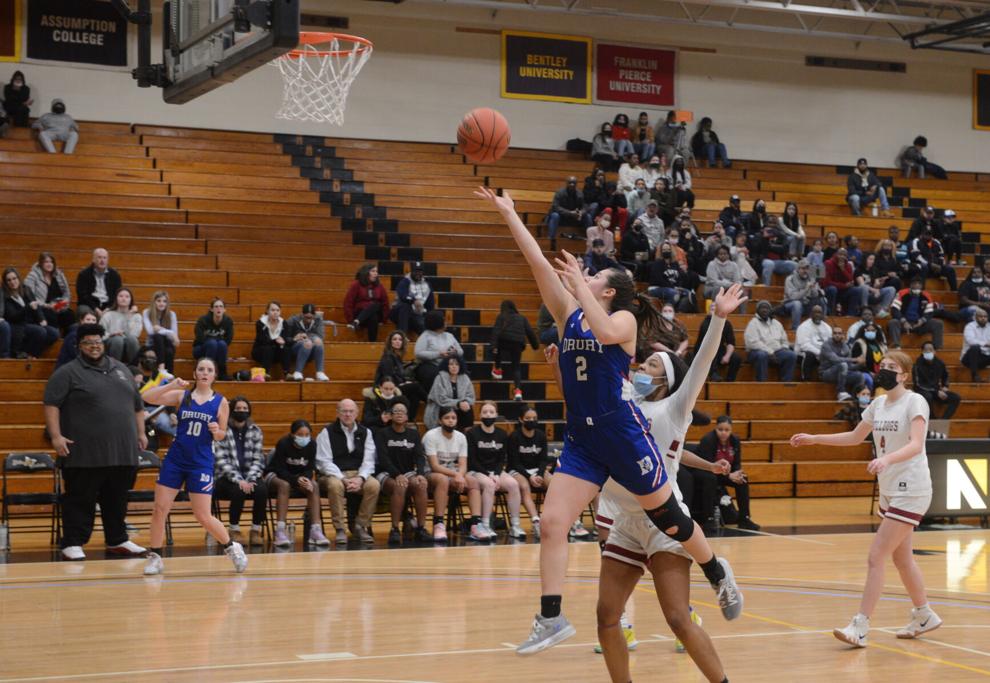 The second half began with McGrath finding Harnick for a bucket before Russell absorbed contact on a three-point play next time down the court. Harnick used a head fake to get under Mitchell for two more and then Russell stretched the court with her fourth 3-pointer of the game.
The Blue Devils led by three at the end of the frame and kicked it into high gear to begin the fourth. Bishop found Sarkis on the corner for a triple and McGrath's baseline-to-baseline voyage bumped the lead to 44-38.
"I thought the only reason we made a run this year is because we ran our sets correctly and valued the ball on offense," Downey said. "They battled all game."
The Bulldogs quickly answered and made the lead disappear with 3-pointers from Davis and eighth-grader Iyanna Hodge.
Davis, next time down the court, hit a layup and Mitchell followed with a pair at the stripe. Suddenly, a 10-0 run had SICS up 48-44 with 2:26 left on the clock.
"We could've folded very easily," Downey said. "It could have gotten away from us — but they fought and battled."
Russell went back to work with a pair at the rim before finding Sarkis in the corner for the triple, giving Drury the 49-48 lead before Davis and her last-second heroics.
McGrath had seven rebounds and four assists to go with her 15 points and Jacinta Felix brought down five boards and earned three assists.
Davis scored 15 points for the home team and Hodge sprinkled in 10 more.
Got the stop we wanted, just not bounce we wanted. Girls played incredible well.To our seniors Kayla and Ellie, thank you for leaving the program in a better place then when you started. https://t.co/Cu5svQoZ4W

— Drury Blue Devils Girls Basketball (@DruryGirlsHoops) March 12, 2022
Drury's season comes to a close with a record of 13-10. Additionally, the Blue Devils ended the season with wins in five of eight games.
"They never said it wasn't their year," Downey said of his team fighting through injuries. "They kept battling and put the effort in and that is the part I'm proudest of, they kept working the entire year.
"One of my favorite [teams to have coached] by far, a fun team to coach all year long and they got better every single game, every practice."
Friday marked the last time that Harnick and McGrath will hit the court as Blue Devils, but Downey is confident that their impact on the program will be felt for years to come.
"I was proud of the fact they stuck around through two years of COVID-19," Downey said. "I was proud that they stayed and they left the program in a better place, our team is better because of the hard work the two of them put in over four years."
———
DRURY (49)
McGrath 4-6-15, Davis 0-0-0, Sarkis 3-0-9, Felix 1-0-2, Bishop 0-0-0, Russell 7-1-19, Harnick 2-0-4. Totals 17-7-49.
SPRINGFIELD INTERNATIONAL CHARTER SCHOOL (50)
Hodge 3-1-10, Pierce 0-0-0, Morin 1-0-3, Shubrick 1-0-2, Mitchell 9-2-20, Witherspoon 0-0-0, Davis 6-2-15. Totals 20-5-50.
Drury 15 11 12 11 — 49
SICS 15 11 9 15 — 50
3-pointers — D 8 (Russell 4, Sarkis 3, McGrath); SICS 5 (Hodge 3, Davis, Witherspoon).