CHESHIRE — The Hoosac Valley girls showed poise and had solid late-game execution in a 38-33 win over Taconic on Wednesday in Cheshire.
Taconic (2-1) got out to an early 6-0 lead despite not having played in 13 days. However, Hoosac Valley (5-1) used an aggressive man-to-man defense to get back into the game. It held Taconic scoreless for the final four minutes of the first quarter. Senior guard Averie McGrath and junior forward Gabby Billetz started the scoring for Hoosac, providing an 8-6 lead at the end of the first quarter.
"We've been talking about our matchups and our defensive schemes, and the girls are buying into what we are providing them. Their effort is constant, and as the game progressed, I thought we got a lot tougher," Hoosac Valley coach Holly McGovern said.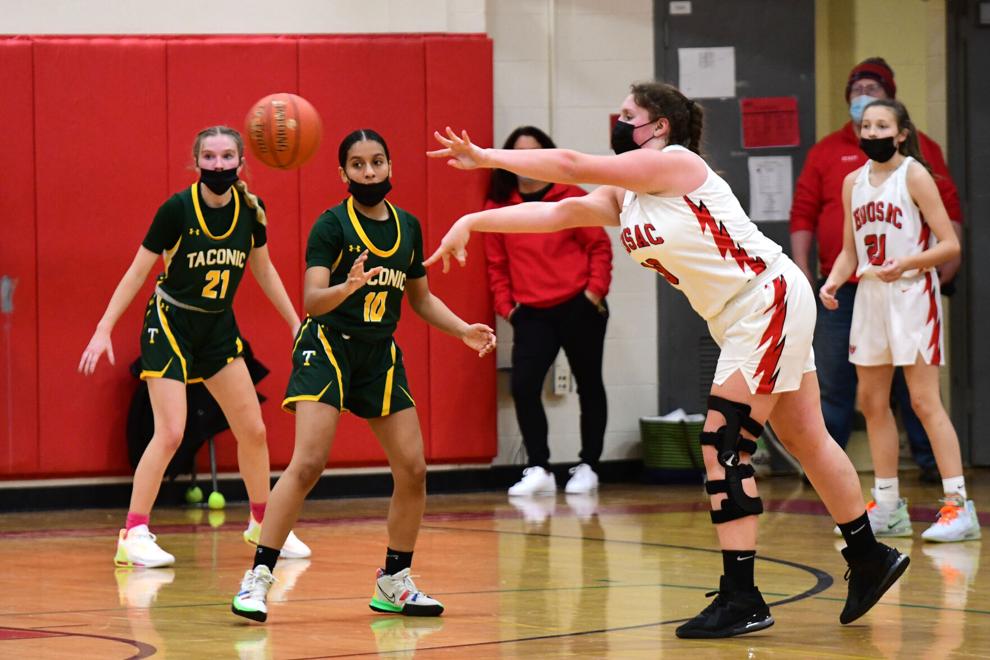 "We started off slow, and it wasn't the best, but we did work extremely hard on defense," McGrath said.
The offenses for both teams picked up in the second quarter and Taconic started the frame on a 6-0 run led by senior Faith Cross and junior Maddie Winn. Taconic made an effort to get the ball inside to Cross as she consistently finished in the paint.
McGovern and the Hurricanes adjusted to a 2-1-2 press that caused problems for Taconic. The press forced the Green and Gold to speed its offense up and it led to turnovers that Hoosac took advantage of. McGrath went on a five point burst to end the half as Hoosac led 23-18.
"I think that right now we are making Averie work both sides of the ball and it takes its toll, so we are trying to find her some easy looks, but we still don't have a flow offensively," McGovern said.
The second half was much like the first quarter as both teams played excellent defense. Hoosac was unable to knock down shots and their offense became stagnant. Taconic continued pushing the ball inside as Cross added five points in the quarter. As a result of the offense struggling, Hoosac relied on their aggressive defense to maintain their lead as they finished the quarter up 30-27.
"We got in a groove and started communicating, and help defense was really needed tonight," McGrath said.
Hoosac's offensive struggles continued to start the fourth quarter as they did not score for the first three minutes. Taconic continued battling with baskets from senior forward Ahliya Phillips and junior guard Brenna McNeice. Philips led Taconic in scoring with eight points and McNeice and Cross added seven points each. Taconic also received scoring contributions from juniors Amelia Leasure and Winn.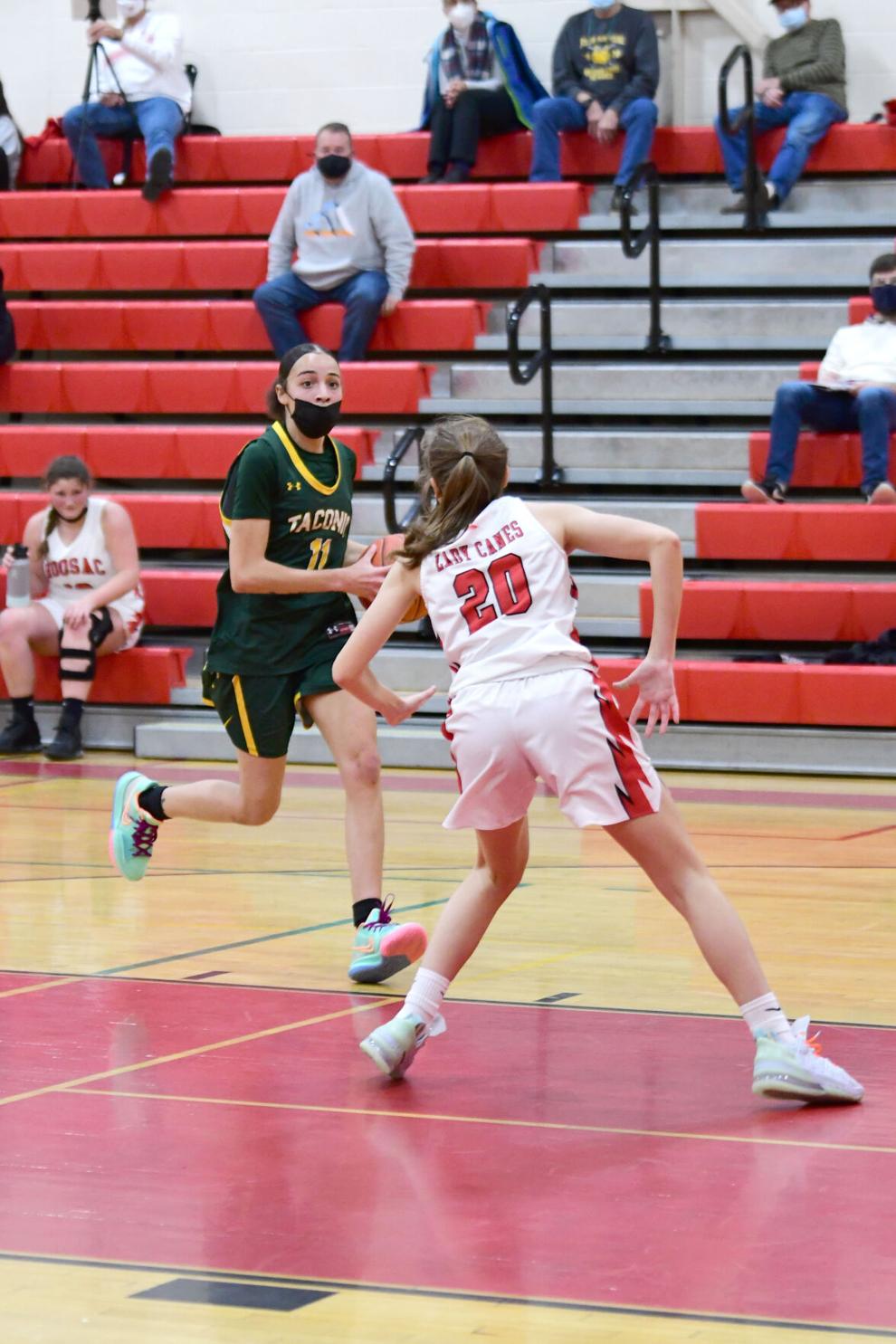 The final two minutes saw Hoosac exhibit solid late-game execution led by McGrath and freshman guard Ashlyn Lesure. McGrath hit a big three in the closing minutes to extend Hoosac's lead. Then in the final minute, Taylor Garabedian forced a jump ball on a fastbreak that kept the lead intact.
Following the play, Lesure knocked down three clutch free-throws to seal the victory for Hoosac. McGrath led Hoosac in scoring with 16 points, Billetz added eight points and Lesure scored six points. Hoosac also received scoring contributions from Taylor Garabedian, senior Alyssa Garabedian and sophomore Hanna Shea.
"Taylor did a phenomenal job defensively, and she never gave up. That was just a heads-up play," McGovern said when asked about Taylor Garabedian's crucial jump ball.
"When you're not doing too good, you need to rely on others, and that's what we did, we picked each other up today," McGrath said.
Taconic has now lost their first game of the season but has a quick turnaround as they play at Wahconah on January 3. Hoosac is on a two-game winning streak and have knocked off two Berkshire County opponents in Wahconah and Taconic. The Hurricanes are starting to play a strong brand of defense, but are still looking to find their groove on offense as they get ready to play Granby on Jan. 4.
"Resting on off days is crucial, everyone is sore and a little hurt, but we gotta come back and work hard," McGrath said.
"I think we would look at the defensive side of things and be happy, but as I just told the girls in the locker room, you can't expect to score 38 points and win every game, so even though the defensive effort is there, we need to continue to strive to be better offensively," McGovern said.
———
Taconic 6 12 9 6 — 33
Hoosac Valley 8 15 7 8 — 38
Taconic (33)
Phillips 3-1-8, Cross 3-1-7, Leasure 2-0-5, McNeice 2-3-7, Winn 3-0-6, Walker 0-0-0, Hudson 0-0-0. Totals 13-5-33.
Hoosac Valley (38)
McGrath 5-4-16, Billetz 4-0-8, Lesure 1-4-6, A. Garabedian 0-2-2, T. Garabedian 1-0-3, Shea 1-1-3, Witek 0-0-0, Boudreau 0-0-0. Totals 12-11-38.
3-point field goals — Hoosac Valley 3 (McGrath 2, T. Garabedian) Taconic 2 (Phillips, Lesure).