DALTON — Nobody on the Pittsfield sideline knew the answer to the question. When was the last time Pittsfield beat Wahconah in football.
It's been decades, but ultimately that didn't matter. The only thing that did is that the Generals made it through the Fall II regular season undefeated.
Visiting Pittsfield scored the game's final two touchdowns, one on a six-yard run by quarterback Patrick Rindfuss with 2 minutes and 11 seconds left in the fourth quarter, as PHS beat Wahconah 34-28, in a Friday night battle of the undefeated teams.
Photos: Pittsfield at Wahconah Gallery
"I have no clue," Pittsfield coach Brian Jezewski said in response to the question. "I know it's the first time we've beaten them since I've been the coach. I can't tell you how proud I am."
Pittsfield quarterback Patrick Rindfuss had another one of those headline nights. The junior ran the ball 17 times for 95 yards and threw for 126 more on 9-of-16 passing with two touchdown passes. It was his fourth-quarter touchdown run that broke the tie and delivered the win.
"It's been a whirlwind," Rindfuss said. "It's unbelievable. The first week, we're missing our two biggest offensive threats [tailback Emmanuel Nda and receiver Sincere Moorer]. The guys just stepped up. We busted our butts all season. That's what we were building for.
"This was the team we knew we had to beat, if we were going to get over that hill. I can't describe the feeling right now."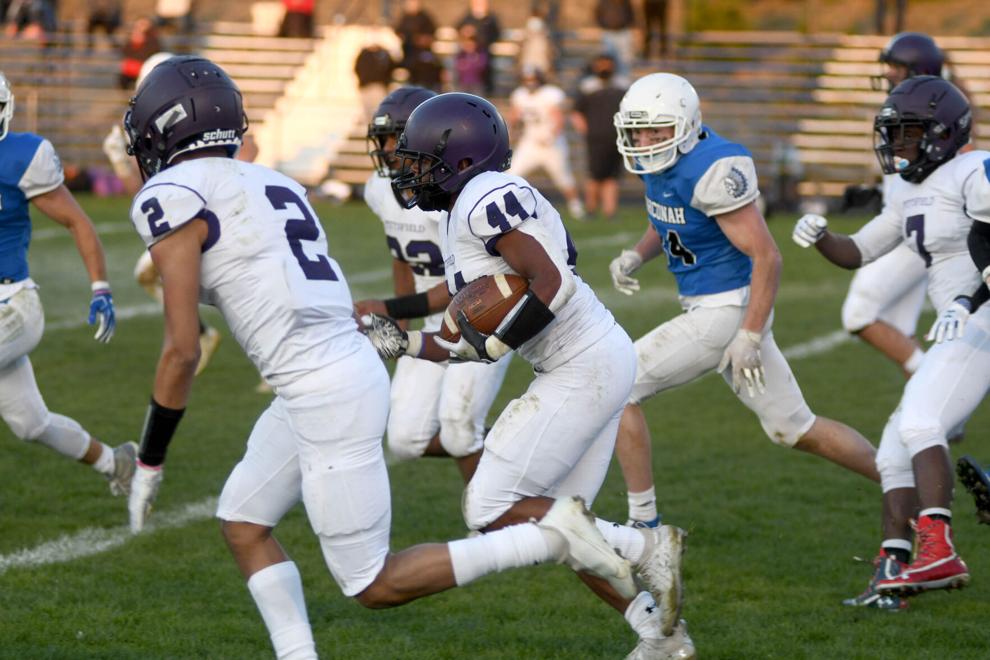 Friday night, the PHS quarterback had to more than share the spotlight with Nda.
Nda, who was playing in his first game since 2019, made up for lost time. He ran for 112 yards on 16 carries and caught five passes for 74 yards. Two of those catches were for touchdowns. He caught a 28-yard pass from Rindfuss in the second quarter and then a 35-yard TD strike with 8:14 to go in the game. That second TD pass answered a fourth-quarter touchdown by Zach Archambault, one of two the Wahconah senior scored.
It was quite a night for the Army West Point commit, going over 100 yards rushing, scoring two touchdowns, helping Pittsfield to a perfect regular season and beating Wahconah for his first time. It was especially rewarding for Nda, who was sidelined for the the first two games of the Fall II regular season with a non-COVID illness. It didn't look like he missed a beat.
"First of all, I want to shout out to my Lord and Savior Jesus Christ. I wouldn't be out here without him. We worked hard in the offseason," said Nda, with particular emphasis on the word hard. "All the days at Crossfit paid off, and it showed on the field, starting with the O-Line. I shout out to the O-Line. We couldn't have done it without them."
In a game where each team scored the first time it had the football, there was talk on the sidelines that the last team to possess the ball would win. Not quite, but pretty darn close.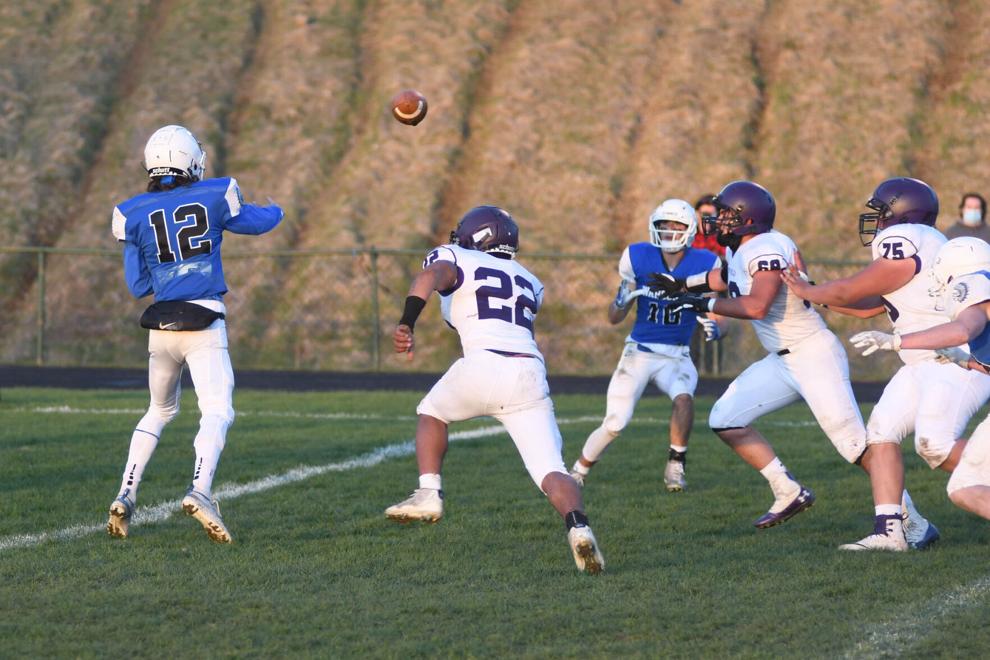 Pittsfield led 20-14 at halftime and had rung up 258 yards in total offense on 30 plays compared to Wahconah's 21 plays and 97 net yards.
The Warriors went 70 yards on nine plays to open the third quarter, taking the lead when Quinn Gallagher scored on a 14-yard touchdown run. Jonah Smith's conversion made it 22-20.
Both defenses came up with three-and-outs. Wahconah got a break because Nda fumbled the snap on a punt, and the Warriors took over on downs at the Pittsfield 33. That was the good news for Coach Gary Campbell Jr. and his team. The bad news? On second down, Gallagher had to run down a shotgun snap that went over his head. The 19-yard loss eventually forced Wahconah to punt.
As the third quarter became the fourth, a Pittsfield gamble proved costly. Rindfuss was sacked on fourth down, giving Wahconah the ball on the Pittsfield 48. Four plays later Zach Archambault, who scored with 2:58 left in the first half, put Wahconah up 28-20 on a one-yard run to cap a five-play drive. The two-point conversion failed though, leaving the door open for Pittsfield. The Generals barged through it.
A 35-yard pass play from Rindfuss to Nda put PHS back in the end zone for his second TD of the game. The conversion failed, but with 8:14 left, it was 28-all.
The Pittsfield defense, which held Wahconah to 194 total yards in the game, came up huge on the next series. Facing third-and-13, Gallagher hit Smith in the flat, but Pittsfield linebacker Mike Puskey blew the play up and made the tackle.
"We know that the fourth quarter is where it all matters," Puskey said. "We play every practice and game for the fourth quarter."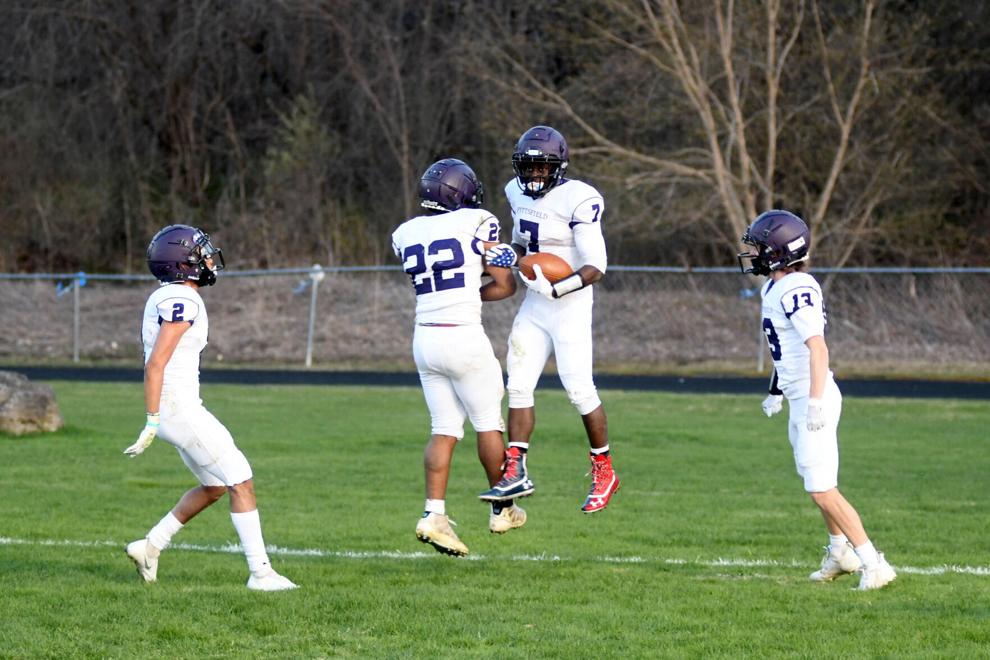 A 44-yard punt gave Pittsfield the ball on its 21. The first play from scrimmage was a 13-yard run by Rindfuss, breaking Logan Newsome's tackle.
Twice Pittsfield converted on third down to keep the drive alive. Finally, on second-and-goal from the six, Kieran Coscia sealed off the inside of the Wahconah defense and Rindfuss ran around the outside for a six-yard touchdown. The missed conversion made it 34-28. A touchdown and conversion would win it for Wahconah.
"We probably have the best [offensive] line in Western Mass.," the PHS quarterback said. "They were opening up holes all night long. Those guys are in the weight room every day in the offseason and got a lot better. I love those guys."
On the second play of the drive, Gallagher went deep for Luke DiCicco, but the ball was picked off by Bryson Jezewski, and the Generals had their victory.
"At the end, let's face it, we had a shot," Campbell said. "We're going into the fourth quarter, everything's going okay, and their line took over. Rindfuss ran tough. E-Man ran tough, and they did a good job."
Pittsfield finished the night with 59 offensive plays for 435 yards, while Wahconah managed 194 yards on 43 plays. Archambault led the way for Wahconah with 96 yards on 15 carries and those two touchdowns.
"We talk about resiliency and toughness," Coach Jezewski said. "We showed it tonight."
The Berkshire County athletic directors will discuss the final week's schedule during a Tuesday meeting.
———
Pittsfield 6 14 0 14 — 34
Wahconah 6 8 8 6 — 28
First Quarter
P — Michael Charles 13 run (Pass failed), 10:18.
W — Jonah Smith 5 run (Run failed), 5:06.
Second Quarter
P — Emmanuel Nda 28 pass from Patrick Rindfuss (Run failed), 9:46.
P — Anthony Johnson 9 run (Nda run), 5:25.
W — Zach Archambault 5 run (Smith run), 2:58.
Third Quarter
W — Quinn Gallagher 14 run (Smith run), 7:12.
Fourth Quarter
W — Archambault 1 run (Run failed), 10:19.
P — Nda 35 pass from Rindfuss (Rindfuss run), 8:14.
P — Rindfuss 6 run (Run failed), 2:11.
———
INDIVIDUAL STATISTICS
RUSHING — PHS: Patrick Rindfuss 17-95, Emmanuel Nda 16-112, Michael Charles 5-55, Anthony Johnson 5-47. WAH: Zach Archambault 15-96, Jonah Smith 12-57, Jon Render 3-29, Owen Salvatore 1-(minus-4), Quinn Gallagher 7-(minus-5).
PASSING — PHS: Rindfuss 9-16-0 126. WAH: Gallagher 3-5-1 21.
RECEIVING — PHS: Sincere Moorer 3-43, Nda 5-74, Johnson 1-9. Wah: Render 1-15, Smith 2-6.