DALTON — High school volleyballers from Sheffield to Williamstown gathered at Wahconah Regional High School for the inaugural All-Berkshire Showcase match on Monday night.
The event served as the All-Star match for 28 of Berkshire County's best. Mount Greylock, Lee, Monument Mountain and Taconic each had four players in attendance. Trios of Millionaires, Eagles, Generals and Warriors were also competing.
Among the Wildcats was senior captain Liz Brown, who earned Berkshire County Volleyball's Most Valuable Player award before the match began.
"I was so surprised," Brown said of hearing her name called. "It was definitely dropped on me and I'm very happy."
Brown's career as a Wildcat featured 729 kills, 585 digs and 131 aces across four years. Her final season, which included a Western Massachusetts title, featured 326 kills, 251 digs and 50 aces.
"Everything," is what Lee coach Julia Warner said when asked what made Brown so impactful on the court. "She can do it all... hit, pass and serve. I am really proud of her and she's deserving of the award — she's amazing."
Warner, Brown and Team Grey closed the All-Star bout with a 3-1 victory in which three different sets were decided by two points. Grey captured the first three sets 25-23, 25-17, 27-25. Teal flipped the script in the fourth set with a 27-25 win.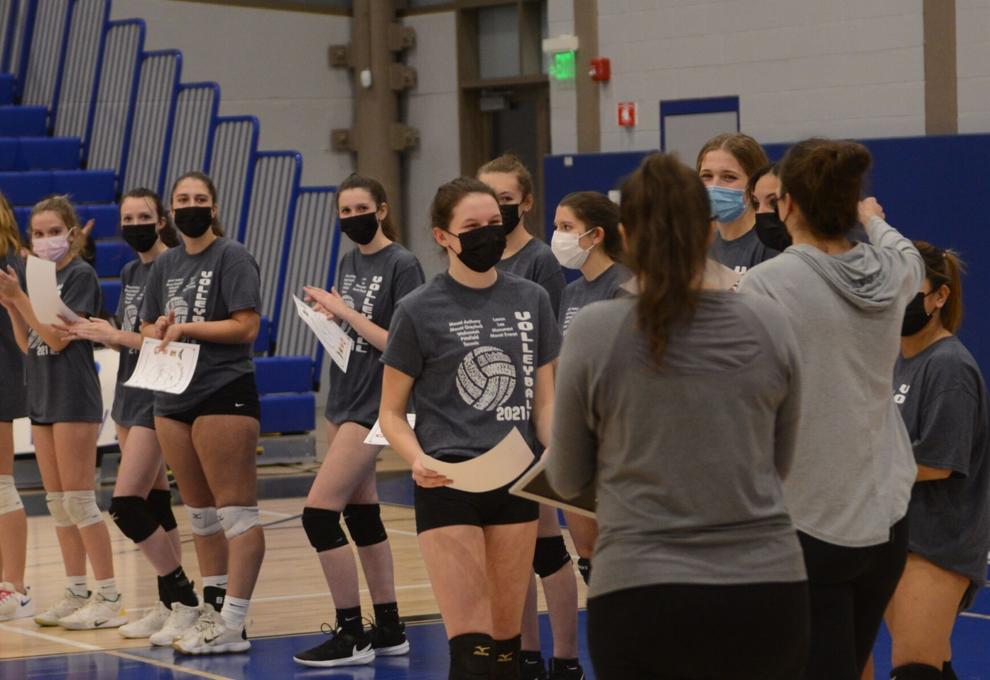 While the All-Stars had each played volleyball for a large chunk of their high school career, playing within these teams offered an engaging challenge for the student-athletes.
"I didn't know a lot of the girls on my team," Monument's Brianna Ayala said. "It was nice talking with everyone on the team, we made little jokes and all got along really well.
"Everyone was so good where we had a lot of fun playing good volleyball."
The Spartans took one of the state tournament's longest voyages while competing in the MIAA Division IV bracket — a day trip to Nantucket.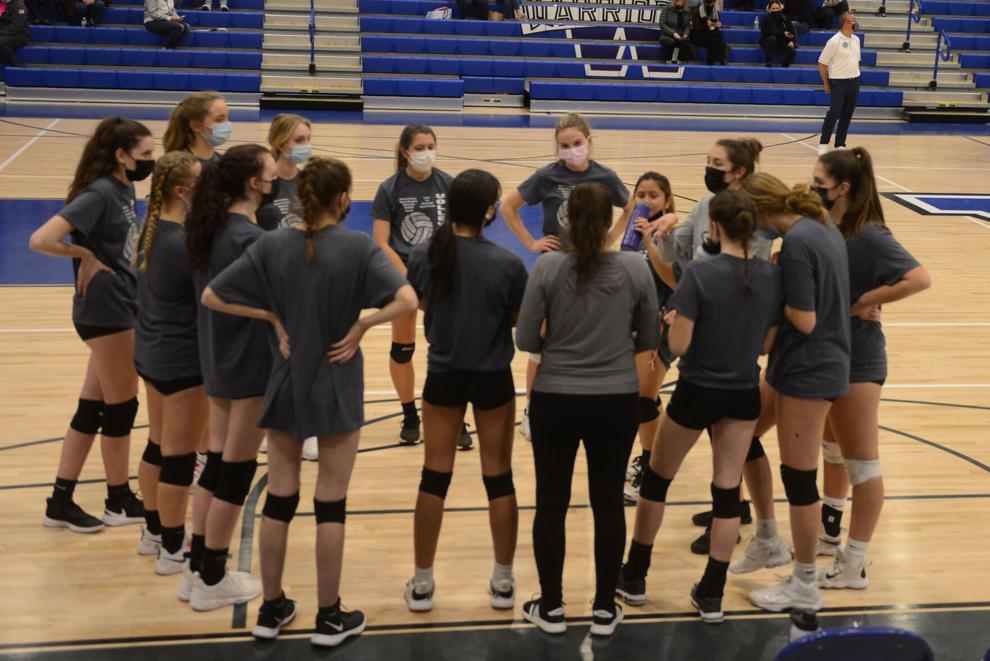 "Such a tiring trip," Ayala said of the Round of 32 matchup against No. 16 Nantucket. "It was so far, but it was fun to go all the way out there with my team, it was a cool trip we never thought we would do — definitely something I will remember."
Fellow Spartan Mia Wade was on Team Teal but Monument's Ava Barenski and Cate Consolati were on Grey as every school meshed into both rosters.
"It helped once we figured out the flow of the team," Brown said. "[The unfamiliarity with each other] pushes better communication and we all had to figure out the boundaries of everyone together."
Brown was on Grey, the only Wildcat on Warner's team. Kylie Joyce, Madison LaRock and Rachel Wendling were each on the Teal roster after Lee made it to the Round of 8 in the D-V tournament.
Mount Greylock went the farthest of any local team, closing the season with a Final Four showdown with No. 2 Frontier in D-V. Greg Geyer, coach of the Mounties, coached Teal and had Greylock's Tessa Leveque and Takiera Darrow on his roster.
Meanwhile, Charlotte Coody and Celina Savage represented the Mounties on the Grey roster.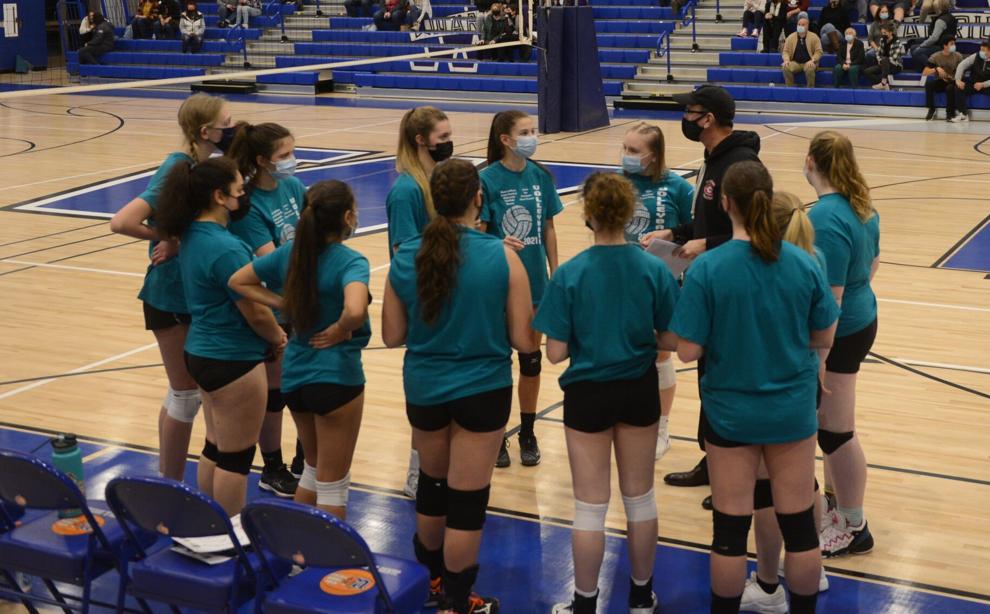 "This was fun," Warner said of coaching a group of more than just Wildcats. "It is a great group of kids and they're all very deserving.
"The big message was to have fun and talk a lot. You're playing next to some people you've never met before — just go for it and play some great volleyball."
Lenox's Mia Giardina, Kelsey Kirchner and Kailyn Sorrentino were all featured in the showcase. Caroline Haiss, Nadia Makuc and Kelly Krom represented the Eagles.
Pittsfield's Brigette Marcil, Maggie Burke and Hailey Rumlow all made the roster. The same was true for Taconic's Brenna McNeice, Ciana Bennett, Ruby Robertson and Natalia Dos Santos.
Sasha Fyfe, Olivia Wehner and McKenzie LaBier represented Wahconah on their own court.
The Berkshire County volleyball coaches created the event to honor local players while the teams were absorbed in the Pioneer Valley Leagues, which began this season. The Berkshire County Board of Volleyball Officials volunteered to officiate the event.
Geyer and the AVA Volleyball Club sponsored the event, purchasing T-Shirts and awards. Meanwhile, Wahconah and the WRHS Volleyball booster club organized the evening, which came to a close with some pizza provided by Monument coach Kyle Henry and the Spartans.