WRENTHAM — Back-to-back weeks of finishing a close runner-up in a state-wide meet was tough to swallow for the Lenox boys cross-country team.
But once the Millionaires let it sink in what they had accomplished, it was time to get some trophy shots.
"We enjoyed every day we showed up for practice. They hung their head for maybe two minutes after they found out, and then, look at them now," coach Al Najimy said after the MIAA Division III state cross-country awards ceremony. "They're full of joy."
Photos: Lenox boys cross-country finishes runner-up at MIAA D-III State Championship
On Saturday in Wrentham, the Lenox boys cross-country team finished runner-up to Parker Charter in the MIAA Division III state championship meet.
Wahconah and Mount Greylock, along with a few individual runners, also qualified for the state meet.
To view a full gallery or purchase photos from the state meet, click here.
The Lenox boys at that point were posing for selfies with a hunk of wood carved into the shape of Massachusetts. A state that is now aware, the Millionaires are going to be in the mix.
Juniors Dennis Love and Maxwell Adam led the way in 13th and 16th place, respectively, as Lenox amassed 129 points on the course at the Wrentham Development Center on Saturday. That mark was second to only Parker Charter, which put three runners in the top 12 to help total 118 points. Hampshire was third with 148, followed by Uxbridge (189) and Bromfield (202). Parker Charter had edged Lenox by two points a week before at Stanley Park during the state qualifiers.
"We knew we were going to line up with a shot at it, and give it our best effort," said Najimy. "And that's what we did. We can't control the results, just the effort."
That effort included a slew of personal bests on the flat, fast course at Wrentham. Love churned up the grassy field surface in 16 minutes, 32.7 seconds. That's good for a mile clip of 5:19. It was also the second-fastest time carded by a Western Mass. runner. The meet was won individually in a record-setting performance by Uxbridge's Aidan Ross in 14:47.2
"It was a good day. Kind of upsetting to lose by a little bit, but this is the best any Lenox boys team has ever done. I mean, that's still great," said Love. "I'm proud of every single one of them. Everyone ran great, everyone had PRs. Losing Colin [Young] and Ted [Yee], as a team you wouldn't even think we'd make it here, but then we're undefeated, second at sectionals, second at states, it's really wild to think about."
Lenox won the Western Mass. title in 2019, the last time postseason meets were held. Then juniors Yee and Young led the way to a 10th-place finish at the ensuing state meet in Gardner. Yee was 10th and Young 44th, while Adam (70), Love (103), Harry Touloukian (122) and Cormac Mathews (170) were underclassmen well back in the field.
This time around, Adam placed 16th in 16:39.6. He and Love combined for 25 points, as runners not tied to a qualifying team did not count toward point totals. At that point, though, Parker Charter had three runners in and a total of 23 points, forcing Lenox to fight an uphill battle the rest of the way.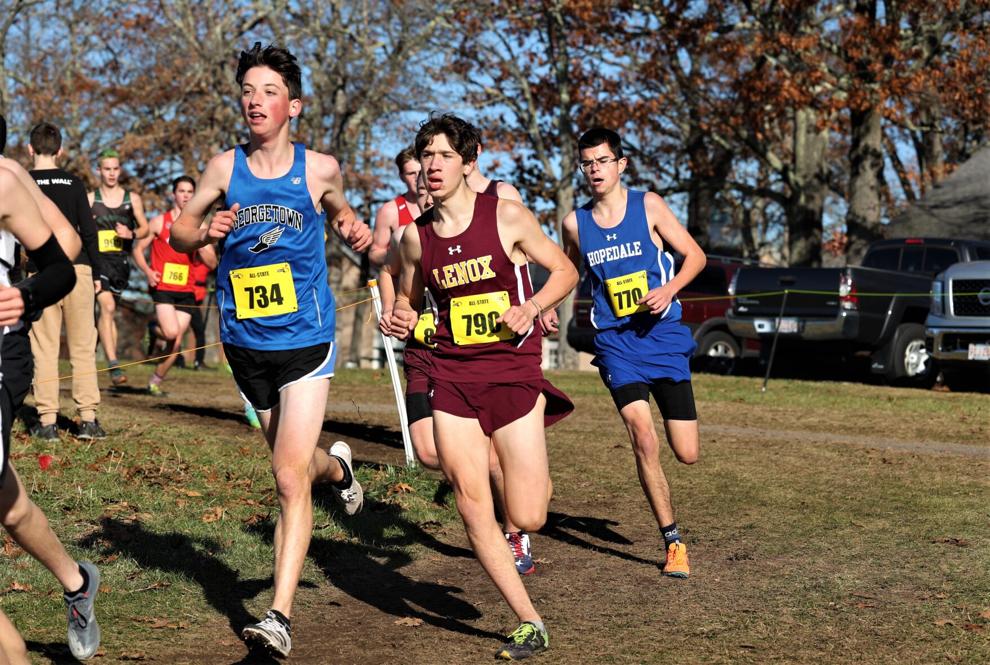 "I felt great during the race, I'm sure Max did too," said Love. "It was a great day to run."
It was a valiant effort, as three more Millionaires crossed inside the top 50. Now seniors, Renzo Vargas and Harry Touloukian made the most of their final career races. Vargas popped early and held on to finish 33rd, out-kicking a Hampshire runner by a tenth-of-a-second in 17:09.5 for 27 points.
"Honestly, last time I was here was eighth grade, and in a way it's a good way to end off your senior year," said Vargas. "That first year I really had no summer training or anything, I just picked it up."
Touloukian had a slower start to his meet, but settled in around the mid-point and started really cranking over the final mile. He picked off a large group of runners, including sophomore teammate Cormac Mathews over the finishing stretch. There were 10 runners with finishing times within five seconds of Touloukian, who also edged a Bellingham runner 17:25.5 to 17:25.6 for 45th place and 38 points.
"I'm really glad we ended the season like this," Touloukian said after the ceremony. "I started cross-country in 10th grade, and I'm happy. It's been a family full of such wonderful people that I've always related to and fallen back on. I'm happy we've been so successful this season, and I'm proud of everyone who competed today."
Mathews put a cap on Lenox's scoring in 47th place. His 17:26.4 was good for 39 points as Bellingham wasn't a qualifying team.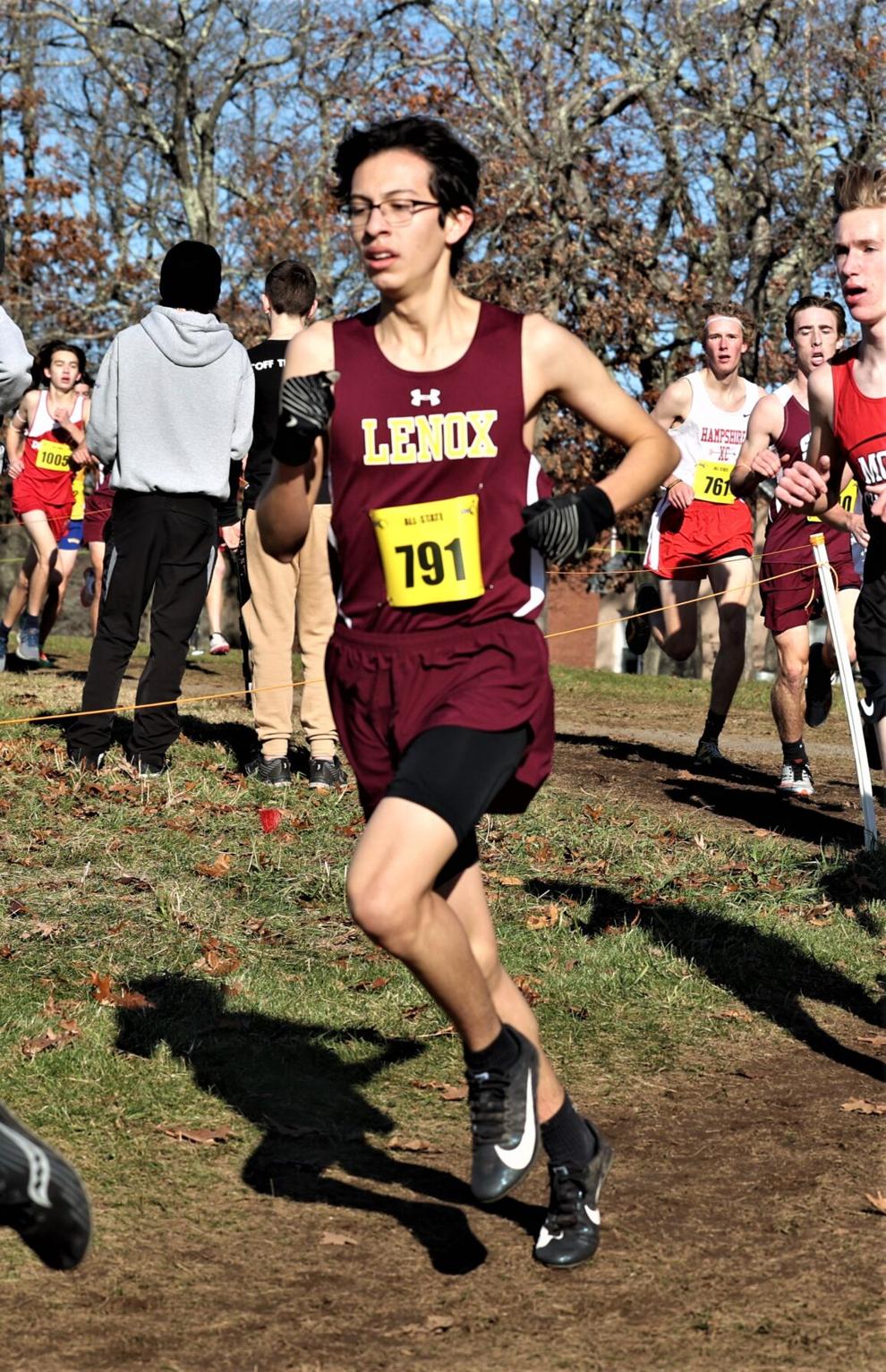 That gave the Millionaires their 129 points, while Parker was still sitting on 23 with three runners in, led by No. 5 overall Caleb Hatlevig. It wasn't until the 57th finisher that Parker got its No. 4 runner in, and then the final scorer crossed 62nd. However, that 62 became a 49 and the 57 was a 46-pointer, and the runners from Devens slipped underneath Lenox and into the championship circle.
"It was a great journey, that's what we try to stay focused on, the process and the journey every day. Let the results take care of themselves," said Najimy. "If you're hyper-focused on a goal, you can get tied down in disappointment."
The disappointment was short-lived as a celebration still followed on a long bus ride back to the Berkshires. For those who won't be back, Vargas and Touloukian said they were proud of the heights their program had reached during their tenure.
"I think they'll definitely come back stronger," said Vargas. "They've still got track season and then I guarantee they'll put in some more work over the summer and they're going to carry this next year."
Lenox's final two runners on Saturday were Andy McCormack, a junior, in 87th with a time of 18:01.3, followed by freshman Samuel Geller in 19:32.1, good for 164th.
For those who will be back next fall, the target has been set.
"Next year, we have a whole new goal," said Love.
The Eagle's state championship cross-country coverage will feature three stories. The Mount Greylock girls state championship victory and a wrap-up of the other five teams and individual qualifiers competing Saturday in Wrentham will appear separately on Sunday at BerkshireEagle.com/sports.