It had been more than seven months since the Wahconah ice hockey team had its guts ripped out in an overtime defeat at the Western Massachusetts Division III-A championship game.
Mike Taylor, an assistant coach for the Warriors, was both heartbroken by the result, and heartened by the future.
The next day was March 6, and preparation for the following season, a blue-and-white-and-purple-and-green-and-gold revenge tour, could begin.
Only, that offseason never ended.
On Oct. 26, Wahconah athletic director Jared Shannon announced that the Wahconah/Pittsfield/Taconic co-op would not hit the ice for the winter season, due to the COVID-19 pandemic. A week later, co-op teams from Drury and Mount Everett followed suit. There would be no high school ice hockey in Berkshire County for the 2020-21 school year.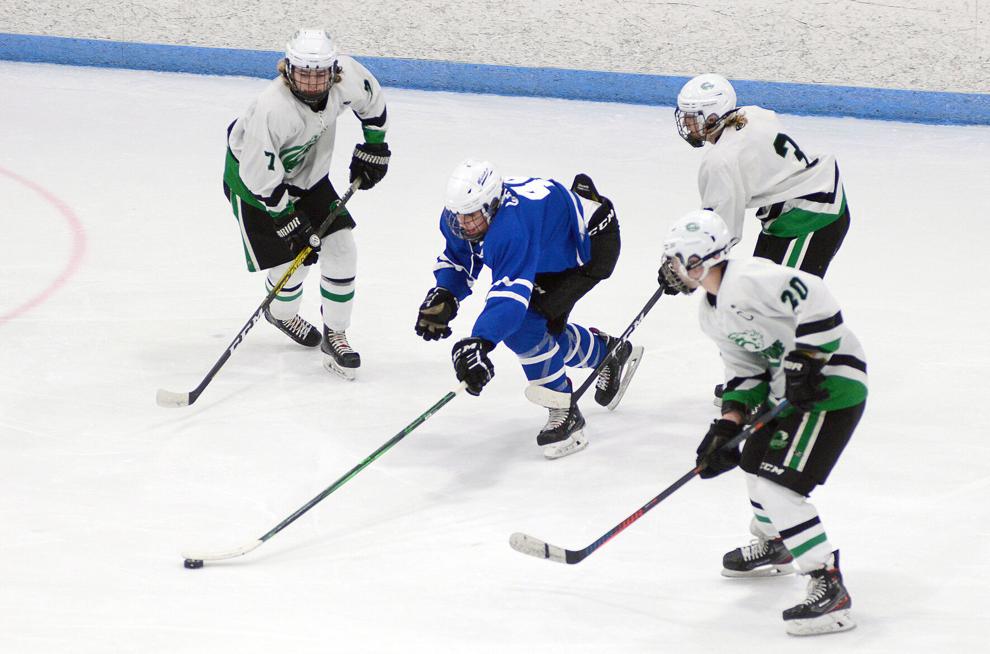 Locally, youth programs held fast, and batted around myriad ideas on how to incorporate the older skaters.
Taylor, looking to make the best of a bad situation, saw the opportunity to flesh out an idea that had been brewing in the back of his mind since his days as a 19-year-old junior hockey player.
"The Berkshire Bruins were planning something that would be a house league or skills practices and scrimmages," he said. "Steve Polastri runs the program, he and I spoke throughout the situation, and I think that was a great idea for a certain level of players."
But Taylor wanted to provide more, a unique experience that would keep high schoolers getting better, even while the local rinks were shut down and high school sweaters stayed in storage boxes.
"As a coach I wanted to keep these kids going and continue developing," he said. "There are kids in this area that can play beyond high school. I didn't want it to be a lost year."
Taylor is grateful to Shannon for making his tough decision early on enough, to allow him to start probing contacts throughout Massachusetts.
"I have these kids, I'm trying to play games against teams that have kids who pay $5,000 a year to play junior level hockey, and we're trying to play them at a very small cost," he said. "Get them to see what it's like outside of the Berkshires."
With plenty of connections on the Wahconah roster, Taylor and fellow Wahconah assistant Dave Senecal started fleshing out a team of kids who wanted to play hockey, and desperately so.
"Coach Taylor had a plan when we got canceled, he was already looking for games, trying to find players to play on our team," said Pittsfield senior Owen Kroboth. "Just to get back on the ice and skate again. The last time I had skated was the Western Mass. finals. It was nice to get back out there. It was like six months without skating, it was weird."
The Western Mass Warriors were formed, a roster stocked with 18U talent from Drury, Wahconah and Mount Everett's high school programs.
"It was really weird at first, to be honest," noted Omar Uqdah, a senior at McCann Tech. "They're the rivals for high school. I played with some of the kids as a youth with the Bruins and Rattlers, and the Black Bears growing up. It's cool playing with them as opposed to against them."
Uqdah said Taylor reached out right after Drury canceled its season. At the time, he was already trekking out to Springfield just to find an open rink to work on some drills.
"Wherever we could find ice," Uqdah said. "As soon as Coach Taylor said there'd be games and stuff, I was in."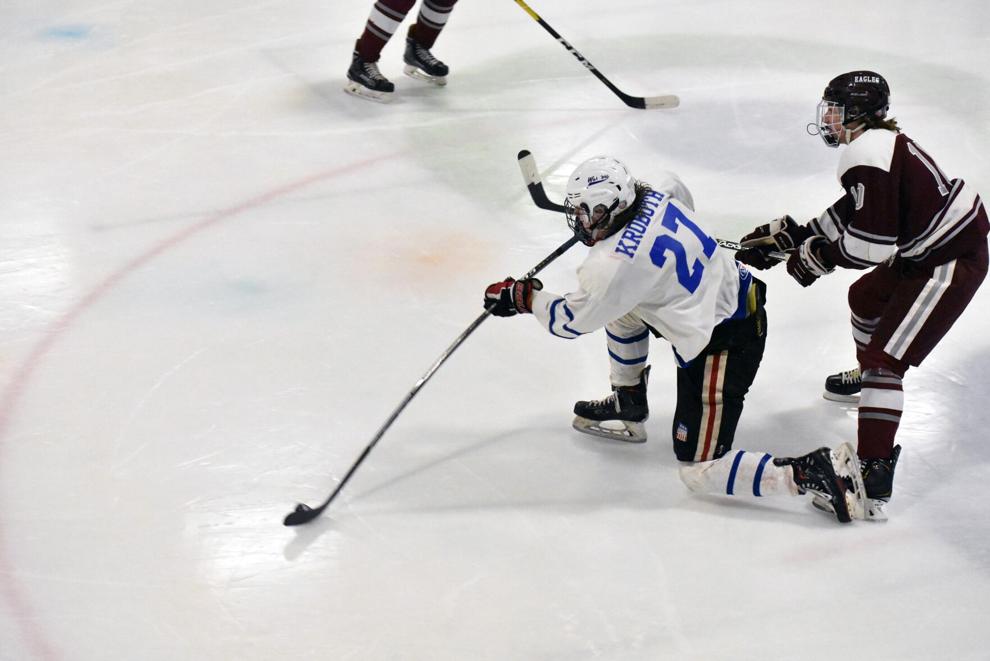 The games have been primarily weekend affairs, and come with some hefty mileage tags. They've played everywhere from Olympia in Springfield, to Walpole and Marlborough.
Entering Friday night's tilt against the Springfield Junior Pics at Olympia, the Warriors were 6-3-1. There's a doubleheader against the Islanders Hockey Club teams in Tyngsborough Saturday, and three more games scheduled before the end of December.
Taylor played for the Pics not too long ago, and through their coaching staff has been able to send feelers out across the Commonwealth for games.
"I reached out to [my former coach] and told him what I was doing, and he loved it," said Taylor. "So we scheduled some games."
They've since played the Western Mass. Vipers, New England Devils, Western Mass. Wizards, and he's been working on the Boston Junior Bruins.
"The goal is trying to take the best possible team from this area, continue their development, and try to let them play the highest competition they've played," said Taylor, "so that next season, this wasn't a lost year."
That solid record comes with the big detriment, of course, of not having any practice time on home ice. The traveling has left local rinks uneasy about granting indoor time to the team, if they are even open at all.
That lack of conditioning work stung in a pair of 7-goals-against losses earlier this winter. However, the Warriors are unbeaten in their last five tries.
"There are times where they get frustrated with not having home ice or practice, installing systems," Taylor said. "But this is a great bunch of kids. I couldn't ask for a better group. They're all just having fun with it."
The team is just grateful to be lacing up skates and competing, even if it's not coming with all the fanfare of playing locally with a big crowd or for championship hardware.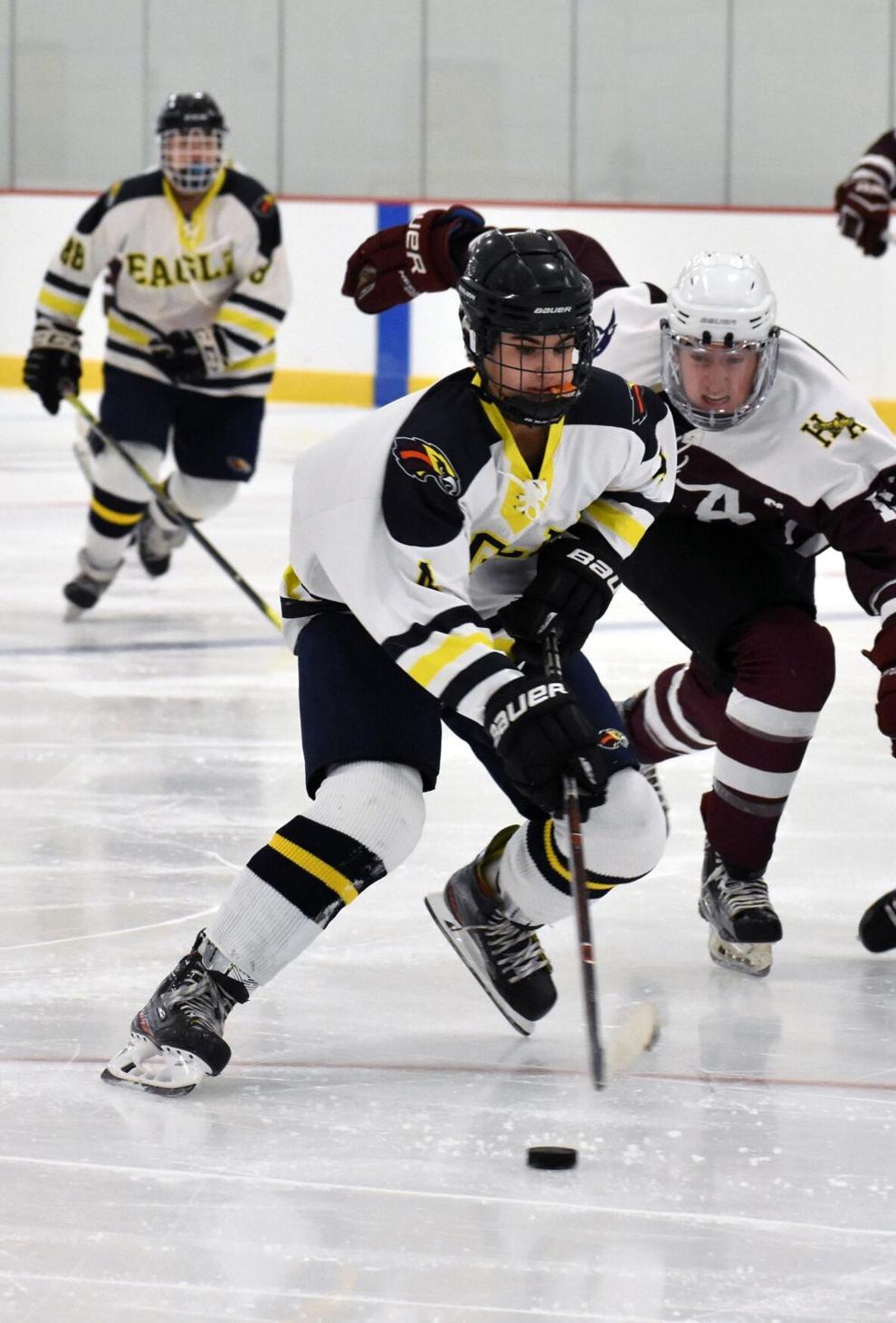 "It's been really weird," said Cam Raifstanger, a Monument Mountain sophomore who was skating for the Springfield Rifles when Taylor came knocking. "You're used to the locker room atmosphere, and now we're getting dressed in our cars. You don't rush onto the ice to a crowd.
"It's been great, though, a lot of fun. The competition is serious and I've enjoyed it."
The Boys and Girls Club of the Berkshires in particular last season could delve into mad house territory when Wahconah was really humming.
"At first, I definitely thought that was it. I wasn't going to play anymore," said Wahconah senior Ernie Lampron. "But then, really soon, we figured out that this was going to happen. Coach Taylor started trying to get everyone together, which was awesome.
"It's been really good, we've gotten to play a lot of different teams, the competition is a lot better, and we're better than I expected. It's a unique opportunity to play with everybody from Berkshire County."
Lampron did note that it's certainly not the same, though.
"You know, at the club, with the fans, practicing every day with the team. I mean, we're getting close, but running out at the boys club was totally different. At the end of the day, we want to play for our schools, but this is playing the cards we're dealt, the best way we can."
According to Kroboth, playing in a mask has been tough, but CCM Hockey has developed one that is compatible with hockey helmets and face shields. At some arenas, a family member has even been allowed in to watch.
It hasn't been easy, but for seniors like he and Uqdah, who held hopes for playing after high school, getting on the ice is important for their futures.
"It's a small sacrifice, though, for the big benefit of playing games with a real team," said Uqdah. "I've been looking out for the past year or so at different junior programs or applying to colleges, and senior year, they really want to see what you have to offer. To have that season taken away is tough. Just the fact that we're playing games, whereas with the pandemic we hadn't really been skating since February, is huge."
Taylor plans to keep the team going as long as everyone is healthy, safe and there are opponents to fill the opposite bench.
"A lot of teams are very encouraged by what we're doing and how I'm putting it together. Typically, you'll see a couple kids from the Berkshires out on these well-respected programs, but you don't typically see a full team from the Berkshires coming out."
With every player Taylor reached out to, he made the same pitch.
"I promised them I would give everything I have to make sure that you have something," Taylor said. "I don't care if we have to go three hours away, as long as I can get you guys games against good teams, playing competitive hockey, then I'll do it.
"I can't see myself allowing these kids to have nothing."
Now 11 games into what was and remains an unknown winter, the high schoolers on the Western Mass Warriors have a lot more than nothing. They have a place to play.