WILLIAMSTOWN — There was nary a clean calf to be found by the time awards were announced at the 2021 Berkshire County Cross-County Championship meet on Saturday.
Mount Greylock played host to the final regular season meet on a misty and muddy course that saw Dennis Love and Kate Swann collect the ultimate victory.
Love and Swann took individual titles, each claiming the victor's mug, while also leading their respective teams to victories and county titles. Both were also pushed by a teammate toward their win.
Photos: Berkshire County Cross-Country championships at Mount Greylock
On Saturday at Mount Greylock, the 2021 Berkshire County Cross-Country Championships were held, with Kate Swann and Dennis Love winning individual titles.
To view a complete gallery or purchase photos from this event, click here.
The boys went out first and didn't have to contend with too much rain. Love and Maxwell Adam were shoulder to shoulder through the first 5 minutes, and had slim, 15-foot lead on a group consisting of Pittsfield's Jack Archey, Hoosac Valley's Justin Levesque and Lenox teammate Harry Touloukian, when they exited the woods for the first time. Out in the open field, Adam and Love started building some separation. Love checked over his shoulder up the final incline behind the school building, and saw Adam about 5 seconds back. The two had built a solid lead on the field, and were alone for the final leg of the race.
Love, who was later named MVP of the season, crossed in 18 minutes, 3.95 seconds, with Adam at 18:09.44.
"I got him at the invitational on the 15th, but he kept looking back at me today and I just said 'Dennis, take the win, you earned it,'" said Adam. "I'm happy for him, he worked really hard this season with the miles we've been putting in. Looking forward to running with these guys at sectionals and states."
In the girls race, Lenox's Alice Culver put forth a monstrous effort to hang with the Mount Greylock duo of Swann and Grace Malone, but the Mounties were too strong. By the time Swann and Malone came into sight to round the soccer field and dip back into the far woods, they had created 30 seconds of separation from Culver and the rest of the field.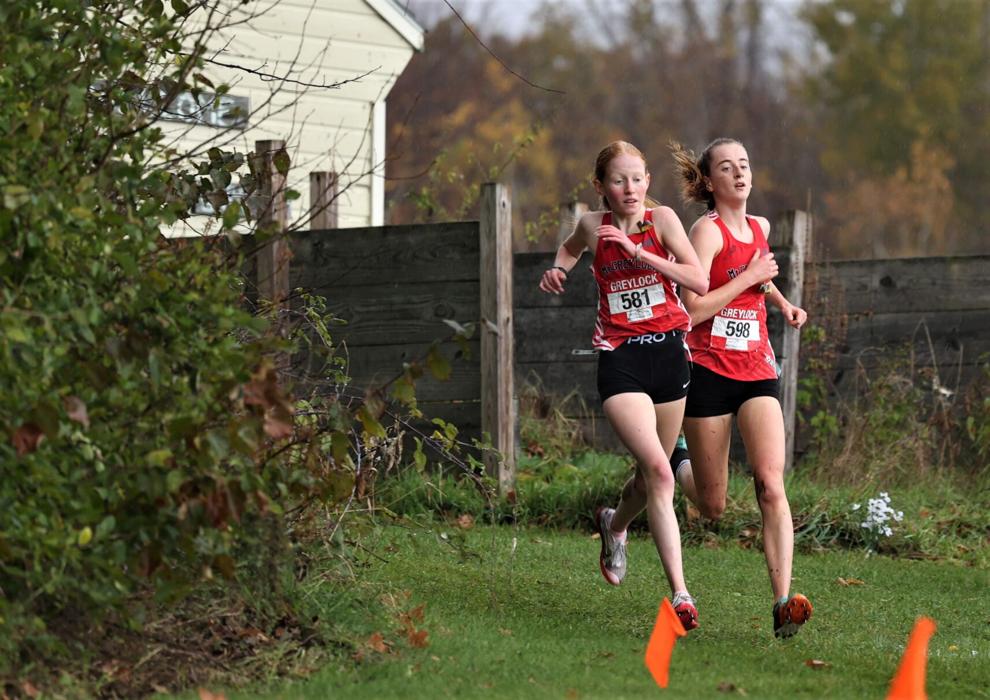 "It was a bit of her saying 'oh, now I know I can do it.' We've known she could do that all along," Greylock coach Hilary Green said of Swann. "Her senior year, she's looking at colleges, and she feels like colleges are looking at her times, and it's just this extra layer of her thinking she needs to perform. At that point it takes away from some of the love of running. You could just see it today. Her thinking 'oh I've got this. This is me, this is where I know to be.'"
Somewhere in those final woods, Swann made her move and shook her younger teammate. The senior standout strode long and hard toward and across the finish line, crossing in 20:32.81 with outstretched arms and crashing right into the arms of assistant coach Jenna Dickinson.
"That trail back there, in 10th grade I ran it a lot so I could learn it really well. When I got there today, I knew it like the back of my hand so I told myself I was just going to go," said Swann, who finished 18 seconds in front of Malone. "I wanted to leave it all out there for the Senior Day and it's really exciting how it paid off."
Harry Touloukian, who had been neck-and-neck with Levesque for the bulk of the boys race, pulled away on the final stretch to give the Millionaires a podium sweep. Levesque was fourth with Wahconah's Fritz Sanders coming on strong and bumping Archey back to sixth.
"We were really battling most of the race, right next to each other," said Touloukian of he and the Hoosac star. "He was kind of pacing off me, and it really came up to a muddy section at the end and I just had a better kick. It was a great race for both of us."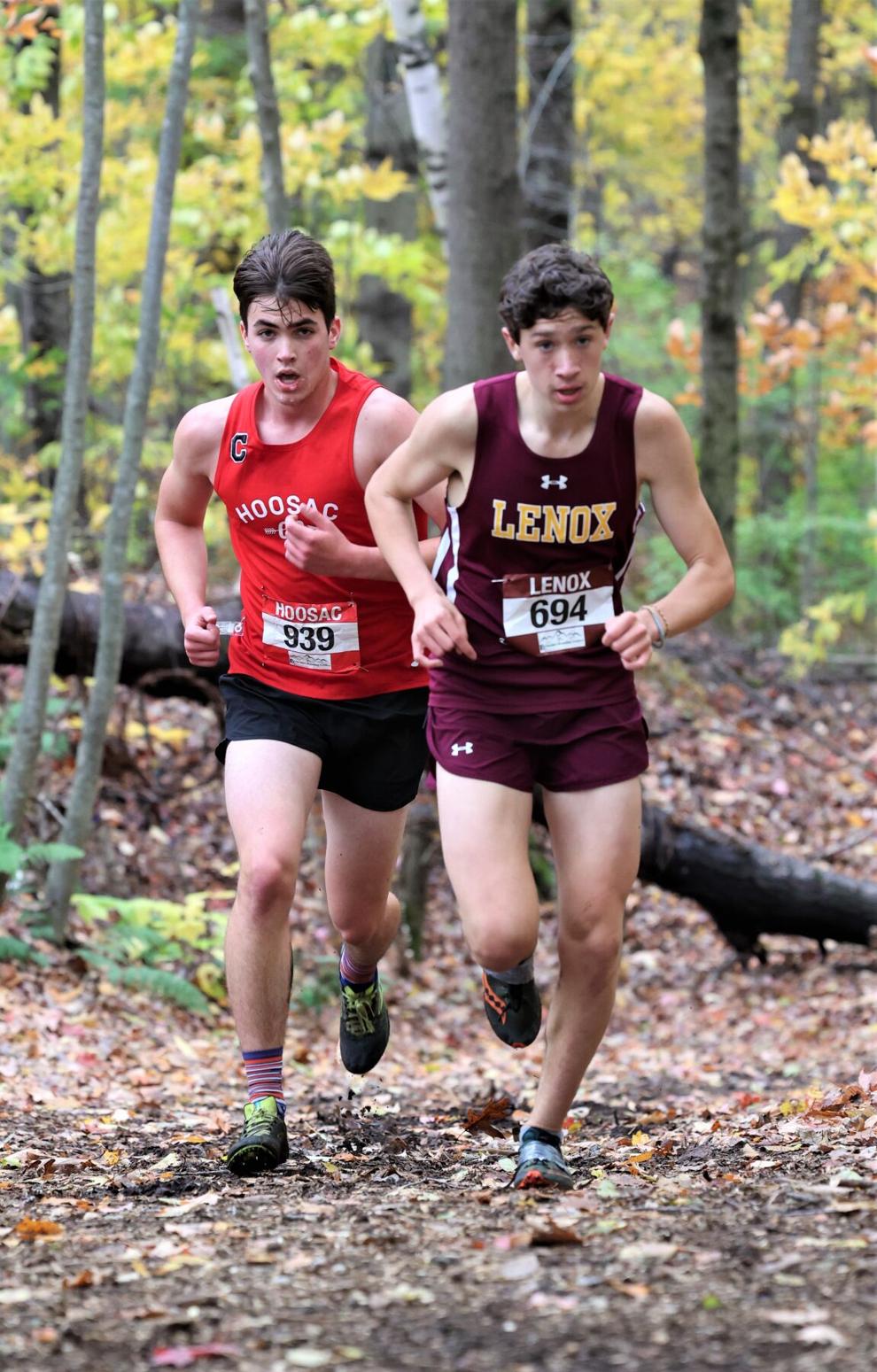 With that Lenox trio up top, the Millionaires boys won the meet with 24 points, 22 more than second-place Wahconah. Lenox was also the overall Berkshire County League champion.
"Going into postseason, this race we're going out hard. Maybe not our hardest effort today, want to keep it kind of relaxed," said Touloukian. "The next couple weeks have some big races that we want to be rested for."
Wahconah had three runners land in the top 10, with Cadighan Gladu in seventh and Aidan Garcia eighth.
"We've been doing a lot toward the end of the season, maintain and trust the training regiment," said Wahconach coach Matt Pegorari. "We took the kids to the Dick Atkinson Invitational last weekend, and the guys saw what it took to really push yourself and a lot of kids really opened up. It was really impressive.
"Conditions weren't great today, so maybe some of our top guys didn't run as well as they normally do, but the kids that did open up today it was exciting to see it come together. We're excited for the next two weeks and hopefully we can finish as a team and get to states."
Archey was joined by teammate Asa Chard in 10th. Andrew Petropulos was the top Greylock finished in 12th, but the Mounties still managed a third-place finish. Cam Bencivenga was 15th to lead Taconic, while Lee's Josh Perrier was 16th and Monument's Colby Sweet 19th.
Swann and Malone led the Mounties girls to a score of 31, besting second-place Lenox by 14. The Lenox boys and Mount Greylock girls were also named regular season Berkshire County champions.
Swann and Malone were joined in the top five by teammate and senior Josie Smith in fourth. Monument Mountain standout Madeleine Rocheleau-Holmes was fifth, before Lenox packed in a pair in Elyssa Scrimo and Audrey Touloukian. The Millionaires were without No. 1 runner Grace Elliot. Pittsfield up-and-comer Grace Ungewitter was eighth, with the Lee pairing of Emily Holian and Anna Martin rounding out the top 10.
Jocelyn Sommers was 18th to lead Wahconah. Hannah Walsh crossed 22nd for Hoosac Valley, while Simira Hanger topped Taconic in 30th. Mount Everett did not race.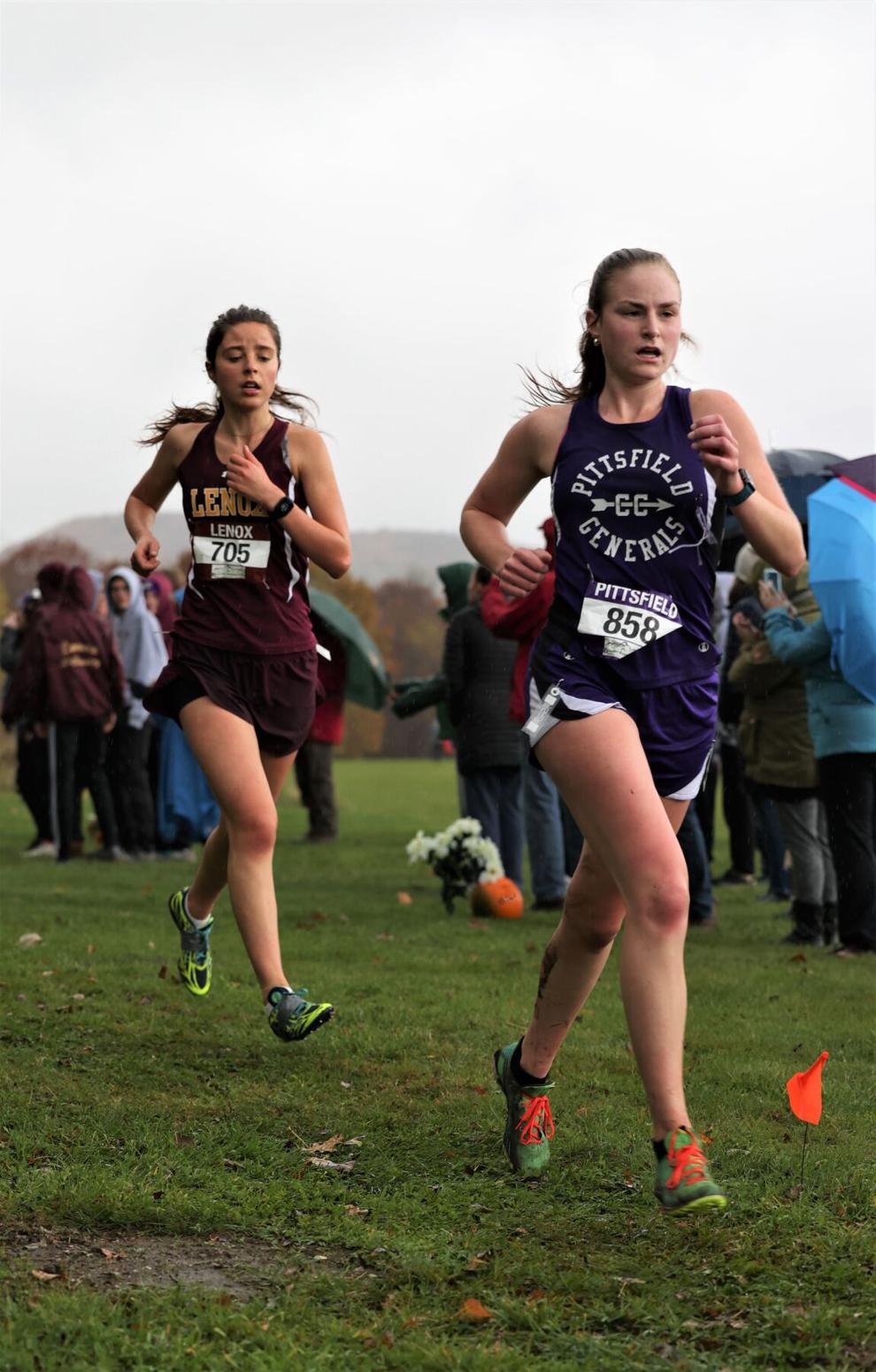 Love received the MVP award on the boys side, while the girls MVP was Pittsfield High's Kellie Harrington. Harrington did not run on Saturday, as she is still recovering from an injury.
Love and Harrington highlighted the All-Berkshire lists, which appear below.
Next up for local cross-country teams is the sectional meets which are scheduled for Nov. 13. Division II will be at Gardner Municipal Golf Course, while D-III is at Stanley Park in Westfield. Both meets begin with heats at 10 a.m. Qualifiers for the state meet will run on Nov. 20 in Wrentham.
———
Boys
Team Results — 1. Lenox 24; 2. Wahconah 46; 3. Mount Greylock 93; 4. Pittsfield 115; 5. Lee 122; 6. Taconic 150; 7. Monument Mountain 153.
Individual Top 15 — 2, Dennis Love (LX) 18:03; 2. Maxwell Adam (LX) 18:09; 3. Harry Touloukian (LX) 18:38; 4. Justin Levesque (HV) 18:44; 5. Fritz Sanders (W) 19:12; 6. Jack Archey (P) 19:18; 7. Cadighan Gladu (W) 19:28; 8. Aidan Garcia (W) 19:29; 9. Renzo Vargas (LX) 19:32; 10. Asa Chard (P) 19:35; 11. Cormac Mathews (LX) 19:37; 12. Andrew Petropulos (MG) 19:37; 13. Ezra Holzapfel (MG) 19:41; 14. Riley Gladu (W) 19:47; 15. Cam Bencivenga (T) 19:50.
All-Berkshire — MVP: Dennis Love (LX), Maxwell Adam (LX), Harry Touloukian (LX), Cormac Mathews (LX), Renzo Vargas (LX), Andrew McCormack (LX), Jack Archey (P), Asa Chard (P), Justin Levesque (HV), Ollie Swabey (MG), Andrew Petropulos (MG), Ezra Holzapfel (MG), Riley Gladu (W), Aidan Garcia (W), Lucas Wildrick (W), Cadighan Gladiu (W), Friz Saunders (W), Josh Perrier (L), Cam Bencivenga (T), Colby Sweet (MM).
Girls
Team Results — 1. Mount Greylock 31; 2. Lenox 45; 3. Lee 81; 4. Pittsfield 105; 5. Wahconah 130; 6. Monument Mountain 134; 7. Taconic 179; 8. Hoosac Valley 199.
Individual Top 15 — 1. Kate Swann (MG) 20:32; 2. Grace Malone (MG) 20:50; 3. Alice Culver (LX) 21:02; 4. Josie Smith (MG) 22:17; 5. Madeleine Rocheleau-Holmes (MM) 22:46; 6. Elyssa Scrimo (LX) 22:54; 7. Audrey Touloukian (LX) 23:26; 8. Grace Ungewitter (P) 23:27; 9. Emily Holian (L) 23:33; 10. Anna Martin (L) 23:38; 11. Vera De Jong (MG) 23:38; 12. Julianne Harwood (LX) 23:39; 13. Erin Keating (MG)23:44; 14. Brianna Kelly (L) 23:52; 15. Sydney Ferris (P) 24:01.
All-Berkshire — MVP: Kellie Harrington (P), Brianna Kelly (L), Emily Holian (L), Anna Martin (L), Vera De Jong (MG), Erin Keating (MG), Ainsley Abel (MG), Josie Smith (MG), Kate Swann (MG), Grace Malone (MG), Annie Art (MG), Sydney Ferris (P), Grace Ungewitter (P), Audrey Touloukian (LX), Elyssa Scrimo (LX) Alice Culver (LX), Grace Elliot (LX), Julianne Harwood (LX), Madeleine Rocheleau-Holmes (MM), Ahliya Phillips (T).