As the National Hockey League began play last week, one look at team rosters will show that the sport finds players everywhere. Junior hockey in Canada, European leagues and NCAA colleges.
While the University of Massachusetts has been to a Division I championship game, it has not yet established itself as a perennial power that sends scores of its players into the NHL. That being said, there are a group of ex-Minutemen either established or on their way to establishing themselves as solid NHL players.
Two of them are among the better young defensemen in the Western Conference, and one was the 2019-20 Calder Trophy winner, given to the rookie of the year.
Cale Makar, who before coming to UMass, was Colorado's first-round draft pick in 2017, and former Minuteman teammate Mario Ferraro in San Jose, could be helping lead their respective teams for a long time to come.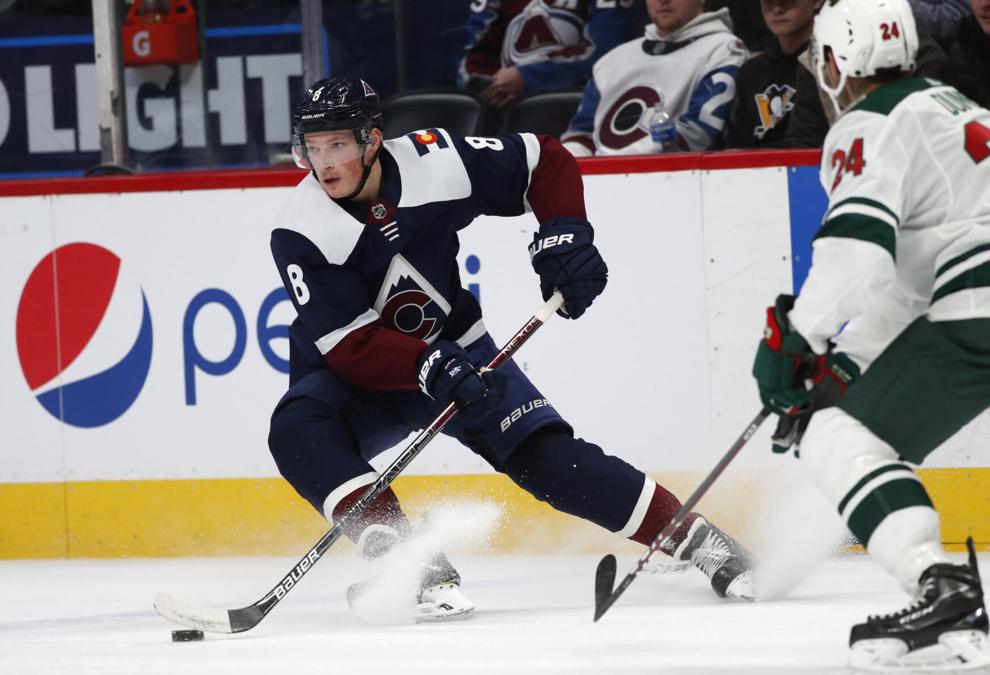 Before the season, Makar said he expected to be paired with veteran Devon Toews this year.
"It all comes down to that, you want to be responsible in your own zone first," Makar said in a video conference with reporters. "Obviously, the situations that coaches put us in, we're going to try to do our best."
Makar had 12 goals and was a plus-12 in his first full season with the Avalanche last year.
"He'd be one of my favorites this year to the Norris Trophy, just because of the team's he's playing on and the skill level," NBC analyst Ed Olczyk said during a phone interview with reporters last week. The Norris Trophy is awarded to the best defenseman in the NHL.
At 22, Makar doesn't have a lot of NHL experience, but having the Calder on his resume is a way to move to the top of the list.
"Obviously, we have a lot of depth" in young, puck-moving defensemen, Makar said. "It's going to be a strength of our team moving forward."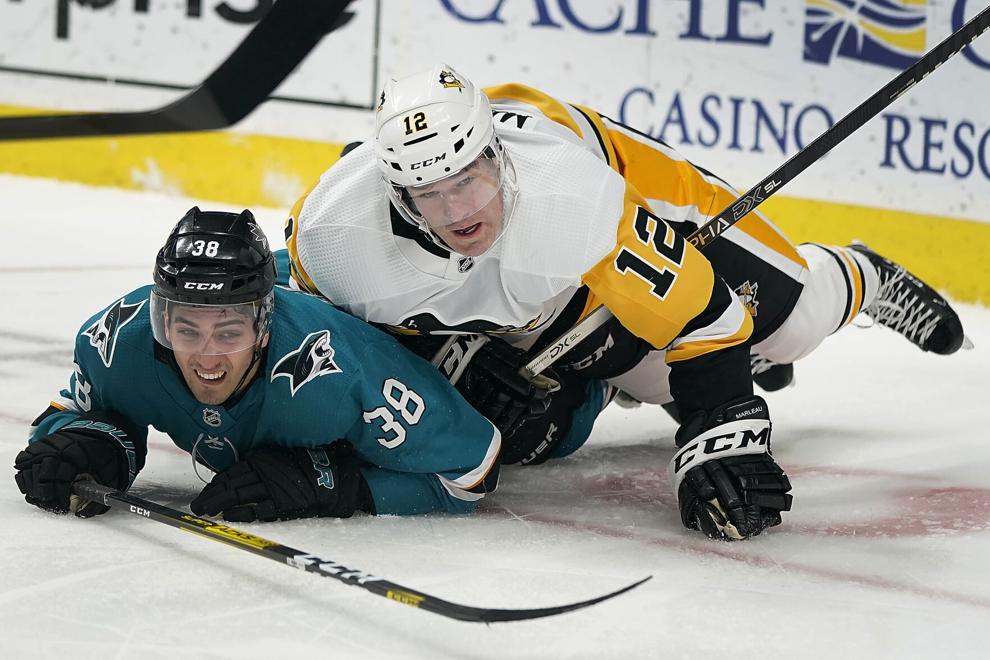 Ferraro begins his second full season with the San Jose Sharks. The former Minuteman was a second-round selection by San Jose the same year Colorado picked Makar. Ferraro had 11 points in 61 games for the Sharks, and he might not be the only former Minuteman on the San Jose varsity roster.
"There's a lot of skill here, a lot of speed," Ferraro said of a group of young forwards that includes former teammate John Leonard. "There's definitely going to be a fight for spots. I know this was my roommate, but Johnny Leonard has been playing real solid. He's been fitting in real well.
"There's a lot of talent up front."
San Jose coach Bob Boughner is also pretty happy with Leonard, who played at Pope Francis before going to UMass. Leonard's father, John, was an assistant basketball coach at UMass under Steve Lappas, and elected to stay in the Pioneer Valley after Travis Ford replaced Lappas.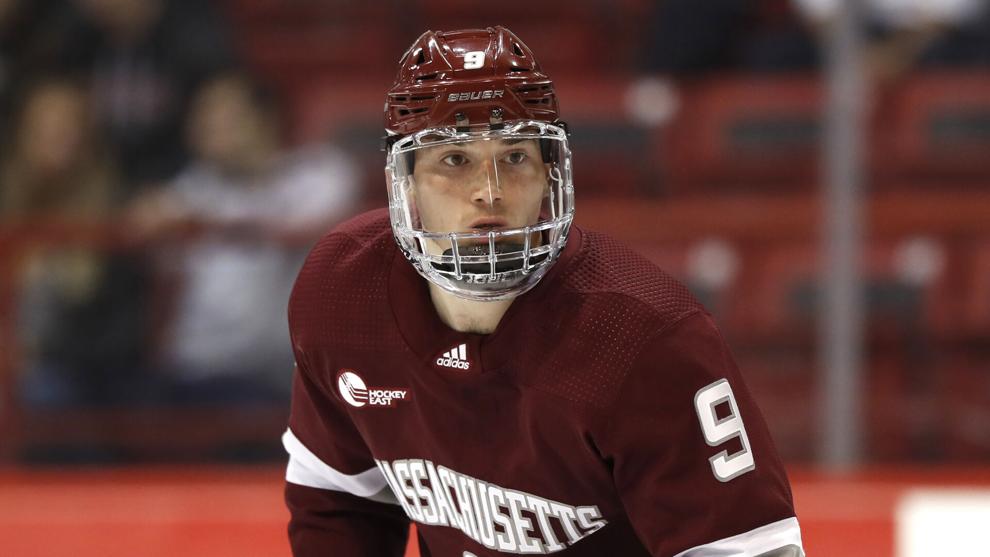 "I think he was okay [in a Sunday scrimmage]," the San Jose coach said. "His last two scrimmages were a little better than tonight. I think that he has high-end skill and he has speed, and I like him in that position on that top line. We're going to start the season with a set of lines that we think are going to be the best combinations. I'm sure there's going to be some tinkering as we get through this compact schedule.
"Johnny did a good job and had a good camp and deserves to be with the big club."
For his part, the native of Amherst who was a sixth-round pick of the Sharks in the 2018 NHL Entry Draft, is keeping his head down and doing his work.
"Try to be a sponge, try to absorb everything and learn as much as I can and prove myself as much as I can," he said in a release. "That is just going to the rink every day and working as hard as I can and doing everything the right way on and off the ice."
Two games into the season, Leonard has averaged around 14 minutes of ice time for the Sharks, and had a pair of assists in a 4-3 season-opening win.
On the East Coast, veteran defenseman Justin Braun is now in his second year with the Philadelphia Flyers. His number 61 will be seen a lot by New England hockey fans since the Flyers and the Boston Bruins are in the same division this year.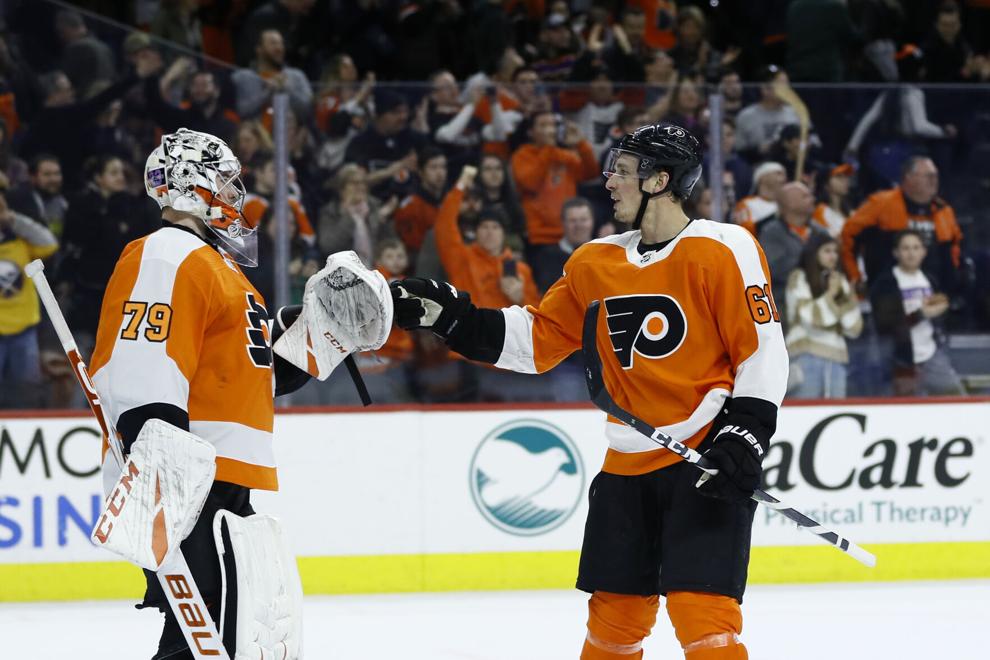 Braun and Nate Prosser are the only Flyer defensemen born before 1990, giving them elder statesman status in the home locker room at Wells Fargo Center in South Philly.
"No, not really," Braun said, when asked by Philadelphia reporters if he feels ready to be that elder statesman. "If they need anything I'm there for them. They're their own person. I'm going to try to do the same things, and try to help the young guys if they need it, be there for them."
Braun signed a two-year extension with the Flyers, worth $1.88 million per year.
"These guys have just been fantastic," he said, in response to why he re-signed. "Since Day 1, I've enjoyed hanging out with them, trips, being on the road, in the bubble. It's a great group, and on top of that, a really talented group. The older you are, you want to be on an organization that has a chance to win, and this one does."
Two more former Minutemen are suiting up for the Buffalo Sabres in 2021. Matt Irwin signed with the Sabres in October, and will join fellow UMass alum Brandon Montour on the blue line.
Defenseman Joel Hanley played for the Dallas Stars last year, and is battling for a top-six defenseman role this year. Hanley became the first player since 1991 to score his first NHL goal in a Stanley Cup Final game.
Former Bruin Frank Vatrano has a pretty firm grip on a top-six forward job with the Florida Panthers, while ex-Minuteman Conor Sheary is trying to claim a bottom six spot with the Washington Capitals. Sheary has won a pair of Stanley Cups with Pittsburgh.
Los Angeles Kings goalie Jonathan Quick was the Conn Smythe Trophy winner in 2012 when the Kings won the Stanley Cup. He backstopped the Kings to another Cup two years later.
And William Lagesson is on the blue line for the Edmonton Oilers.