PITTSFIELD — Most teams, even teams like Taconic, will take a one-loss season and run with it. That does not, however, mean, that they have forgotten about that one loss.
Especially not Matt Lee.
"We've been waiting a long time for this day," said Lee, who threw a complete-game, one-hit shutout and struck out 14 as the Thunder beat Westfield 5-0 Tuesday afternoon. The Bombers handed the Thunder their only loss, a 4-1 decision back on April 11, with Lee on the mound.
"I've lost sleep over that last game," he said after completing his gem. "Leading up to this game, been through a lot with this team, and we've been waiting for this day. When the date came out that we were playing Westfield a second time, we all got ready.
Photos: Taconic Baseball defeats Westfield at home on Tuesday
On Tuesday in Pittsfield, pitcher Matt Lee and Taconic shut out Westfield 5-0.
To view a full gallery or purchase photos from this game, click here.
"Today was the day."
The win was the 15th consecutive for the Thunder, who haven't lost since that trip to Westfield. Taconic is now 16-1 as it wraps up its regular season.
"It's been a thing between Pittsfield and Westfield for a while," a happy Taconic coach Kevin Stannard said, after the latest round in the old youth baseball rivalry.
Lee retired the first seven hitters he faced and the last seven. In the seventh inning, he got Josh Mayo, Dylan Arooth and Cody Collins on strikes. All three of them were caught looking.
It was a far cry from the first time Lee and Mayo hooked up on the mound. That day, the Kansas State-committed right-hander only went 3 2/3 innings, giving up three runs on two hits. He struck out nine that day, but the number that stood out was eight walks back on April 11.
"He pitched great," Westfield coach Michael Kennedy said of the Taconic ace. "He was hitting his spots. He had a great breaking ball. He didn't walk many guys. The last time, he had eight walks. He just did a great job today."
The right hander had a 14-pitch first inning that included two called third strikes and a ground out by Westfield's Jimmy Cloutier.
Probably the biggest strikeout of the game came in the second inning against Westfield cleanup hitter Andrew Florek. Lee came roaring back from a 3-0 count to get Florek looking.
Only two balls left the infield against Lee, both in the fourth. Florek flied to Evan Blake in left for the first out and Arooth's shallow fly to right was snared on a running grab by right fielder Kaden Codey.
"I was trying to stay smooth with my mechanics," Lee said, "and kind of whip that arm so my fastball was working today."
For his part, Stannard said everything went just right.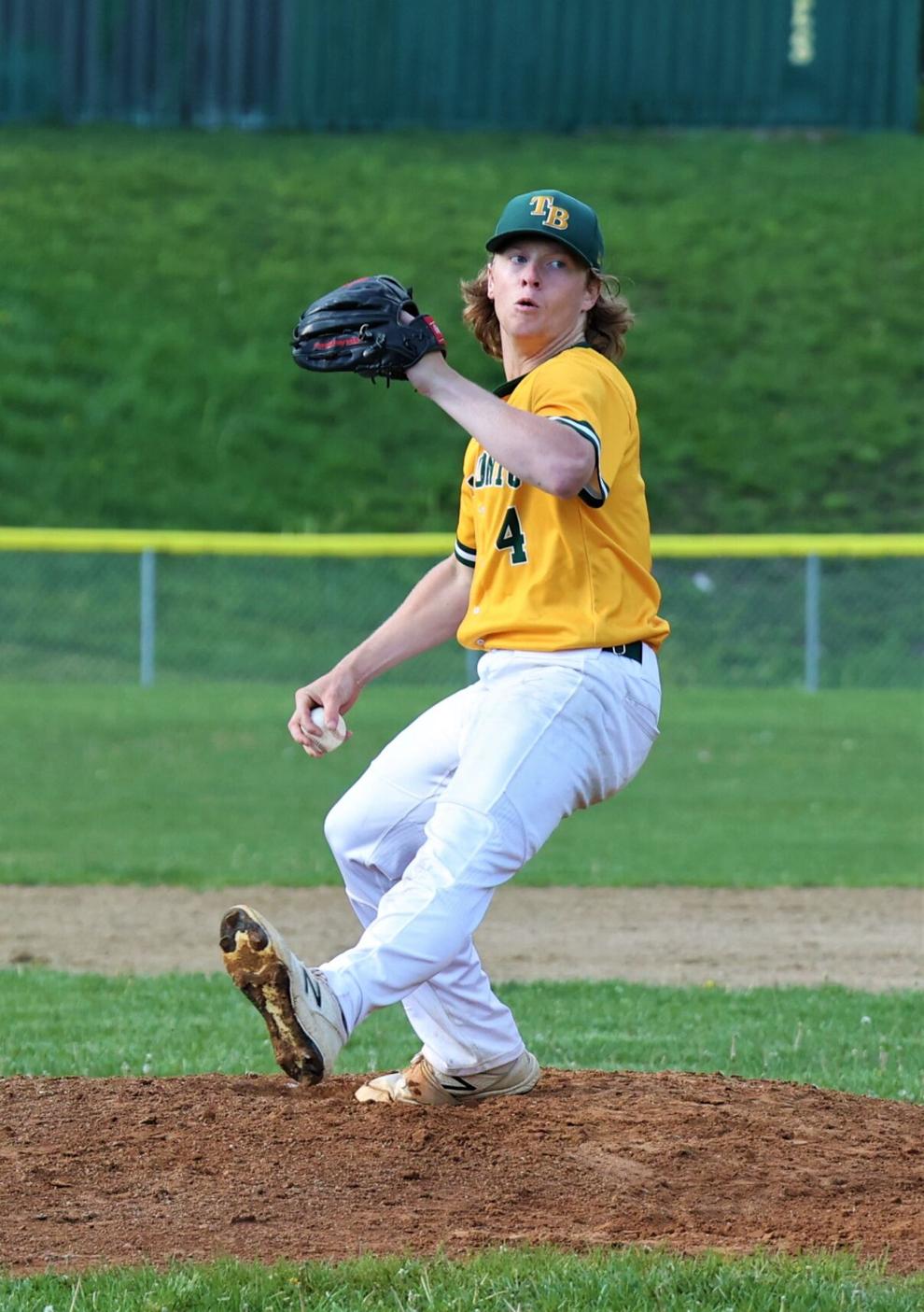 "Matty was lights out and these guys were focused," the veteran coach said. "They treated it like a tournament game. If we continue to play that well, I don't think we can get beat."
There was one small, make that very small, hiccup in the game. After retiring the first seven batters, Lee faced Jeremy McCormick, who made contact and hit a high chopper behind the mound. Lee came off the hill, made a nice defensive play, but his relay to first baseman Nick Guachione was late. Give McCormick a single — the only one of the afternoon for the Bombers.
"He goes 'Coach, I didn't realize he was that fast,'" Stannard said with a laugh.
The only run Taconic needed was scored in the first inning. Leadoff batter Bo Bramer, who scored the first three Taconic runs, led off with a walk and stole second. He took third on Sam Sherman's sacrifice bunt and scored when Guachione bounced a single over the head of third baseman Cody Collins.
"To be honest with you, Bo had a straight steal. It wasn't a bunt," Stannard said with a grin. "Sam misunderstood the sign. It worked out and made me look like a genius. I can't take total credit for that."
Bramer made it 2-0 in the third when he singled and went to third on Sherman's double over the head of Jimmy Cloutier in center. After Guachione struck out, Evan Blake grounded to second. The infield was in so Bramer didn't break for home until Ryan LaPoint threw to first. Bramer easily beat the throw home for an insurance run.
On an afternoon where hefty winds came and went, along with a mid-game dousing of rain, Blake hit his third home run in as many days, leading off the sixth inning.
The Thunder led 3-0 when Mayo offered up one that the Bryant-commit liked. He went the opposite way, clearing the fence in right field. Since April 28, Blake has hit six home runs, including two-dinger games against Northampton and Agawam.
"He had been working me on the outside corner all day, so I moved closer to the plate," Blake said. "I went with the pitch. I knew it was coming."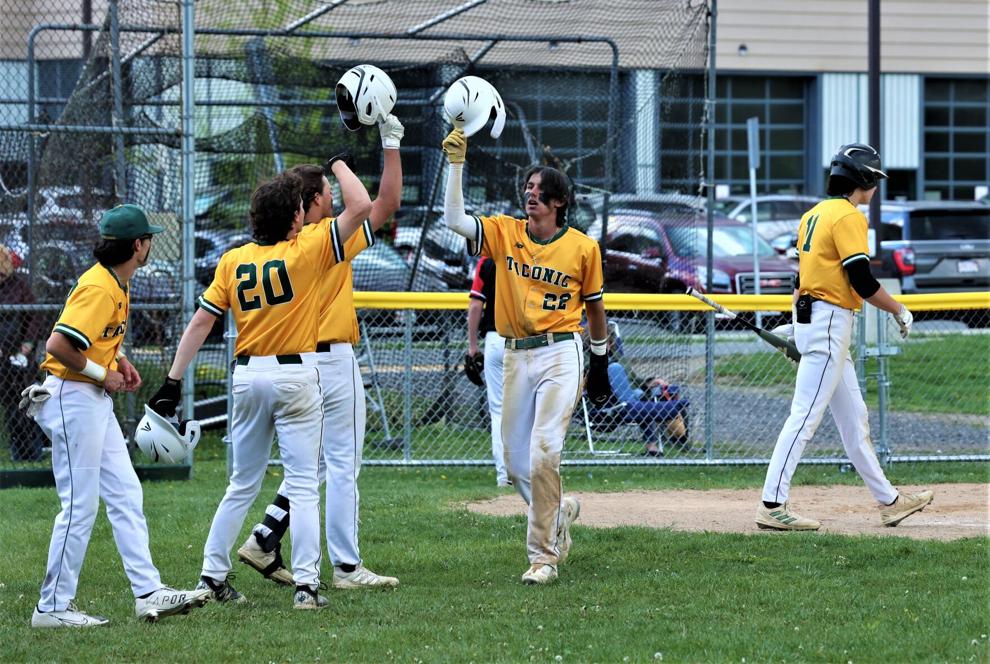 Taconic came into the game as the No. 3 team in the state Division III rankings and was the No. 1 team in the PVIAC field for the Western Massachusetts Class C Tournament. Westfield came to Valentine Road the No. 1 team in the PVIAC's Class B and the No. 10 team in the MIAA Division II rankings.
The seeds for the Western Mass. Tournament are scheduled to be released on Thursday. According to the PVIAC site, the quarterfinal round of the eight-team tournament will begin Monday or Tuesday.
"We'll see what our fate is," said Stannard. "We'll just get ready to continue what we're doing."
——— Westfield 000 000 0 — 0 1 0 Taconic 101 012 x — 5 5 0 Josh Mayo 5 2/3, Joey Calderella 1/3 and Jacob Wagner. Matt Lee and Antonio Scalise. W — Lee. L — Mayo. 2B — T: Sam Sherman. HR — T: Evan Blake.