NORTH ADAMS — The Hornets are just now returning to the nest after nearly two years away.
The McCann Tech girls made up for the lost time with a 38-26 win over Mount Everett on Tuesday night.
"It feels great, to be honest," McCann Tech senior Izzy LaCasse said after scoring a game-high 13 points in the home opener. "I'm super pumped to go into every game because I never thought something like [the season being canceled] would happen last year — I'm definitely excited to get back into it."
The Hornets hit the ground running with Macey Tatro and Hannah Boisvert orchestrating the show early on. Madison Clark found Tatro, who finished with eight points and three rebounds, with some room underneath the rim to give McCann the early 4-1 lead.
Boisvert hit Tatro for her second bucket of the quarter and then LaCasse pumped a mean fake and drove to the rim for two points, extending McCann's lead to 8-3. Boisvert pressured Mount Everett's offense with her length down low, but on the other end, her court vision had the Hornets a step ahead.
Mount Everett's next possession was stolen by Boisvert, who closed with a well-rounded stat sheet of seven points, five rebounds, three steals and three assists. With the ball in her hands, Boisvert pushed the pace, forcing Everett defenders to commit to her side, before she dumped it off to LaCasse for a bucket down low.
"She creates a lot of opportunities for us," coach Kathy Budaj said of Boisvert. "Things you may not notice since it's not in the book, but she is doing a lot of things that are causing a positive impact."
"I love playing with Hannah," LaCasse added. "I've never played with her before [this season], but I feel like we started off strong from the jump and work well together."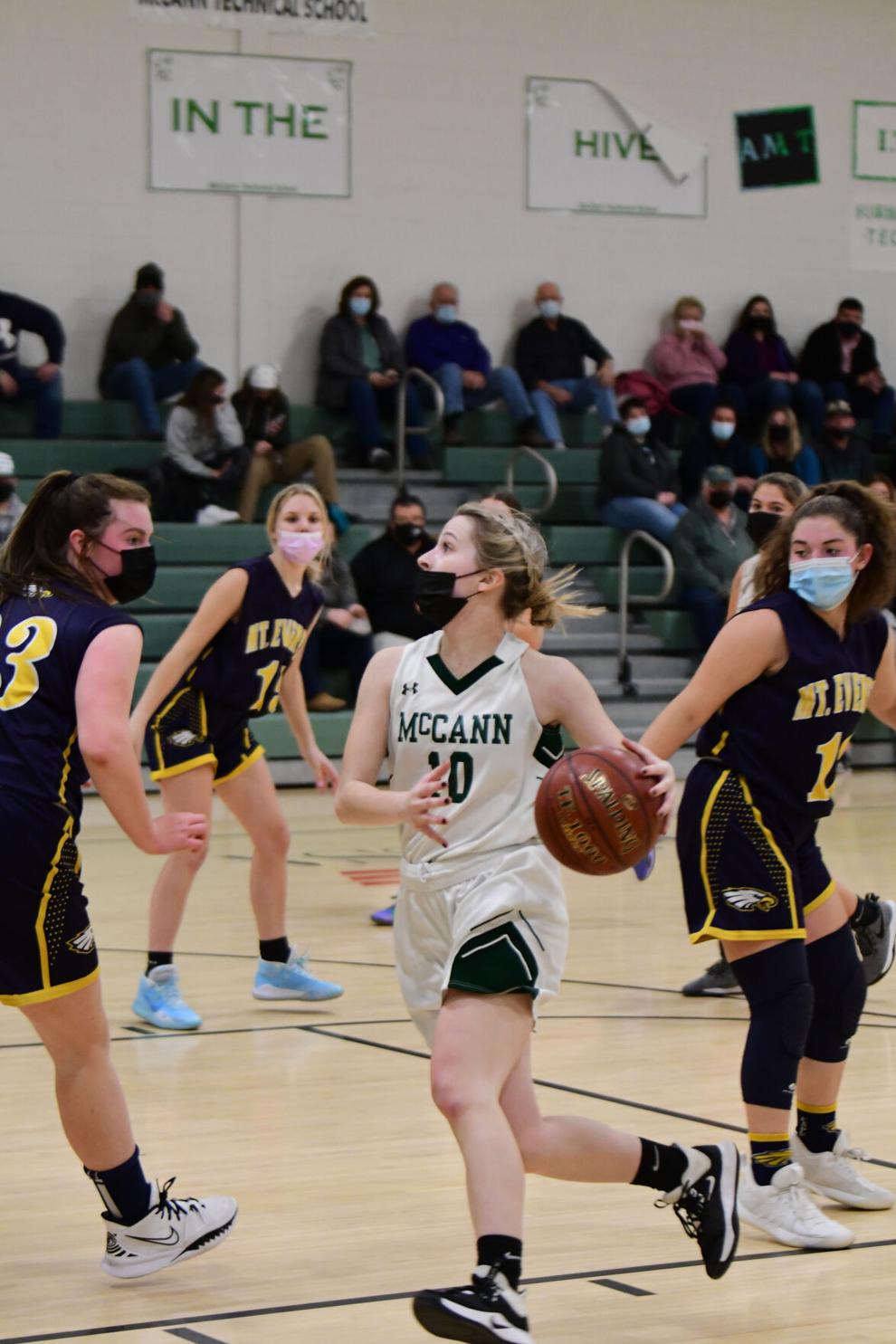 LaCasse scoring on the layup forced a Mount Everett timeout with McCann up 10-3 late in the frame.
"When we run the court we start to put pressure on the defense and when we push the ball we make a lot of good things happen," LaCasse said of the offense.
The Hornets led 12-6 after the first quarter and extended the lead to 21-9 after 16 minutes of play. A driving force behind McCann's success was active hands on the defensive end.
Emma Goewey led Mount Everett with 13 points, but had to work for every bucket. Not only did Goewey see four hands in front of her each time she went to the hoop, but the Hornets did all they could to prevent her from getting the ball down low.
"She a tough player," Budaj said. "I told the girls to stay on the ground and deny her the ball, make it difficult to get the ball to her.
"The more pressure we put on the other players so they couldn't make an easy pass out to her, that was our plan and they did a pretty good job with it."
LaCasse took a steal the length of the court and then dished two-straight assists as McCann jumped out to a 29-14 lead early in the third. The Eagles kept pace with the Hornets as each team scored eight points in the frame, five coming off the shooting arm of Maggie Sarnacki.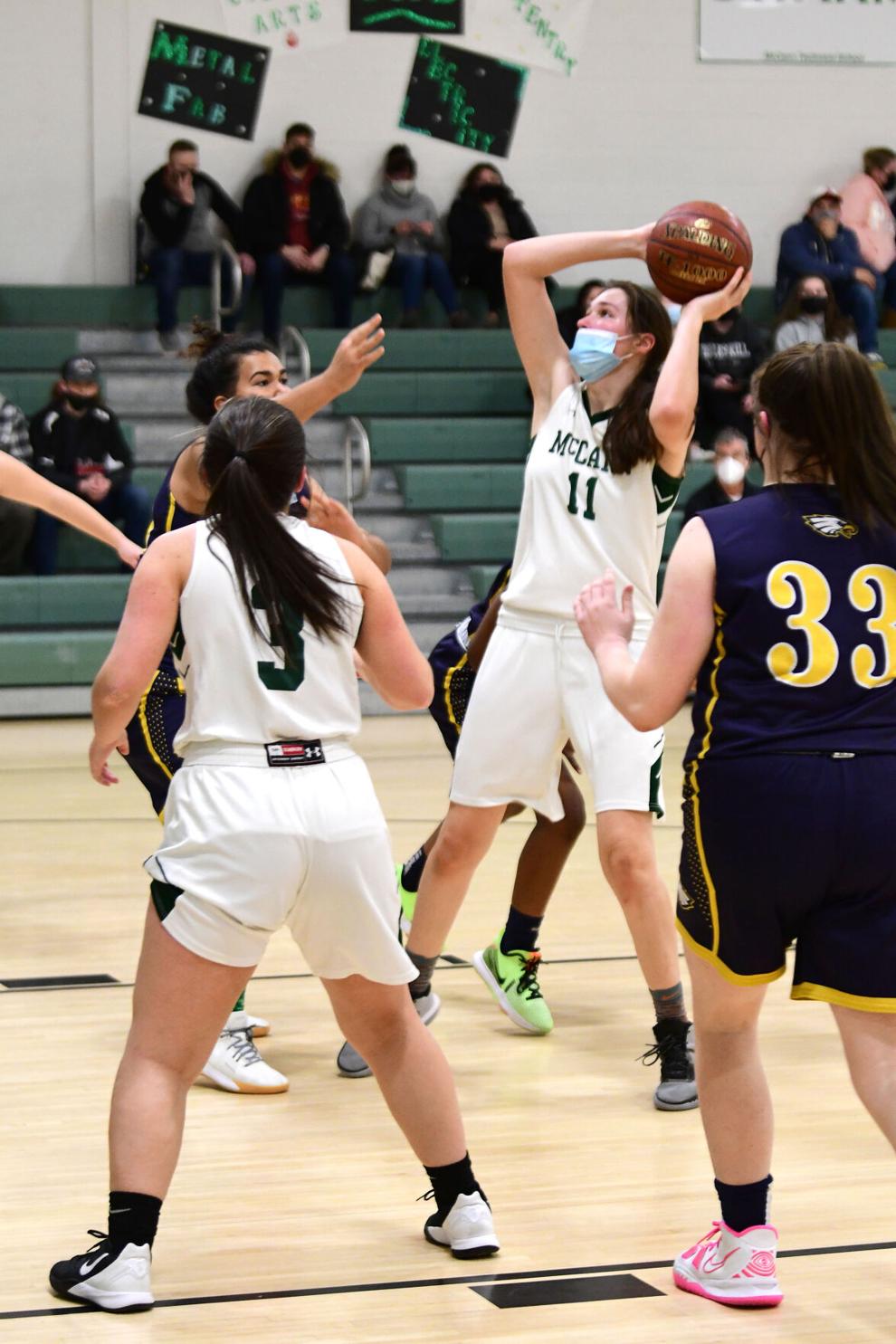 However, LaCasse took command in the fourth quarter with seven points, while Catryna Marsh scored four second-half points to go with six rebounds and four assists.
"I thought she did a great job off the bench," Budaj said of Marsh's performance.
The Hornets are still working to figure things out after last playing on Feb. 24, 2020, which was a home game against Pioneer Valley in the Western Massachusetts Division IV tournament.
"We're a year behind remembering how to play, run the court and fill the lanes — the basics that if you're not doing it... a year is a long time," Budaj said. "I knew at the beginning of the year we would struggle a bit. I think we're going to get into a rhythm, I really do."
Now that the season's first win is written in stone, the Hornets will continue to smooth things out at practice with just one game over the holiday break. The Hornets will host Pope Francis on Dec. 27 and are then off until a game at Sci-Tech on Jan. 3.
"It feels good," Budaj said of returning to court. "You don't realize how much you missed it until you're back in it.
"We'll have those growing pains early in the season but we have some time to work on some stuff. Overall, so far so good.
———
Mount Everett 6 3 8 4 — 26 McCann Tech 12 9 8 9 — 38 MOUNT EVERETT (26) Gennari 0-0-0, Sarnacki 2-0-5. Ngoy Nkulu 2-0-4, Stewart 0-0-0, Devoti 1-0-2, Carpenter 1-0-2, Kosik 0-0-0, Goewey 4-5-13. Totals 10-5-1. McCANN TECH (38) Clark 1-0-2, Hayer 0-0-0, LaCasse 5-2-13, Boisvert 3-0-7, Moran 1-0-2, Tatro 4-0-8, Marsh 2-0-4, Paree 1-0-2. Totals 17-2-38. 3-pointers — ME 1 (Sarnacki), MT 2 (LaCasse, Boisvert).