NORTH ADAMS — Every pass came with a plash, but soggy conditions weren't enough to slow down the McCann Tech girls soccer team.
Three was the lucky number for Izzy LaCasse and Molly Boyer as each recorded hat tricks and the Hornets skunked Putnam 8-0 in rainy North Adams on Tuesday.
"They're getting better every game," McCann coach Mike Dowling said. "We're working on passing all the time and when I sit there and watch all the passing and how much they've learned to switch the field — that is soccer and when you have someone like Izzy to finish — playing soccer is that much easier."
Photos: McCann Girls Soccer play Putnam
McCann Girls Soccer beat Putnam 8-0.
To purchase photos click here
LaCasse, who reached 100 career points last week, managed a pass from Camryn Belisle and launched it into the Putnam net with less than 15 minutes left in the first half. It was LaCasse again four minutes later, firing the ball off her knee and into the back of the net.
"It is a little wet down there," LaCasse said of the field. "Quick passes to each other back-and-forth and triangles [is how to counter the conditions]."
The Hornets controlled the ball for most of the first half due to LaCasse, Belisle and Addison Hayer moving the offense with ease. Belisle created the day's first goal, setting the table for Boyer just seven minutes into the game.
"I work really well with Camryn, Addison and Izzy," Boyer said. "We did some give-and-go plays and they had some nice passes back to me."
The score remained 1-0 until Boyer's second goal, which was of the top-shelf variety, came with 17 minutes remaining in the first half. The Hornets carried a 4-0 lead into the break after maintaining possession for most of the match's first 40 minutes.
Putnam did fire two shots at McCann Tech keeper Keira Lennon in the first half. Lennon deflected the first with a sliding stop. She just got her hand on a ball sailing over her head and flicked it away only two minutes later to maintain the shutout.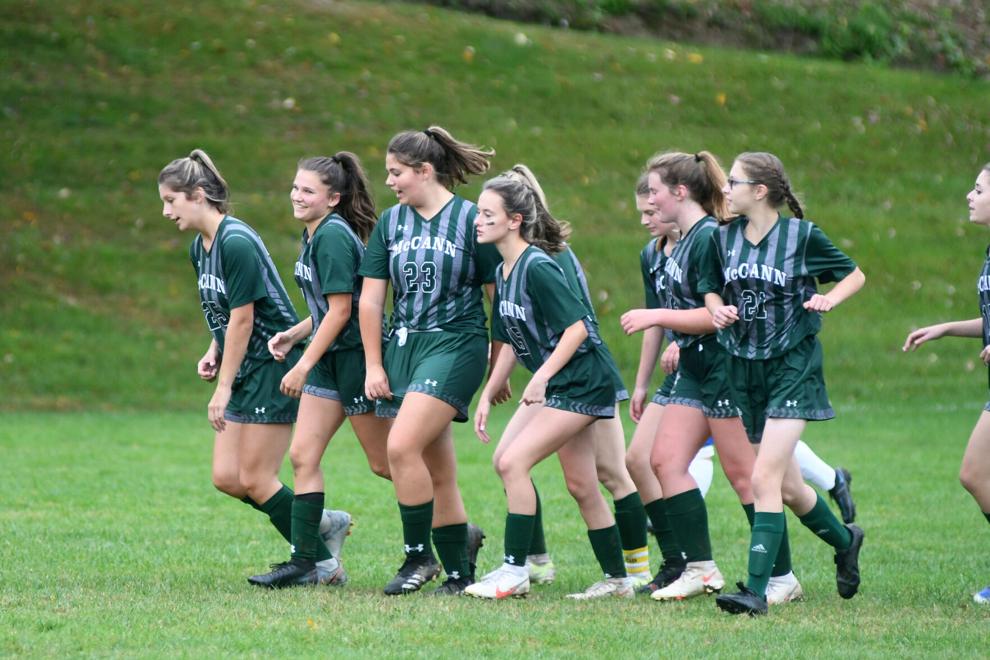 McCann defender Lilli Meehan derailed another Putnam attempt by reaching a breakaway and punting the ball out of bounds before the visitors lined up a shot.
LaCasse was the first Hornet to secure a hat trick as the senior scored three consecutive goals for McCann Tech. LaCasse froze a defender with a hesitation move and then powered the ball by Putnam's keeper in the 45th minute for her third goal of the day.
Boyer locked up her hat trick midway through the second half and gave McCann a 7-0 lead at the time. Additionally, Mia Parise and Catryna Marsh joined the scoring parade with second-half goals.
The red-hot Hornets (6-0-1) are rolling behind chemistry that is roughly half a decade in the making.
"I've played with a lot of these girls for a long time and then we come [to McCann Tech] with Izzy and it is safe to say we work pretty well with her," Boyer said.
The Hornets will use Wednesday as an opportunity to dry off and rest up before hosting Smith Vocational in another Tri-County League game on Thursday.
"We've been working hard together and growing together as one," LaCasse said.
———
Putnam 0 0 — 0
McCann Tech 4 4 — 8
First Half — MT: Boyer (Belisle), 6:45; MT: Boyer (unassisted), 23:44; MT: LaCasse (Belisle), 25:52; MT: LaCasse (Marsh), 29:14.
Second Half — MT: LaCasse (unassisted), 43:17; MT: Parise (LaCasse), 49:37; MT: Boyer (unassisted), 56:37; MT: Marsh (unassisted), 79:53.